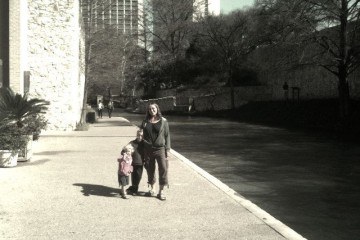 What does a young boy from the middle of the Canadian prairies know about an American city deep in the heart of Texas? Well, the first thing he learns is that the 30+ hour drive from his home in Manitoba is a long time to spend in the backseat of a car with his two siblings. The second thing he learns is that, surprisingly, San Antonio has two places he's heard a bit about.
The Alamo, famed for Davy Crockett, James Bowie and William Travis' last stand during the Texas Revolution is firmly planted in the center of San Antonio. To those of you not from the States, this might not mean much to you. For me, at the time it was history come alive. Of course, my history related more to the Davy Crockett miniseries that I had watched less than a month before on the Sunday night Disney hour than what really happened. Regardless, it was a place I knew and was excited to see.
The other place that I had heard of was...