This is a guest post by the awesome Agness of eTramping.com.
There is something incredible about going to Southeast Asian countries.
Apart from their stunning landscapes, smiley local faces and beautiful UNESCO heritage sites you can explore, there is also the food – unique, flavored with various herbs and spices, healthy and extremely delicious! What is more, you can enjoy a great variety of Cambodian, Thai, Vietnamese and Laotian dishes at a very affordable prices, so if you are a budget foodie, you will find these travel destinations your food paradise on Earth.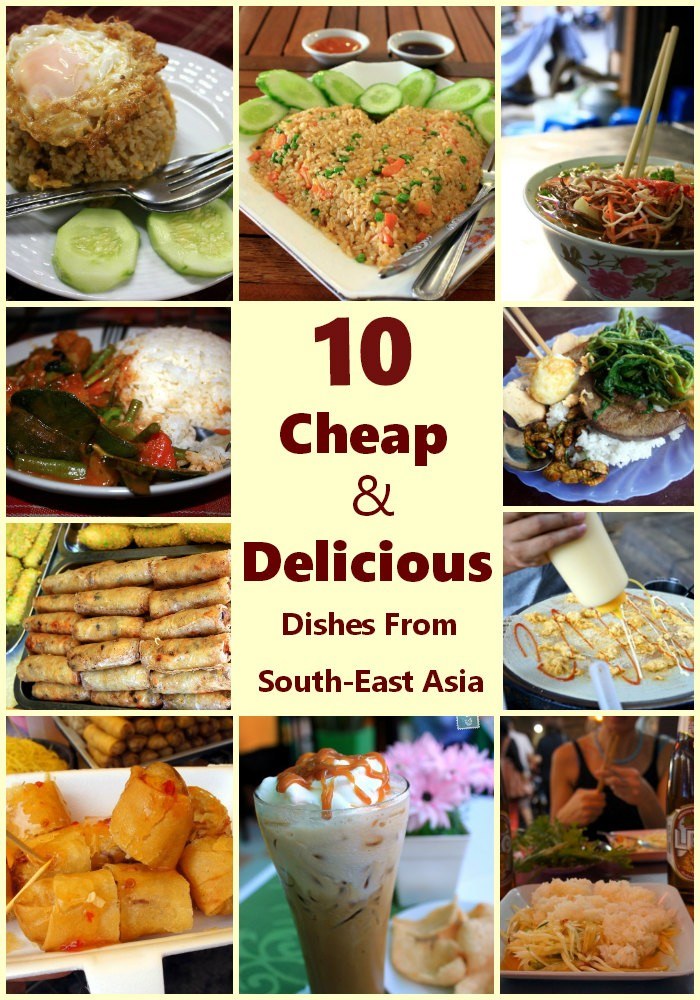 If you are not familiar with the local cuisine, let me introduce you to 10 cheap and delicious South-East Asian dishes you must try when there:
1. Vietnamese Pho.
Description: Pho is one of the most famous Vietnamese treats. It's healthy, served hot with any kind of thin sliced meat of your choice (chicken, duck or beef) and flat rice noodles. If you are a big fan of veggies, you will simply fall in love with this soup as you can find plenty of fresh veggies there (sliced carrot, onion, parsley) and herbs such as chili peppers, mint, basil or bean. Pho can be found anywhere, from budget local restaurants to street vendors. Vietnamese often have it as a breakfast meal.
Price: 20.000 dong – 40.000 ($1 – $1.90)
2. Vietnamese Bugs.
Description: Although Thailand is the most famous country for eating bugs, worms, scorpions and snakes, Vietnamese locals are also adventurous eaters. They often indulge themselves in oily and nutritious fetal duck eggs or bugs.
Price: 8.000 dong ($0.28) per one scoop of bugs.
3. Vietnamese spring rolls (Cha Gio).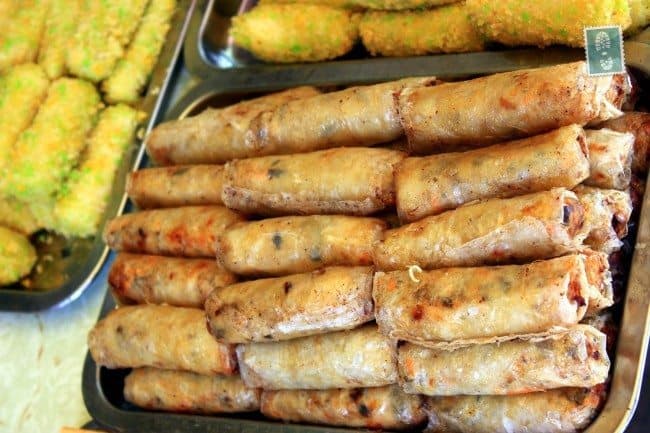 Description: 5.000 dong ($0.24) each.
Price: Vietnamese rolls are very crispy and oily, yet extremely yummy. They are usually stuffed with pork or shrimps, shredded carrots and mung bean noodles. You can have it as your snack on the go or a lunch or dinner meal.
4. Cambodian pineapple filled with fried rice and veggies.
Description: It does not only look charming and lovely, but it also tastes amazingly good. It will give you a boost of energy and make your day! The pineapple is usually filled with fried egg, rice and a mixture of local vegetables such as carrot, onion and green peas.
Price:$2 per dish, but it's definitely too much for one person so you can share it with a fellow traveler and still have a room for a great Cambodian dessert for less than $1.
5. Cambodian fried rice with soy and chili sauce.
Description: Heart-shaped fried rice with egg is a very mild and simple dish served all over Cambodia (not always heart-shaped). You can either have it mild or hot if you add some chili sauce. You can also ask for more raw veggies such as tomatoes, cucumber or carrot.
Price: $2.
6. Laotian curry.
Description: Lao curry and sticky rice is what we found to be the most delicious dish in Don Det (4,000 Islands). It is a perfect meal for those who like spicy food, but not to the point of burning. The dish is definitely a great composition of onion, green beans and tomato sauce.
Price: $2.
7. Laotian egg with rice.
Description: There is nothing better than having a nice and refreshing egg and rice meal. Whether you feel like craving something simple, you can order one of these. If you want to be more adventurous, top it with some spicy sauce and prawns!
Price: 8,000 and 10,000 Kip ($1-$1.25)
8. Thai papaya salad.
Description: Papaya salad is an extremely refreshing meal. It is often served with sticky rice and grilled chicken, but it can also be eaten with fresh rice noodles. It is all about the amazing taste and smell of herbs and spices!
Price: $1 – $2.
9. Thai spring rolls.
Description: Thai spring rolls are usually vegetarian, but you can find them with meat too. Brimming with vegetables and lots of flavor, these spring rolls make a great appetizer! You should definitely add them to your must-east food list on your culinary journey in Bangkok for $10.
Price: A set of 3 big or 4 small costs $1.
10. Thai pancakes.
Description: Thai pancakes are one of the most popular street foods. Served with banana or mango poured with Nutella or peanut butter, one of these will definitely make your day sweet! It's a great breakfast or snack idea when strolling down the streets of Bangkok. Be careful, though, you can also find another type of pancakes, which are tough and crispy and often served with meat.
Price: $1 per pancake.
As you can see, South-East Asia has a lot to offer in terms of food. If you are a travel foodie as us, Vietnam, Laos, Cambodia and Thailand will be your best friends! There is a great variety of lightly prepared dishes with strong aromatic components and flavors. The dishes prepared by local vendors are stunning, with their affordable prices you can eat a lot and pay a little!
What's your favorite South-East Asian meal so far? Have you ever tried to make one at home?
About our guest author:

Agness is a Polish tramp who has left her comfort zone in 2011 to travel the world on the cheap, spending less than $25 a day. Together with her best friend Cez, she shares her budget travel tips and adventures on eTramping.com. She is also a food lover, life enthusiast, yoga manic and photography passionate.