This guest post is brought to you by Andrzej & Jolene from Wanderlust Storytellers, who share what it's like to travel to Japan with kids.
Japan is undoubtedly one of the best kid-friendly destinations in the world! There is a magnitude of things to do in Japan with kids and the number is constantly growing.
City streets may be narrow and crowded, but it's well worth the adventure thanks to its interesting destinations, rich culture and unending attractions that would be rewarding both for you and the young ones.
Editors tip! Planning a visit to Japan? Whether you're on a girlfriend's trip, or visiting Japan solo, visiting Japan by train is a rite of passage!
Get a JR pass before you leave, though! You can't buy a JR Pass once you're in Japan, so you'll need to plan ahead and buy one before you arrive! When you arrive in Japan, simply exchange the voucher for the actual pass at a JR office.
See JR Pass prices and more info here!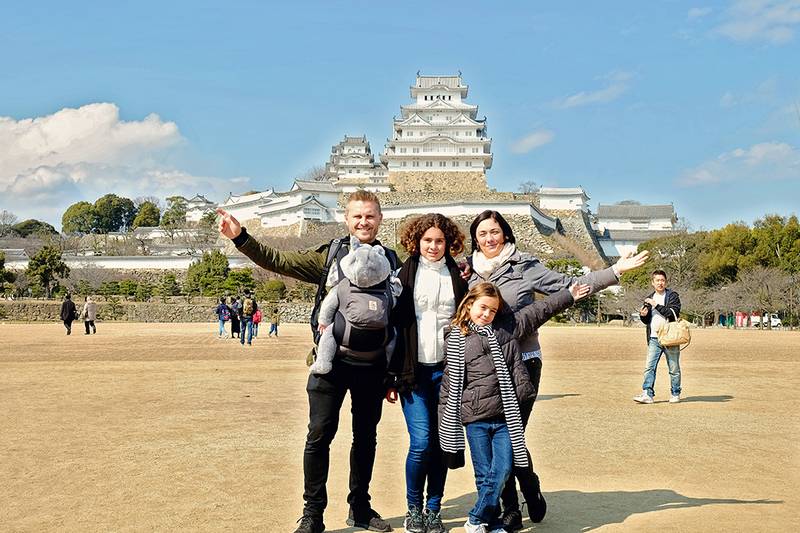 10 Tips For Visiting Japan With Kids
Here are 10 helpful tips for travel to Japan with kids, including a list of fun things to do in Japan with kids.
What to Expect
While Japan is an extremely safe and busy country where everyone seems to mind his/her own business, it is still important to understand that it is a hierarchical society. In other words, everyone and everything has its place in the society.
Traditionally, children are expected to stay at home in care of their mothers. That is why strollers are very rare to spot on the streets. This doesn't mean that kids do not go out with their parents. You will see parents out with their kids, but they're expected to keep them in check always. Letting your kid yell or run around in restaurants or trains is unacceptable and will earn you lots of cold glares.
Flying In
It is often advisable to consider Japanese airlines such as All Nippon Airways (ANA) and Japan Airline when flying to Japan with kids. Why? Well, you may have to pay a little extra, but they're astonishingly kid-friendly. Some of the services include special infant meals and cosy bassinets. These airlines also offer child seat rental service as well.
It will cost you a little extra for the seat, but it is well worth it. They also offer a special check-in counter for families, as well as free kids' play areas at the Narita Airport in Tokyo where you'll typically be let to cut in the security line.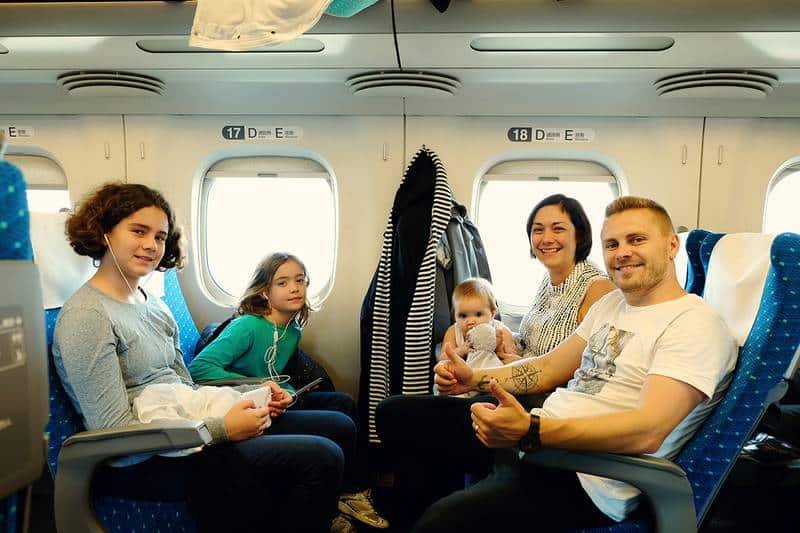 Travel Light
It is strongly advisable for parents traveling with kids to any Japanese destination to always consider traveling light. You do not want to find yourself in a situation where you are pushing a giant stroller with your kid on it while pulling a large suitcase behind you whilst trying to master stairs.
That said, traveling to and around Japan with a stroller is a nightmare you would not wish to go through. Strollers are a rarity in Japanese cities and will have many pedestrians and travellers sneering at you because they're an inconvenience not just to you, but also to others.
Trains are always overcrowded especially during rush hours, paths to shrines and temples are customarily made of gravel and to make it even worse, city sidewalks are narrow and ever busy. That is why we recommend for you to just leave your giant stroller at home.
You should instead, consider using baby carriers or umbrella strollers, which are fold-able and lightweight. You can also consider traveling with backpack diaper bag instead of a giant suitcase, which we use constantly. These backpacks have plenty of space for everything your little one will need, but also comes with heaps of space for your camera, water bottle and perhaps change of clothes. These are items that you can one-handedly or easily carry down or up the stairs, let alone the fact that they can fit just about anywhere in the trains or through normal ticket gates.
Using Public Transport
Japan has one of the best and safest transport systems in the world. Kids under 6 years old travel for free on all buses and trains. Children who are over the age of 6, but under the age of 12 are required to pay half the price. You can therefore, consider acquiring a kids' version of JR (Japan Rail) Pass Suica Smart Card, which can be used just about anywhere. We found that it was so much more affordable to use the Japan Rail Pass for the entire family, rather than purchasing the tickets separately. You can read more about the benefits of the JR Rail Pass here.
Some of the public transport modes to consider include:
Local Trains
Local city train systems are very punctual, reasonably priced and very quick. Even when travelling from one side of the city to the other, it is fairly easy to navigate to your connecting trains. Once you get used to the sign system and following the coloured lines, you will be OK even in the largest of train stations. Your little ones might have a few stairs to go up and down on, but it is not a big issue here. It is our recommendation that you avoid the hectic rush hours. On weekdays, it peaks between 8-9am towards the city centres and again at 5 pm from the city centres.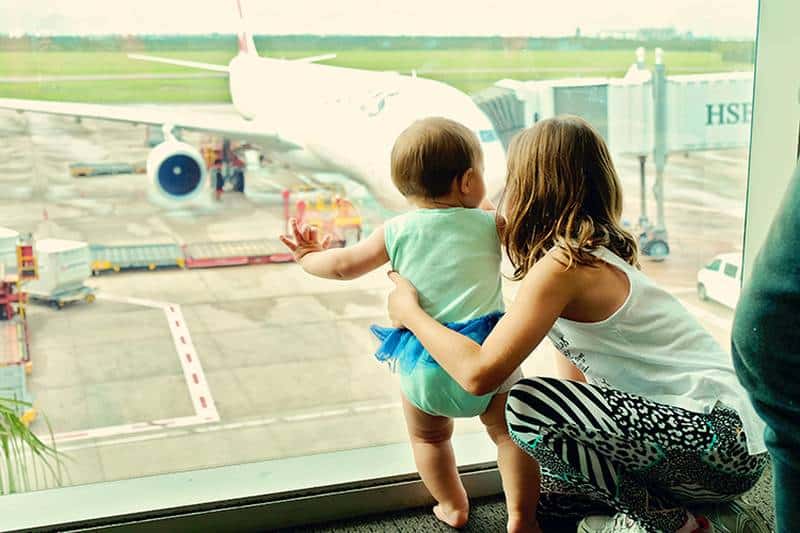 Long-Distance Trains
Children aren't entitled to their own seats in long-distance trains and can use any free seat if there's any. It is strongly recommended to book your seats in advance, in order to avoid scenarios, when there are no more free seats available. Standing with your kids whilst on the train, is not the most fun adventure.
Super modern Shinkansen bullet trains are very much kid friendly! They are fitted with modern change tables and breastfeeding booths. On the other hand, bullet trains can be unsuitable for your kids as the high-speed vibrations can make some kids nauseous. Therefore, kt's important to feed them lightly or wait for the modern bullet trains such as the N700, which plies the Tokyo-Osaka route. You can also consider using the Super View Odoriko express if you're traveling to the Izu Peninsula since it has a wonderful kids' play area.
Taxi
It is a requirement that kids below the age of 6 have a child car seat when traveling in cars. Taxis are, however, exempted from this law and are not required to have kid's car seats. If that feels a bit uncomfortable for parents, then hiring a car or choosing public transport is a safer option.
Accommodation
As expected, the majority of the accommodation in Japan is pretty compact and most of the time you will be sleeping on a traditional Japanese futon. We recommend looking for a larger family size hotel rooms and (our favourite), Airbnb options. This way you can stay as close to the main areas of the cities for a fraction of the hotel-room price.
Looking for a great deal on your next Airbnb? Click here to get a $35 USD credit!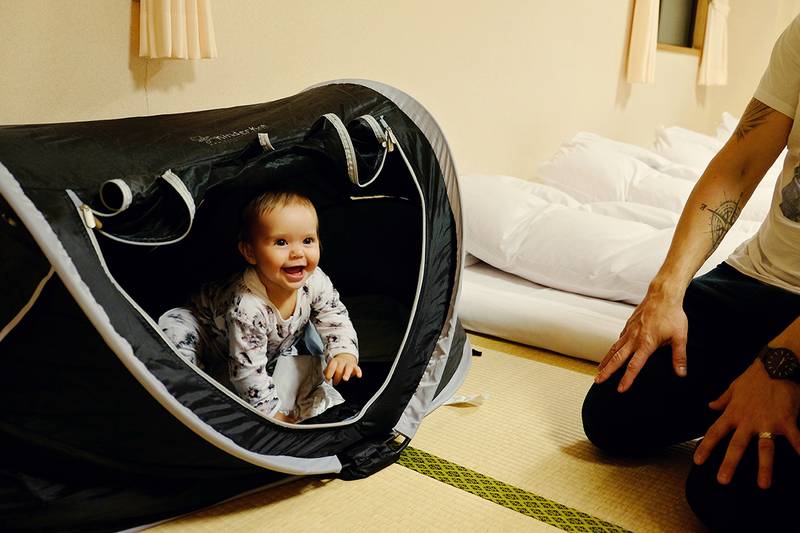 Bring Your Own Baby Supplies
Japan is one of the most developed countries in the world and you will have no problem finding anything for you little one. However, you need to be aware that the quality of diapers may vary from your country and the baby food can be slightly different to what your little one is used to. Saying that, you will have no problem finding baby supplies, should you run out.
Things to Do when Visiting Japan with Kids
As an utterly kid-friendly country, there are a lot of things to do and places to visit with kids in Japan. Some of them include:
Nara Park, Nara
Nara Deer Park is one place that your kids cannot miss out on. Nara is home to over 1500 wild deer that are very much accustomed to visitors hand-feeding them. So, make sure to grab a bag of local deer delicacies sold at any vendor and feed them till the heart is content.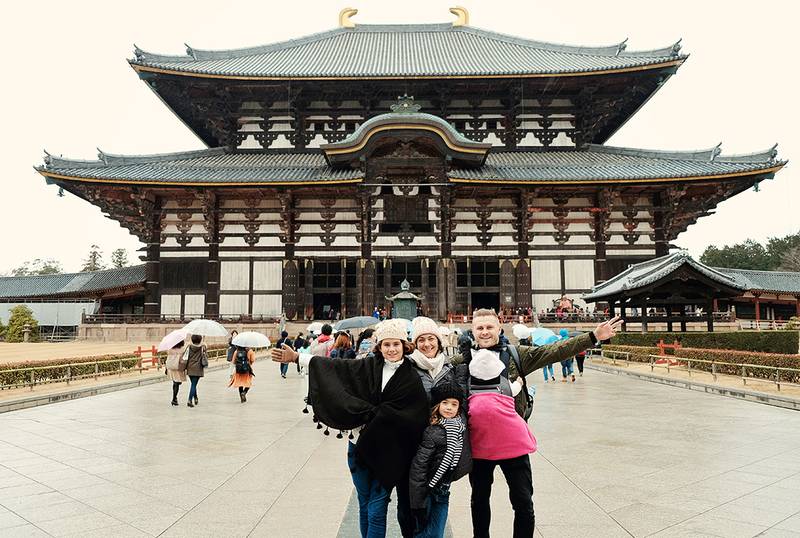 Himeji Castle, Himeji
Dating back to the 17th century, Himeji Castle is the biggest castle in Japan and will surely intrigue both you and your kids with its winding maze-like alleys, gigantic towers and numerous secret rooms.
Tokyo Disneyland, Chiba
Perhaps the biggest American culture symbol in Japan, Tokyo Disneyland is inspired by Disneyland in the United States and is very popular particularly when celebrating western holidays such as Halloween and Christmas.
Miraikan, Tokyo
This is a futuristic national science museum, which showcases several scientific trends from around the world. Both you and your kids will get educated on matters such as deep sea, environment, biology, space, robotics and many more. Your kids will also be involved in several hands-on activities.
Other places include: Todaiji Temple in Nara, Skytree in Tokyo, Hitachi Seaside Park in Hitachinaka and Matsumoto Castle in Matsumoto.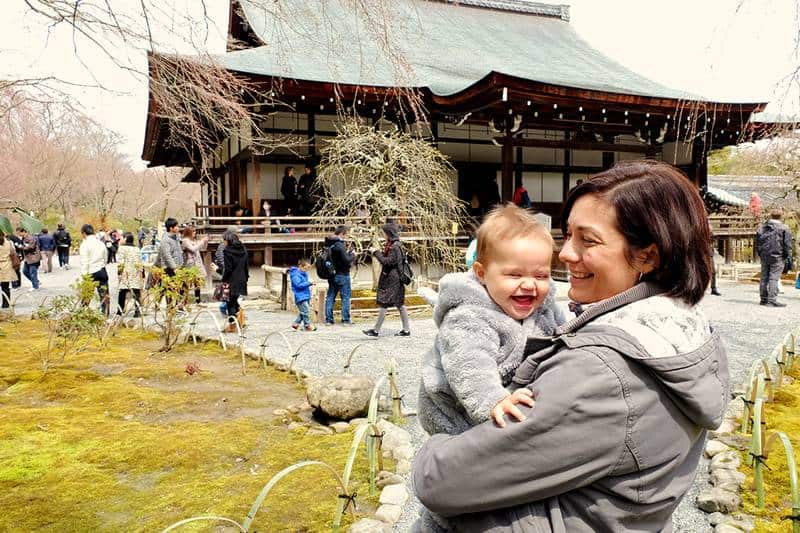 It's pretty much easy to see that Japan is a modern and bustling country with cities that look almost like super-charged New York City. Whether you're old or young, Japan is beautiful and has everything for everybody. It is also one of the safest, cleanest and most advanced countries in the world. Better still, it is one of the most kid-friendly nations in the world. Japanese people are very hospitable and English is widely and commonly used. With the above tips, a trip to Japan, "the Land of the Rising Sun" with kids is destined to be enjoyable and utterly memorable.
Author Bio:
This guest post is brought to you by Andrzej & Jolene from Wanderlust Storytellers, a widely successful family travel blog. They love sharing their passion for travel with people all around the globe.