Thinking about where to go on your next adventure? Craving sand, opulence and adventure?
Want to spend your days in luxurious pools and exploring world class aquariums while spending your evenings in some of the trendiest clubs and lounges on the planet? If so, have you considered checking out some unique experiences in Dubai? Dubai is not only one of the fastest growing cities on the planet, it's also become a hot travel destination.
We've known dozens of bloggers and travelers who've visited this popular United Arab Emirates city and loved it so much they keep going back. They speak so highly of Dubai that we're sorting out which one of many fantastic Dubai holidays that we want to take first.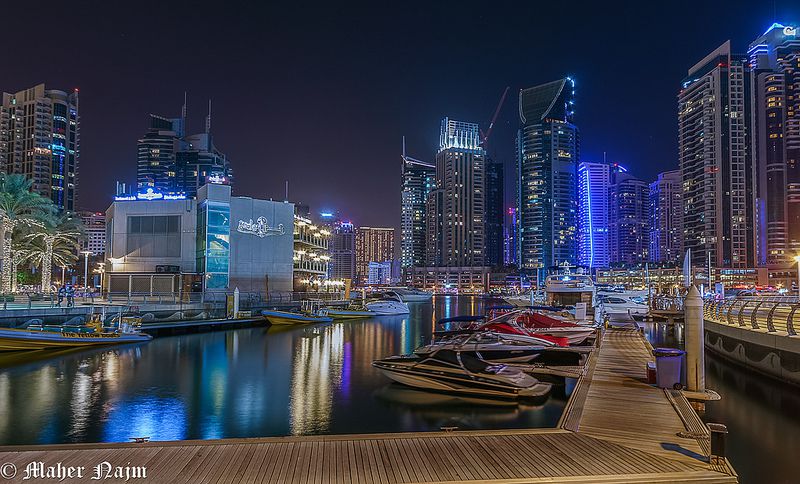 15 Unique Things to Do in Dubai
We've wanted to visit Dubai for years, and every year it creeps higher on our family travel bucket list. With giant skyscrapers surrounded by the blindingly white sands of the Arabian Desert, Dubai is as unique as it is exotic and is high on our list of you-gotta-see-it-for-yourself places.
So whether you're there for work, for play or just to take in the sheer grandeur of this desert oasis, here are 15 unique things to do in Dubai.
Go skiing in the desert
No, I'm not talking about sand skiing, though you can do that in Dubai as well. Ski Dubai, in the massive Mall of the Emirates, have built a 22,500 square meter indoor ski area complete with lifts and tubing runs.
As Canadians who live next to one of Canada's best ski hills (Big White), indoor skiing is a strange concept. We've always associated skiing with big blue skies and towering mountains, but we'd love to give indoor skiing a try as well.
This has to be one of the most unique things in Dubai. You can even go zorbing on ice or race your friends down a subzero dual zipline. If that's not enough, get up close and personal with penguins at the penguin encounter. I think our kids would go just for the penguins!
Get frosty
When we first started looking into visiting Dubai, we checked the temperature as we'd heard it can get warm. Apparently, that's a bit of an understatement, as temperatures ranging around 41 °C (105 °F) are quite common. Wow!
If you've had enough of the scorching sun, you can cool down by popping into the Chillout Lounge, which is built entirely from ice with an ambient temperature of -6 °C (42 °F). With Dubai summers hitting +42 °C (106 °F), the 36 °C (64 °F) temperature difference can be quite a shock to the system. Don't worry, they give you warm clothes to wear and serve hot soup, sandwiches, a variety of desserts as well as some delicious mocktails.
Get wet
We love water of all kinds, and you can usually find us snorkeling, kayaking, or even boogie boarding at the beach.
The problem with Dubais is that it's mostly all desert. That said, there are plenty of ways to keep cool in the water.
You can spend the day hydrating your skin at one of Dubai's 3 large waterparks. From big slides to big pools, you'll have guaranteed big fun. Just remember to bring your suncreen.
Get pampered
Need to relax after a long day of seeing the sights in Dubai? Relax in one of the many beauty spas found throughout Dubai that offer lava shell massages or facial treatments using 24k gold leaf. Yes, a facial using real gold. Don't worry, you're worth it.
Get unkinked
Tired of regular yoga?
Micki's a real yoga fan (she does yoga almost every day) and suggested I add this one to our list: Swing Yoga that can be found in many fitness centers around Dubai. If doing yoga while hanging upside down or half tied in knots doesn't put a smile on your face, you need to re-evaluate your definition of fun!
It takes a village

Looking for something to do between November and April? Global Village might be exactly what you're after. This huge family entertainment and cultural attraction allows you to visit the entire world concentrated into one place. Complete with kiosks representing over 30 countries, you can shop, dine and be entertained at one of the many live performances from around the world.
Milk it
Regular old water not cutting it anymore? Try a goat's milk bath in one of the special Jacuzzi's at the renowned Talisse Ottoman Spa. Not only will it will make your skin more beautiful than ever but you'll be as refreshed as Cleopatra was when she first started taking milk baths a few thousand years ago.
Fly like a board?
For this next one, I'd suggest a big dollop of adventure, and some good hand eye coordination. Even Micki, who'll try almost anything once, has some reservations about trying this next activity.
If you are a fan of waters ports and you love extremes, you can combine the two and try flyboarding over the Persian Gulf while you're in Dubai. If flying high above the water on a board connected to a watercraft by a long hose fills you with excitement, then consider yourself excited.
Defy gravity

If flyboarding doesn't cut it for you, you can also try indoor skydiving.
iFly Dubai is home to the very first double vertical wind tunnel in the world. Scared of heights? Don't worry, for the majority of the time you're only ever a few feet off the ground, however for a little more adrenaline you can go way higher.
This one honestly sounds like a blast, as I can see our oldest, who's 11, loving the sensation!
Dune Riding

Dubai likes to do things over the top. It's one of the reasons we think it would be a fantastic city to visit, and soon.
7 star hotel, check. Tallest building in the world, check. Giant artificial archipelago of islands in the shape of a palm tree, check. Well, Dubai is also home to a vast and sprawling desert. The Arabian Desert is just on it's doorstep and you can go on a desert safari in air conditioned comfort as you ride the dunes while searching for Aladdin's treasure. Feel free to imagine the vehicle as your own personal roller coaster, I would.
Be a race car driver
Fulfill your lifelong dream of driving a Formula 1 car while speeding around other super cars with the professionals at Dream Racing. Not only will you be driving a car that's probably worth more than your house, you'll also be going faster than you ever dreamed possible.
I think we'll keep this one for the adults in our family.
Ice Cream Gold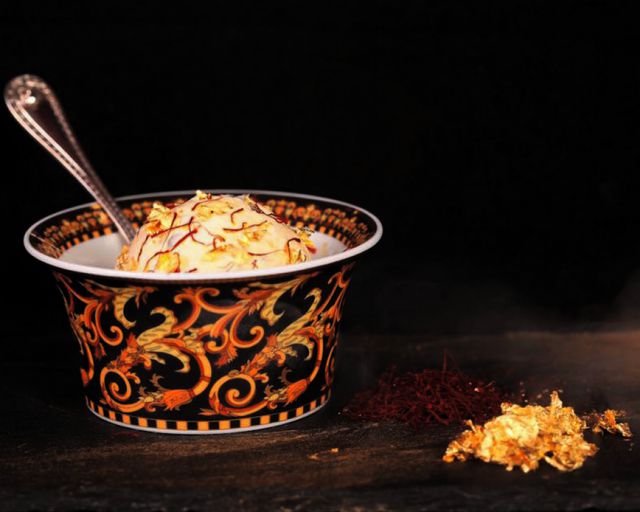 If you've been following us for a while, you may have picked up on the fact that we love our ice cream. In fact, we've even visited countries based on ice cream recommendations (check out dondurma ice cream in Turkey!).
In Dubai, the city's wealth is evident everywhere you look. As such, gold is rampant, even on ice cream. The cities most expensive ice cream dessert, at around $800 USD each, can be found at the Scoopi Cafe, one of the unique restaurants in Dubai.
The dessert is a sundae made with vanilla bean ice cream from Madagascar, saffron from Iran, rare black truffles from Italy and 23-carat gold flakes and powder. The Black Diamond might be a golden delicacy few get to savor however it doesn't stop people from checking out what other heavenly delights can be found at this trendy ice cream boutique.
Camel ho!
After our experience riding dromedary camels in the Sahara desert of Morocco, we've become big fans of these gentle animals. Even our then four year old loved camel riding!
Thanks to the desert that Dubai calls home, it's no surprise that camels played a role in Dubai's rise to fame. Whether you're watching a camel race complete with robot jockies, or catching an exciting match of camel polo, in Dubai, their love of camels goes beyond their love of sports. Lucky for you, you can also ride your own. and I guarantee riding one is a memorable way to spend a day.
Submerge yourself
As water lovers, we're excited to check out some of Dubai's best swimming pools.
With it's taste for opulence and the fact that there's sunshine nearly every single day of the year, it's no surprise that Dubai is home to some of the most beautiful swimming pools on earth. Try swimming in a pool surrounded with nothing but sand dunes as far as the eye can see, or in the shadow of the largest building on earth. You can also swim on sky high terraces or lounge in luxurious comfort only a stones throw from the sea.
Tip: Check out some of the world's most beautiful swimming pools on our Amazing Pools Pinterest Board!
Smell the flowers
When I think of Dubai, I think of desert and scorching temperatures, but that isn't necessarily the case. In fact, Dubai has one of the world's most famous and beautiful flower garden.
Visiting the the worlds largest natural flower garden at Dubai Miracle Garden is a must do for anyone who loves flowers. This sprawling, ever changing flower garden featuring giant buildings covered in flowers as well as fields of mesmerizing flower patterns might make you think you're Alice in Wonderland rather than a scorching desert.
Find yourself
Feeling a little overwhelmed by all the things there are to do in Dubai?
Well, here's a bonus one to help get you into the right frame of mind. Dubai's Illumination Center is the city's premiere holistic center. From yoga to feng shui they offer classes in nearly everything to get you centered as well as counselling and therapy classes.
Things to know before you go to Dubai
The largest and most populated city in the United Arab Emirates, Dubai has become one of the premier financial as well as a transport hubs in the Middle East and it's also home to the tallest man made structure on the planet, the Burj Khalifa at 829.8 m (2,722 ft). Just look at that view!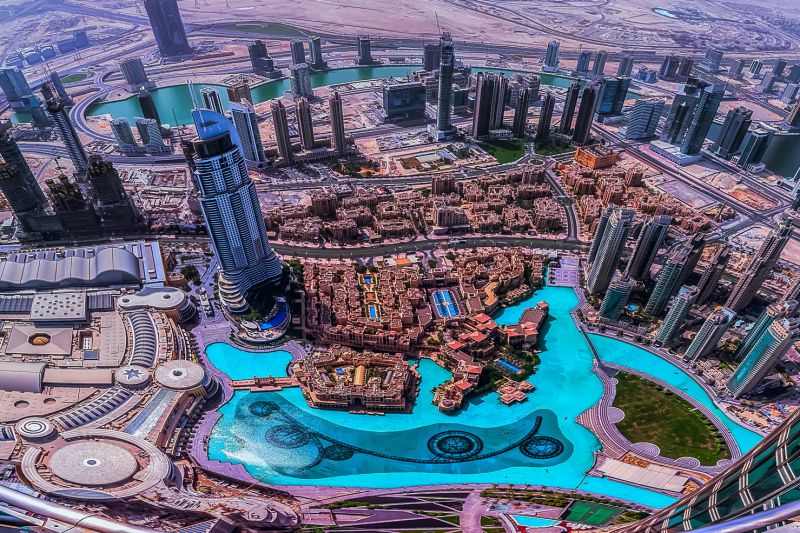 With over 95 shopping malls and souks, dozens of mega structures, and a plethora of award winning restaurants and some amazing beaches, Dubai makes a great stopover and an even better vacation.
From taking a 4 wheel drive offroad safari across the desert to going sailing on the Persian Sea, there's a lot to do both inside and just outside the city.
With hundreds of flights daily going to and from Dubai, what are you waiting for? It's time to add Dubai to your travel list too.
Have you been to Dubai? Let us know if you had any unique Dubai experiences.