This post is from our Flashback series, where we take you back to the start of our over ten years of travel.
Years after Alex Garland's best-selling novel, The Beach
, first hit bookstores, I went in search of the ultimate backpacker's paradise.
Like many desk-bound Canadians, I had always fantasized about finding the perfect tropical beach. A beach with the whitest sand, the clearest water, and most importantly, the fewest tourists. I had left a promising career on hold to explore Thailand in search of Garland's perfect beach with Charles, who was then my boyfriend of just over a year.
Garland's best-selling novel tells the story of twenty-something Richard, who sets out in search of the perfect backpacker's beach paradise. Ultimately, he finds his paradise on an isolated island commune in the sea near the Thai island of Ko Samui.
In his book, Garland notes that the formerly isolated backpacker's paradise of Ko Samui itself has become an ugly, over crowded tourist trap. In 2003, seven years after he wrote those words, I visited Ko Samui to see for myself.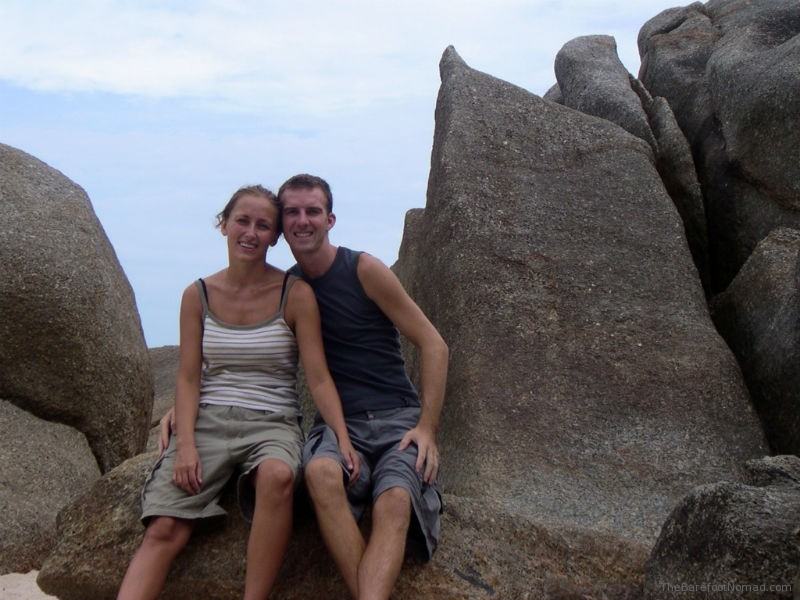 Garland was right. The busy beaches on Ko Samui were crowded with hairy tourists, who looked like they'd been poured into their far too tight Speedos. The towns were even worse: loud strips of highway jammed with brightly-lit tour agencies, Internet cafes and a seeming endless stream of tawdry bars with tired-looking bar girls. Hopping on a moped to tour the island, we found some lovely beaches and quiet corners away from the main beaches, but the noise was only a short drive away.
Ko Samui was clearly off my list, so I decided to see if the nearby island of Ko Tao was any closer to Garland's paradise. Almost completely deserted when Garland wrote The Beach, Ko Tao is now billed as one of Thailand's best scuba-diving sites. The tiny island lacks the crass consumerism of Ko Samui, but today Ko Tao is packed to the gills with dive operators offering introductory scuba lessons. Close, but no enchilada.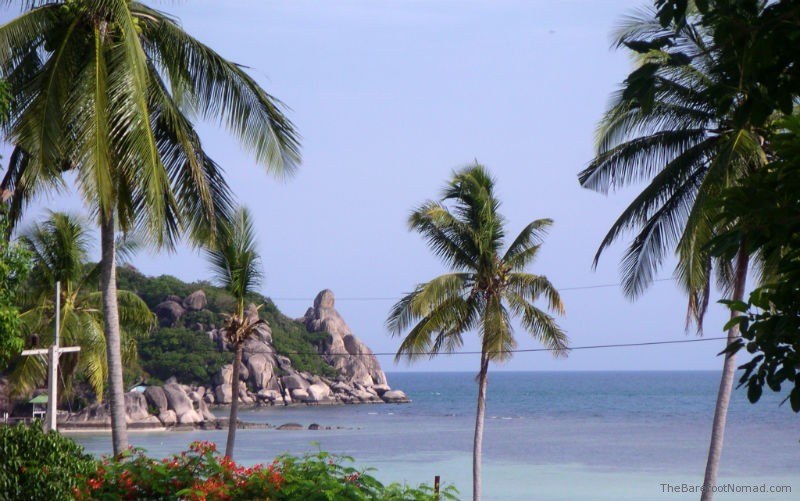 I was beginning to lose hope that I would ever find Garland's paradise. Did it still exist, somewhere off Thailand's rugged coastline?
The numbers themselves argued against being able to find paradise. Close to ten million tourists visit Thailand each year, with a good proportion of them hitting the touristy mainland beaches of Pattaya, and almost as many visiting the island of Phuket.
Obviously, I had to go far, far afield to find Garland's perfect beach. My next tactic was to leave the busy islands behind, and see if Thailand's mainland beaches harbored my secret paradise. I decided to next check out the beaches near the town of Krabi, rumored to be much less touristy than those of the popular islands like Ko Samui.
I never found my isolated beach paradise in Krabi. Instead, I found myself ocean kayaking underneath stunning limestone cliffs with only the sound of my paddle to disturb the peace. I maneuvered the kayak into narrow passages between rocks jutting up from the ocean, pushed and pulled by the gentle tides. Limestone cliffs jutted overhead, and long stalactites hung precariously. Caves carved into the cliffs dozens of feet above my head cried out to be explored. The ocean was a clear, deep turquoise, and schools of little silver fish darted, iridescent and shimmering just under the surface.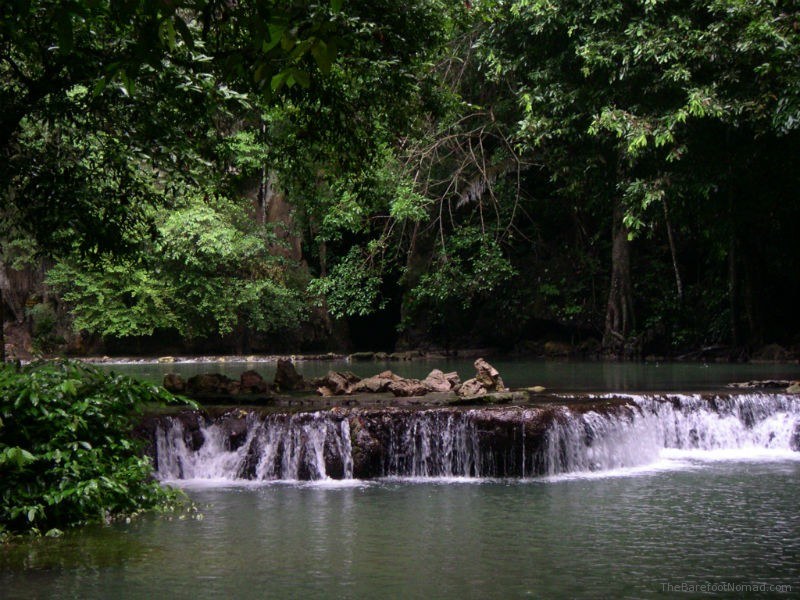 Despite the beautiful distractions of Krabi's coastline, I continued my search for the perfect beach. This time, I focused on Thailand's more isolated southern Andaman Sea.
My first stop was Maya Bay, on Ko Phi Phi Leh island: the setting for The Beach's film version
, starring Leonardo DeCaprio. About 550 km southwest of Bangkok, the filmmakers' decision to use the once isolated Maya Beach for filming was fraught with controversy. Environmentalists blasted filmmakers for damaging the fragile beach. Later, the movie's success ensured that the film's location would become a stop on any tour of Thailand's beaches, creating further damage to the pristine natural environment of the island. I didn't really expect to find Garland's perfect beach at Maya Bay, but I wanted to take a look anyway.
On the day I visited in 2003, Maya Bay's once-pristine water was coated with a light sheen of spilled diesel fuel, and tourists like me swarmed the white sand. My heart sunk to see what tourism had made of this idyllic place. Today, 10 years after my trip, tourists still report polluted water and unchecked tourism on Maya Bay.
The island of Ko Lanta was my next stop. Ko Lanta's sand wasn't the whitest, and the beaches were dotted with tourists, but the laid-back feel of the island seduced me to stay well over three weeks. Each night, Charles and I ate at one of the many open-air restaurants, and each day we swam in the clear, shallow waters.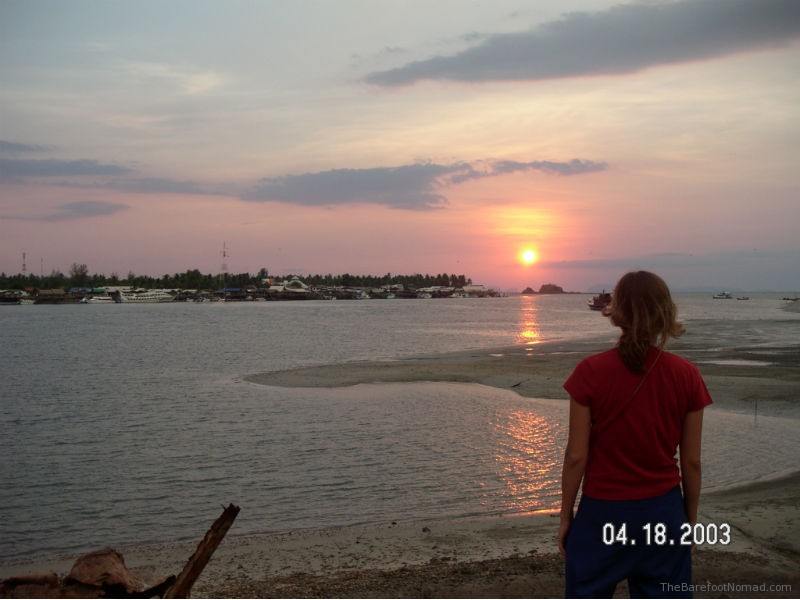 Eventually, I decided to continue my search for Garland's perfect beach on the isolated, and largely unknown, island of Ko Mook. The longtail boat swept me past towering limestone cliffs and lush greens of little islands that dot the Andaman coast.
My first glimpse of Ko Mook (also spelled Koh Muk) was the less than one kilometer long stretch of perfect white sand on Farang (the Thai word for foreigner) Beach. Carrying my backpack precariously, I waded toward the little bamboo bungalows that dotted the length of the beach.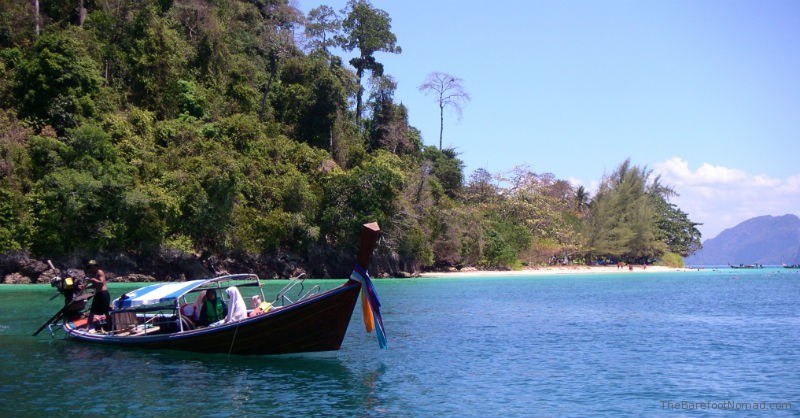 Boasting only a few resorts, Ko Mook was decidedly more serene than any of the other islands I'd visited on my quest. The only sign of nightlife on the island was a small beachfront bar, with six tables on the sand, serving ice-cold beer and cocktails. The only television in sight was in the restaurant at Charlies' Resort. For meals, there was a choice of the four restaurants at the local resorts (Sawatdee's, Charlie's, Hat Farang, and the newest resort, Rubbertree). All the restaurants served excellent Thai food, Western breakfasts, and standard Western fare like sandwiches and spaghetti. Typically, a main course cost between 50 and 100 baht (about $1.50 – $3.50 USD).
Every evening, everyone on the island made his or her way down to the beach to watch the sun set. I spent most afternoons running from the beach's perfect, wide strip of powdery white sand into the warm, emerald green water. The only complaint was the water fleas, which would sometimes bite mercilessly, feeling like stinging little mosquito bites under water. They never left a mark, and only stung for a few seconds, but the bites were still a little bit disconcerting!
Overall, the beach was almost deserted, apart from a half dozen tourists, and occasionally some local young men and women. The local people of Ko Mook are Muslim, and they often swam in full clothing, including long skirts or trousers, and full head coverings. Their modestly contrasted sharply with us Western tourists, who mostly wore tiny Speedos or string bikinis, and sometimes even went topless.
Was Ko Mook my equivalent of Garland's perfect beach? Definitely not. Garland's paradise would never have resorts; it would be perfectly isolated and unspoiled.
Did I ever find Garland's perfect beach?
No. Though I did find the beauty I was looking for in the emerald green waters of Krabi, and relaxation in the laid back beach life of Ko Mook and Ko Lanta.
Garland's perfect beach may still exist… somewhere.
But every year, as tourists just like me travel to even more distant coastlines in search of paradise, the perfect beach becomes more lost. Eventually, I can't help but wonder if it will exist at all.
Did you like this article? You can read more of our Flashback articles, where we explore driving through Australia's isolated Outback, watch jumping crocodiles and visit the wild and beautiful Fraser Island.