Missing the flavors of foreign lands? In this hands-on Sakuraco box review, our family of four tests this popular Japan snack subscription box service to see if it helps fend off both our hunger as well as our travel taste buds.
Finding authentic Japanese snacks and sweet treats outside of Japan can be really difficult, especially in our area of Canada. That's a huge shame, since food gives us a unique insight into the culture of a country, and snacks are an easy, fun, and accessible treat.
We tried the Sakuraco Japanese subscription box, and here's what we thought.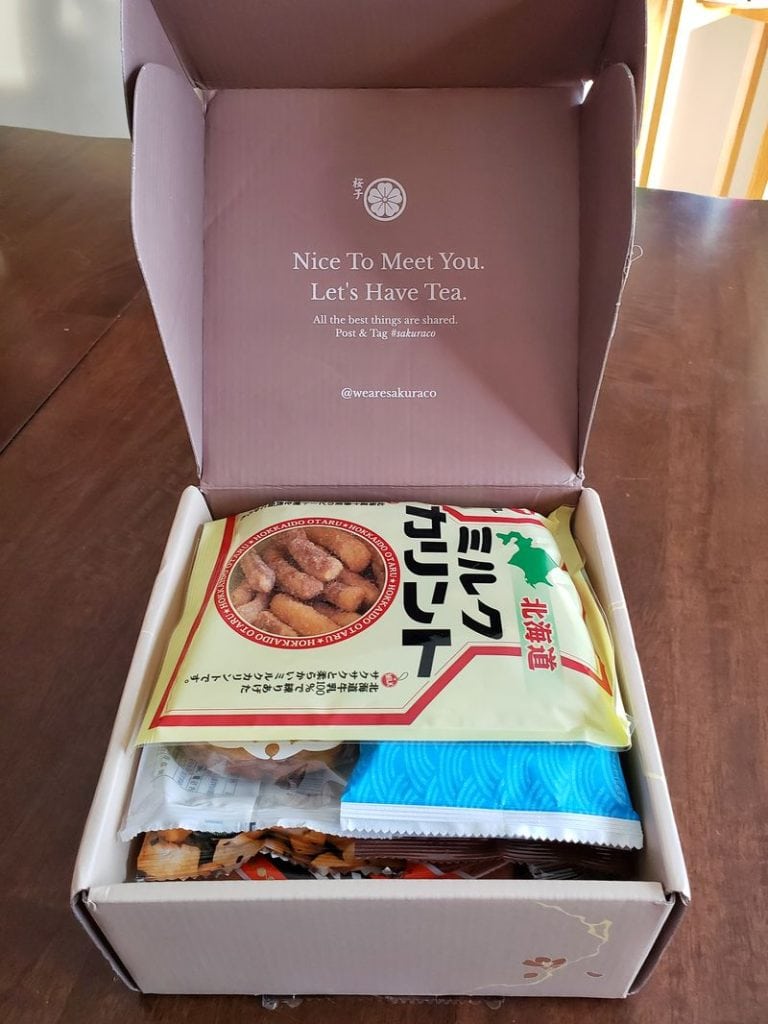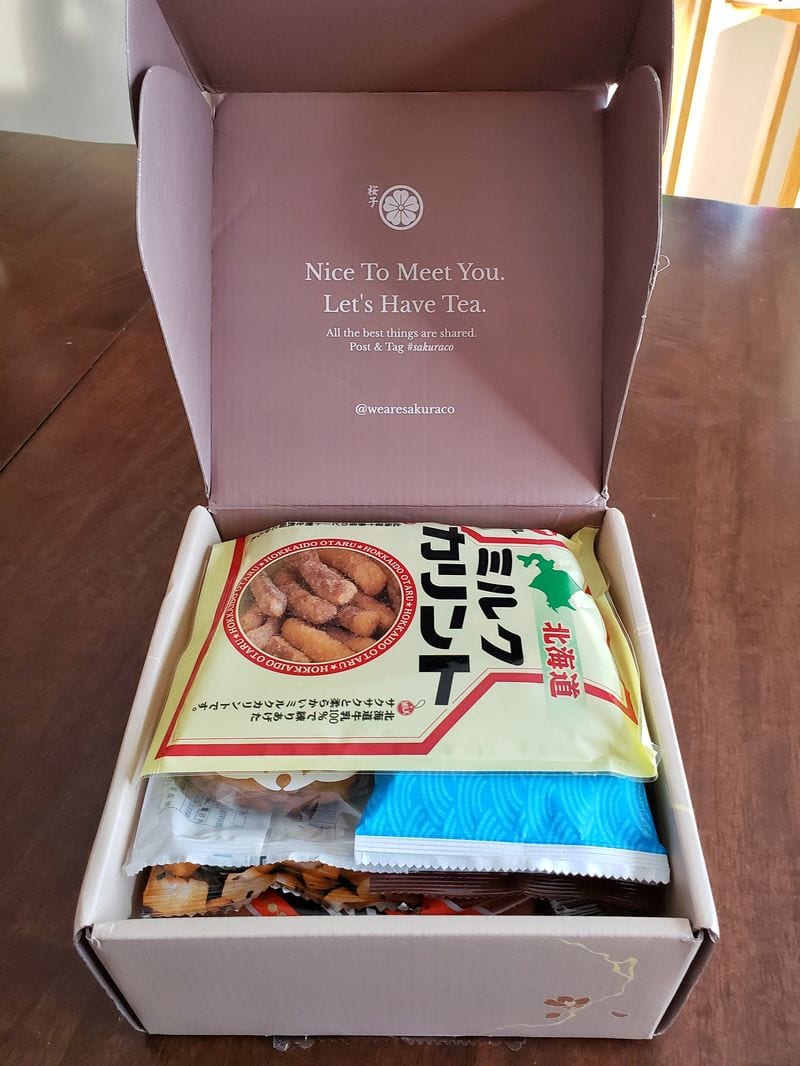 Our Sakuraco Box Review
Our Sakuraco box came securely wrapped in a thick layer of bubble wrap. All the contents inside were in perfect shape.
I really loved the muted earth tone of the box, accented with gold. The elegant packaging really fits with the upscale snacks inside as well.
See Sakuraco box pricing here.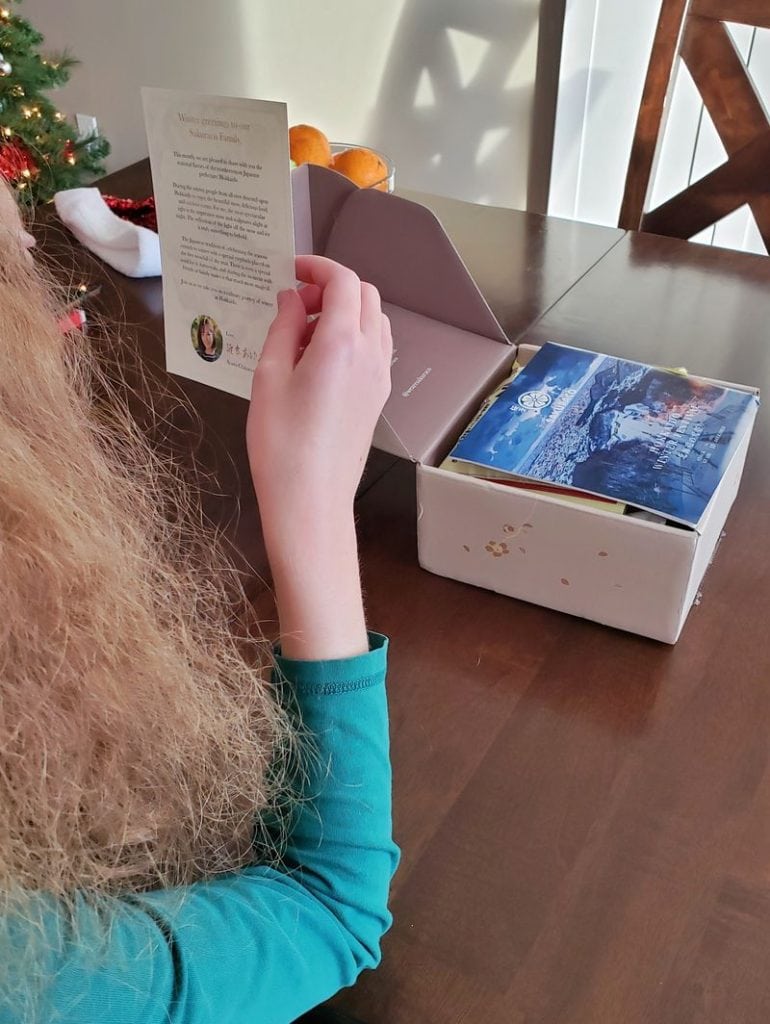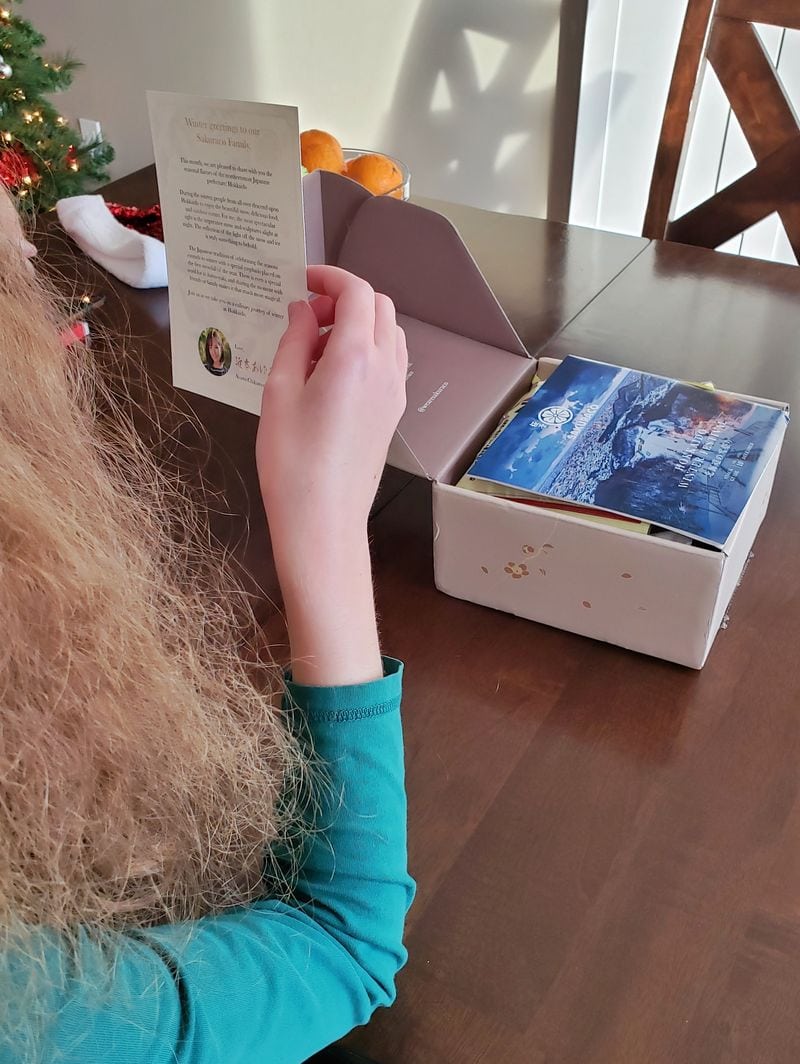 What's inside the Sukuraco box?
The Sakuraco box is filled with locally sourced Japanese teas, sweets and snacks. There are 20 new, seasonal snack treats in each box and each box often includes treats from different Japanese prefectures.
Each box includes traditional Japanese teas such as matcha, hojicha or other seasonal teas, as well as Japanese home goods like ceramics, chopsticks or furoshiki. You'll also find traditional Japanese cakes, and sweets like mochi, manju and yokan. There are also seasonal treats like momiji, and sakura, along with senbei and konpeito from local makers.
Each box comes with a gorgeously detailed snack and culture discovery guide. The guide describes each snack in English, along with its origin and often information about the area the snack derived from. Boxes also come with complete allergen information for each item.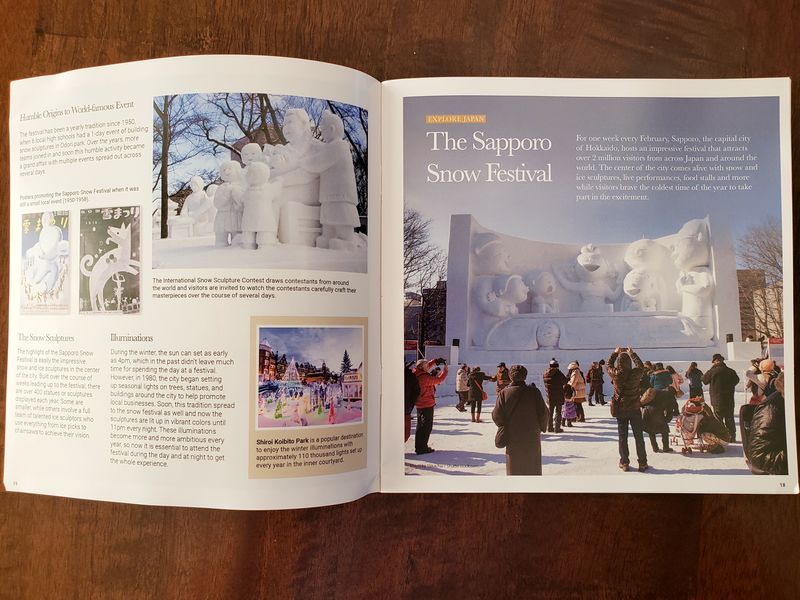 We reviewed the December Hokkaido Winter Festival box.
With three vegetarians out of the four of us, we were thrilled to see that Sakuraco notes in the guide whether or not each treat is vegetarian.
While most of the treats in our box were vegetarian friendly, there were a few that weren't exactly to our tastes however that's to be expected when given an assortment and why these types of boxes are great for families or groups of people. Being able to share an experience, good or bad, is always a great bonding experience.
That said, there were definitely a few that stood out for each of us.
Our Favorite Sakuraco treats
My daughter's favorite snack was the Hokkaido milk karinto. It's a lightly fried wheat batter made with Hokkaido milk, and coated with a sweet, sugary coating.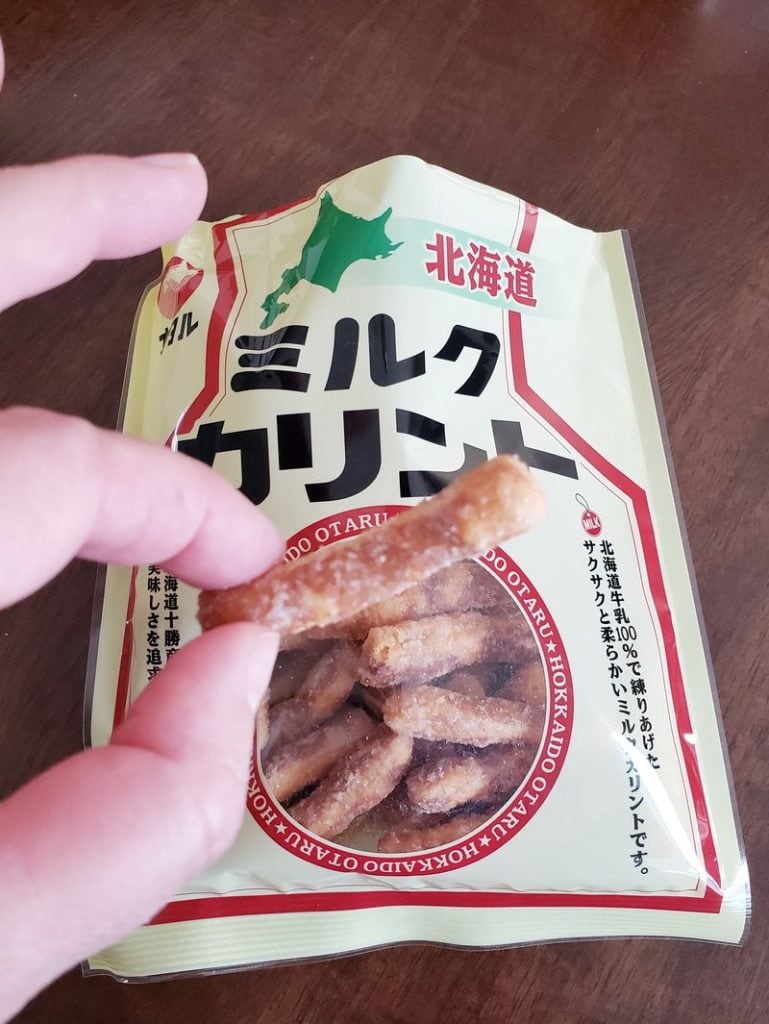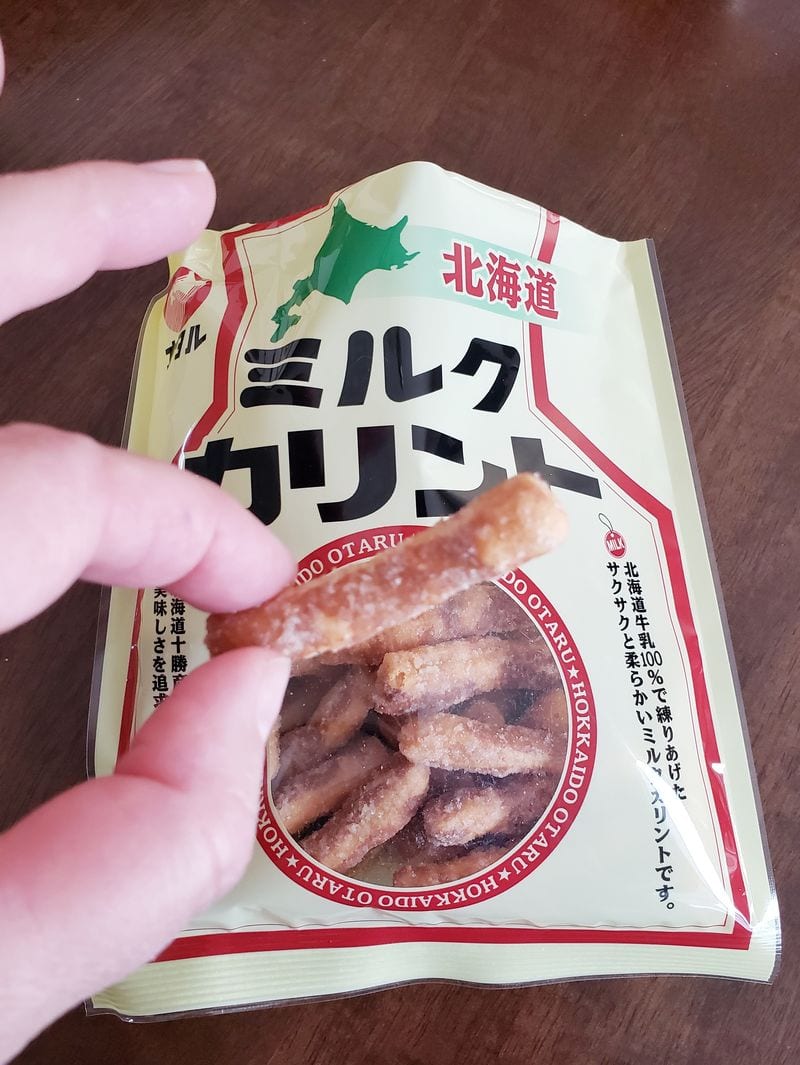 One of Charles' top picks was the Yubari melon chocolate sandwich cookie. It's made with Yubari melon, which is a classic Hokkaido flavor, coupled with white chocolate and two layers of crisp butter cookies.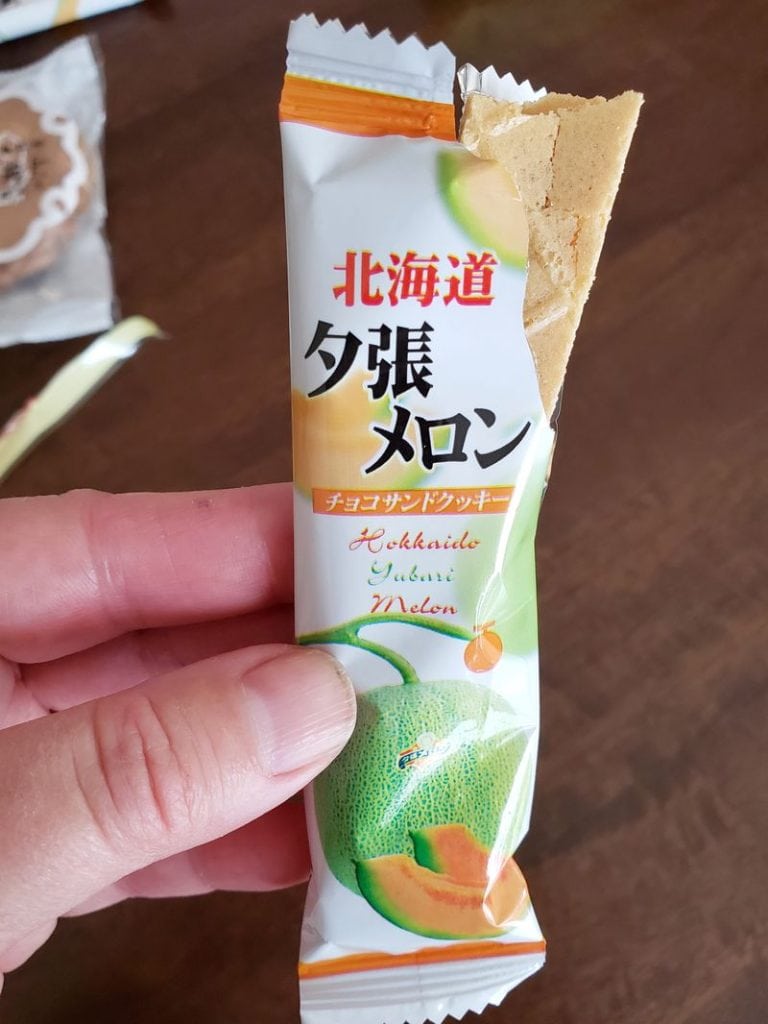 Our son really liked the banana baumkuchen. It has thin layers of sweet egg batter with a light, banana flavor. It's meant to be enjoyed with tea or coffee, but we ate them plain.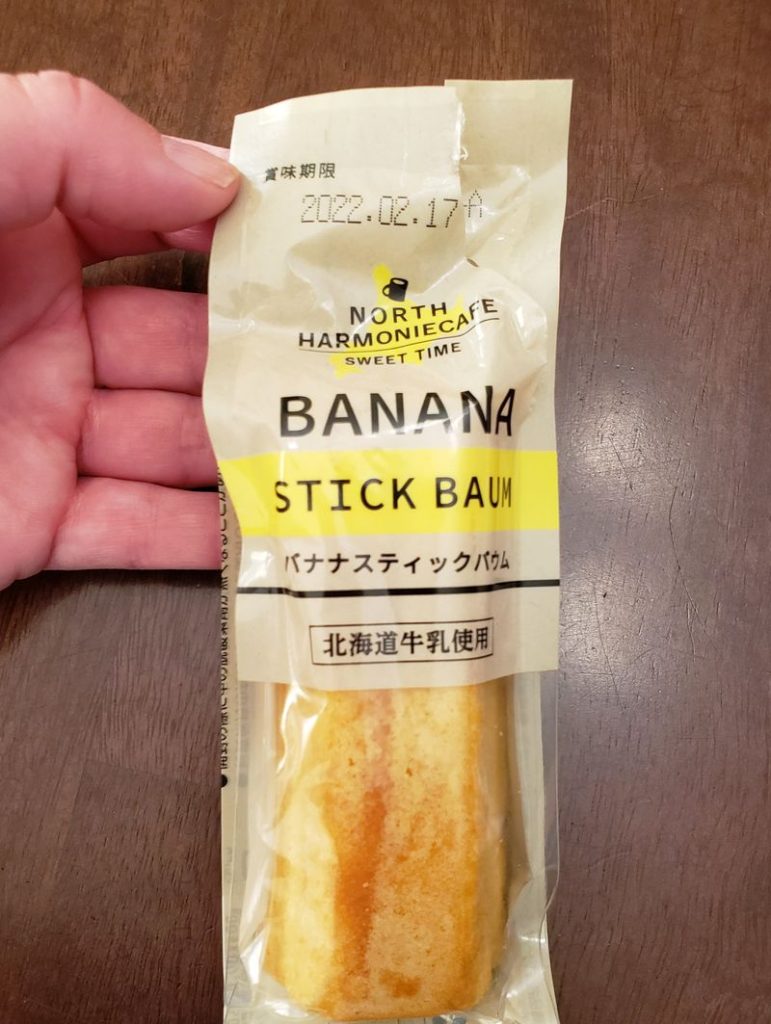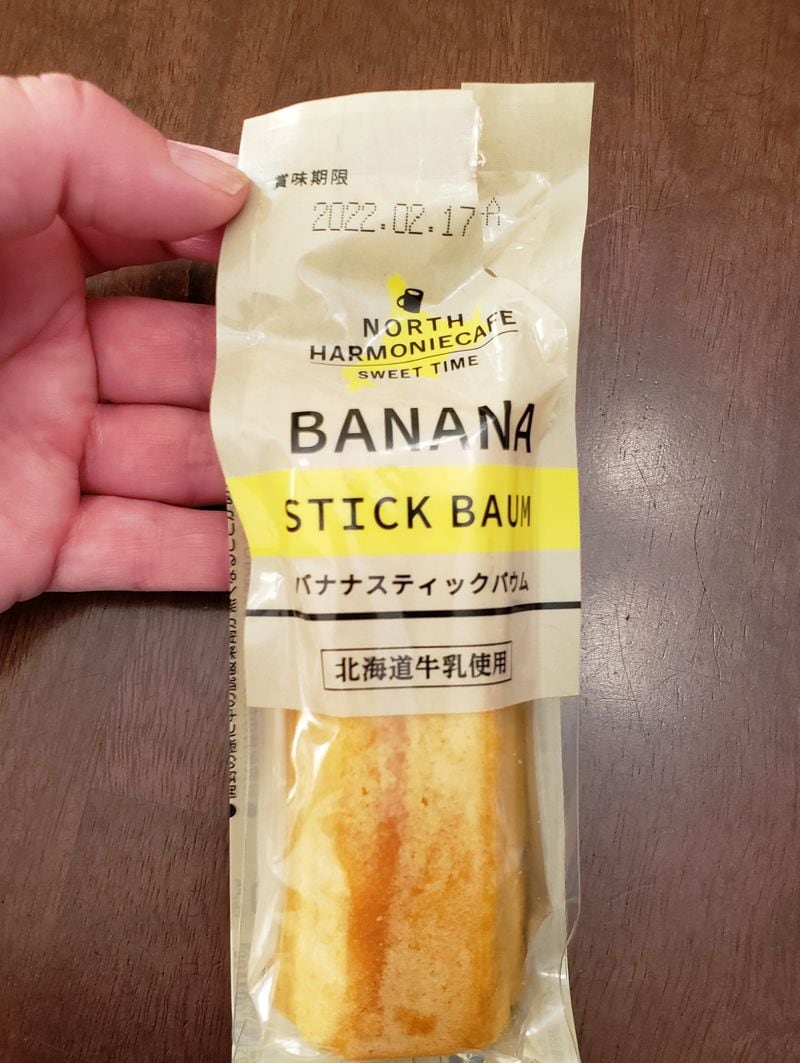 My two favorites were the Kobukoro mochi and the walnut mochi.
I'm usually not a fan of seaweed, but I absolutely loved the Kobukoro mochi, which are flavored with the umami Hokkaido kobu, which is type of seaweed. Delicious!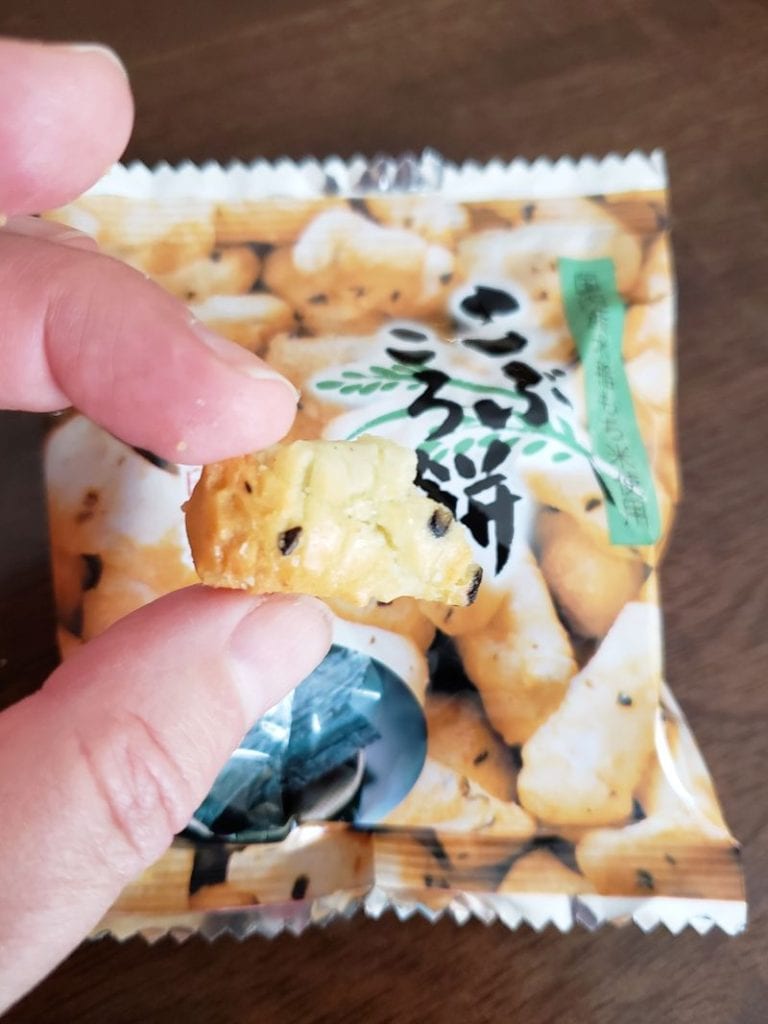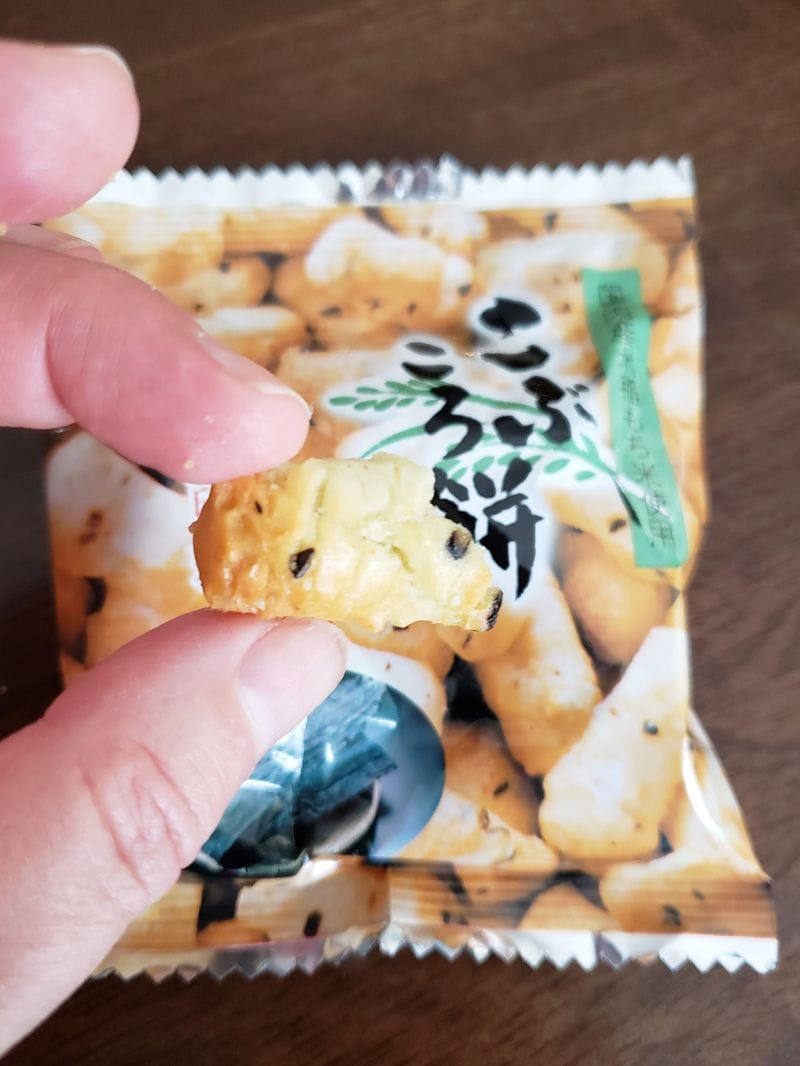 The walnut mochi is made with red sweet bean and mochi rice, with chunks of roasted walnut. The guide said it has a hint of soy sauce flavor (which I couldn't pick up on, honestly). It comes wrapped in a thin layer of edible rice paper.
Just don't make our initial mistake, and assume the outer white cardboard is the edible rice paper. (Hint: It's not!)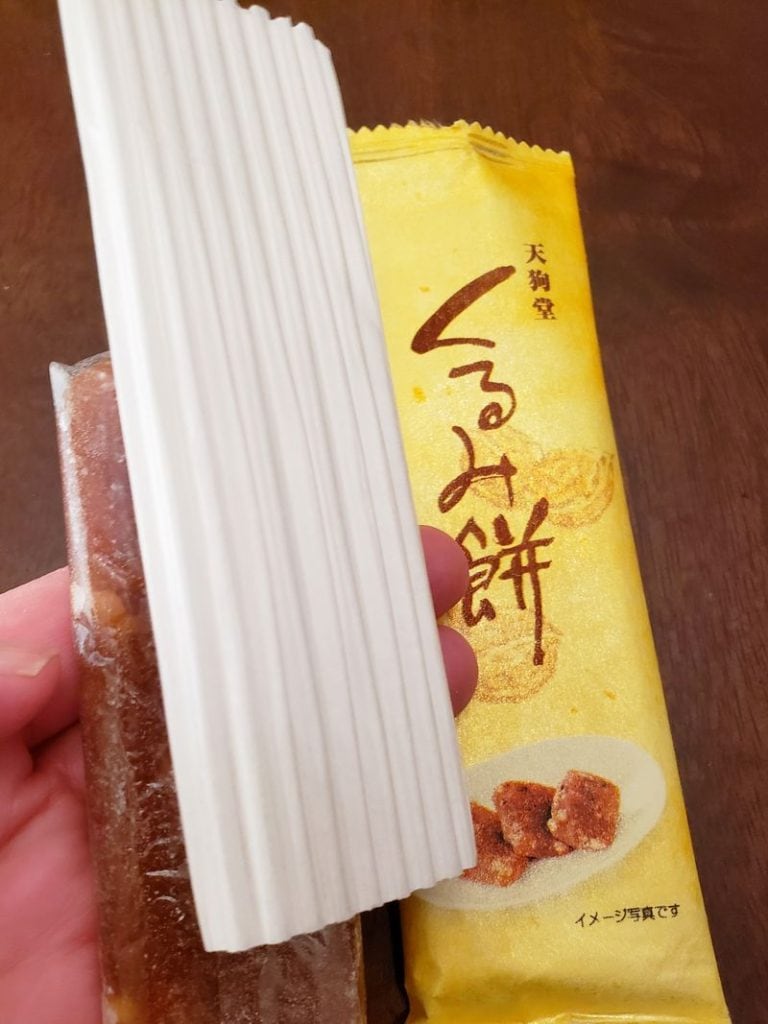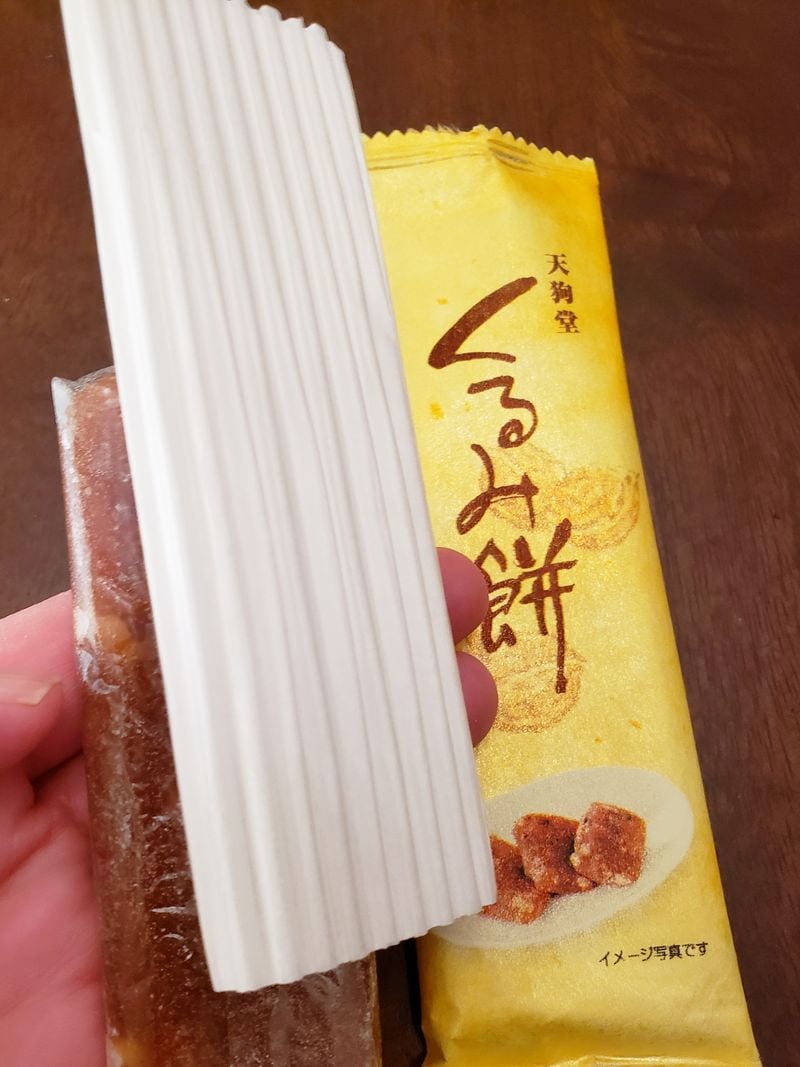 The edible rice paper is, of course, the thin, translucent wrapping around the sticky walnut mochi and dissolves quickly in your mouth.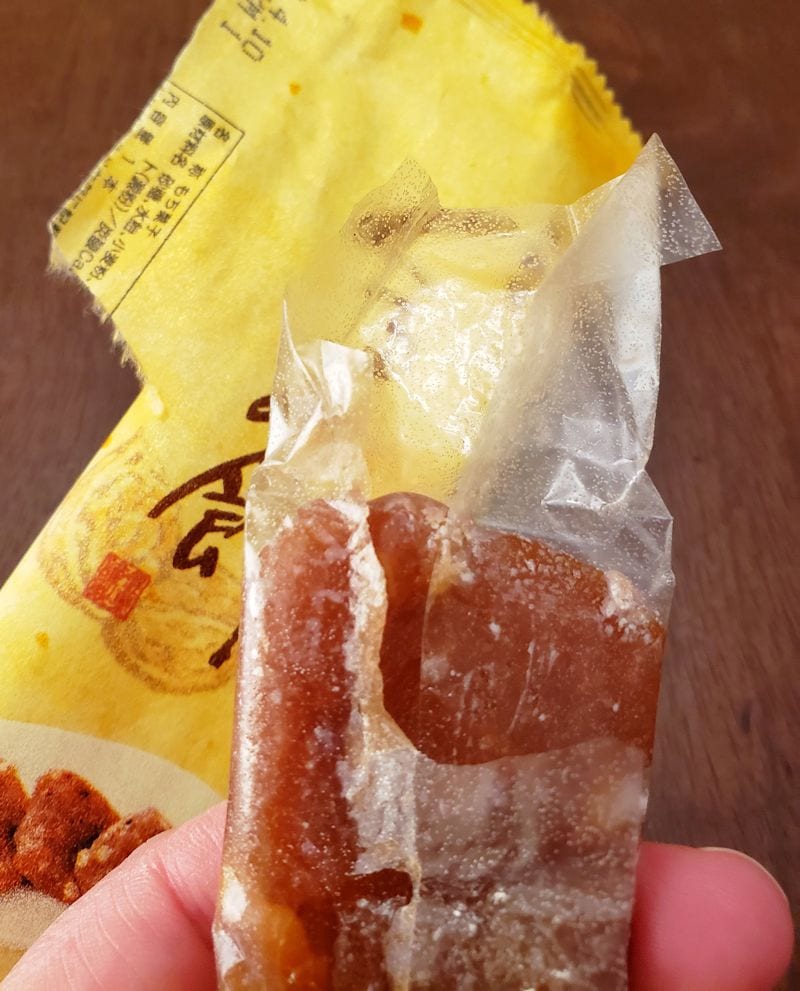 How much does Sakuraco cost?
The cost for Sakuraco is $37.50 for a one month box.
That cost drops to $35.50 per month if you get a three month subscription, and drops again to $33.50 for a six month subscription.
The most affordable option is $32.50 per month for a 12 month subscription. You're charged the full amount of each subscription when you sign up.
Sakuraco delivery
You can get your Sakuraco box delivered worldwide.
Boxes are sent by trackable or express delivery. If your country doesn't support express shipping, Sakuraco will deliver your box with Japan Post Priority Shipping and Tracking.
Sakuraco vs Tokyo Treat
We tried the Tokyo Treat box earlier this year (see our Tokyo Treat review here).
Overall, the Sakuraco box is smaller than Tokyo Treat however they do include different things in them which will appeal to different groups.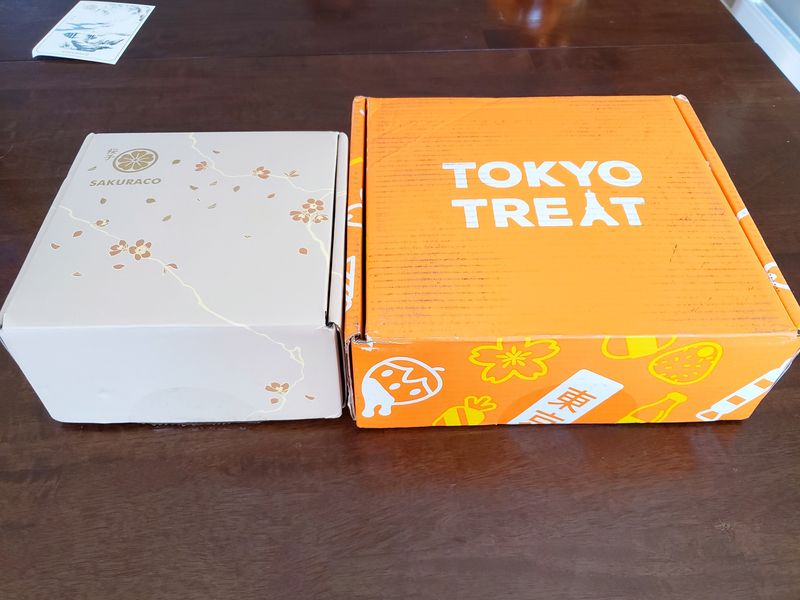 Once you look inside, the Sakuraco snacks are much more adult focused than Tokyo Treat. They're both fantastic boxes, but I'd say that Sakuraco would be a better box for adults and older children, while Tokyo Treat's larger box with more brightly colored popular snacks is a great fit for young families, especially those with younger children.
Is Sakuraco Box worth getting?
Both the box, the English guide and the snacks within, while not all to our taste, are well presented and a fun way to explore both the culture and flavor of a distant land for a fraction of what the airfare alone would cost.
Whether you've already been to Japan and have a fondness for the snacks or have never been and are curious what kinds of things they call tasty, these subscription boxes offer us a glimpse of travel without ever having to leave our home and for that they get a thumbs up.
We look forward to trying out more of these services in the future.