This post is part of our flashback series taken from emails and letters to family and friends during our tour of Asia and Australia in 2003. This post is pre-kids and was towards the beginning of our first great adventure together.
Thailand: Ao Nang, Krabi to Ko Samui
After a great few months hopping around southern Thailand, monsoon season was quickly approaching. Micki and I decided that it was time to leave the Andaman Sea and check out the warm and sunny eastern islands in Thailand. The three major islands on the east are the touristy Ko Samui, full moon rave party Ko Pha Ngan and the divers mecca of Ko Tao.
We decided to forego the early bus and a quick ferry and opted to try a night ferry to the island of Ko Samui instead. On the whole, the night ferry was going to take longer, but since we would be traveling at night we thought we'd get an extra day and a free night's accommodation out of the deal. Well, we definitely got both of those and a few other surprises as well. Hint: one of those surprises involves a goat.
From what we read, the night ferry went a little slower than the other so that's where we thought all our time would be wasted. As you can probably guess, I could probably fill a few pages talking about how that journey went but for the sake of brevity, I'll just give you some of the highlights.
It all started the moment we left our hostel…
As was the norm, our journey in South-East Asia started with us getting picked up at our hostel and brought to the bus station. Luckily, we were leaving from Ao Nang, saving us some time as compared to the bus from Bangkok to Koh Samui.
Usually, there is a short wait at the station before taking off. We knew the moment that we reached that first station that this was going to be a memorable trip. After our ten minute ride to the local bus station they announced that we were over an hour and a half early and needed to wait. Next came a very dusty, hot and decrepit three hour bus ride followed by, you guessed it, an hour and a half of more waiting.
As it pushed closer to midnight, we realized we were the only people left at the station.
Everyone else from our group was on their way north to Bangkok or south down to Malaysia. Since it was so late and there was just the two of us, they didn't even bother starting up a bus.
It turns out we were driven the last leg of the trip in the box of a beat up old truck with a bunch of plastic chairs that they felt needed to be dropped off first. This was all explained to us with wild gestures and lots of nodding since we had no idea what the driver was saying and he obviously didn't speak a word of English.
I will say that blindly driving down the back streets of a dark, small town close to midnight in a foreign country and pulling into an even darker yard wasn't exactly the best feeling in the world.
Once we realized they only wanted to drop off the chairs, the truck pulled out and we finally arrived at the ferry. As was our luck that day, we discovered that we had to wait another few hours yet again before the ferry left from Suratthani for the island of Ko Samui.
As bad as all that waiting was, it paled in comparison to realizing that the two goats that were tied to the boat were waiting their turn to board.
Yes, it was definitely a memorable journey. Anyway, after seeing the cargo that was being loaded, we were thrilled when we realized that everyone on board had a 2×6 foot-sleeping mat and an old pillow to call their own. As sad as that sounds, you can probably imagine our discontent when, after playing cards for over two hours, we realized that we hadn't even left the shore yet.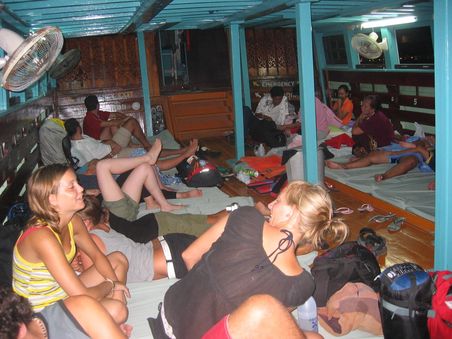 I would like to end the story on that note but since I tend to always share the more positive and unusual aspects of our trip today I feel the need to describe the less pleasant and more mundane side as well. With that in mind, I could tell you all about the long night aboard suffocating on diesel fuel fumes or maybe the big cockroaches and wacked out moths that lunged at us continuously.
Of course, I wouldn't be honest if I didn't also mention our backpacker neighbors who looked as grubby as they smelled and who continually invaded our 2×6 space. On the whole, interesting wouldn't even begin to describe it but, as I always say, any story worth mentioning is an adventure worth living.
Looking back now, the funniest part of the whole incident is that we actually arrived in Ko Samui earlier than we had anticipated. Though that may sound great, in retrospect, unexpectedly arriving in a small foreign town at 5:00 in the morning and trying to find transportation is not a big bonus.
So, was Ko Samui worth all the hassle? In a word, no but it did have a few things going for it but that's another post entirely…