Looking for the best Japanese snack subscription boxes? Our family of four gives the most popular snack boxes a try, and we name our favorites in our personal, hands-on review.
Japan's unique snacks are an unforgettable part of any trip to Japan.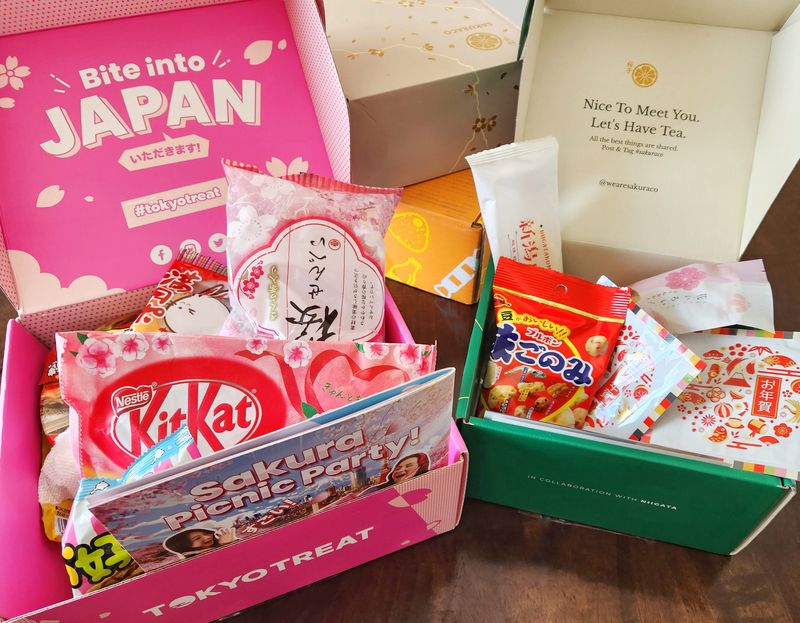 Have you dreamt of exploring the rich and diverse flavors of Japan from the comfort of your home?
Whether you're a first-time traveler eager to pre-taste the vibrant and unique culture, or a seasoned Japan traveler missing those special treats, there's a subscription box just for you.
In a hurry? Our top picks
We got our first Japanese subscription box a couple of years ago, and fell in love with the (to our Canadian tastes) unusual, fun, and tasty snacks inside. Since then, we've had a chance to try many different snack subscription boxes from Japan, and now we can share the pros and cons of each.
Why get a Japanese subscription box?
First off, the convenience is unreal! Picture this: you're relaxing, maybe binge-watching your favorite anime, and BAM! A box filled with unique Japanese snacks lands at your doorstep. No more scavenger hunts in the international food aisle trying to dig up those rare treats. Pretty cool, right?
And let's chat about the range of snacks you get. These boxes are like a fun foodie tour around Japan! You get everything from Kyoto's lush matcha goodies (green tea heaven, anyone?) to Hokkaido's sweet red bean yummies to Okinawa's tasty seaweed crunchies.
Oh, did I mention surprises? Because every month is surprise time! Just when you think you've tasted it all, you'll find another trove of snack treasures waiting for you. It's like getting a birthday present every month (only this one's full of snacks and not another pair of socks from Aunt Bertha).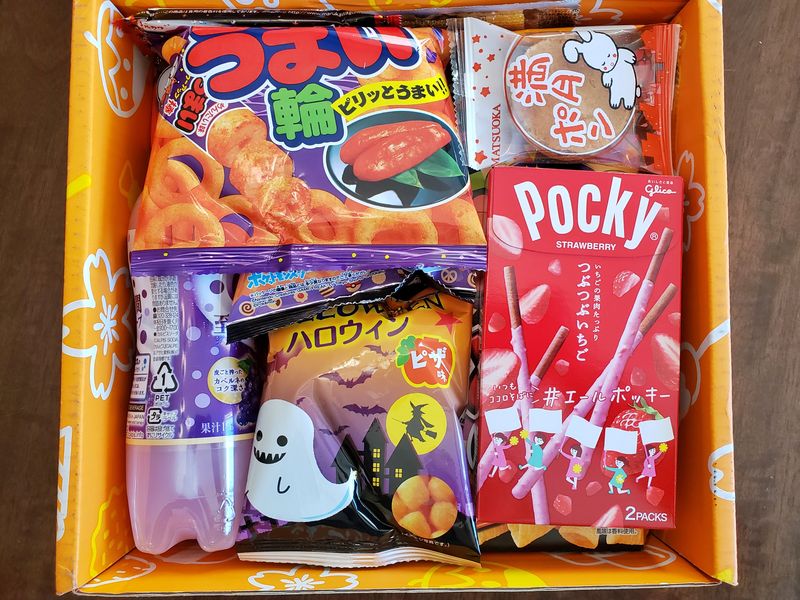 And it's not just about the snacks. These boxes give you a real taste of Japanese culture (quite literally!) You'll often find little nuggets about where the snacks come from, their history, and how the locals enjoy them.
If you have specific dietary needs, don't worry, you're not left out. Many of the better snack boxes have you covered with vegetarian, vegan, or gluten-free snack options, so everyone can join the Japanese snack party.
So, follow along with us as we personally compare the best Japanese snack boxes in our independent review.
How do Japanese snack subscription boxes work?
A Japanese snack subscription box, like Tokyo Treat or Sakuraco, is like getting a surprise present every month, filled with yummy snacks from Japan!
These boxes have different treats inside, like candies, chips, and cookies, all from Japan. They often have interesting flavors and cute packaging that you might not find in your local stores.
When you sign up, the company sends you a new box each month, so you get to try lots of different snacks and have a fun taste adventure without even leaving your house! It's like having a tiny bit of Japan delivered right to your doorstep.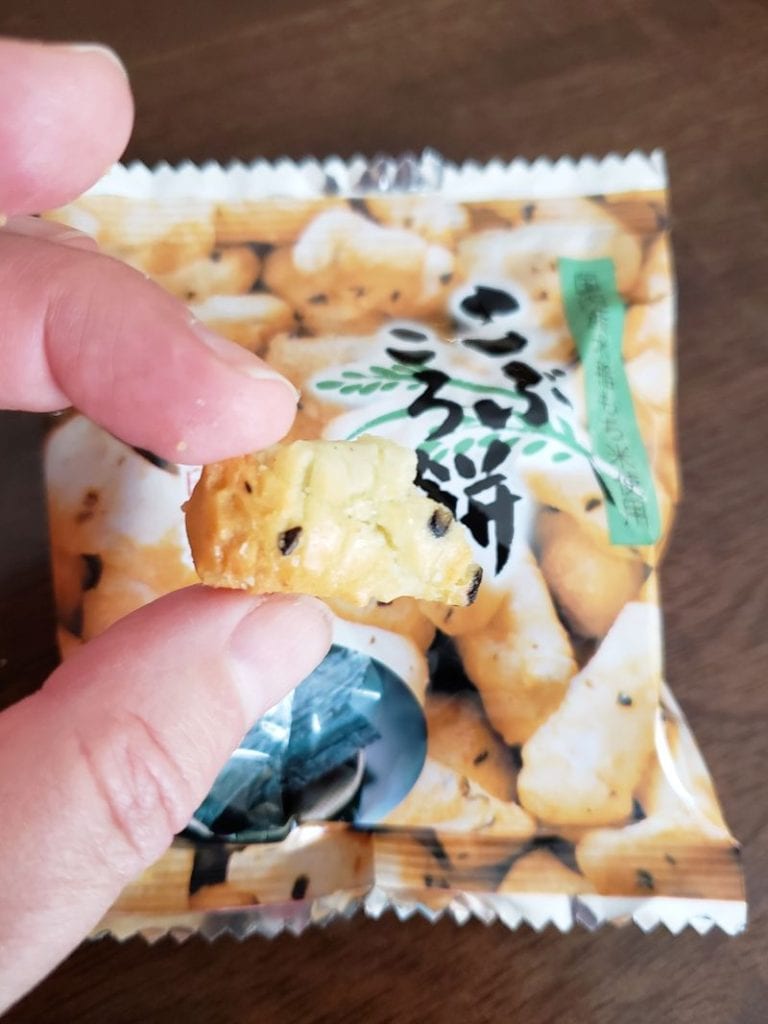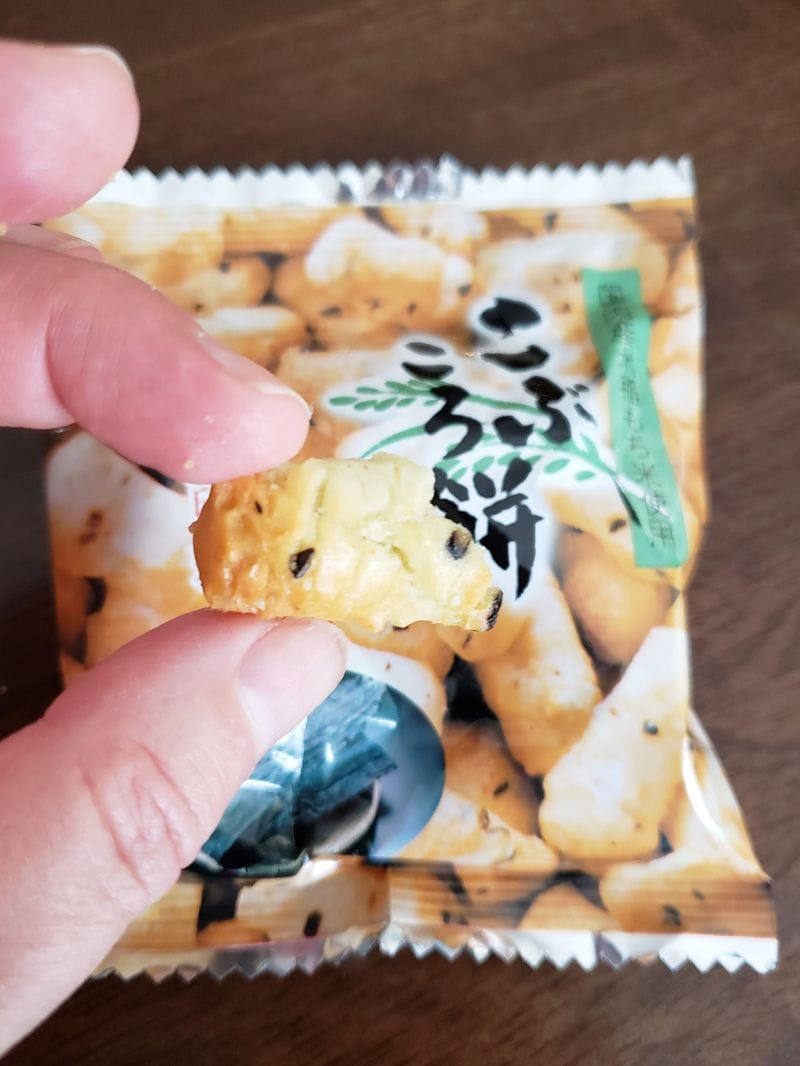 What to look for in a good Japanese candy or snack subscription box
When choosing a Japanese snack subscription box, be mindful of a few things to avoid. Ensure the box offers a good mix of sweet, savory, and unique snacks, as limited variety might get boring over time.
If you have allergies or dietary restrictions, look for a subscription box that clearly marks allergens. Not all of them do!
Be cautious of hidden fees, high shipping costs, or extra charges for customization. Choose subscriptions that offer different plans, like monthly, bi-monthly, or one-time purchase options and then purchase accordingly.
Lastly, find a subscription box that includes a guide or booklet with information about the snacks, their ingredients, and their origins in your native language, so you can appreciate and enjoy the treats even more.
By considering these factors, you can find a Japanese snack subscription box that offers delicious treats, caters to your preferences, and provides a delightful experience.
Best Japanese Snack Subscription Boxes
We've tried most of these boxes first hand, and give you our honest opinion of what's good and what isn't. We share which one offers the best selection, caters to specific dietary requirements, or provides the most value for the cost.
All prices are in USD, unless we note otherwise.
| Our Ranking | Company | Cost (one month) | Number of Snacks | Best for | Subscription Y/N | Buy Now |
| --- | --- | --- | --- | --- | --- | --- |
| 1 | Tokyo Treat | $37.50 | 15 to 20 | families, big snackers | Y | Buy Now |
| 2 | Sakuraco | $37.50 | 20 | quality, traditional snacks | Y | Buy Now |
| 3 | ZenPop | $46.27 | 20 | fun, unique snacks | Y | Buy Now |
| 4 | Bokksu | $49.99 | 22 | focus on Japanese culture | Y | Buy Now |
| 5 | Japan Candy Box | $29.90 | 10 | cheapest box | Y | Buy Now |
| 6 | Japan Crate | $49.95 | 18 to 20 | fun themes | Y | Buy Now |
| 7 | Munchpak | $26.95 | 10 | variety of Asian snacks | Y | Buy Now |
| 8 | Manga Spice Cafe | $29.95 | 5 to 6 | manga maid café in a box | Y | Buy Now |
| 9 | Goldbelly | $89.95 | 5 | Japanese-inspired pastry specialties | N | Buy Now |
| 10 | Kawaii Treat | See Price | 15 | snacks, ramen, noodles, KitKats, drinks and more | N | Buy Now |
| 11 | Sanrio Hello Kitty Snack Box | See Price | 15 to 18 | Japanese snacks, candy, and drinks | N | Buy Now |
Tokyo Treat
Tokyo Treat is one of the biggest, and best, Japanese snack boxes out there.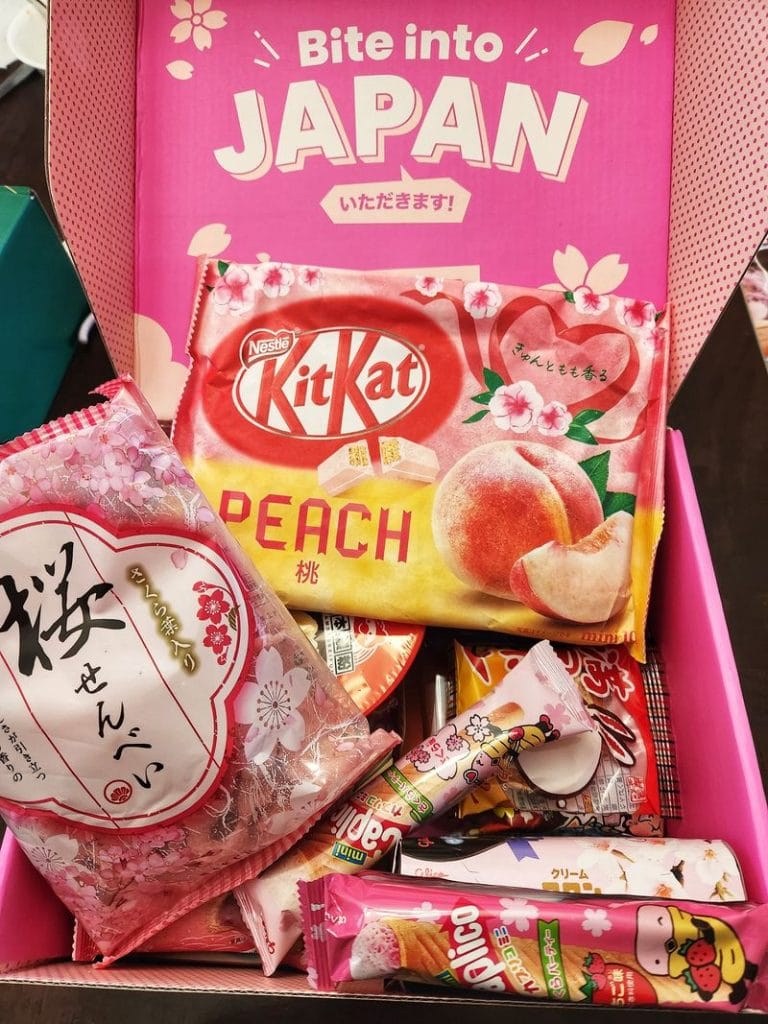 We're big fans, as the boxes we get are always packed full of tasty treats, drinks, and a wonderful guide with helpful cultural information and a description each snack.
We've gotten the Tokyo Treat box a few times, and we're always impressed. The boxes are big, and the treats inside are full size.
The ramen is a standard portion – it's big enough that our two teenagers wanted to share it!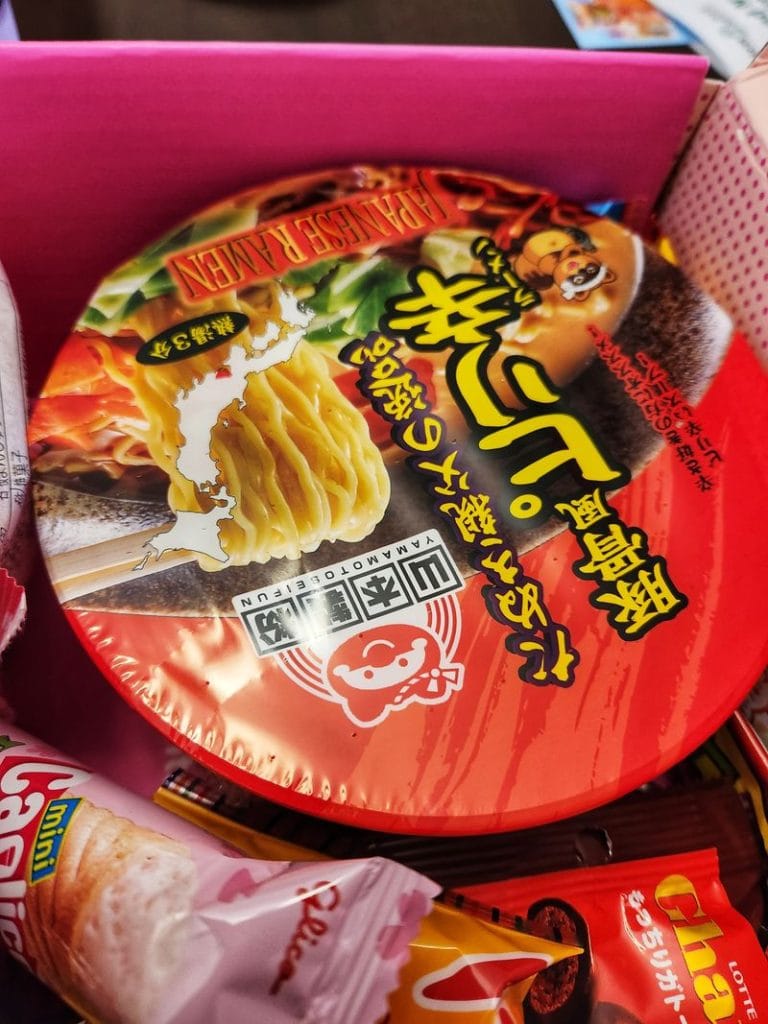 What's in the Tokyo Treat box?
15 to 20 full size Japanese snacks
1,300 g (2.86 lbs) or more in each box
Tokyo Treat boxes include exclusive Japanese drinks, instant ramen, rare Japanese KitKat flavors, salty and crunchy chips or snacks, fun candy, plus cakes, cookies and breads.
Each box includes a 24 page culture guide, with photos of the snacks, and a full description.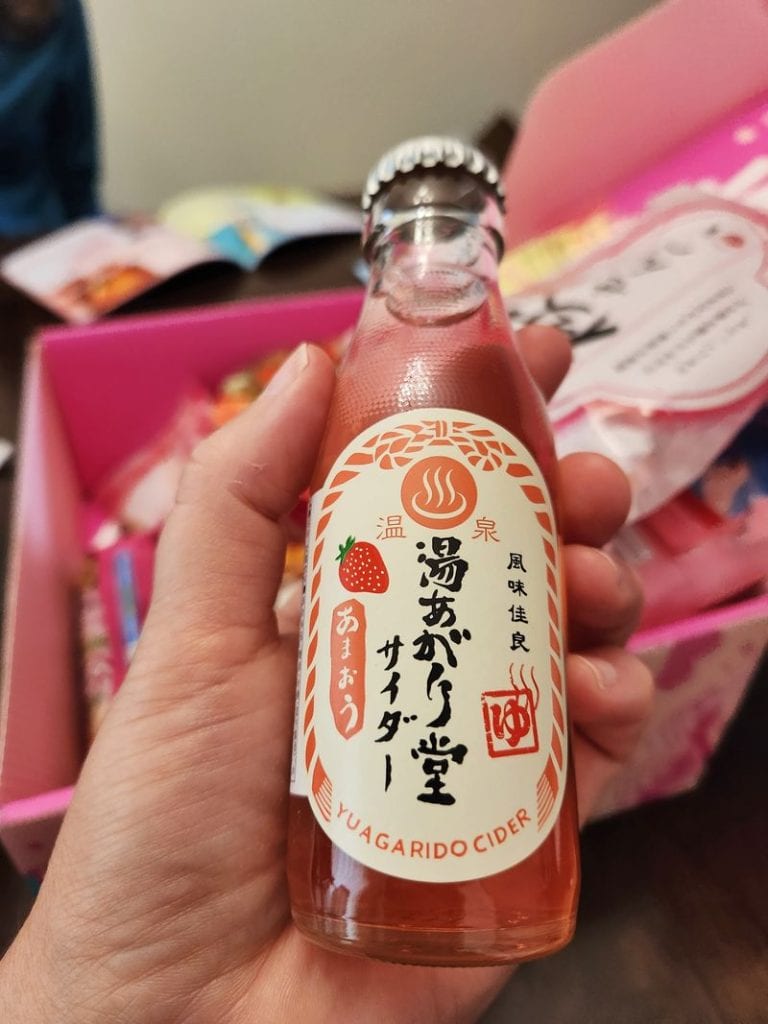 What I really like is that there's complete information on allergens in the box.
Since three of the four members of our family are vegetarian, I really appreciated that each snack item was marked as safe for vegetarians (or not) in the culture guide.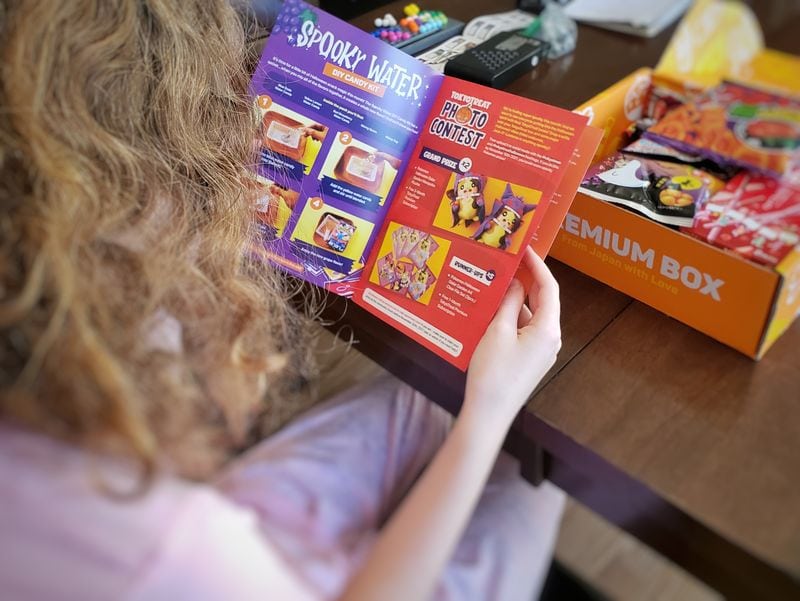 They offer four subscription plans:
12 month plan for $32.50/month
6 month plan for $33.50/month
3 month plan for $35.50/month
a monthly plan for $37.50/month
See our full Tokyo Treat review here.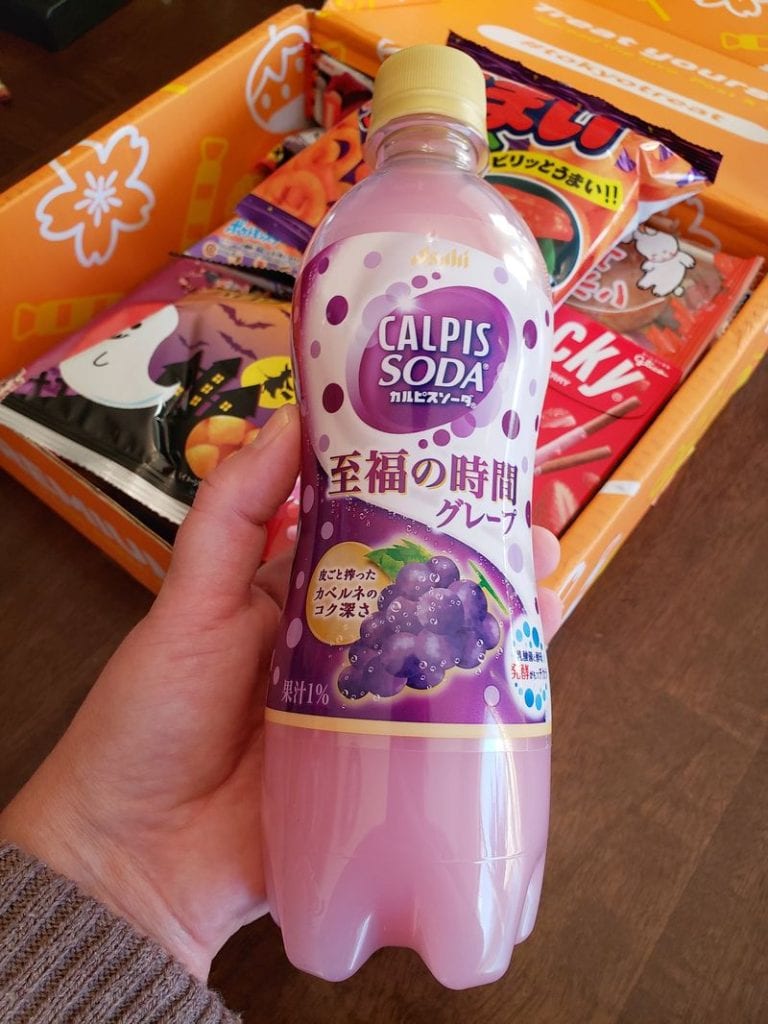 Sakurako
Sakurako is always a hit in our house.
While the boxes are smaller than Tokyo Treat, there's a real emphasis on quality snacks made by smaller, local Japanese businesses.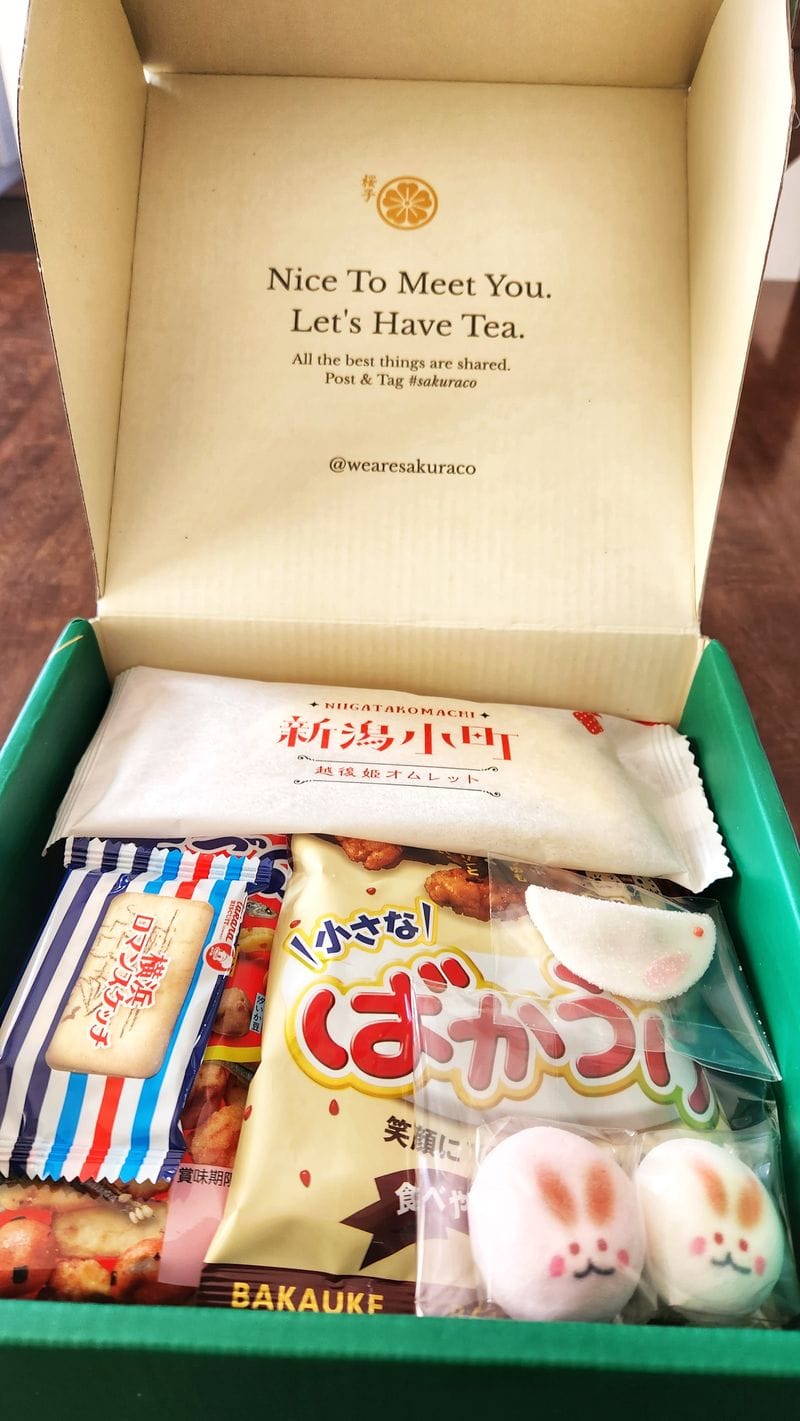 Each Sakuraco box includes 20 authentic Japanese snacks and candy.
That includes traditional Japanese treats (wagashi), and afternoon tea pairing (like matcha or hojicha), snacks like senbei or konpeito. It also includes authentic home goods like ceramics or chopsticks. Every box includes a 24 page snack and culture guide.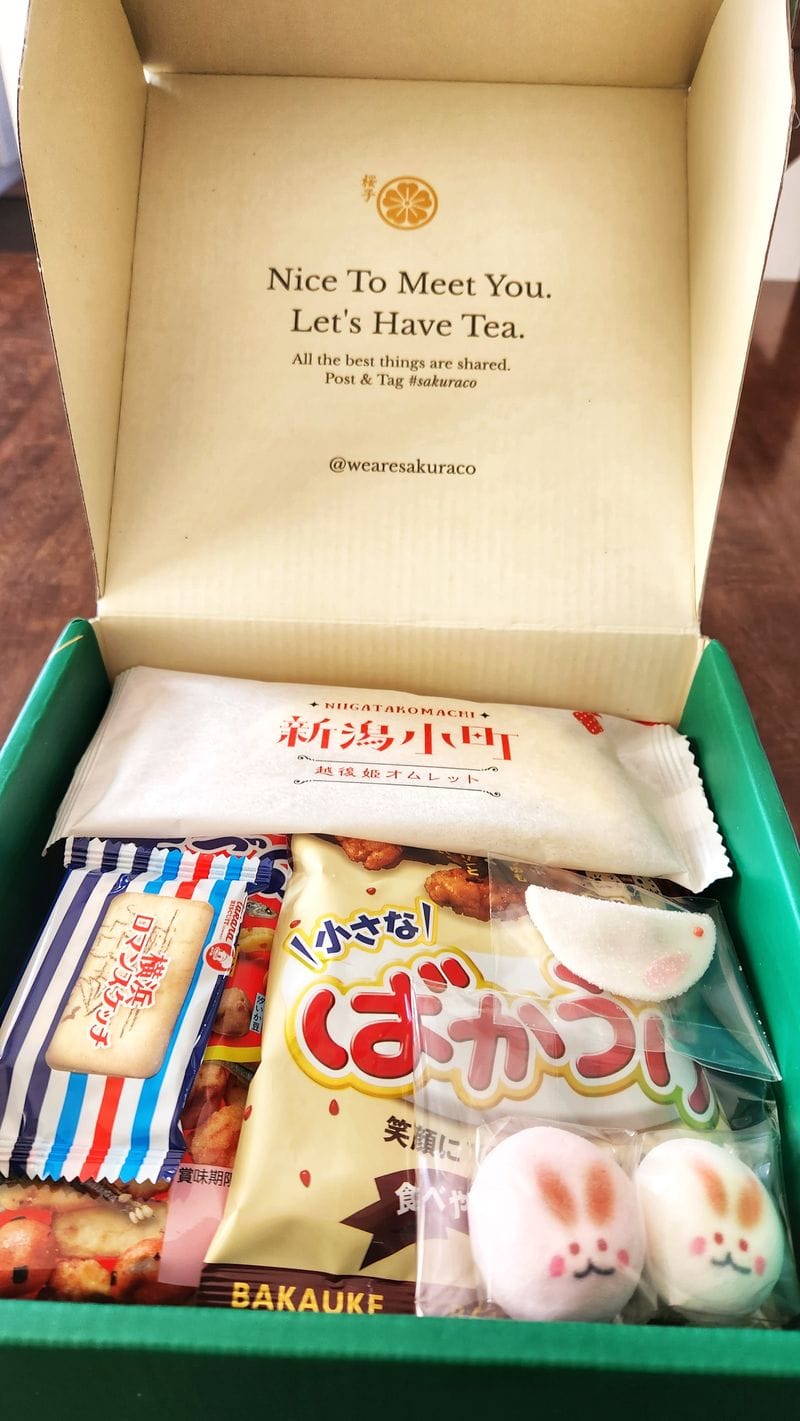 There's a new theme each month.
Sakuraco works with many Japanese family-owned businesses to source and deliver Japanese tea, sweets and snacks from local makers.
There's a full guide inside each Sakuraco box, with nutritional information and allergy information.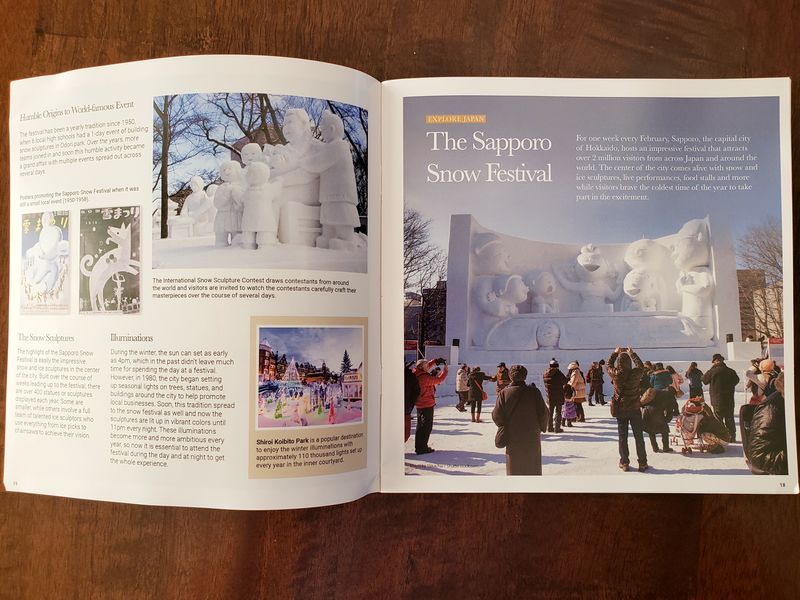 The guide also includes detailed information on the snacks and snack makers, with an emphasis on Japanese culture.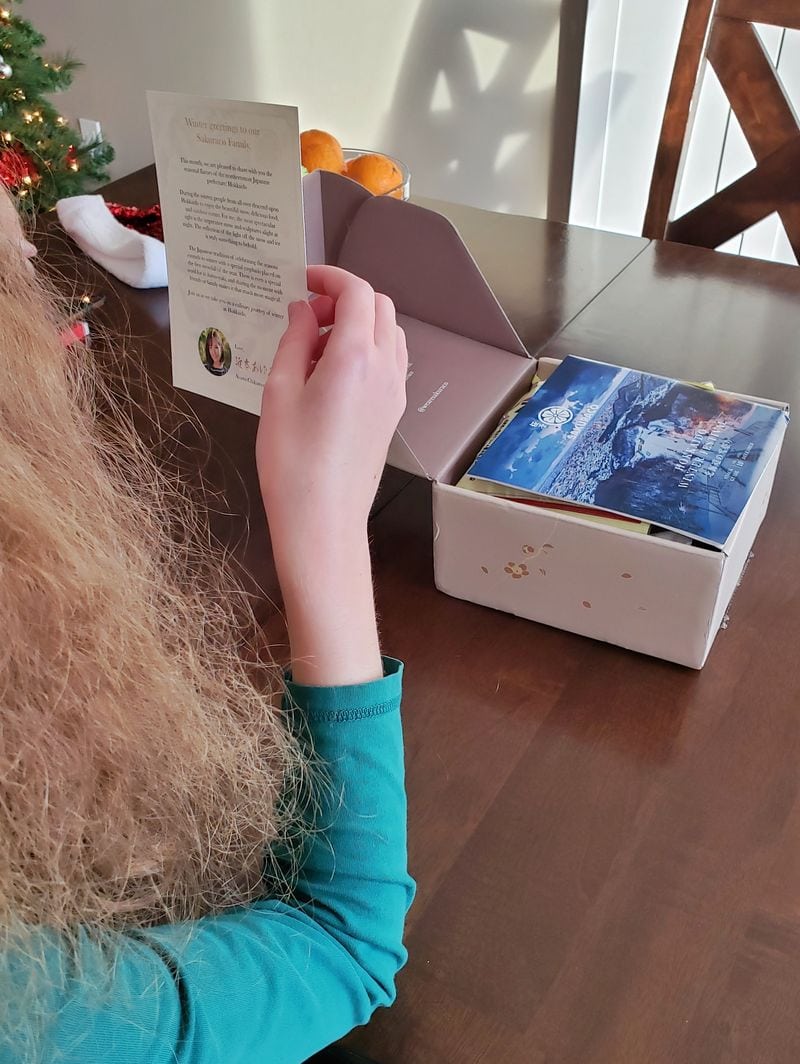 They offer four subscription plans:
12 month plan for $32.50/month
6 month plan for $33.50/month
3 month plan for $35.50/month
a monthly plan for $37.50/month
Read our full Sakurako review.
ZenPop Japanese Snack Box
ZenPop Japanese snack boxes are cute, high quality treats with a combo of savory and sweet items, bringing Japan's fascinating food culture brought straight to your doorstep.
There are at least 20 or more new things to try in every box, making ZenPop one of the larger subscription boxes we tried.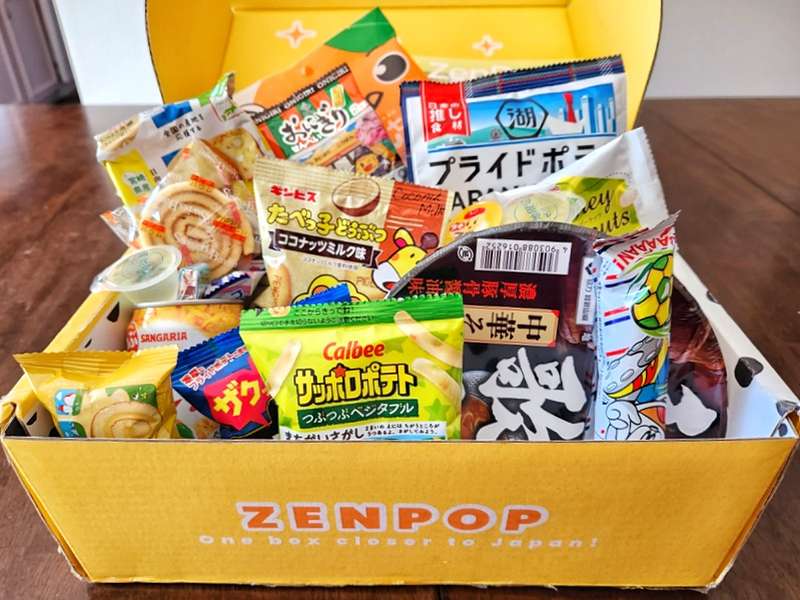 ZenPop snack boxes include candy, beverages, noodles, snacks and drinks, dagashi, chocolate, and seasonal treats. Each box has a big bowl of ramen and a drink.
Each month's box is themed differently, with themes like summertime snacks, Kyoto spring, Matsuri munchies, and more.
They offer four subscription plans:
12 month plan for $42/month
6 month plan for $43.42/month
3 month plan for $44.85/month
a monthly plan for $46.27/month
To order just one box, choose the one month subscription plan and turn off automatic renewal immediately. Of all the snack boxes we tried, we found that ZenPop makes it the easiest just to order one box!
Unless you turn off automatic renewal, all subscription plans (including the one month plan) automatically renew on the 2nd of the month following the receipt of your last pack.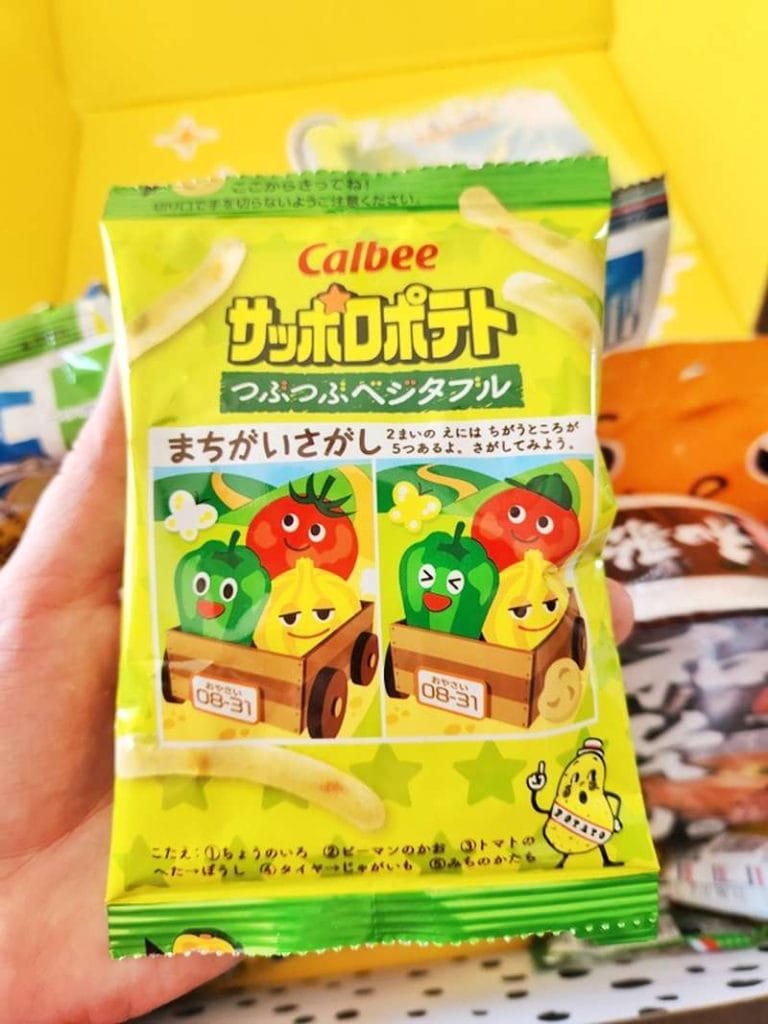 You can find information on allergens for items in the box on the ZenPop website translated into English, French, Traditional and Simplified Chinese. The information booklet in your box has a QR code that leads to the website.
Is ZenPop suitable for vegetarians and vegans? Vegetarians and vegans are on their own with this box. Their website says that "Most Japanese food products are not vegetarian or vegan-friendly. Most of the instant noodles in our Ramen Box contain meat or fish products. Occasionally, some of the snacks in our Snack Box may contain animal products."
With three vegetarians in our family, we decided to use our handheld translator to scan the ingredients list on the snacks, which worked well for us. This was fine since we just passed the snacks containing meat to the carnivores.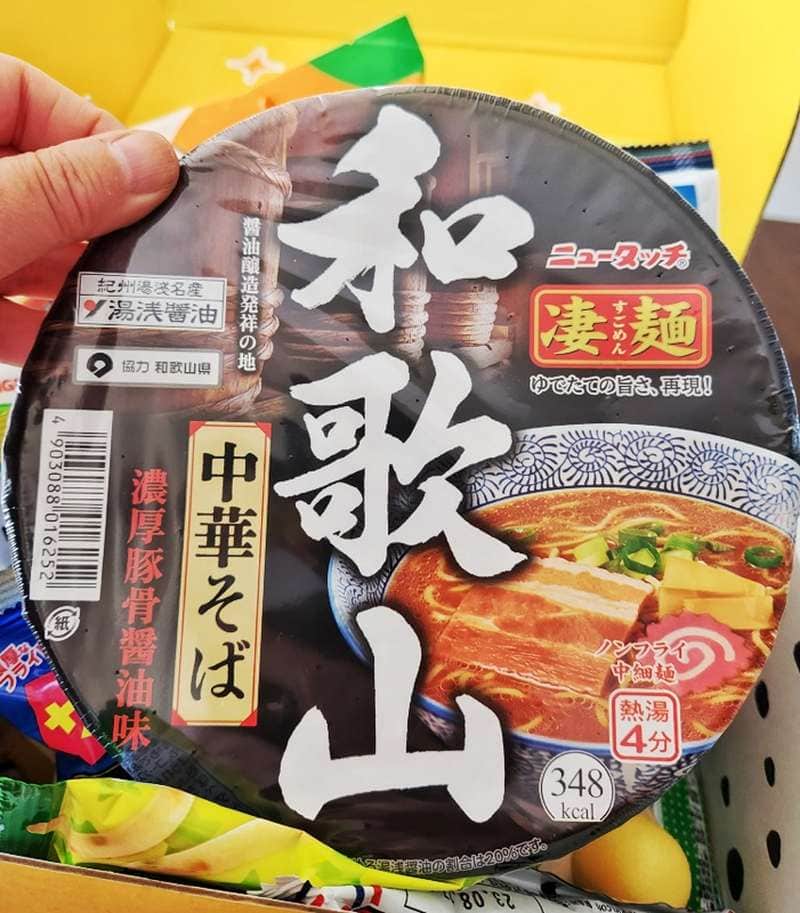 If you're looking for other Japanese goods, ZenPop has different types of subscription boxes, including food, ramen, stationary, anime and occasional limited edition boxes that have themes like the Asobou Box (Japanese Toy Box).
Read our dedicated ZenPop review here.
We reached out to ZenPop, and they gave us a code to give you an 800 Japanese Yen discount on your first order (that's approximately $5.50 USD). The discount is automatically applied when you use our link, below.
Get the discount automatically here.
Bokksu
Bokksu snack boxes are geared to display Japanese culture and support small family-run businesses in Japan. They say they directly source their artisanal snacks from local snack makers in Japan, rather than using commercial snacks.
Each Bokksu box comes with 22 Japanese snacks, candies, and tea. The box includes treats like mochi, senbei and cakes, with a mix of sweet and savory, a new tea pairing, a 24 page guide, and Bokksu exclusives made by local makers only for Bokksu.
Bokksu's boxes change each month, and focus on a theme that's curated around Japanese holidays, festivals, and prefectures
Shipping is free on all subscriptions.
They ship to a long list of countries.
You can choose a 12 month, 6 month, 3 month, or monthly subscription.
12 months for $39.99/month
6 months for $43.99/month
3 months for $45.99/month
1 month for $49.99/month
Japan Candy Box
The Japan Candy Box subscription contains popular snacks, DIY candy kits, traditional treats, chocolate, exclusives, potato chips, ramen noodle snacks, and dagashi. You'll find popular brands like Pocky, Hi-Chew, Pretz, Jagabee.
This is one of the smaller boxes in our list, with 10 exclusive Japanese treats each month, but it comes in at a lower price point than the larger boxes.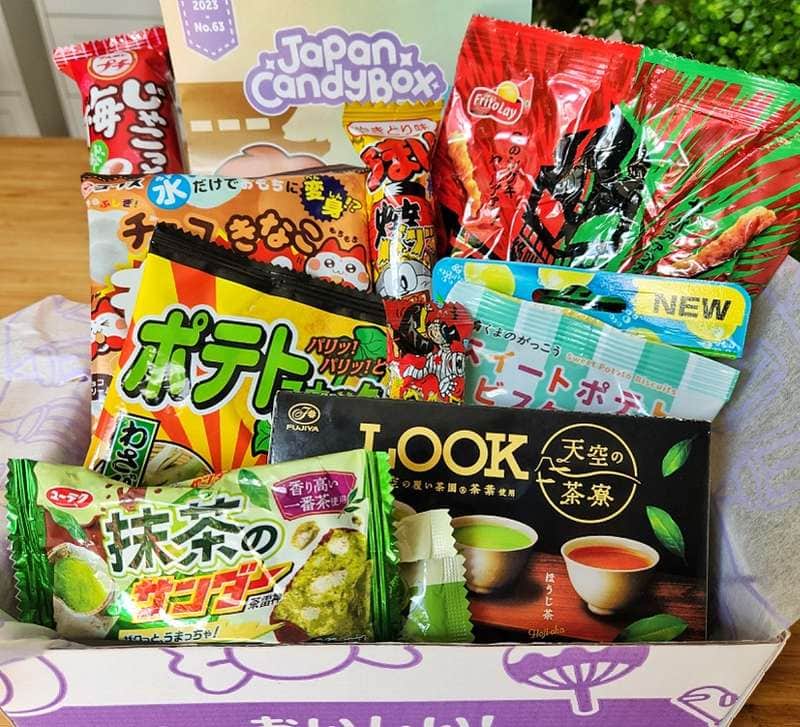 Subscription boxes with Japan Candy box aren't generally themed.
Shipping is free on all subscriptions. You'll get your first box 2-4 weeks after you place your order.
Subscriptions cost:
12 months for $24.90/month
6 months for $27.90/month
1 month for $29.90/month
Those prices make Japan Candy Box the cheapest Japanese snack subscription box in our review.
With every plan, you prepay the entire amount of the subscription up front. For example, if you choose the 12 month plan, you'd pay 298.80 in advance (12 * $24.90/month).
Your subscription renews automatically. You can cancel your subscription, but if you have already paid for the next box and it has been assigned a tracking code, you won't get a refund.
Important: The six and 12 month plans can't be canceled or refunded after the first box has been shipped.
To get only one box, choose the one month subscription and cancel it after it's shipped.
Japan Candy Box isn't vegan or gluten free. They say they can't guarantee snacks don't include animal based products or gluten, since Japanese manufacturers usually don't specify if the snacks are gluten-free or vegan.
Want to learn more? See our dedicated Japan Candy box review here.
See Japan Candy Box subscriptions here.
Japan Crate
Japan Crate's boxes include 18 to 20 snacks and candies, including sweet, crunchy and chewy treats, plus an exclusive drink from Japan.
They're a fun crate to open, with bright colored branding, plus fun box themes, like a bullet train themed box.
There area even chances to win fun prizes like a round trip ticket on a Japanese bullet train.
The Japan Crate subscription costs:
12 month plan for $45.79/month
6 month plan for $46.95/month
3 month plan for $47.95/month
1 month for $49.95/month
There's free shipping from Japan.
Umai Crate
Japan Crate also has an Umai Crate, which is a their Japanese ramen subscription box.
The Umai Crate includes 8 to 10 of Japan's easy and quick instant noodles, a bonus culinary item, an exclusive recipe card using items inside the crate, plus an easy-to-follow booklet with translations and instructions.
12 months $45.79/month
6 months for $46.95/month
3 months for $47.95/month
1 month for $49.95/month
MunchPak
MunchPak is a subscription box for snacks from around the world.
Their boxes aren't exclusively made of Japanese snacks, but boxes often include Japanese snacks, along with snacks from other countries.
Each box is filled with new and popular snacks from around the world.
You can even add soda to your MunchPak for a $6 fee.
There's a guide inside each box with interesting facts and information on the snacks you receive.
Shipping to the USA is free, but there are varying charges for international shipping, depending on which country you're shipping to.
Like most of the other subscription boxes, MunchPak charges for your entire 3, 6, or 12 month subscription up front.
Your subscription renews automatically. You can cancel or pause your subscription anytime before you've been charged for your subscription.
MunchPaks are shipped within 72 hours after your order is processed and payment is received.
Subscriptions cost:
12 month plan for 22.95/month
6 month plan for 24.95/month
3 month plan for 25.95/month
1 month for $26.95
If you really love something in your box, MunchPak also has an online store where you can buy individual items.
Manga Spice Cafe
Love Manga? Manga Spice Café is a monthly manga maid café in a box!
Because it's all about manga, it's not necessarily Japanese only.
Each box has:
3 brand new manga
5-6 Asian snacks (including a drink)
an info sheet
a unique, themed anime maid mascot
Snacks include sweet and savory items, and can include classic Pocky, Korean BBQ chips, mochi cakes, a special cafe drink, sangria juices and herbal dessert teas.
Manga Spice Cafe has two subscription options:
USA month-to-month subscription
International subscription, available for Canada, the UK, or the rest of the world
Cost and shipping details:
Cost: USA $29.50/month, Canada $39.50/month, UK $39.50 GBP/month, international $39.50/month
Shipping: USA $5.95 shipping, Canada (a pretty eye-watering) $18.25 shipping fee, UK 13.81 GBP shipping fee, international $18.25 shipping fee
All subscriptions renew automatically, and you can cancel anytime.
Japanese candy box with no subscription
Not sure if you want Japanese snacks every month? We have you covered.
If you're in the mood for a one time Japanese snack box, we have a few choices for you as well.
Goldbelly
Goldbelly offers boxes of unique Japanese sweets from the renowned Patisserie Tomoko in Paris.
Honestly, these look absolutely amazing.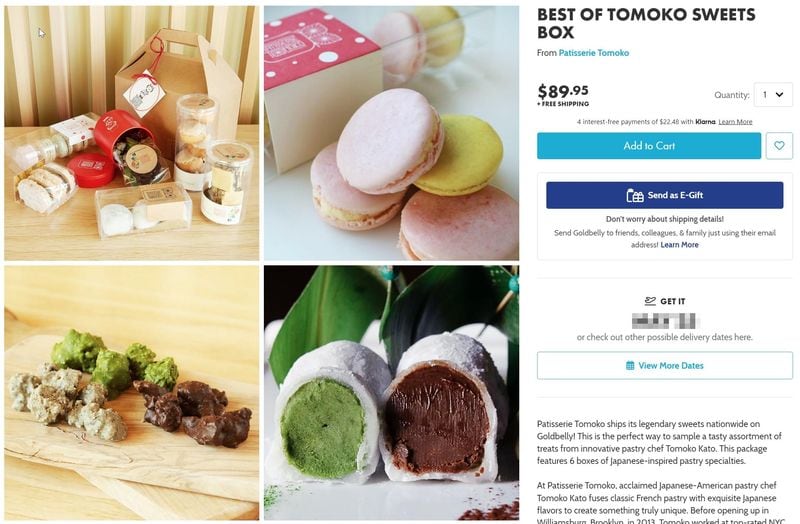 Goldbelly's The Best of Tomoko Sweets box by Patisserie Tomoko is a one time box.
The box costs $89.95 USD with free shipping to the USA.
The package contains six boxes of Japanese-inspired pastry specialties.
IMPORTANT: Put the items in the fridge immediately on arrival.
Treats come in a beautiful gift box, and include:
3 pieces of assorted mochi
5 assorted macarons
1 box of yuzu cookies
1 box of caramel nut sandwiches
1 box of Patisserie Tomoko's crunch
They ship to the USA only.
You can see the full ingredients on the Goldbelly website to check for allergens, or to see if the box is suitable for your vegetarian, vegan or gluten free diet.
See the Goldbelly's Tomoko sweets box here.
Sign up with this link to get $25 off your first order on Goldbelly (we get $25 too).
Japanese Snack box on Amazon
There are only a handful of quality one-time Japanese snack boxes available on Amazon.
Kawaii Treat (one time box)
The Kawaii Sweet Japanese snack box comes with 15 items, and weighs in at 1.2 kg. It includes snacks, ramen, noodles, KitKats, drinks and more.
There's even a booklet with allergy and vegetarian information and information about the sweets.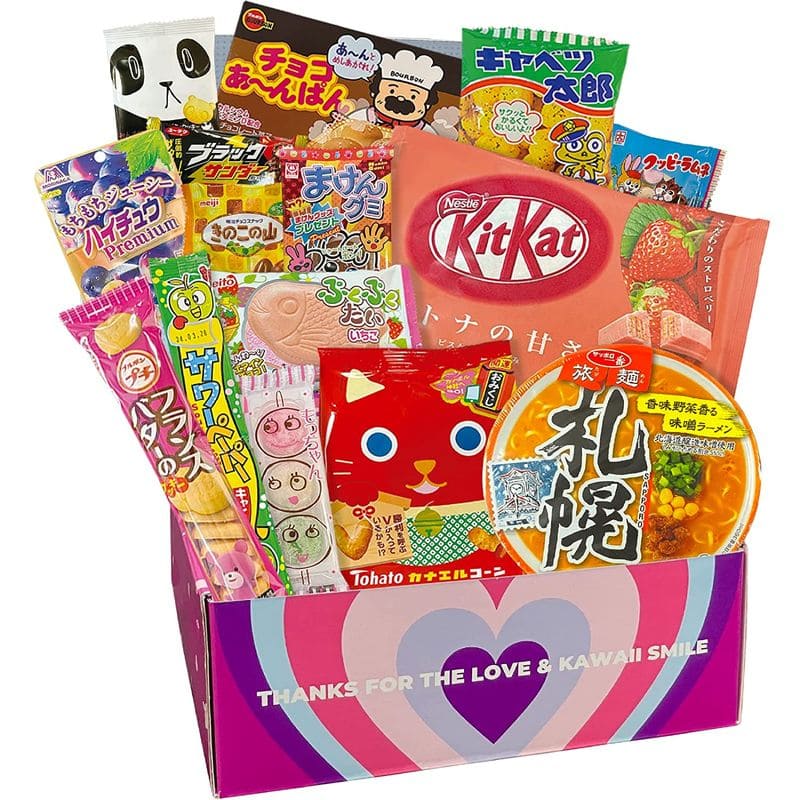 It's delivered directly from Japan.
See Kawaii treat box on Amazon here.
Sanrio Hello Kitty Snack Box
The Sanrio Hello Kitty Snack Box has an assortment of unique Japanese snacks, candy, and drinks.
The total weight is 65.6 ounces.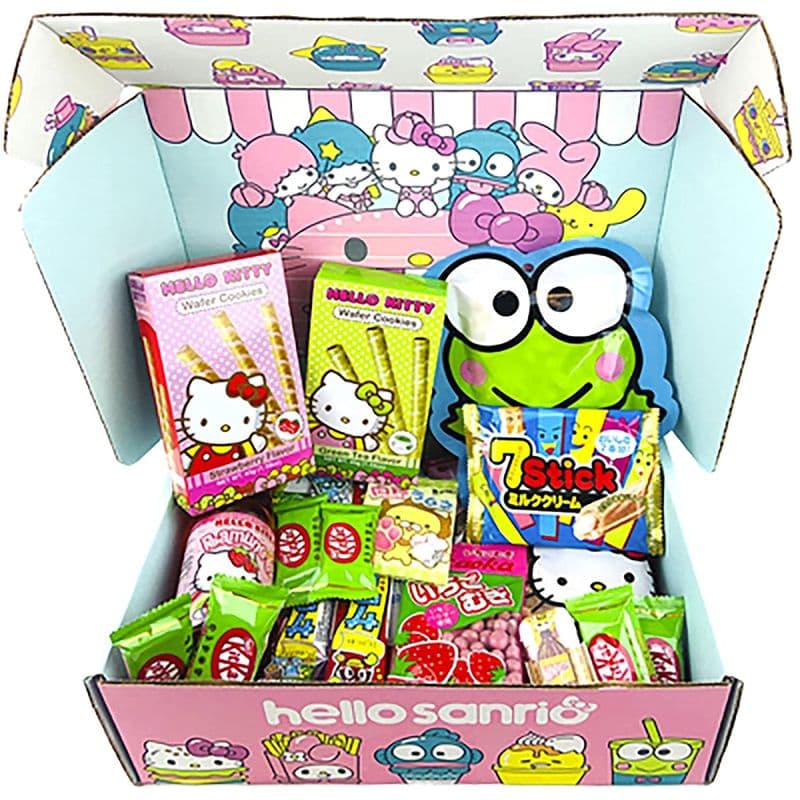 There's no information on vegan, vegetarian or gluten free options, but each box might contain wheat, soy, dairy, peanuts, and/or tree nuts.
See the Sanrio Hello Kitty Snack Box on Amazon here.
The Best Japanese Snack Packs
No matter which Japanese snack pack you get, whether it's a year long subscription or just a one time purchase, you're sure to receive something new to you, even if you've lived in Japan for years.
We love the variety and especially love the full color English booklets most come with. Not only do they give some background information but they also translate what you're eating.
Looking to find out a bit more on each snack you've received? Make sure to grab the Google Translate app on your phone or tablet and use the Google Lens camera auto translate feature. The translations are often quite humorous however that's half the fun. We've also opened many without reading anything about them first and had the opportunity to taste some very interesting flavors and textures we might never have experienced otherwise.
Do you have a favorite Japanese snack? Let us know in the comments below! We'd love to learn more!