Wondering what to do in Dubai with kids? We have some great ideas to get you started.
We've travelled the world with our kiddos, and it's always wonderful to find a city like Dubai that's so accommodating for kids.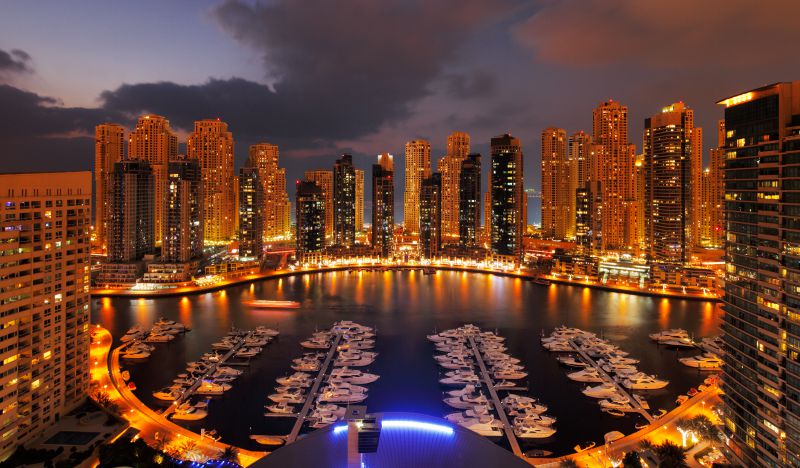 Dubai is a fantastic destination for kids, with attractions, theme parks, and pretty much almost anything you can imagine.
There are so many unique things to do in Dubai you'll never be bored.
Dubai's the kind of place where you can go hiking in the dessert before dawn and indoor snow skiing before lunch. Since it's likely hot out, not much beats a desert safari, or spending the afternoon at a water park and after a world class supper. You can visit one of the many gardens in the early evening with the kids.
The Best Things to do in Dubai with Kids
If you're thinking of heading to Dubai with kids, definitely check these top things to do in Dubai as a family.
You can also opt to take a tour in Dubai to make things even easier. WithLocals has some cool experiences, including a street food tour of Dubai, a scenic tour on a private yacht, or even a private desert safari tour!
Got your Dubai visa, and ready to explore? Check out these fun things to do in Dubai with children, from toddlers to teens.
Dubai Miracle Garden
If you think a trip to a garden is boring, then you haven't visited Dubai Miracle Garden. There are over 50 million blooming flowers here, all showcased in elaborate sculptures and designs.
Like the rest of Dubai, the Miracle Garden is over the top, colorful, and fun. Kids pretty much universally love it. You can find the Miracle Garden in the district of Dubailand. Tickets run around $11 USD for adults, and $8 USD for kids.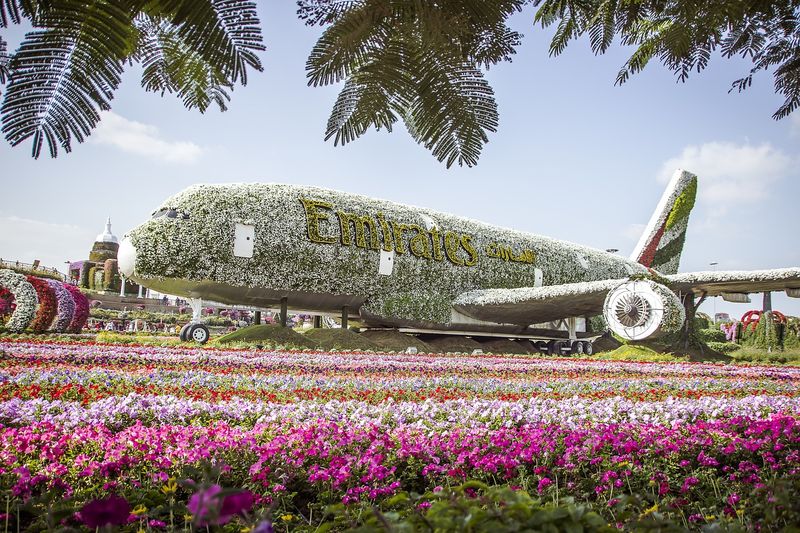 Ski Dubai
Have you ever wanted to ski in the desert? Well, Dubai has you covered.
Ski Dubai is a 22,500 square meter indoor ski resort. It runs year round, and it's part of the Mall of the Emirates.
Tickets to the snow park, which includes the snow plough playground, ice caves, tubing run, bobsled, and climbing wall, run around $50 USD for adults and $45 USD for kids.
If you want to hit the slopes themselves, a 2 hour skiing pass is about $55 USD for adults and $50 for kids.
Want to hang with the Gentoo and King Penguins? That'll set you back a cool $62 USD however know that kids under 14 aren't allowed.
Check out what Will Smith has to say about Ski Dubai in the video below.
Adventure Zone in Dubai
Adventure Zone by Adventure HQ is a blast for kids. It's an indoor adventure facility with a skate park, boulder wall, cable climb, zip line, and trampoline park.
It's not cheap at $38 USD for a 90 minute session, but you can save with all day passes or group packages.
There are several locations around Dubai.
Dubai Fountains
The Dubai Fountain is a spectacular choreographed music, light, and water fountain show. If you've ever seen the fountains at the Bellagio in Vegas, well, this is a lot bigger.
The Fountain is set on the 30-acre man made Burj Khalifa Lake in downtown Dubai.
Tickets are about $18 USD per person.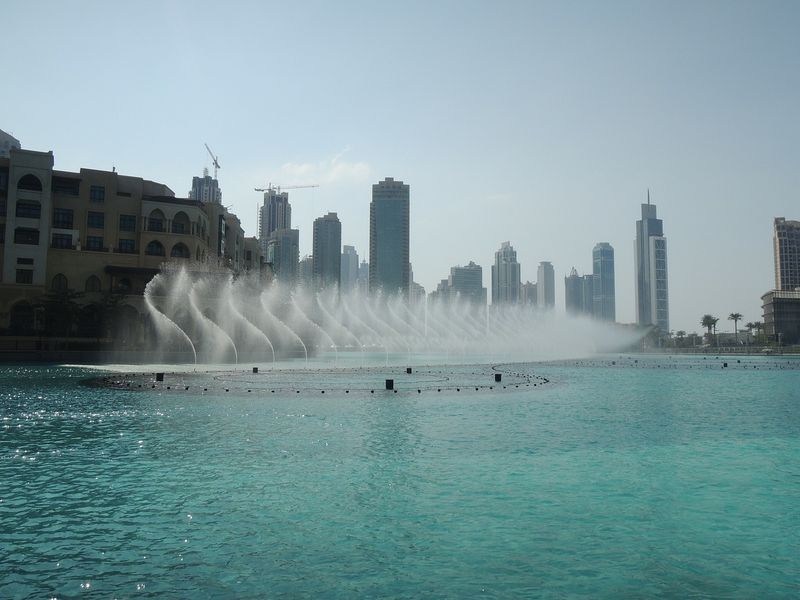 Burj Khalifa
Burj Khalifa is a mind-bending 160 story tall skyscraper. It cost a whopping 1.5 billion USD to build.
There's a spectacular water fountain show, a lot of shopping, and a must-see 360 degree view from the top.
The normal tourist tour only goes to the 124th and 125th floors, and it can be quite crowded. A more expensive option is to go all the way to the top.
Be prepared that lines to get in or out of the tower can be long at peak times.
Tickets for the 124th and 125th floors are $55 USD for adults, and $27 USD for kids. Kids under 4 are free. Prices are higher in peak hours.
Access to level 148 (plus the 124th and 125th floors) is an eye watering $100 USD for adults and kids alike. Prices are higher in peak hours.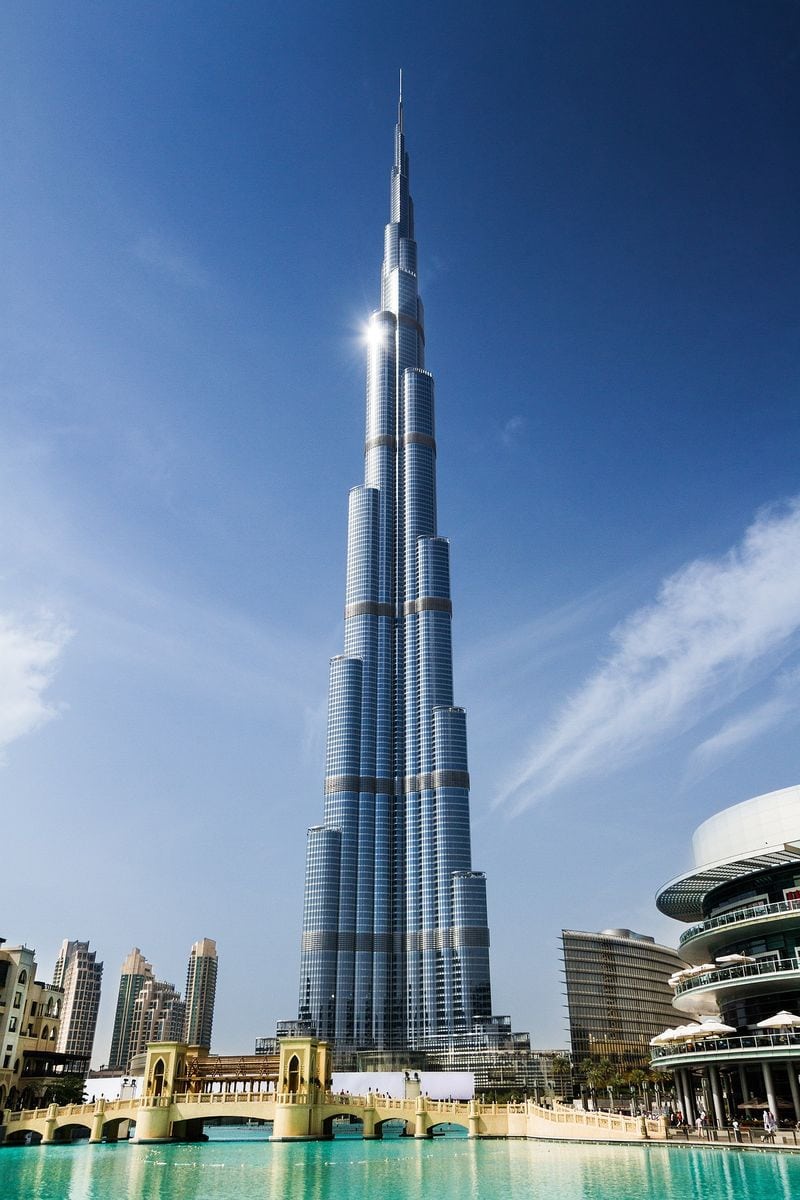 IMG Worlds of Adventure
IMG Worlds of Adventure is an indoor amusement park. There are all the rides, eateries and shows you could ever want, with Marvel and Cartoon Network themes in abundance.
The facility is 28 football fields large and the attractions include rides with your kid's favorite characters, such as the Powerpuff Girls and friends from Marvel's unique universe.
This place is huge, so wear comfy shoes, and be prepared to walk.
Adult admission is about $78 USD, and kids (under 1.2m in height) are about $70 USD.
Creative Fun at OliOli
Designed for kids between the age of 2 and 11, OliOli's divided into eight separate areas, each featuring a different theme. These include a hanging play area, an area where cannon balls are launched and a Creative Lab area where kids can do all sorts of fun things.
Tickets cost $32 USD for the first two hours, and $8 USD for every hour after.
Aquaventure Waterpark
The Dubai Aquaventure water park has something for everyone in the family. The bravest can try thrilling rides, such as the tube that takes riders through a shark lagoon, while the younger ones or those who prefer a milder sort of entertainment can splash around in the children's play area.
The Aquaventure Waterpark is part of the Atlantis resorts, however you can luckily buy a day pass. However, if you stay at the all-inclusive Atlantis resorts your ticket should be included.
Day passes are about 78 USD if you're over 1.2 metres tall, and $64 if you're under 1.2 metres tall. Kids age 0 to 2 are free.
A Desert Adventure
Dubai has everything that humans can make, but it also has a very special, natural feature that cannot be left unexplored: the desert.
The activities that you and your family can enjoy on the arid landscape include shorter or longer rides on camel back, henna-painting and sand-boarding. Longer trips can include a night spent under the star-studded desert sky, falcon shows, dune rides and much more.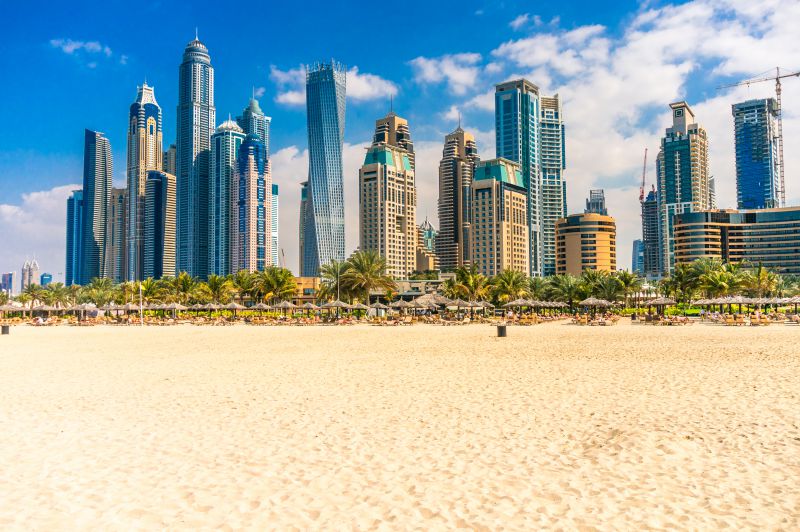 Visit the Dubai Safari Park
IMPORTANT: The Dubai Safari Park is currently closed, but set to re-open in 2019! Check the Safari Park website for details.
When the Dubai Zoo closed in 2017, the animals were shifted to the Dubai Safari.
Today, the Dubai Safari occupies 100 hectares of diverse landscape.
There are pedestrian walkways lined with lush vegetation, driving tracks and desert plains, and they all make for an unforgettable experience. The park is home to over 3,000 individual animals, belonging to 250 species .
A visit to the park offers great opportunities to spot giraffes, hippos and zebras and the kids can play with the smaller, friendlier creatures in the petting zoo.
Tickets are about $14 USD for adults, and $6 USD for kids.
IMPORTANT: The Dubai Safari Park is currently closed, but set to re-open in 2019! Check the Safari Park website for details.
Explorations of Virtual Reality
Dubai is a world-renowned center for entertainment technology as well. So, if your kids are in for hi-tech adventures, a day at the VR Park in Dubai's Mall is a must see and if you have the time, a must try.
VR Park Dubai is the world's largest VR park.
It's on level 2 of The Dubai Mall.
It costs $24 USD for one of seven of the VR experiences.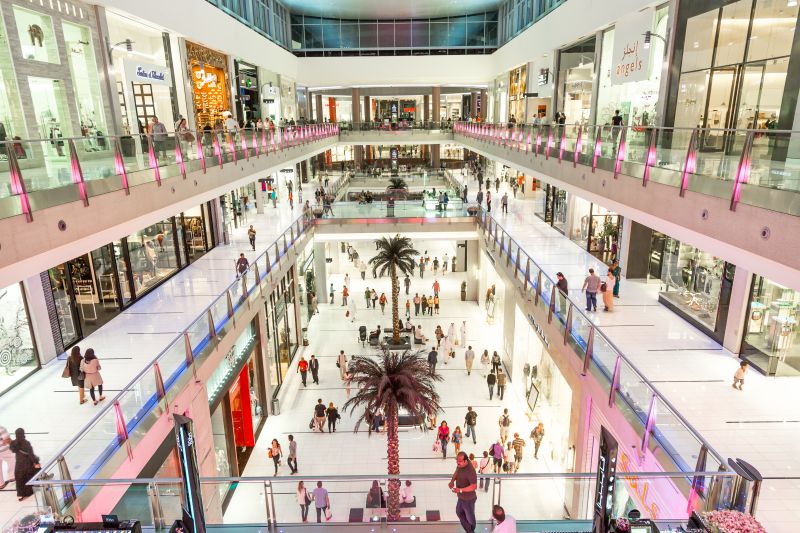 Looking for more Dubai help? Check out the best time to visit Dubai.
Visiting KL with kids, too
It's hard to talk about Dubai without bringing up great memories of Kuala Lumpur in Malaysia for me. They're both incredible cities, with so much to offer.
We still haven't had the chance to visit Kuala Lumpur with kids, though it was our hub on our first year-long adventure together as a couple.
On our next visit to KL, we're definitely going to visit with children.
We may even relax a little from our usual standard of independent travel and take a tour in Kuala Lumpur to get a better feel for the local culture and food. There are some fun options, including a family-specific kick-start tour (which sounds like a perfect option for us!), a tasting tour of KL, and even a layover tour if we're short on time!
Have you visited Dubai with kids? Do you have anything to add to our list of kids activities in Dubai that you shouldn't miss?