Wondering when is the best time to visit Dubai?
Spoiler: It's not when you think.
Well, the truth is you can go anytime, but to really have the best experience, you want to be there when the weather isn't too hot, so you can hit the beaches as well as the mile long designer malls.
Since air conditioning is common throughout the city, and people do in Dubai year round, it's definitely accessible for most of the year.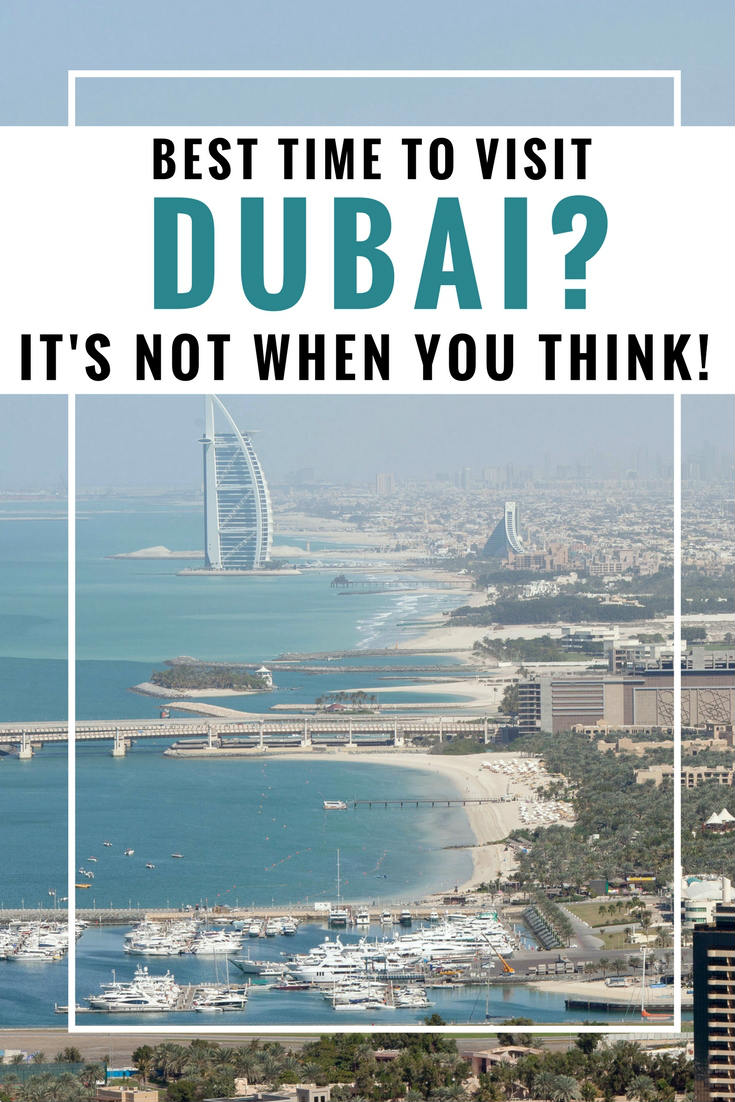 However, if you really want to enjoy your trip, the best time to visit Dubai is from early November to late March. That's when the average highs make going outdoors a joy, and give you plenty of things to see and do both inside and outside the city.
The Best Time to Visit Dubai
Already sold on booking a trip to Dubai?
Dubai's weather
It's no secret that Dubai is a hot place. Both figuratively and literally. Temperatures routinely go above 105°F or 40 Celsius over their summer (June to September) while daily highs during winter hit the low 80s and high 70s. That's plenty high for hitting world famous Jumeirah Beach or spending the afternoon driving the nearby sand dunes in the adjacent desert.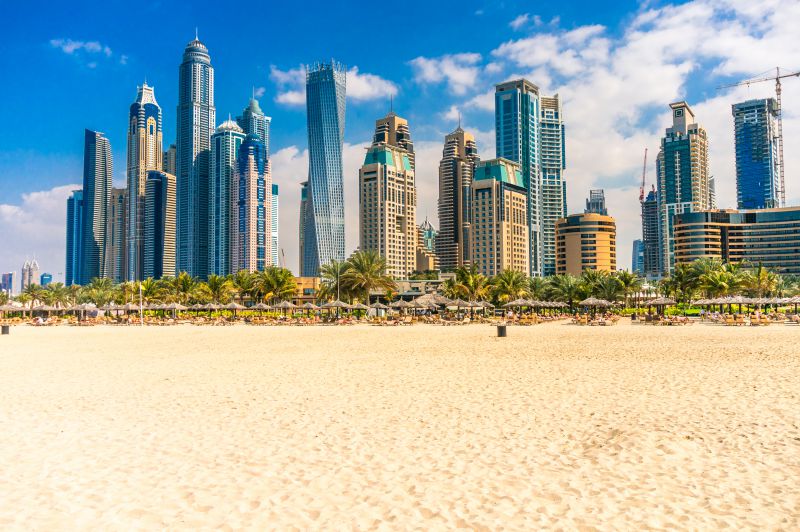 If you're still not convinced about the best time to visit Dubai, just remember that Dubai is nicknamed the Desert City for a reason. Dubai literally lies in the middle of the Arabian Desert. As such, there's no shortage of sand, and though the days can get hot, the nights definitely stay cool outside of their hot summer season.
Dubai is also naturally a dry place, and you can expect nothing but sunshine most days of the year. That said, it does get damp in the hot summer months, so there's another reason to go to Dubai during the winter.
Dubai's tourist season or high season
What's the best season to visit Dubai?
It stands to reason that Dubai's largest tourist season coincides with the weather. Dubai's high season runs from November to March as well.
As such, the only drawback to visiting Dubai in the winter is that it also coincides with their busiest season. With that kind of weather, and so many unique things to do in Dubai, it's no wonder everyone wants to visit during winter.
Airfare  and hotel prices reach their peak prices during Dubai's high season. However, the big plus is that everything is open during the winter in Dubai. Lots of shops and attractions close down during their summer months when most people aren't willing to brave the heat.
That means that if you go from November to March you'll get a chance to visit any of Dubai's three3 water parks as well as the hugely popular Global Village. There's also LEGOLAND Dubai (read our review of LEGOLAND Florida here) and the world's largest indoor theme park, the IMG Worlds of Adventure. You can also get your Bollywood on at Dubai's Bollywood Park!
Dubai's shoulder season
Dubai's shoulder seasons, which are unofficially April/May and then September/October, can get pretty warm. If you love the heat, this might be the best time to travel to Dubai, since things quiet down in the city around this time. That means shorter lineups at the attractions and better deals for flights and hotels.
It's also a great time to enjoy mornings at the beach and early evenings walking around Dubai's marina and boardwalks. Dubai truly comes alive as the sun sets.
Of course, it also means that certain places and attraction are either shut down or on reduced hours, so you have to weigh everything out. If you want to see Dubai in all its glory, while also working heavily on your tan, while also saving a few dollars, then Dubai's shoulder season might be for you.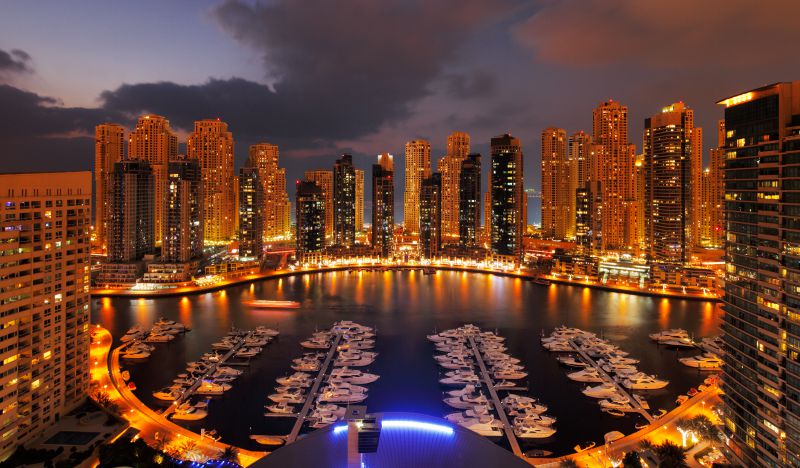 Dubai's low season
Don't like the outdoors anyway or just love a great deal? Then Dubai's low season, which runs from June to September, might be for you. Sure, lots of things are closed down due to the summer heat, but the world class malls and shops are still open and you can get some killer deals on everything from flights and hotels to store wide sales.
Even better, you can often score some fantastic deals on airfare during low season.
If you're more highbrow, Dubai has you covered as well. Dubai isn't known as the cultural center of the Middle East for nothing. There are dozens of galleries, art exhibits, cinemas, music halls, cafes and clubs all around the city that aren't as dependent on the weather. You can also do everything from indoor skiing to indoor skydiving in Dubai year round, and still enjoy early mornings at the beach and late nights walking along the paved paths and boardwalks along the Persian Gulf.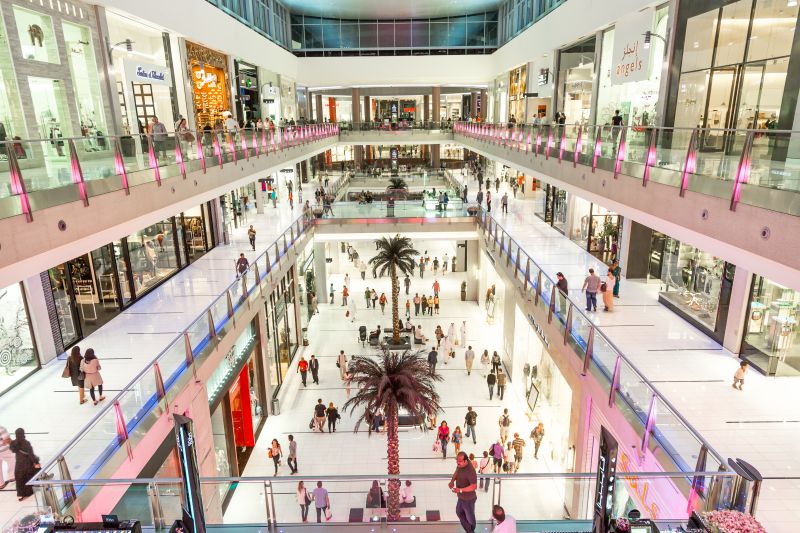 Best time to go to Dubai
No matter which season you head to Dubai, there's bound to be something for you to do in this cosmopolitan, man-made marvel of a city.
In winter, you can enjoy sand boarding down the slopes of Big Red, the colorful 91 meter high sand dune just outside the city, or traveling back in time and enjoying the rich scents, sights and sounds of the ancient souks still found at the heart of Dubai.
In the shoulder season, you can visit any of Dubai's theme parks and enjoy the empty lines, as well as carefree mornings basking in the Arabian sunshine along the miles of Persian Gulf beaches, while still enjoying the marvels of Dubai at night.
In Dubai's hot summer season, you can forego the lines and prices and enjoy everything a cultured city like Dubai has to offer. Just realize that you'll want to spend all your time inside to fully enjoy the city in the summer months.
In short, Dubai has something for everyone all year long and having the third busiest airport in the world means that getting to Dubai is as easy as booking your airfare.
Looking for something unique to do in Dubai? Check out our post on unique things to do in Dubai here.
Where to stay in Dubai!
The Dubai luxury hotel
If you're looking for a luxury hotel in Dubai with a beach and Spa, you can't do much better than the highly rated Nikki Beach Resort and Spa Dubai. It's gorgeous, rates well, and many rooms include breakfast. Just be ready to shell out $500 a night or more.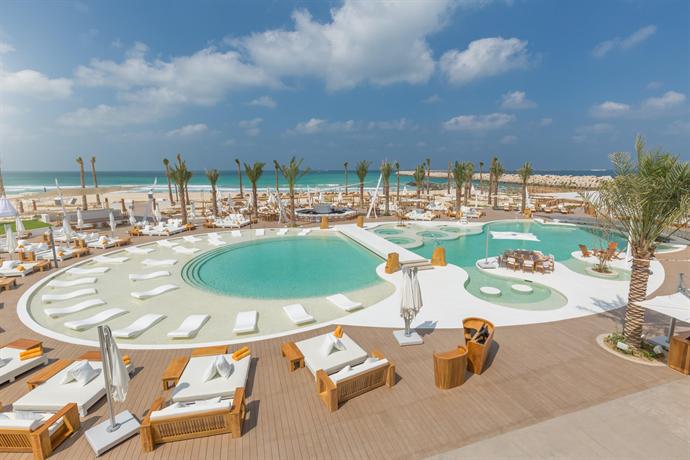 The Affordable Alternative
The Dusit D2 Kenz Hotel Dubai is a solid budget choice. It's got free WiFi and free parking, and often comes in at under $100 a night, and gets great ratings for staff, location, and large rooms.
The family hotel
The Jerimiah Creekside Hotel rates extremely well with families. It has large rooms, good staff, plus fast check in. It should run abour $150 a night.
The Hostel
You can't do much better than Dubai's At the Top Hostel. There are Privates, Twins, Quadruples as well as Female/Male/Mixed Dormitories for 2, 4, 6 & 8 guests, and it's a few minutes walk to the public beach with famous Barasti beach bar. WiFi and breakfast are free.