Have you ever walked into a room and felt instantly at ease?
The Great Okanagan Beer Festival is that kind of party.
As I walked onto the grounds, the early summer sunshine warmed my shoulders, and a cooling breeze swept across the lake.
The kegs were tapped, the band was playing, and the smokies were sizzling on the grill. Charles and I had left the kids at home, and it was time to enjoy ourselves.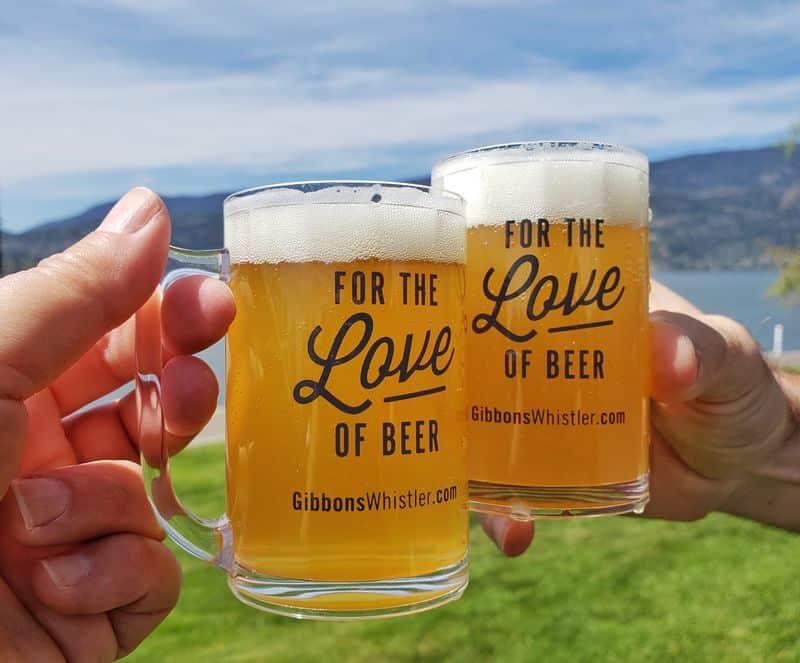 As I looked around at the hundreds of smiling faces around me, I was instantly at home. This was going to be a great day. It was our first year at the GOBF, and I was excited to take in all the fun (plus all that tasty food, beer and cider!).
Great Okanagan Beer Festival (GOBF)
Every year, the Great Okanagan Beer Festival puts on a heck of a great party in our beautiful home city of Kelowna, BC, Canada.
The GOBF takes place in early May. It's hosted by the fun folks at Gibbons Whistler, founders of the insanely popular Whistler Village Beer Festival.
The GOBF features 70 breweries with over 120 varieties of craft beer and cider. No matter which way you calculate it, that's a lot of delicious suds.
You'll find some of our favorite local breweries and restaurants at the Okanagan Beer Festival, like the Train Station Pub, Grimm's Fine Foods, BNA Brewing, Tree Brewing, Freddy's Brewpub, Okanagan Spring, Boundary Brewing Company, BC Tree Fruits Cider Co. and Wards Hard Cider, plus plenty of other great craft beer and cider brewers from all across Canada.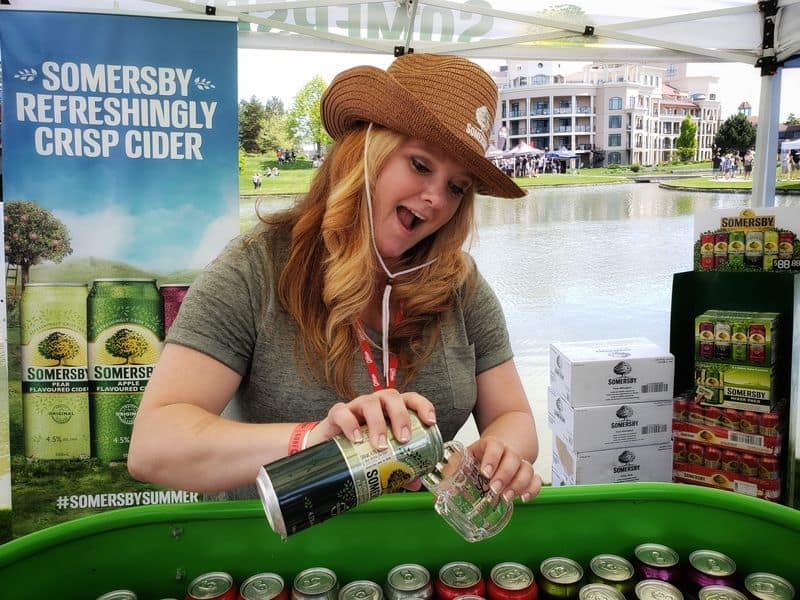 Plus, there's great food with food trucks and vendors galore.
If you're looking for something fun to do, there's plenty of entertainment on site, including live bands up on the main stage. This year, there were four live bands for the main event, plus a DJ to keep the crowd going between sets.
Depending on the year you go, the lineup will be different, but we enjoyed Red Chair, Lucky Monkey, The Hip Replacements (a Tragically Hip tribute band), and Hot Knox.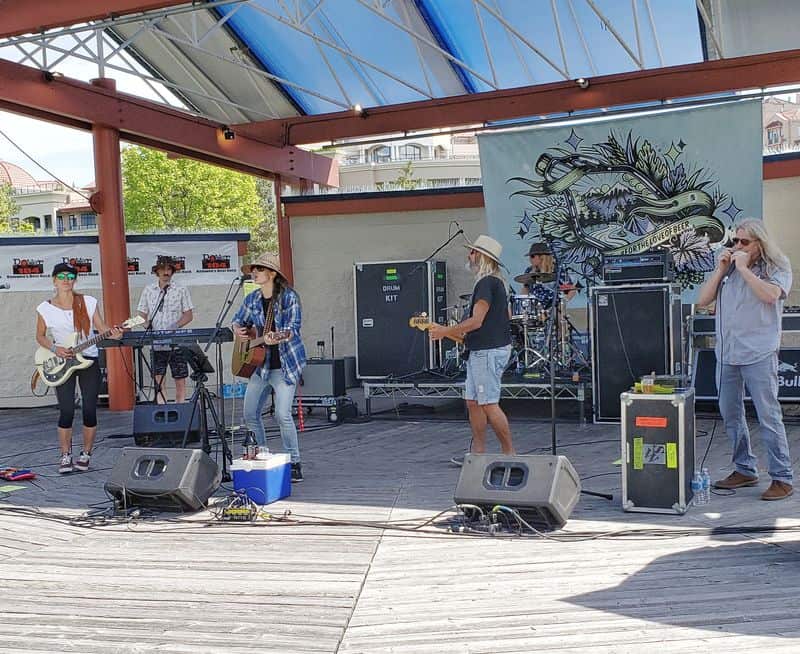 In among the beer and cider tents, we found that a lot of local businesses had also shown up. All of them had something fun to do and many offered everything from free meals at local restaurants to hats, shirts and Frisbees. The games ranged from blackjack, to beanbag toss games, to axe throwing.
Yep, you read that right… axe throwing. We had a blast trying a free round of axe throwing with Axe Monkeys, though I think we're both going to need some coaching before we become axe throwing masters!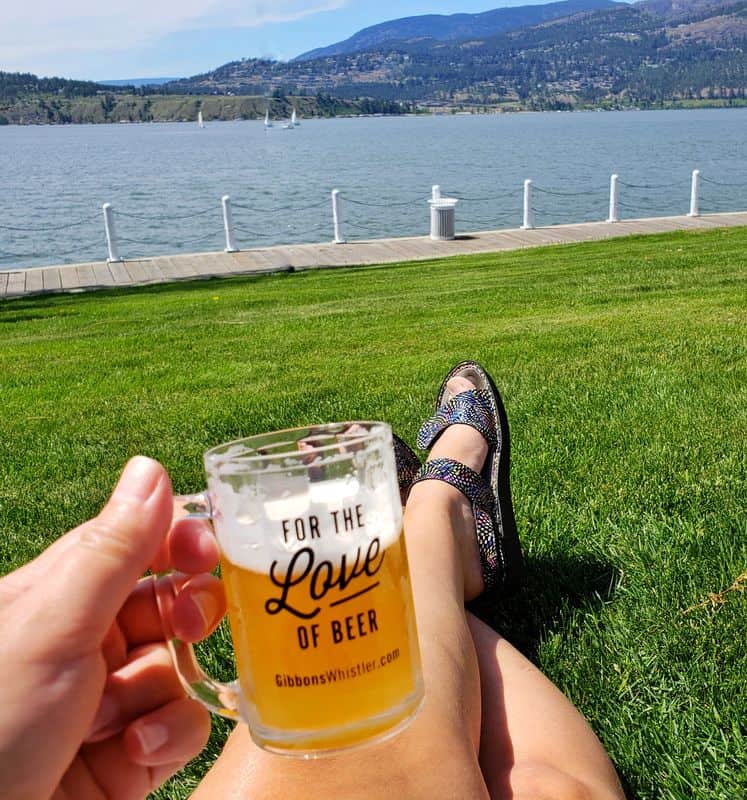 All that axe throwing gave us an appetite, so we wandered over to the food trucks.
Given that this is a Canadian Festival, you'd better bet there's a poutine truck (Smoke's Poutinerie), and a lot more too, including The Keg Steakhouse, The Grub Truck, Surfside California (with tacos!) and Thai on the Fly.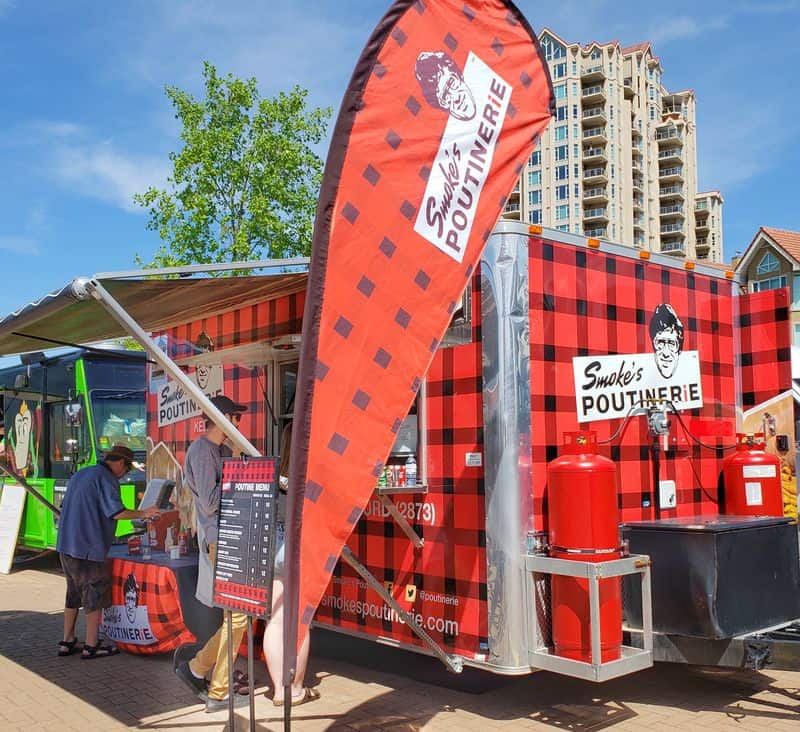 Grimm's Fine Foods BBQ made an especially tasty appearance, with mouthwatering smokies on a bun and ice cold drinks.
GOBF fun around town
There's a lot going on in the days and weeks leading up to the GOBF, with everything from yoga to bowling to Kelowna Craft Brewery tours.
Pregame Brunch at the Train Station Pub with Grimm's Fine Foods
We were lucky enough to get a spot at one of our very favorite local pubs, the Train Station Pub for a Pregame Brunch presented by Grimm's Fine Foods.
The Train Station Pub is in a restored 1926 railway station, and is just a hop, skip, and jump from Waterfront Park where the GOBF main event is held. As well as great food, the Train Station Pub features their own craft beer as well as rotating favorite brews from around the area.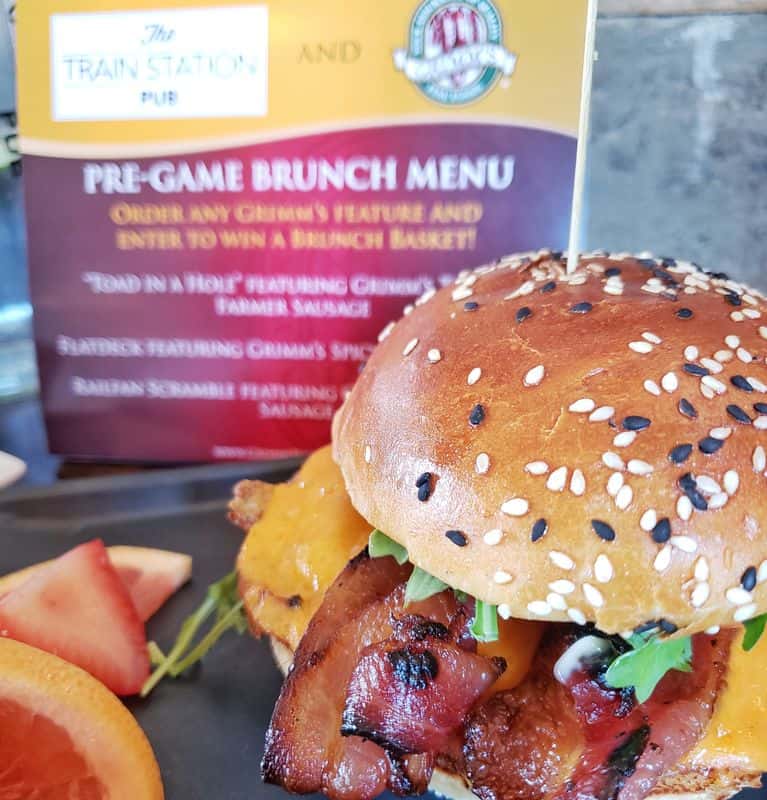 Where's the GOBF held?
Every year, the Great Okanagan Beer Festival takes place at Waterfront Park on the shores of Okanagan Lake. There's plenty of lush green grass, meandering paved pathways, a beautiful wooden boardwalk along the lake, and big trees scattered about for shade.

Should you get General Admission or VIP Tickets to the Great Okanagan Beer Fest?
What's included in the GOBF General Admission ticket:
Official 4 ounce GOBF sampling mug
3 beer or cider tokens
Live music
Access to 70 breweries and 140 craft beers/cider
Access to food vendors and exhibitors
A fun time with thousands of festival-goers on the beautiful Okanagan Lake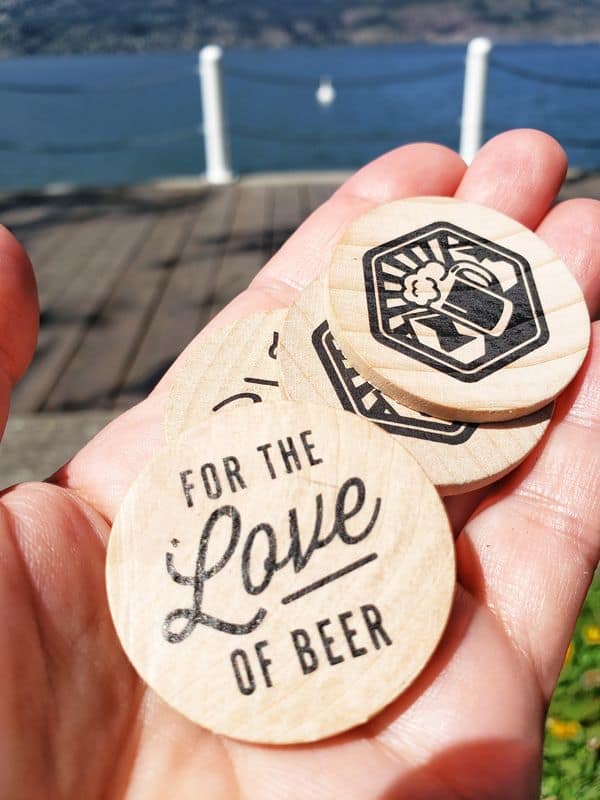 What's included in the GOBF VIP ticket:
Official 4 ounce GOBF sampling mug
10 beer or cider tokens
VIP fast access express entry. We had VIP tickets and loved this feature, as it let us speed by the regular security entry line (shown below).
Live music
Access to 70 breweries and 140 craft beers/cider
Access to food vendors and exhibitors
A fun time with thousands of festival-goers on the beautiful Okanagan Lake
GOBF swag bag
Lunch from Grimm's Fine Foods
Vouchers for savings around town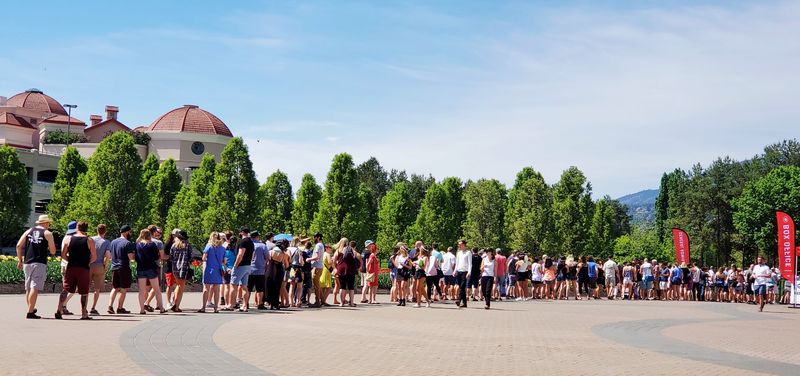 Love beer, cider, great food and awesome music? If you don't have tickets, you can grab them here!
Click here to see ticket prices and details.
Looking for a Great Okanagan Beer Festival promo code? Check out the Gibbons Whistler Facebook page – you may get lucky!
About Kelowna and the Okanagan Valley
Kelowna is a small city perched on the shores of Okanagan Lake, with a population of just under 200,000 very lucky people.
It is the largest city in the Okanagan Valley, which is a 200 kilometer (125 mile) valley surrounded by mountain ranges, forests, and with the deep, clear Okanagan Lake as its center.
Kelowna (and the Okanagan Valley) is becoming rapidly known for it's 300+ world class wineries with hundreds of fun things to do around town. The past few years there's been a boom of local craft breweries (thus the GOBF) and locally made spirits as well.
In the summer, the valley is home to apple, pear, peach and other fruit orchards, and sees an influx of tourists from Canada and all over the world.
To get here, you can fly directly into the Kelowna International Airport, but many visitors prefer the scenic four hour drive from Vancouver.
Looking for someplace to stay?
Check out these Kelowna rentals on Airbnb.
Sign up using this link, and get $35 in Airbnb credits the first time you use them.
Looking for something to do?
Check out these fun experiences in Kelowna.