Looking for a great hiking trail near Kelowna, British Columbia?
Kelowna's reputation as one of Canada's most scenic and beautiful places is well deserved. The city lies along the deep, clear 135 km (84 mi) long Okanagan Lake, and is bordered by mountains and forest.
In our seven years of living in Kelowna, we've had the pleasure of hiking most of Kelowna's great trails.
The Best Hikes in Kelowna, BC
We usually hike with our kids, so many of these Kelowna trails are family friendly, and are included in some of the top family things to do in Kelowna. Of course, since Kelowna and the Okanagan Valley is a mountainous area, there are a few trails here that are more difficult, and suitable for experienced hikers only.
Apex Trail on Knox Mountain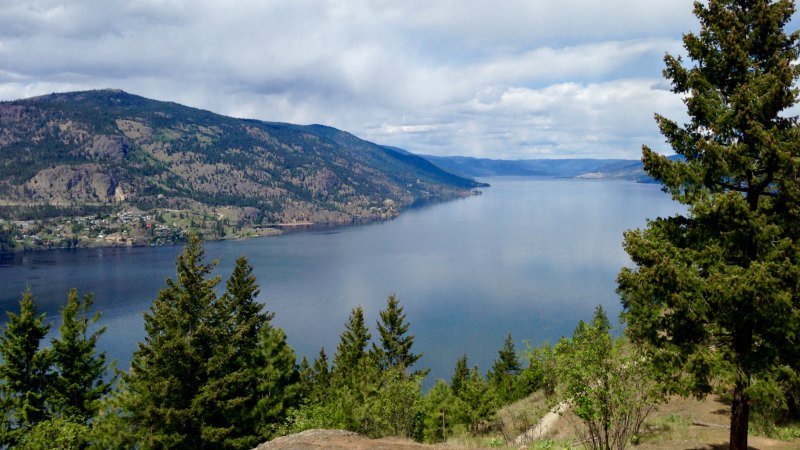 We take most of our out of town guests to Knox Mountain for a moderate to easy hike. It's on the outskirts of downtown, making it easily accessible, and it also offers gorgeous views of downtown Kelowna and Okanagan Lake.
The downside here is that Apex Trail is one of Kelowna's most popular hikes, meaning the trails can be fairly busy during peak times, like summer weekends.
If you're feeling ambitious, you can start Apex Trail at the bottom of Knox Mountain, and hike all the way up to the top. If you're looking for an easier hike, you can drive on Knox Mountain Drive to the parking lot about half way up, and walk the rest. It's also possible to drive all the way to the top of Knox for a peek at the view.
Knox Mountain Drive is seasonally closed to traffic during the coldest months of the winter and can be closed in the summer if the danger of forest fires is too high in the region.
2022 Update: To assist with social distancing measures during the pandemic, Knox Mountain drive is currently closed to vehicle traffic.
There are over a dozen other trails on Knox Mountain, if you'd like to explore further. One of our family favorites is the Paul's Tomb trail, which we talk about below.
If you're a fan of the water, you can also access Okanagan Lake's Kelowna Paddle Trail at the base of Knox Mountain.
The Kelowna Paddle Trail is a 27-kilometre water only trail on Okanagan Lake from McKinley Beach to Bertram Creek Regional Park. It passes along bird sanctuaries, 20 beaches and parks, three waterfront resorts, and two bird sanctuaries. It's a great place to take out that paddleboard or kayak you've found.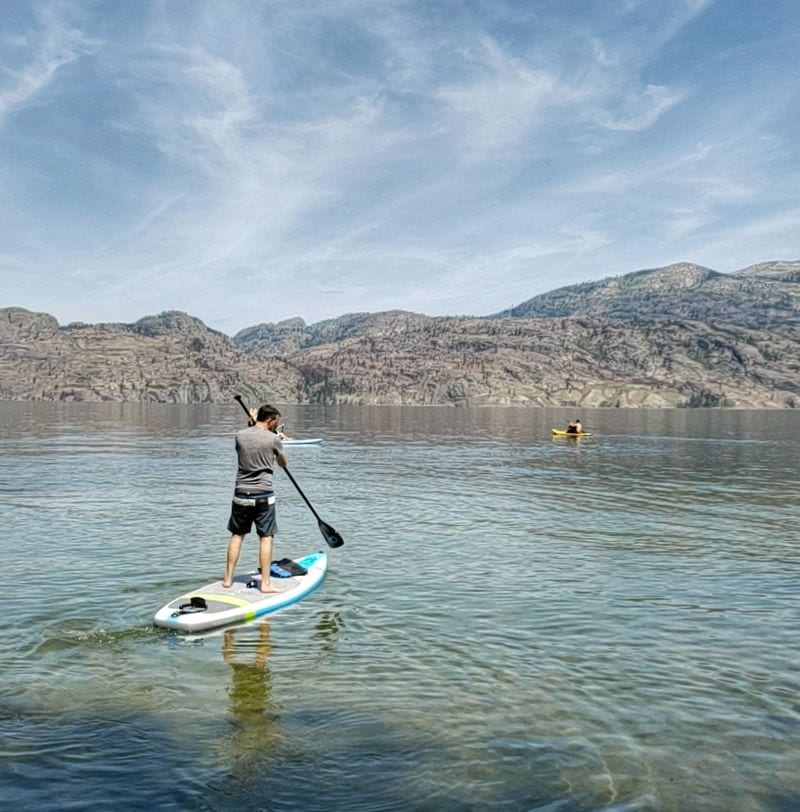 Dogs are allowed on Apex Trail if they're on leash, on trail, and licensed. There's an off leash dog beach nearby, at 589 Poplar Point Dr, near the Apex Trail Parking lot.
Length: 2.0 km one way (4 km return).
Difficulty: Moderate. Potentially slippery sections with an incline.
Paul's Tomb
Paul's Tomb, on Knox Mountain is probably the hike we've walked the most since we moved to Kelowna. It's one of our favorite easy hiking trails Kelowna.
It's a lovely hike that follows along the shore of Okanagan Lake, with stunning views of the lake at the top. The trail ends at a small, pebble-covered swimming beach, where you'll find local families like ours taking a swim in the lake and enjoying picnic lunches.
The hike does lead to the tomb of Rembler Paul, one of Kelowna's earlier pioneers. There's not much to see at the tomb itself, as the door has long been sealed with rock and gravel.
To access Paul's Tomb, it's easiest to drive up Knox Mountain Drive to the midlevel parking lot. When Knox Mountain Drive is closed, you can park at the parking lot at the base of Knox Mountain, or drive up to the end of Poplar Point Drive, where there's extremely limited parking on the road in a residential area.
Dogs are allowed on leash, on trail and if they're licensed. There's an off leash dog beach nearby, at 589 Poplar Point Dr, near the Apex Trail Parking lot.
Length: 2.5 km (1.5 miles)
Difficulty: Easy, with some moderate sections.
Location of Paul's Tomb on Google Maps
Myra Canyon Trestles
Myra Canyon is a popular, well maintained and scenic portion of the former Kettle Valley Railway. It's a stunningly scenic hike, with 18 giant trestle bridges and two tunnels, and features some amazing views over the lake.
Stretching just over 12 kilometers one way, you can walk the popular portions of the trestles, however, it's more common to bike the whole way.
If you chose to bike rather than hike, you can rent a bicycle in Myra Canyon's parking lot all summer if you need one. You can also join a tour that will explain the over 100 year long history of this historic railway stretch and the rebuilding of the trestles after the major fires in the area in 2003.
The trail head is about a 35 minute drive from Downtown Kelowna, with the last 5 or 10 minutes of the drive on a bumpy gravel road, with switchbacks. If conditions are snowy, icy or slick, you may need a 4×4.
You can access the trail via the Myra Station parking lot or the June Springs parking lot. We always choose to start at the Myra Station lot, because there are six trestles in the first few kilometers, making for a simple and interesting hike for the family.
Distance: 24 km (14 miles) return
Difficulty: Easy, but multiple steep drop offs.
Location: Myra Station Parking Lot on Myra Forest Service Road. Location on Google Maps.
Kelowna Waterfront Trail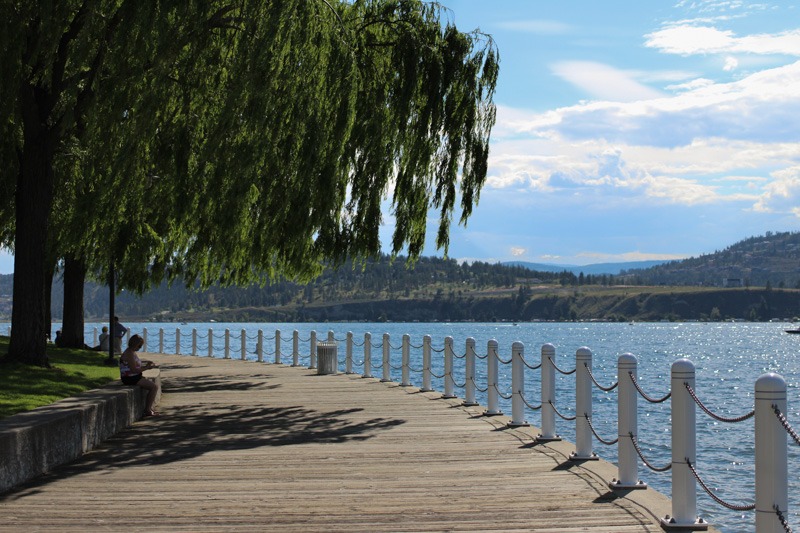 This trail is more of a city walk than our other Kelowna hikes, but it's well worth the time if you'd like to see Kelowna's downtown and lakefront. The hike starts at the parking lot at City Park (it's now a paid lot), winds its way along the downtown lakefront, and ends at Rotary Marsh.
Along the way, you'll pass Hot Sands beach, which is the summer beach to see and be seen. For some of the best ice cream in Kelowna, stop at Moo Lix ice cream shop on Bernard St., and enjoy your ice cream along a lovely boardwalk by the manicured Waterfront Park. Waterfront Park is home to plenty of activities and festivals, including the always fun Great Okanagan Beer Festival.
Most people stop at Tugboat beach, by the Delta Grand Hotel, but if you follow the lakefront a little further, there's an interesting little walk through Rotary Marsh walk.
Distance: 2.1 km (1.3 miles) one way
Difficulty: Easy
Location: 1600 Abbott St, Kelowna.
Mill Creek
Mill Creek is an easy 10 minute drive from downtown Kelowna, and just a few minutes drive from the Kelowna airport.
Because Mill Creek was hit by flooding a couple of years ago, a large portion of the initial section of this hike was reconstructed, with new footbridges, and a wider path.
The initial section of the hike (Waterfall Trail) is a little less than 1 km (0.6 miles) long. It's wide and relatively flat, and a good choice for younger kids.
After the short walk at the initial section, you'll end up at a small waterfall. It's one of the closest waterfalls in Kelowna.
Just before you reach the waterfall, there's an informal trail that's much narrower and steeper that winds up along a ridge overlooking the waterfall. It diverges just North of the main trail, and loops back into the main trail after less than 1 km.
This is a pretty, easy hike along a smooth, wide path, mostly under cover. It's our hike of choice on hot summer days when we want to walk under the trees.
Dogs are allowed on leash. There's a small parking lot, and hours differ, depending on the season. It's open 6:00 am to 11:00 pm in peak summer hours.
Difficulty: Easy (main Waterfall trail). Moderate (informal trail).
Length: 1 km (0.6 miles) one way (approximate)
More info: Mill Creek Regional Park.
Mission Creek Greenway
This long, winding pathway is one of Kelowna's less talked about gems. We're fortunate to live nearby, so we've walked almost every kilometer of the trail.
The Greenway follows along Mission Creek, which may technically be a creek, but what most people would consider as a smaller, fast flowing river. During spring, if runoff is high, Mission Creek can be extremely fast moving and potentially very dangerous.
Portions of the greenway are still under construction, but when completed, it will span 26 kilometers (16 miles) from the shore of Okanagan Lake to Mission Creek Falls.
Because it's such a long trail system, most people only hike sections of the trail, so we've broken the Greenway down into the two most common hikes: Mission Creek Regional Park, and the downtown section from Lakeshore Drive to KLO road
Mission Creek Regional Park
Mission Creek Regional Park is likely the most familiar spot along the Mission Creek Greenway. It's home to a honeycomb of great family hiking trails, a playground, washrooms, picnic facilities, and the EECO Center (Environmental Education Centre for the Okanagan). The EECO runs environmental education programs year round – we especially love the education they provide on spawning salmon in Mission Creek.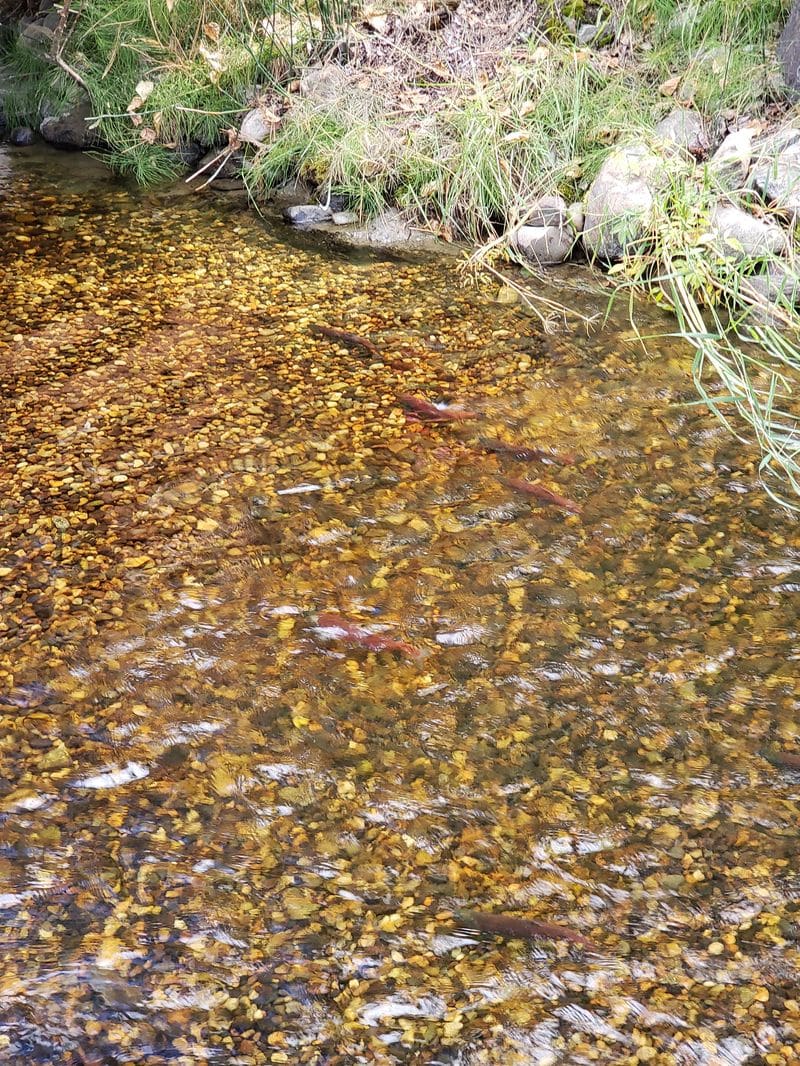 Mission Creek Greenway proper is a wide, flat pathway that runs parallel to Mission Creek, connecting Mission Creek Regional Park to the downtown area and Scenic Canyon Regional Park to the East. Many smaller, well marked hiking trails fan out from the Greenway that take you through Kelowna's ever-present Ponderosa Pines, by a Children's Fishing Pond, and past Turtle Ponds. You can also see Kokanee Salmon spawning in early fall.
This is one of our favorite winter hikes in Kelowna. The main Mission Creek Greenway trail is quite wide and flat, so it's often less icy that other hikes with steep inclines.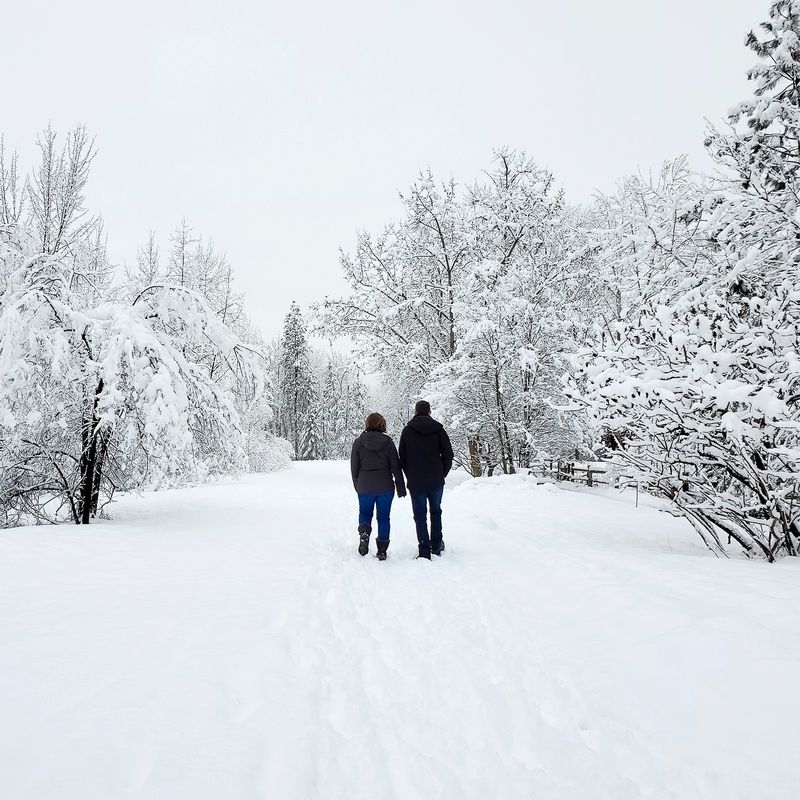 Dogs are allowed on leash.
Difficulty: Easy to Moderate (stairs)
Location: 2363 Springfield Rd, Kelowna, BC V1X 7N7
Mission Creek Greenway – downtown section from Lakeshore to KLO Road
You can access this section of the path from the Lakeshore Road and Truswell Road parking area or across the river from the Creekside Pub & Grill.
To the West in this section, Mission Creek flows into the 135 km long Okanagan Lake. Sandbars often form as the creek enters the lake in the spring, attracting birds.
If you walk to the East along the trail, you'll find Michael Brook Marsh, for more bird watching. After a few kilometers, you'll pass Father Pandosy Historic Site and eventually meet up with Mission Creek Regional Park after KLO Road.
Difficulty: Easy
Length: 4 km (estimated)
Dogs are allowed on leash.
Location: Corner of Lakeshore Rd and Truswell.
Scenic Canyon Regional Park
Entering the Scenic Canyon Regional Park from the parking lot off 2014 Hollywood Rd S (known as The Greenery on Google Maps), the trail first dips down into a marshy area, full of ducks, turtles, and greenery, and past a series of small boardwalks. There are also a couple of bridges that cross over Mission Creek.
The Mission Creek Greenway officially runs through Scenic Canyon Regional Park to its terminal point at Mission Creek Falls.
If you hit Saskatoon berry season just right (usually early summer around the end of June), this section of the trail has some of the ripest, juiciest Saskatoon berries we've ever found.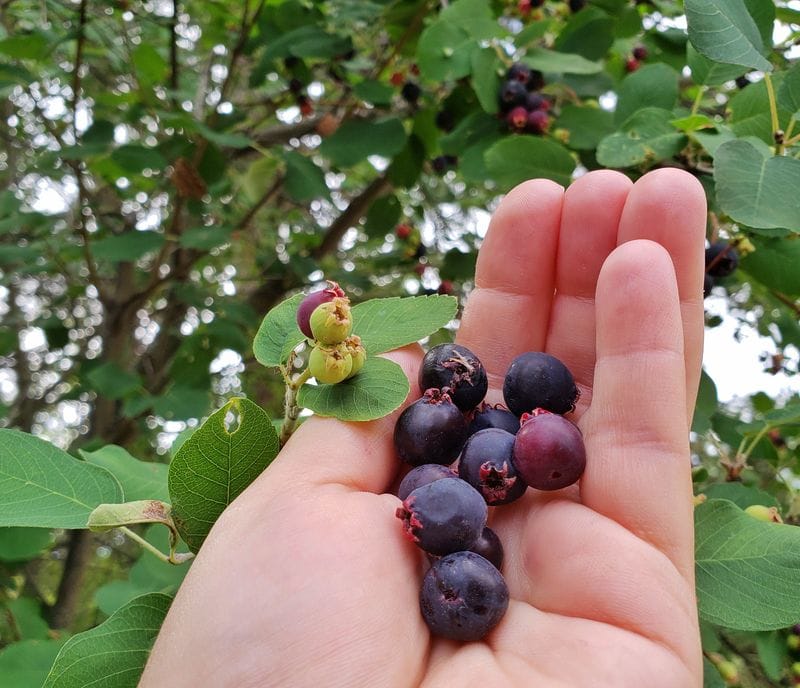 Further along, there are some interesting geological features along the way, including views of Layer Cake Mountain, once you're past the KLO Creek bridge. There's even a more challenging Rock Ovens Trail.
Currently, sections of the trail above the KLO creek bridge (on the East side) are closed due to washouts and bank instability.
Length: Section off of Hollywood Rd South (about 2 km, loop). Section off Field Road (about 5 km, total)
Difficulty: The first few kilometers off the parking lot at 2014 Hollywood Rd S are easy. Difficult sections with steep and narrow climbs are accessed from the parking lot at 3965 Field Rd.
Dogs are allowed on leash.
Location: 2014 Hollywood Rd S, Kelowna, BC
Stephens Coyote Ridge Regional Park – Coyote Ridge East Trailhead to Light Blue Lake
This is a pretty hike with nice views of Okanagan Lake on one side and Glenmore Valley on the other side. I personally really love the views here, but they're subjectively less stunning than others you can find on Kelowna hiking trails. You may also have some highway or airplane noise depending on the time of day.
If you're looking for over-the-top stunning scenery, do the hike at Mount Boucherie, Myra Canyon, or Knox Mountain.
There are plenty of trails here, leading among wetlands and largely untouched habitat. There's a good chance of seeing wildlife like coyotes and marmots.
There's not much signage here, and the lake is small and not recommended for swimming.
Dogs are allowed on leash.
Length: 1.6 km (1 mile) one way, or 3.2 km (2 miles) return
Difficulty: Easy to moderate with some steep sections. Not well marked.
Location: 2345 Werger Rd East Trailhead.
Boucherie Rush Trail on Mount Boucherie
The Mount Boucherie hike rewards you with gorgeous views of Okanagan Lake and wineries below. You'll navigate a series of switchbacks and a steep incline, but the view at the end is gorgeous.
There are three trails at the Mount Boucherie parking lot, but it's the Boucherie Rush trail that will lake you to the top of Mount Boucherie at 758 meters elevation.
The trail itself is well maintained, with wooden railings and gravel surface. Since Mount Boucherie is an extinct volcano, you may see ancient solidified lava rock on your route.
Tip! The north east face of the mountain is much more difficult, and we recommend it only for very experienced hikers. We consistently hear reports on the local news of hikers stranded on the north face that require search and rescue assistance.
Distance: 3 km (1.8 miles) one way
Difficulty: Moderate, with steep sections and incline
Location: Parking lot at E Boundary Road.
Black Mountain Viewpoint
We don't hear a lot of people mention the Black Mountain Viewpoint trail, but it's one of my favorite short hikes in Kelowna.
It's a short trail (1.6 km round trip, or 1.0 mile). Start at the base of Black Mountain, and it's a fairly steep hike along some switchbacks straight up to the viewpoint. It's not a long hike, but it definitely gets the blood pumping.
You can be done and dusted on this hike in about half an hour, if you move quickly. With kids, we're slower, so it takes us about 50 minutes.
Difficulty: Easy to moderate
Distance: 1.6 km (1.0 mile) round trip
Location: Park along Black Mountain Drive.
Crawford Falls hike
Crawford Falls is a great option if you're looking for waterfalls near Kelowna. It's likely the best known of the waterfall hikes in Kelowna. The hike has two options that lead to scenic waterfalls in the forest. It's a short, steep hike to the falls on Bellevue Creek.
From the trailhead, it takes about 20 minutes to the first of the two falls. The first set of falls are about 20 feet high, and a difficult, steep hike. The second set of falls are another 10 minutes down the trail, and much taller, at about 40 feet high.
You'll need to scramble over a few boulders, but the hike is less steep was revamped by the City of Kelowna in the mid-2010's, and no longer has extremely steep sections with ropes.
Difficulty: Moderate to Difficult
Length:
Location: 1856 Canyon Falls Ct, Kelowna, BC. Location on Google maps.
What kind of weather can I expect on my hike in Kelowna?
Depending on the season, temperatures in Kelowna can range from summer daytime highs of plus 40 Celsius (104 Fahrenheit) to winter overnight lows of -20 Celsius (-4 Fahrenheit). Kelowna is generally considered one of the warmest cities in Canada and most days outside of the coolest days of the year around January and February and the hottest days (around July and August) hiking in Kelowna is a joy.
If you're looking for some more fun things to do in the Okanagan Valley, see our articles on the best things to do in Penticton, BC as well as our post of fun things to do in Kelowna with kids.
Do you have any favorite hikes around Kelowna that we've missed? Put them down in the comments below!