We stopped by Tranquille Farm Fresh in Kamloops, BC on a sunny fall day to sample their fresh produce, run through the corn maze and learn a little about history. We found what we came for, and much more.
Tranquille Farm Fresh has a fascinating history, with roots in the gold rush, days as a former tuberculosis sanatorium, and even an incarnation as a mental institution. It's such an interesting story that we've written an in-depth article about Tranquille's past and the abandoned buildings that remain.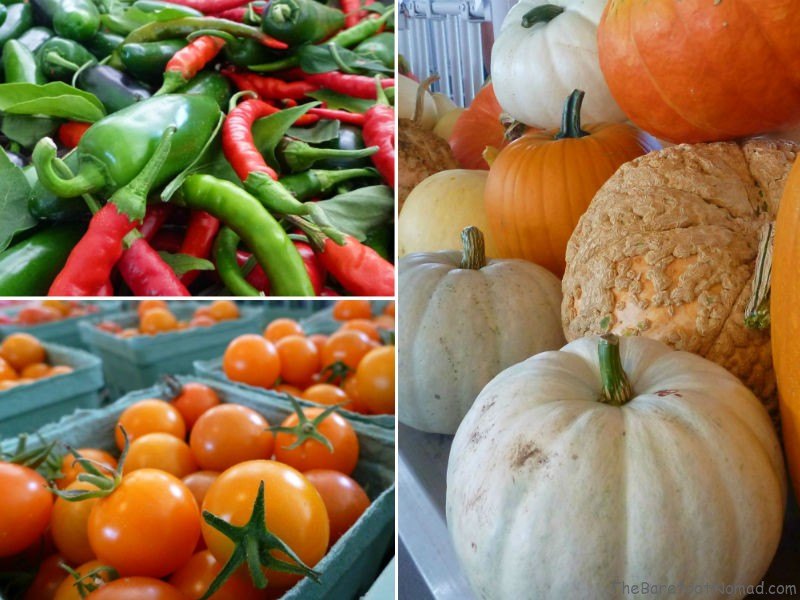 Tranquille's restored calf barn holds tables covered with fresh produce like blueberries, plums, tomatoes, pumpkins, kale, freshly pulled carrots, chilis, beets and home grown herbs. As well as a ton of fresh produce, we bought a batch of mint and made some mouthwatering, fresh mojitos when we got home. There's even honey made on site from bees we saw buzzing industriously around the local hives.
Local chef Colin from Edesia Catered Events serves up farm fresh creations fresh off the grill. Charles wolfed down his delicious sausage breakfast slider, and I loved my slider with freshly grilled veggies (a deal at less than $3 each) and the kids couldn't resist freshly grilled corn with honey and cracked black pepper. Edesia, aptly named after the Roman goddess of feasts, caters events around Kamloops and can be found here most Saturdays.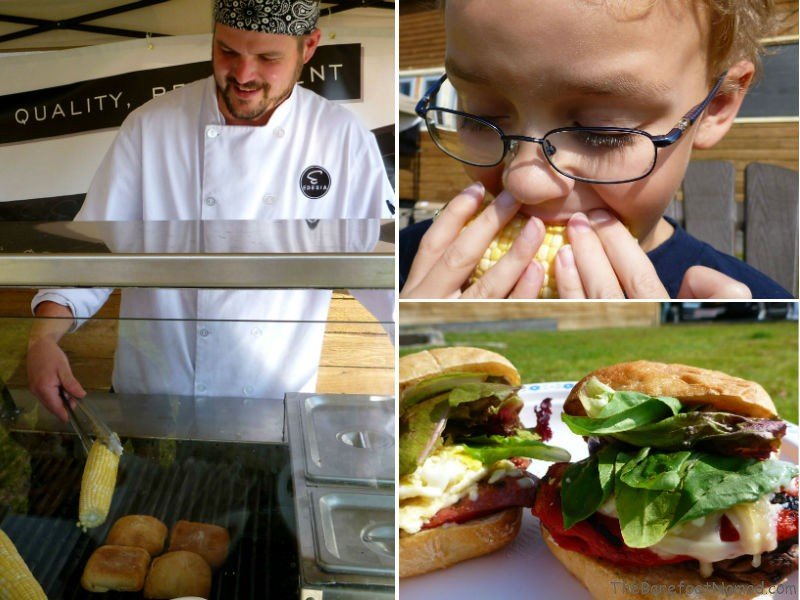 As well as the market, the folks at Tranquille have set up a corn maze this year as a way to reintroduce the historic Tranquille property to the public. The field maze is set up a stone's throw from the historic buildings on site and the market area. Over three and a half kilometers of pathways cut through the towering corn stalks, with clues and a free map given to you at the entrance to help guide your way.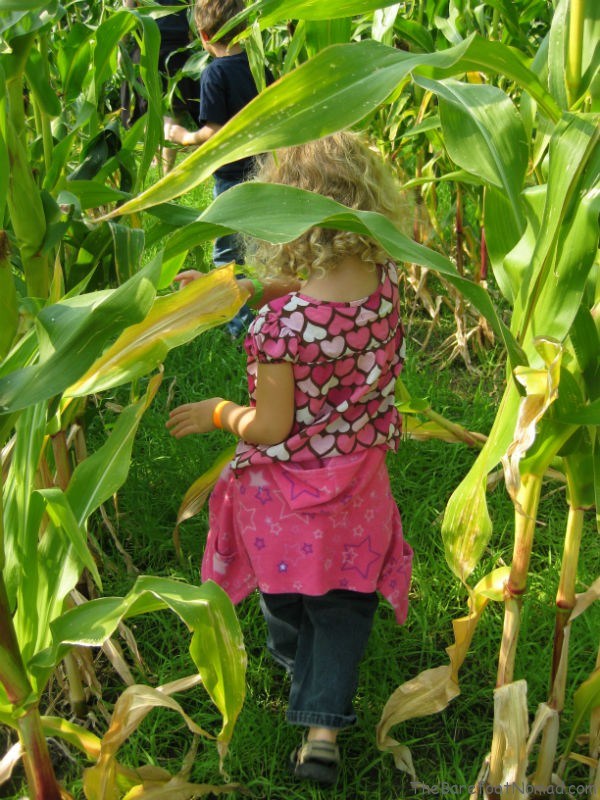 We had a blast in the maze, with Charles all business trying to get us to follow the map, and the kids and me running around delightfully lost. Somewhere in the maze, we stumbled on a wild crabapple tree, loaded with red fruit. I'm not ashamed to say that we filled our stomachs with the the tart apples.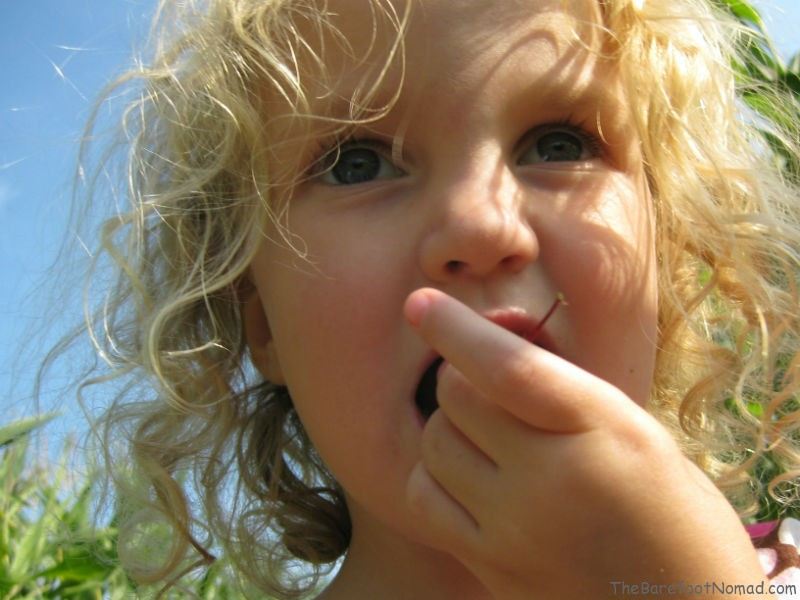 There's much more going on at Tranquille than the farmer's market and maze alone. The entire area is an exercise in bringing a once active community back to life. Over time, the folks at Tranquille on The Lake plan to create a sustainable community centered around this urban farm and market.
Right now there's a great historic tour that takes you by the abandoned buildings on site that once hosted places such as the King Edward Tuberculosis Sanatorium and the Tranquille Training Institution. The Tranquille/Padova City tour is led by Tranquille's knowledgeable development manager, Tim McLeod.
UPDATE!: Tranquille Farm Fresh is now offering public tours of the Tranquille tunnels.
I've heard it said that the best way to know a city is to visit a farmer's market. If this is the case, then the people of Kamloops are both friendly and happy.
Thanks to Tim and Annette McLeod for inviting us as guests to Tranquille Farm Fresh. They didn't request we write a favorable review or ask Micki to run around giggling like a six year old in the corn maze.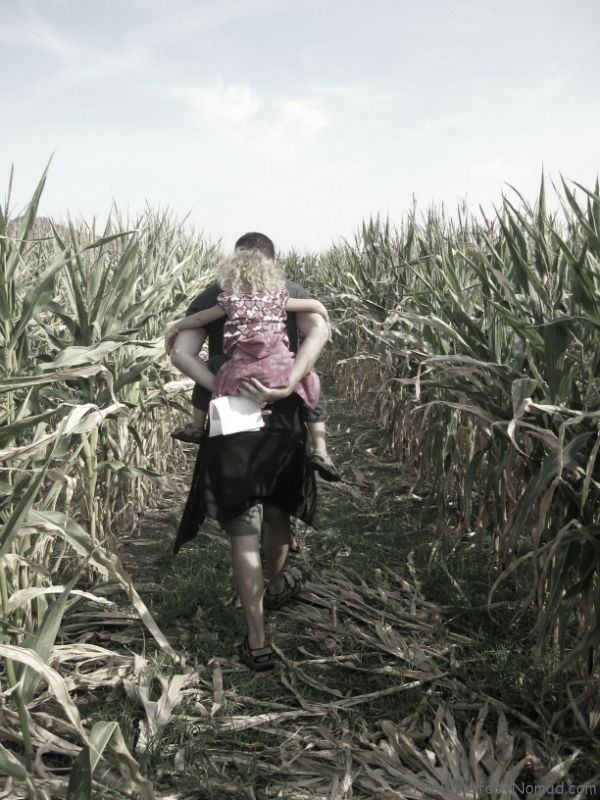 More Info
Website for Tranquille Farm Fresh.
More on the sustainable community planned at Tranquille on the Lake.
You can find Edesia Catered Events on Facebook.
Check out Agritourism at Tourism Kamloops for more information on Kamloops'a growing agritourism community, including farm visits and ranch stays.
Dates, times and locations for farmers markets in Kamloops.
Tranquille Farm Fresh is located at 4600 Tranquille Road, approximately three km west of the airport in Kamloops, BC.