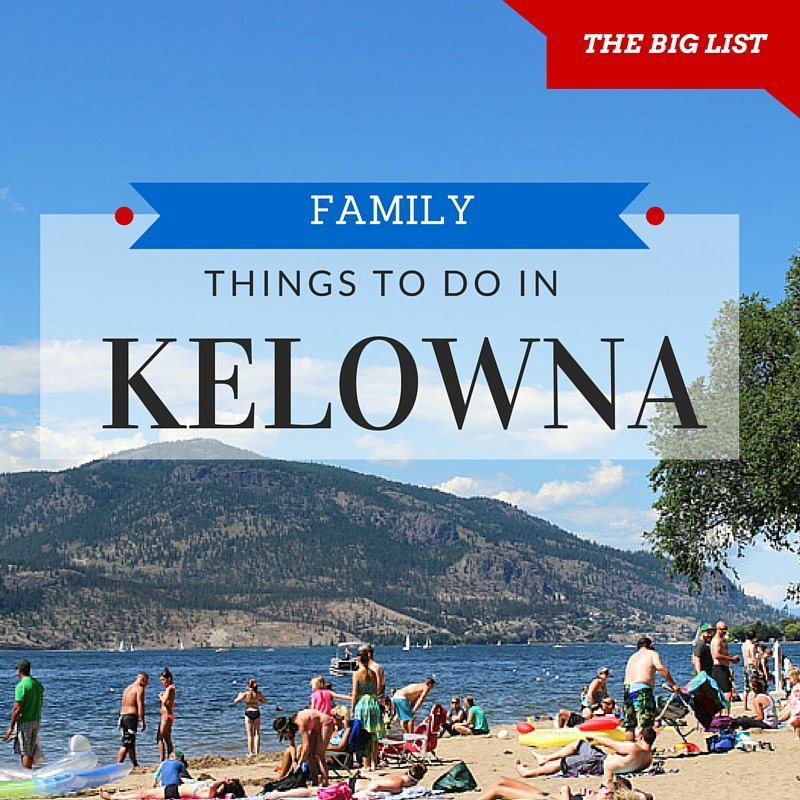 Last year, Micki and I decided to make Kelowna our Canadian home base. To say we kind of like the city would be an understatement.
Nestled in the heart of British Columbia's Okanagan Valley, Kelowna is definitely one of Canada's golden cities. You can do everything from climbing mountains in the mornings to lazing by the beach in the afternoon and then having supper at a world class winery before heading out for a night on the town.
Tip! If you're looking for great deals, check out local coupon sites, which often offer great deals on local food and things to do! Click here to see Kelowna deals.
For the kids, Kelowna has so much to offer, from water parks and beaches to adventure centers and grape stomping, plus it also has some of the best weather to be found in Canada.
We've had a great year or two checking out the local sites and now we're passing on some of our very favorite fun things to do with the family in Kelowna.
Without further ado, here's our list of some of the best kids activities and family attractions in Kelowna.
Okanagan Lake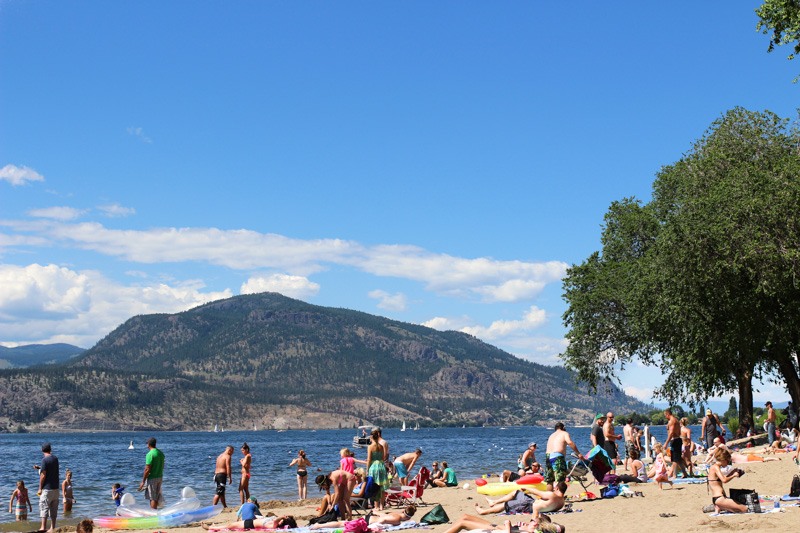 Kelowna lies on the shores of Okanagan Lake. In the summer, the city is transformed into a water lovers' playground with eight designated beaches and ample beach access.
If you're lucky, maybe you'll even spot the elusive Ogopogo. A local water legend in the vein of the Lochness monster with reported sightings in the valley for the past hundred years.
For the watersport adventure crowd, you can do everything from flyboarding to jetboating to parasailing on the big lake. You can rent motorboats, jet skis, kayaks and even stand up paddle boards at the main marina in town or bring your own and use one of the three boat launches in Kelowna proper.
With a lively downtown marina, you can even moor your boat right in the heart of the city for the day while you head to the beach or the park with the kiddos, or grab a bite to eat on trendy nearby Bernard Street.
With so many beaches, there's also bound to be a beach that appeals to you. Most are great for families and there's even one your dog can fully enjoy.
Hot Sands Beach – City Park
The kids will love the warm sand and nice water at Hot Sands Beach. Right downtown next to the popular City Park and the marina, it's one of the longest and busiest beaches in Kelowna. It has watersport rentals as well as the ever popular Aqua Park with over 16 oversized inflatable water activities that are great for kids or the young at heart.
Gyro Beach – Boyce
You can also check out popular, family friendly Gyro Beach, with its own watersport rentals, snack shop, washrooms, volleyball courts and playground. Gyro Beach has a very gradual beach incline which makes it great for throwing a frisbee or a ball in the water.
Cedar Creek Park
Cedar Creek Park is Kelowna's only dog friendly beach. It's a long pebble beach with picnic tables and washrooms that make it a great place to let your dog cool off on a hot summer afternoon while you get to relax or throw a ball with the kids.
Rotary Beach Park
Just down the road from Gyro Beach, Rotary Beach Park on Lakeshore Road has all the facilities you need to enjoy a day in the sun including picnic tables, washrooms and a playground. It's also the city's top kite-boarding beach.
Kelowna Parks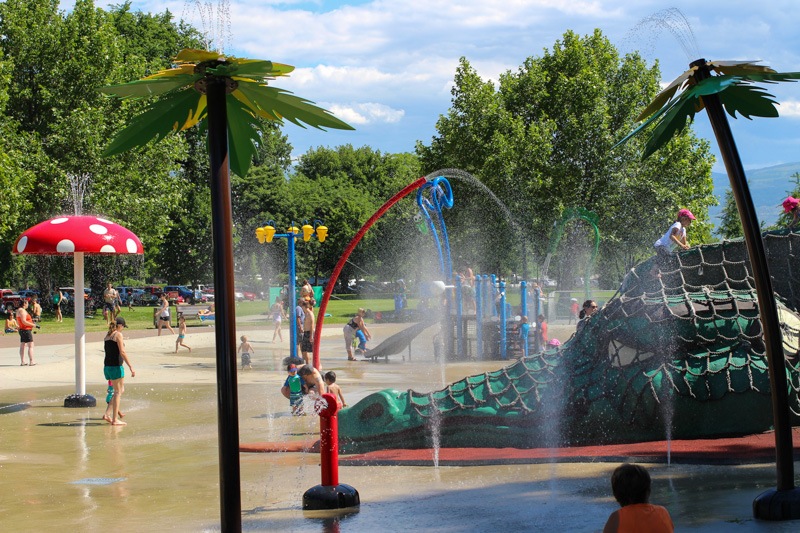 If you love the outdoors, but aren't in the mood for sand, Kelowna has over 200 dedicated parks and green spaces throughout the city. We have a saying when guests come here: "If you're ever more than a few blocks from a park then you know you've left the city". Here are a few of our favorites.
City Park
The largest and most prominent park in Kelowna is City Park. It's adjacent to downtown and surrounded by a long paved boardwalk, and borders the very popular Hot Sands Beach.
This huge park is within steps of the marina and also features volleyball and basketball courts, expanses of green grass, a huge playground complete with a mini zipline for the kids, a free waterpark that includes a two-story water dragon slide, a skate park as well as free washrooms and change rooms.
At night and on the weekends, local artisans and vendors set up mini stalls along the boardwalk. You'll never know what you might find since it varies from day to day.
The park is also a great jumping off point to delicious eats downtown. If you feel like a bit of ice cream, definitely try out nearby Moo-Lix Ice Cream on Bernard. Delish!
Mission Creek Park
Mission Creek Park has a large playground with swings and a great rope pyramid to climb for the older kids. There's also a free indoor Environment Educational Center (EECO) right in the park and outside you can watch Kokanee salmon spawning in late September to early October right in the heart of the city.
There are ample covered picnic areas, washrooms and over 12 kilometers of pathways with over 3 kilometers directly along Mission Creek. In summer, there's also a small kid friendly water channel that the kids can play in, so make sure you bring their swimsuit if you're checking it out in July or August.
Ben Lee Park
This great little park has a free water spray area in the summer, a canteen with washrooms and an always busy skate park. In winter there's an outdoor rink and the park has paved pathways that are great for walking or riding your bike.
Waterfront Park
This meticulously groomed park features outdoor art, meandering paved pathways and a large wooden boardwalk along Okanagan Lake with gorgeous city views. Close to some of the city's finest dining, it also has small ponds that are great for RC boating and letting the kids sail little sailboats. Waterfront Park also has its own popular beach.
Knox Mountain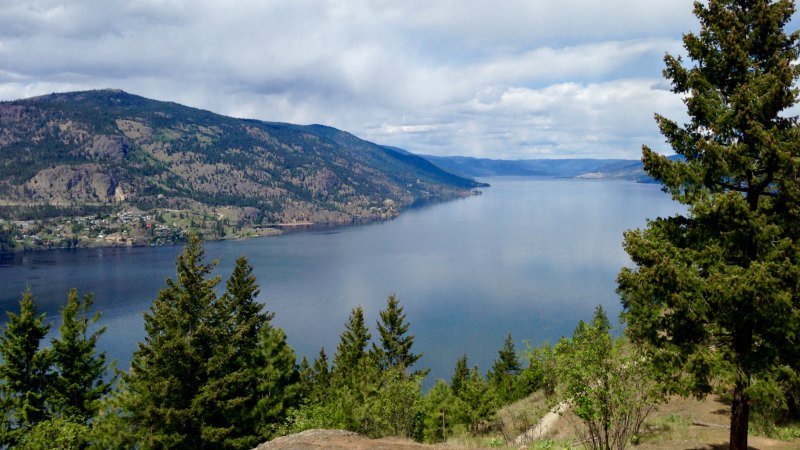 If you love hiking or even if you just like checking out beautiful views, then Knox Mountain needs to be on your list. Just a few minutes from downtown, Knox Mountain offers something for almost everyone.
You can hike, bike or drive up to the halfpoint lookout, or keep going to the top of the mountain. You can even play some free disc golf (18 holes) or tennis at the foot of Knox.
If you're feeling adventurous, you can park at the base and take the graveled pathway up the hill to the mid point lookout. It's a bit of a hike but nowhere near as long as climbing the rest of the way to the summit. If you want to bike or run you can follow the longer paved road to the middle or top as well.
Finally, if you just want to check the amazing panoramas you can drive up the mountain and park your car at the midpoint and near the peak. From your car you can get some great views, but if you walk to the lookouts you can see most of Kelowna, Okanagan Lake and a sizable portion of the valley from up there.
On days when we feel like going for a long hike and don't feel like climbing much, we head farther down the road and follow the path around Knox Mountain and go to check out Paul's Tomb, a gorgeous little spot overlooking a rocky, dog friendly beach with a nice alternate view of the lake. This is a great walk with kids and dogs since it offers a lot to see, but isn't overly strenuous.
Myra Canyon Trestles
If you thought Knox Mountain was a nice hike, then you need to check out Myra Canyon. This popular, well maintained and scenic portion of the former Kettle Valley Railway comprises 18 giant trestle bridges and two tunnels, and features some amazing views over the lake.
Stretching just over 12 kilometers, you can walk the popular portions of it or bike the whole way.
For those of you without your own bicycle, they even rent bikes right in Myra Canyon's parking lot all summer if you need one. You can also join a tour that will explain the 100+ year long history of this historic railway stretch and the rebuilding of the trestles after the major fires in the area in 2003.
Fruit Orchards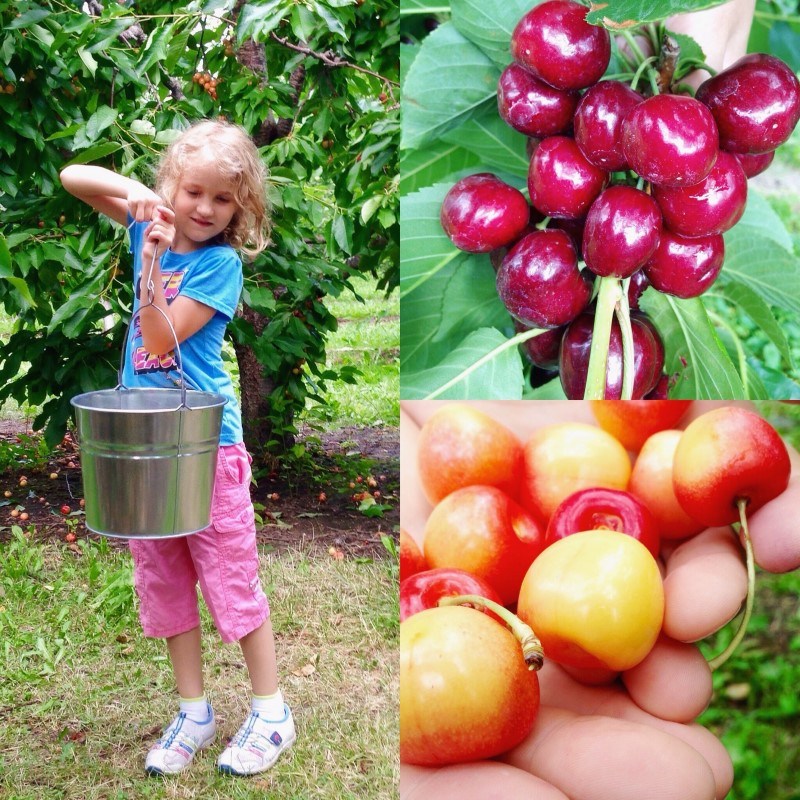 If you're lucky enough to visit Kelowna during the summer or early fall, you can visit the hundreds of orchards found throughout the valley. There's a reason the popular fruit juice giant Sunrype has called Kelowna home for over 70 years. There is a ridiculous abundance of fresh, local fruit in this city.
From cherry orchards to peaches, nectarines and plums, you'll find an orchard with all your favorite fruit. In fall it's apple time and the town is busy harvesting. If you don't see a loaded apple truck driving by in late August or September, then frankly you aren't looking hard enough.
Many orchards allow fruit picking by the pound (u-pick or they pick) and there are dozens of fruit and vegetable stands throughout the city with many of them found on Benvoulin Road.
Our kids love picking their own cherries and we go to nearby, family run Arndt Orchards a few times each summer depending on what type of cherry is ready to be picked. It's a great way to spend a few hours while getting the whole family out together, and nothing beats the taste of ripe, fresh picked fruit. Just try not to eat it all before getting back in your car.
Kelowna Farmers' Market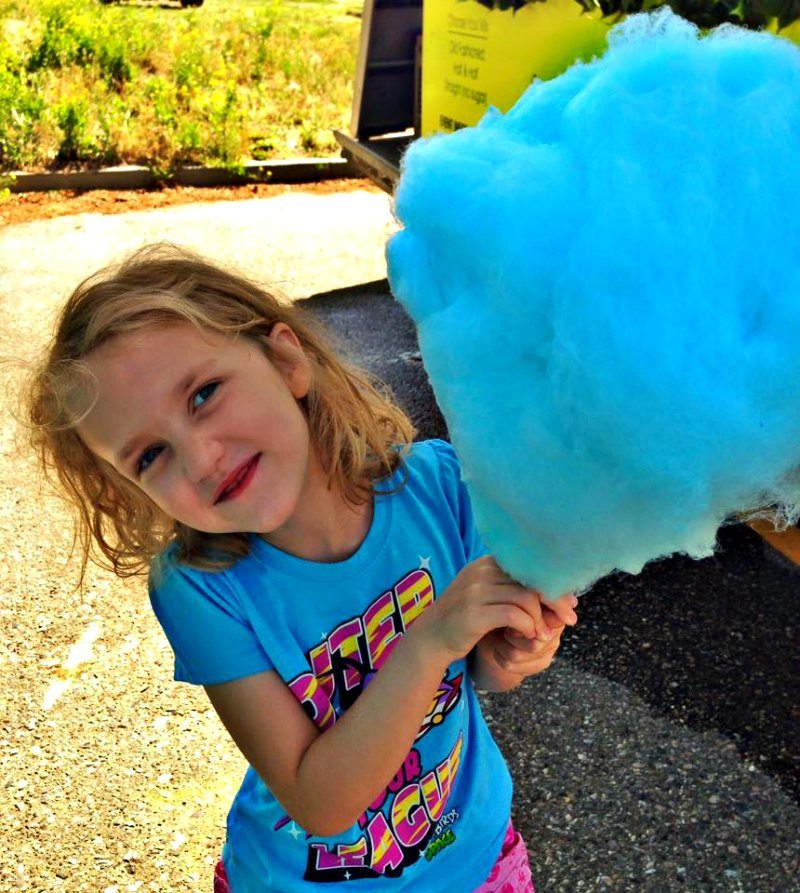 From 8 am to 1 pm every Wednesday and Saturday morning from April to November, you can check out the Kelowna Farmers' Market off Springfield and Dilworth. This giant outdoor market features over 165 vendors and offers everything from local fruits and vegetables to local meats and dairy. It's a great way to see what's in season and to try out everything from fancy cheeses to fancy jams.
The Kelowna Farmers' Market has been running for over 20 years and also includes local artisans showcasing jewelry, handcrafted pottery, soaps, handcrafted woodwork and plenty more. Grab the kids a giant candy floss or a bucket of kettle corn and peruse the aisles of local works to your heart's content.
World class wineries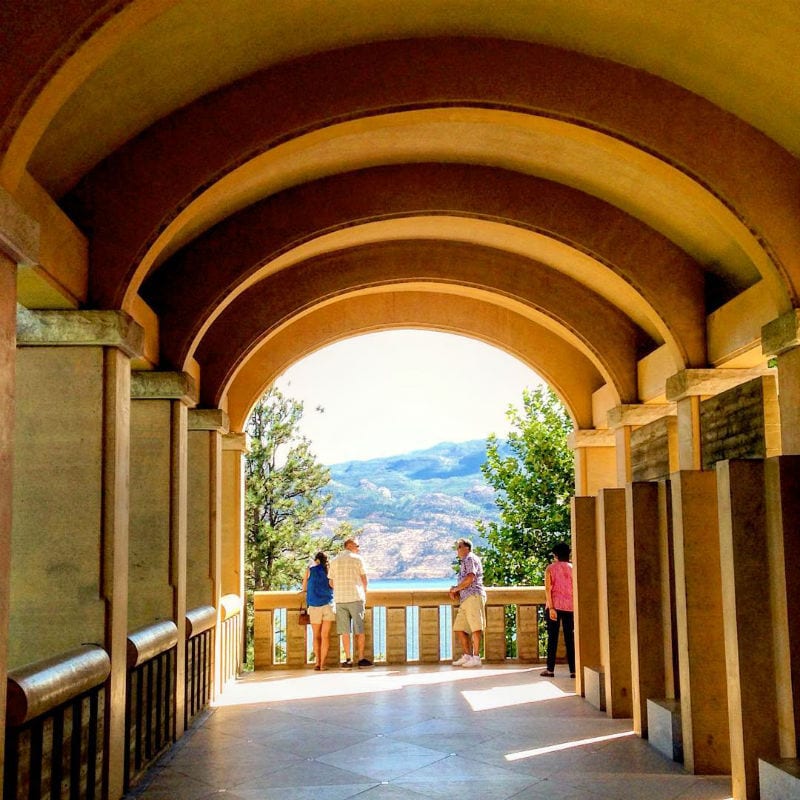 With over 200 wineries calling the Okanagan Valley home and over 30 wineries in Kelowna proper, finding a bottle of your favorite vintage is as simple as grabbing a handy Wine Map and hopping in your car and spending an afternoon tasting everything from Merlot to Chardonnay.
Whether you're checking out world renowned wineries like the sprawling and very photogenic Mission Hill Estates (which has a great hill for the kids to roll down), the amazing lake views at Quail's Gate or eating at the decidedly tasty restaurant at Volcanic Hills, you'll still be just minutes from downtown Kelowna.
If you're wondering what's in it for the kids, Kelowna has multiple family friendly wineries where the kids are as welcome as their parents, and get their very own non-alcoholic wine to sample (aka grape or apple juice). However, if your kids are old enough and you'd rather leave them at home or at the beach for the day and be able to sample the many wines more, ahem, liberally, you can jump on one of the many wine tasting tours offered around town and let them whisk you about while providing delicious meals and entertaining commentary.
If you're in Kelowna in the fall, you can even join one of the many grape stomps (the House of Rose Winery has a great family-friendly one) that take place in the city and see how wine making used to be done before cold presses and technology took it over. People of all ages from kids to grandparents are welcome and even if you're here in the off season there are many educational wine tours you can take where they teach you the process from planting and picking to bottling and storing.
World class distillery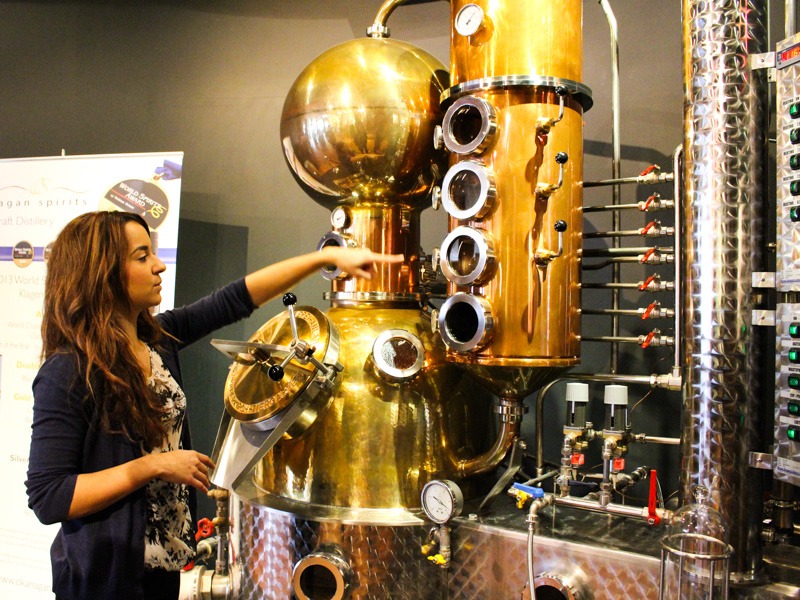 If you prefer vodka, gin, whisky or delicious fruit infused liqueurs over crushed grapes, then you can check out the Okanagan Spirits Distillery right in downtown Kelowna. Coupled with their main distillery in Vernon, they produce some delicious spirits thanks to the Okanagan's abundant fruit orchards.
The kids will love checking out the huge bubbling Jack Cousteau styled copper distiller while you try out their ridiculously tasty, award winning Blackberry Liqueur, and if you're brave enough, a shot of their very own absinthe. Located right downtown close to the marina and park, it makes a great stop on a busy day and there's an ice cream shop and poutinerie only a few doors away.
Skating at Stuart Park
If you happen to be in Kelowna in the cooler months (December to February), then the place to be is skating outdoors at Stuart Park on Water Street. Open from 6 am to 11 pm every day, you can rent skates right on the spot and glide along Kelowna's largest outdoor ice skating park. The ice is groomed regularly, you can enjoy the great views of the lake and downtown while grabbing a warm cup of hot cacao and hanging out with friends.
Kelowna Indoor Adventure Centers
If you're tired of the heat (and Kelowna gets lots of it in summer) or you're in Kelowna during the cooler season, there are a ton of fun indoor areas for the whole family as well.
EnergyPlex
The EnergyPlex is Kelowna's largest indoor playground for kids, with four stories of fun, including trampolines, foam pits, rope swings, a huge cube climb, a rock wall, a Ballistix Ball Range (huge foam ball shooting adventure) and a laser tag arena that are sure to tire out any active child. If you have energetic kids, this is definitely the place to bring them.
H2O Adventure and Fitness Center
H2O is the largest municipal water park in Canada. It includes a wave pool, surf wave simulator, river run, water slides and a kid's spray park. It's perfect fun for any age, and you can also enjoy the 12,000 sq ft of fitness and cardio space if you want to let older kids go their way while you go yours.
Jump2It
Perfect for the little ones (ages two to nine), Kelowna's Jump2It features plenty of gigantic, inflatable bouncers. Let the kids go wild and burn off some steam on giant slides and an inflatable castle while you grab a coffee and enjoy the free Wifi.
YMCA
The Kelowna YMCA in Rutland is a huge facility with an aquatic area, gymnasium, youth zone, a 100 m walking track as well as a large fitness area. The aquatic area includes a diving pool, an eight lane lap pool and a warm lazy river complete with spray-jets and a large hot tub. You can do a drop in anytime.
Fun Bugs Indoor Playground
Kelowna's newest indoor attraction, Fun Bugs is designed for children aged six and under. With a large play center for the bigger kids and a smaller one for toddlers, it even has a dedicated crawling area and an interactive dance floor.
Bowling – Capri Lanes or McCurdy Bowl Center
Fun for the young or old, Kelowna has a few great bowling lanes complete with black light, glow in the dark neon bowling for those times when you want escape a world of pastels. We love that all the places offer bumper guides that cover the gutters as well as roll assists to make it more fun for the smaller kids. We like Capri Lanes and McCurdy Bowling (there's a pub attached here, which is a huge bonus for us).
Kelowna Outdoor Adventure Centers
Feeling like you need a little outside exhilaration? Kelowna has several family friendly outdoor adventure centers that will bring out the kid in anyone.
Myra Canyon Adventure Park
At Myra Canyon Adventure Park high above Kelowna and below the Myra Canyon Trestles you can hike or bike the trestles, jump in the saddle and go for a horse ride or test your Tarzan abilities on their well rated tree top course high above the valley.
Scandia Golf and Games
With some of the best indoor and outdoor mini golf in the valley, you can enjoy everything from bumper cars and go karts to batting cages, a huge arcade and laser tag at Scandia Golf and Games. It's always a fun place to bring the kids.
WildPlay Kelowna
From ziplining to free falling, WildPlay, just outside of Kelowna on Highway 33, WildPlay is an adventure playground. With 10 ziplines and a giant, 110 foot pendulum swing, you're sure to get the blood rushing while you're there. For everyone aged five and up, there's the Monkido course (as in monkey see, monkey do). This climbing, ziplining, jumping and swinging obstacle course will test your mettle at heights ranging from 6 to 60 feet and is a lot of fun for everyone.
Children's Outdoor Activities in Kelowna
Need to find something a little tamer for your kids to do outside and can't decide which ones are right for you? Check out this list of outdoor kids activities you can do in Kelowna.
Kangaroo Creek Farm
Kangaroo Creek Farm is a little outside of Kelowna towards Vernon. You can pet baby kangaroos, wallabies and even have adorable sugar gliders climbing into your pocket. Price is $5 per person, and it all goes to the animals. Guaranteed to leave everyone in your group with a smile.
Kelowna Lavender Farm
The Kelowna Lavender and Herb Farm is a little more sedate fun than many outdoor activities, but it's perfect for a leisurely afternoon walk along the flower gardens.
With row upon row of beautiful colored lavender flowers the only thing that will wow you more is their amazing scent. Our daughter still carries the bag of lavender she got there around the house and it's always one of the first things she shows to people when they walk in our door.
Hoof Prints Barnyard Petting Zoo & Pony Rides
Hoof Prints in Kelowna has a great traditional petting zoo complete with miniature horses, cows, regular horses, ponies and goats that you can pet and feed. They also offer pony rides for the younger kids and horse lessons for those a little older.
Kelowna Events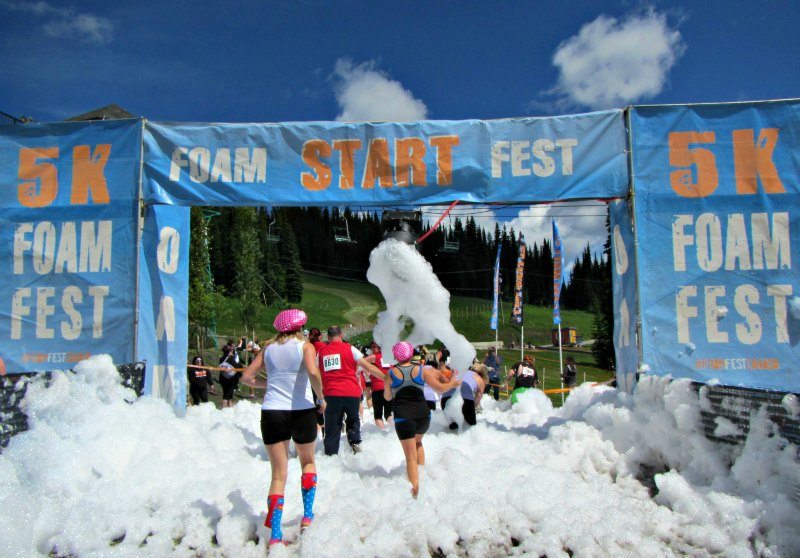 There's always something happening in Kelowna, it seems, and many of the events are family friendly. There are too many to list here, but the Fat Cat Children's Festival is well worth a visit if you're here in June. If you love wine, I enjoyed stopping by the Kelowna Wine Country Half Marathon's Wine & Music Festival at Waterfront Park with great wineries and live music.
If you're the active type, there are plenty of fun outdoor races that are kid friendly. This year, Micki and our 10 year old son had fun at the FoamFest 5K race (for kids 10 and over) and they're checking out the Freak'n Farmer Adventure Obstacle Race (with special categories for kids of all ages) at Covert Farms near Penticton for next year.
For event info, check out the event pages for Tourism Kelowna and Castanet (a local online newspaper).
Tours of Kelowna and the Okanagan Valley
Want to work with a local company? Check out Red Dog Wine Tours. They rate highly on TripAdvisor. Their most popular tour is the West Kelowna wine tour, but they also do tours in Kelowna proper, as well as private tours.

Viator offers a good selection of tours in Kelowna and the surrounding Okanagan Valley.
Click here to see all of Viator's Kelowna tours and experiences.
Get Your Guide also has some great Kelowna tours.
You can take your pick of several wine tours and tastings at Kelowna wineries, or indulge in a bike and brewery tour.
Where to Stay in Kelowna
Kelowna has well over 100 hotels, with plenty of options from luxury villas and hotels to budget friendly accommodation.
Looking for an Airbnb?
Looking for a place to stay with Airbnb? Check out these Kelowna rentals on Airbnb.
Looking for a great deal on your next Airbnb? Click here to get a $35 USD credit on a new account!
Looking for something to do?
Check out these fun experiences in Kelowna.
Luxury – The Delta Grand Kelowna
Known locally just as the Delta Grand, the Delta Hotels by Marriott Grand Okanagan Resort is Kelowna's most well known higher end hotel.
I've spent some time here during local conferences, and had a chance to tour around the hotel as well, and really love the stunning location right downtown on the banks of Okanagan Lake, with a modern and elegant feel. There's a rooftop Jacuzzi, heated outdoor pools, a great in-house restaurant, and a fully equipped conference centre.
Check prices and availability here.
Airport Hotel – Four Points by Sheraton Kelowna Airport
The Four Points by Sheraton at the Airport is a brand new hotel, with excellent ratings.
It's directly across from the airport (you could easily walk), with an indoor pool, and restaurant and a bar that get good reviews.
Family Lakeside Holiday Resort – Cove Lakeside Resort
Both Hotel Eldorado and Cove Lakeside Resort get excellent reviews, but Cove Lakeside Resort wins out here because of their more affordable rates. This is a fantastic family place to hang out, as each room has a kitchenette, wireless internet access and a spa bath, and the resort has a lovely outdoor swimming pool, smaller water slide and outdoor tennis courts. There's a sandy beach, bikes for use, and an onsite restaurant and spa.
See Cove Lakesite prices and availability.
Budget hotel – Super 8 West Kelowna
If you have a car and you're willing to be out of the heart of Kelowna proper, you can almost always get a great rate at Super 8 West Kelowna. We stayed here a couple of years ago, and thought it was reasonable value for the price we paid (around $120/night CDN during summer high season).
It's fairly basic, but gets solid reviews, and has a small onsite outdoor pool. Rooms also have a fridge, with is a big plus for us.
Budget backpackers – Samesun Kelowna Hostel
There are only a few choices of hostels in Kelowna, and the best of the bunch is Samesun Kelowna Hostel, with clean, bright rooms and a strong social vibe.
It's smack in the middle of the action downtown across from City Park, and even has a hot tub. Important: This isn't a family-friendly hostel: You must be at least 19 years old to stay here and have valid government issued photo ID from outside Kelowna.
See Samesun prices and availability.
About Kelowna
Nestled in BC's southern interior, Kelowna is the jewel of the Okanagan Valley. On the shores of 135 kilometre long Lake Okanagan, it's only 3 1/2 hours from Vancouver by car and half an hour by plane. Kelowna is one of Canada's warmest cities in summer, with averages around 30 Celsius (86 F), it's also one of Canada's warmest places in winter with most days well above freezing. This makes Kelowna a great city to visit any time of the year.
In the summer, thanks to hot weather and sunny skies, Kelowna is transformed into a vibrant beach town with tons of activities for the young, the old and everyone in between. There is something for everyone here with tons of nightlife, tons of wildlife and tons of the fun thrown in for good measure.
Kelowna is also only 30 minutes away from world famous Big White Ski Resort and an hour from smaller but equally fun Silverstar Ski Resort. No matter the season, there's always something fun to do.