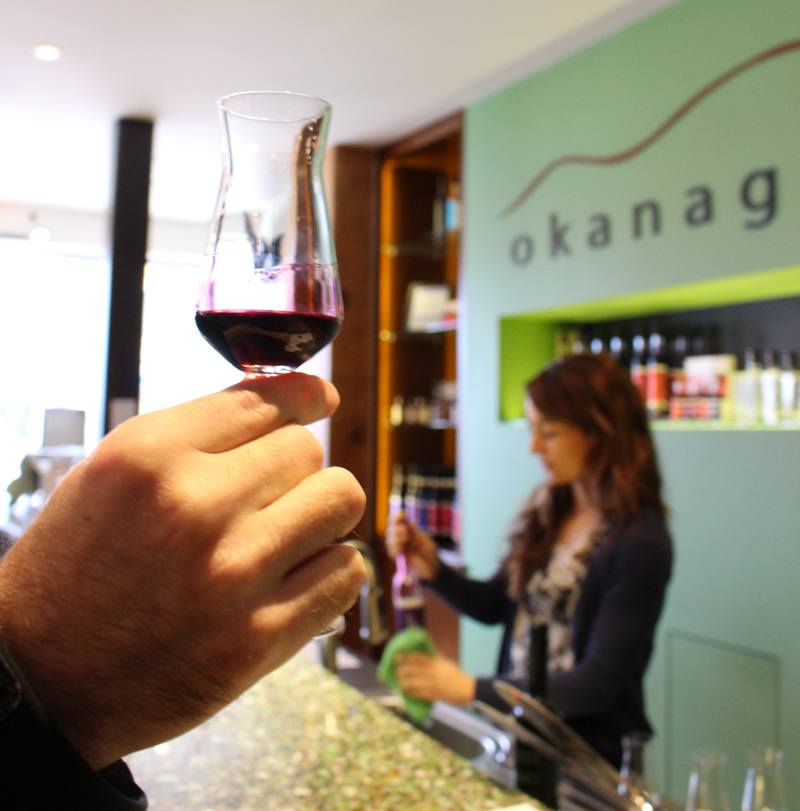 It's a sunny day in early spring, and Charles and I are walking by the lake's edge on our way to sample some of the Okanagan's best spirits.
It's a good day to be in British Columbia, Canada.
Just a hop from the sparkling waterfront in Kelowna, Okanagan Spirits Craft Distillery is a local family-owned business that makes its own award-winning spirits on site in a copper-pot still.
Inside, the Kelowna storefront brims with colorful bottles of specialty spirits, all made from 100% BC fruit and grains, without additives, chemicals or artificial flavours.
In a region known for it's many wineries, it's nice to find some place a little different. I think I'm going to like this place.
Shereen, an import to Kelowna with a charming British accent, ushers us to the back of the store to see how the spirits are made.
Polished and shining, the copper pot still looks straight out of a Jules Verne novel as it hisses and bubbles until a stream of crystal clear liquid alcohol pours out of the front. Each batch is made with local fruit carefully selected for the best flavor. For instance, their apricot brandy comes from a single, 100-year old apricot fruit tree.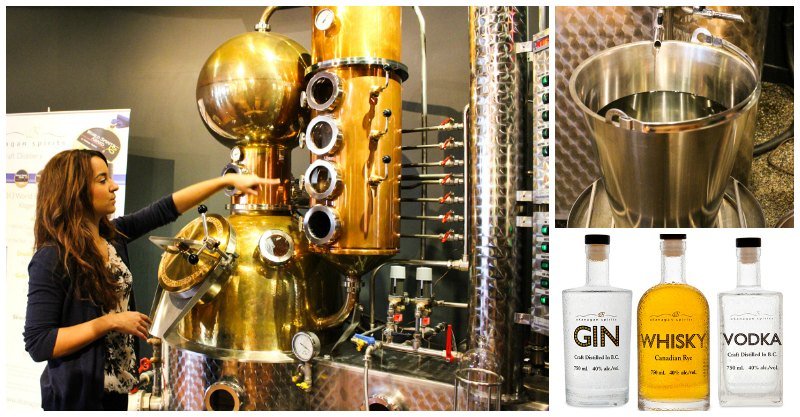 Now for the fun part.
She then gives each of us a taste of pear and plum brandy. They're lovely, light and not too sweet or cloying, with a delicate scent of fresh fruit.
Next comes a taste of their fruit liqueurs. Forget what you know about fruit liqueurs – these are not the cloying, sweet concoctions you're used to.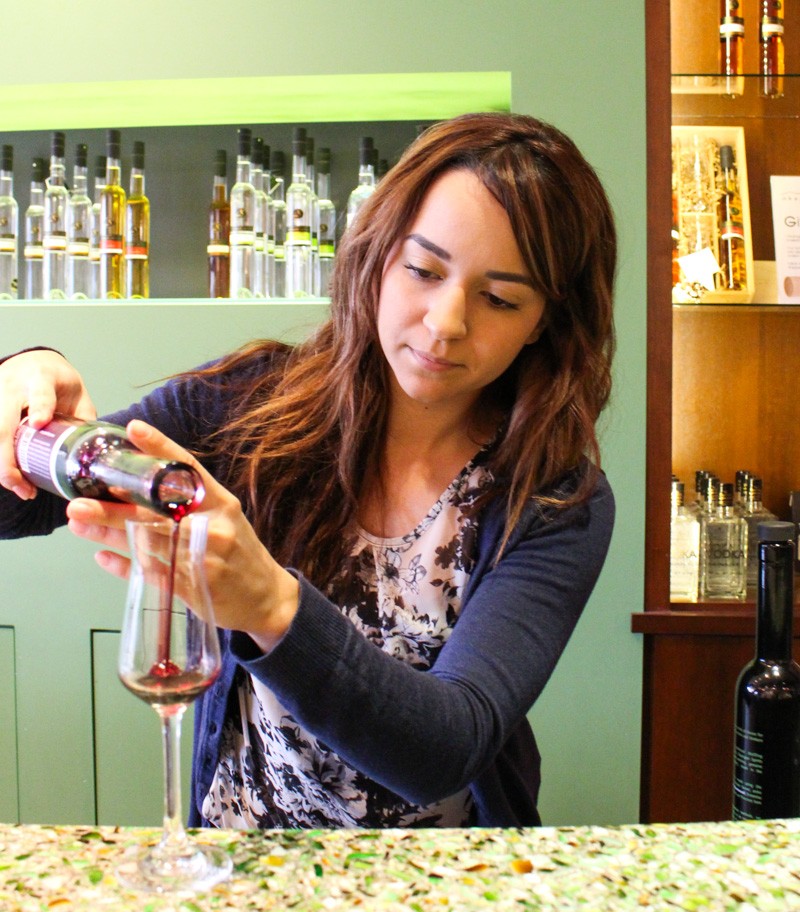 First up is the blackberry liqueur. It's a beautiful, deep purplish-black color, with just a hint of sweetness and a burst of fresh, all-natural blackberry flavor.
Obviously, these distillers really know what they're doing.
Okanagan Spirits Craft Distillery has won a slew of awards, with the most recent being Spirit of the Year and Distillery of the Year at the World Spirits Awards 2015 in Koje, Denmark. Their Blackcurrant Liqueur kept its title of 'Spirit of the Year' with 96 points and newcomer Haskap liqueur won along with their Aquavitus. Even their Our Laird of Fintry Single Malt Whisky won Gold, making it the first Canadian whisky to win Gold at the WSAs. Other medals included Gold for their Taboo Absinthe and Raspberry Liqueur, a Silver for Peppered Pete, and a Bronze for Gin.
Our Turn to Play Bartender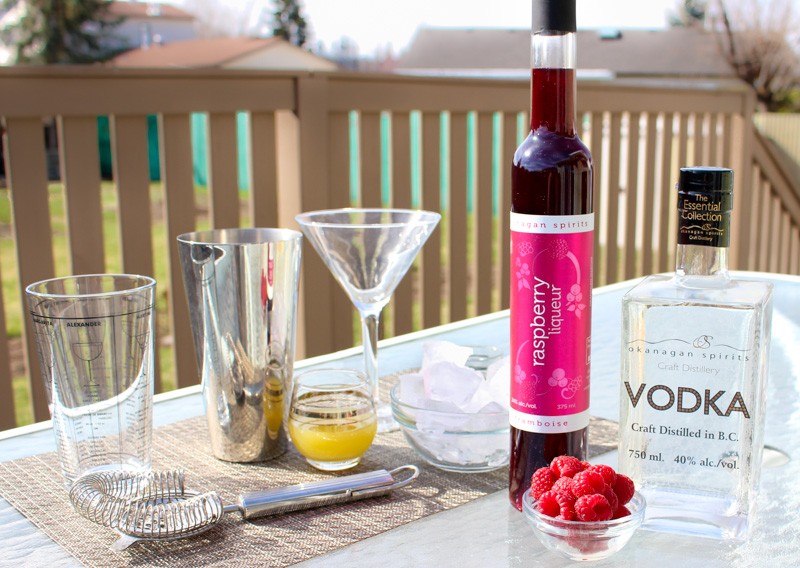 All of this has gotten me in the mood to try our hand at making some of our own cocktails, and Shereen's kind enough to give us two recipes to try at home: an Okanagan Martini (made with Raspberry Liqueur and Vodka) and a Moscow Mule (made with Vodka and non-alcoholic ginger beer).
First up is the Okanagan Martini.
Okanagan Martini
This is a simple recipe, with only three ingredients (four, if you count ice).
What you'll need:
1 oz Okanagan Spirits Raspberry Liqueur
1 oz Okanagan Spirits Vodka
2 oz pineapple juice
Combine all the ingredients in an ice-filled shaker, shake vigorously and strain. Garnish with a frozen raspberry on top of the foam. You can use a fresh raspberry, like we did in the video, but a frozen raspberry will float on top a little better.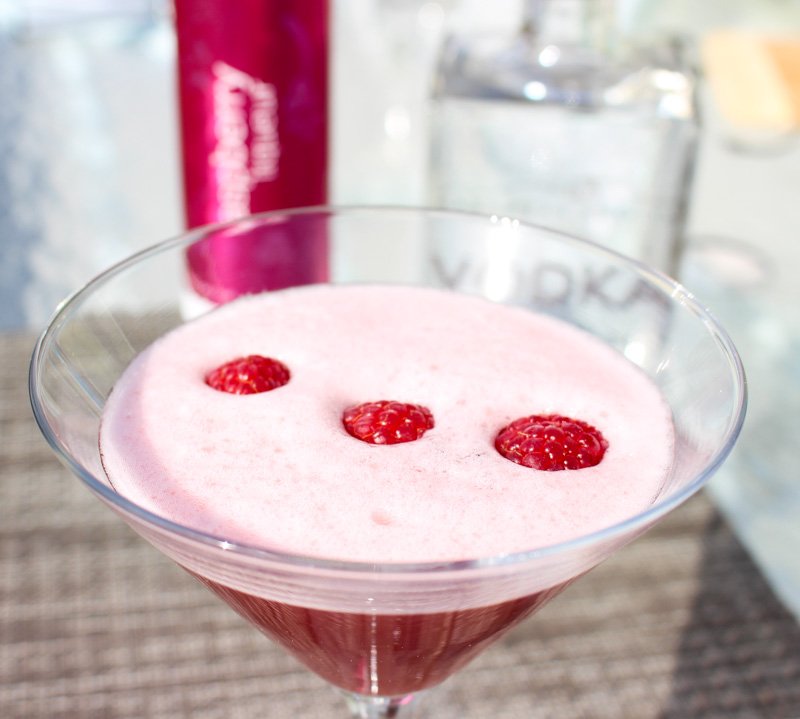 Moscow Mule
The Moscow Mule has an interesting history.
It was first created in the 1930's as a way to increase vodka sales, and became hugely popular with the Hollywood crowd. It fell out of popularity in the 1950's as anti-communism grew, and no one wanted to be associated with a Russian-sounding drink.
It's made with vodka, ginger beer, lime and ice. We used Fentiman's ginger beer, which is an old-fashioned ginger beer with a strong, ginger-spicy taste.  For those of you that never tried it, ginger beer has a very different taste than ginger ale, which is sweet with just a hint of ginger.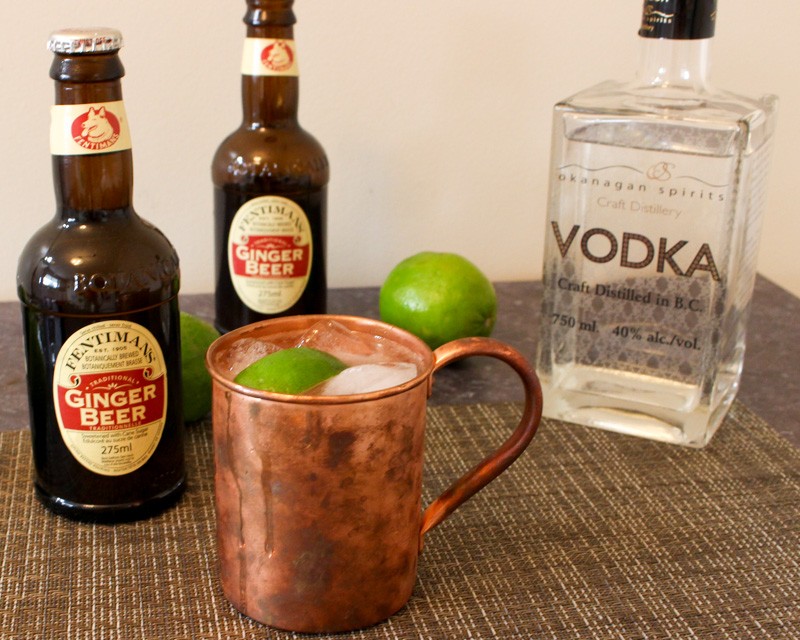 What you'll need:
2 oz Okanagan Spirits Vodka
juice of half a lime
ginger beer
ice
Mix vodka and lime juice in an ice-filled glass. The tradition is to use a copper mug. Pour ginger beer to the top, and garnish with a wedge of lime.
About Okanagan Spirits Craft Distillery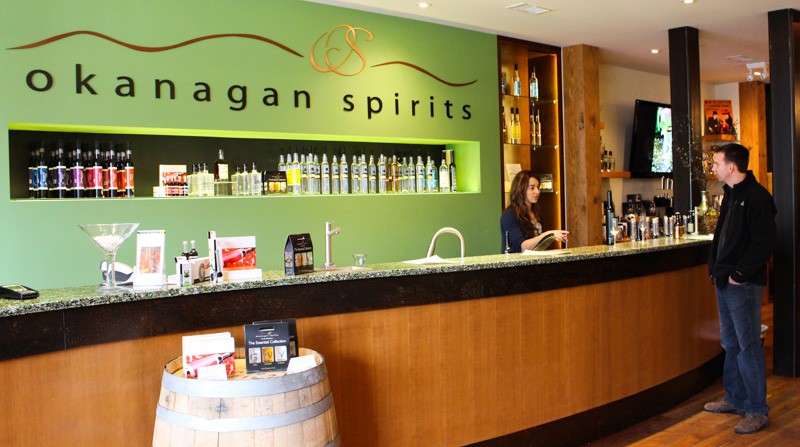 Okanagan Spirits Craft Distillery is Western Canada's first and oldest craft distillery. They are North America's first and only recognized World Class Distillery and the only distillery in North America to win Distillery of the Year at the World Spirits Awards.
You can order their spirits online on the Okanagan Spirits Craft Distillery website. Within Canada, there's free shipping if you buy three or more bottles. They do ship internationally, but free shipping does not apply.
They produce over 25 varieties in traditional copper-pot stills. These include fruit brandies, liqueurs, marc (grappa), aquavit, gin, vodka, whisky and Taboo genuine absinthe.
Okanagan Spirts offers on-site tastings at both its Kelowna and Vernon locations, for a small fee.
Okanagan Spirits – Kelowna Location
267 Bernard Ave, Kelowna, BC, Canada, V1Y 6N2
Okanagan Spirits – Vernon Location
2920 28th Ave, Vernon, BC, Canada, V1T 1V9
New Vernon Location
Okanagan Spirits is about to open another larger distillery in Vernon in April 2015 that will boast the tallest copper still in North America as well as a prohibition styled whisky lounge and a moon shiners themed tasting bar. For tasting hours and info for all locations you can contact them here.
Want to learn more about Okanagan Spirits Craft Distillery? All their information is below.