Sometimes life throws you the best dilemmas.
What would you do first? Visit a chocolate shop, browse through an alpine village, enjoy a great meal, take your seven year old snowboarding for the first time or soak in a hot tub at the base of a mountain?
This was the happy dilemma we were faced with in Sun Peaks Resort in British Columbia.
So we did what any sane family would do. Everything. Several times, in fact.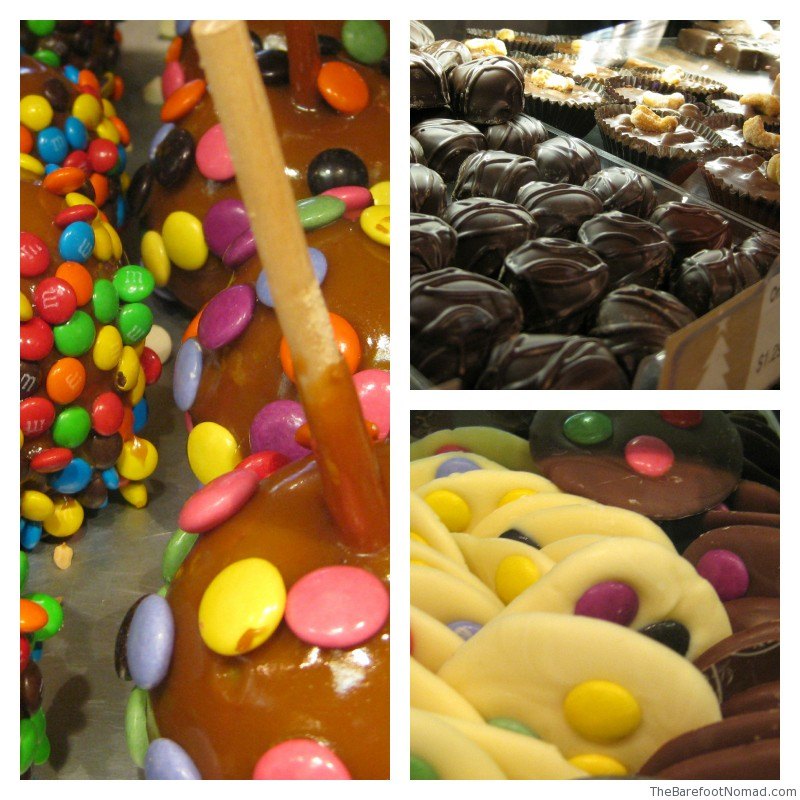 Of course chocolate wins out first and we decided on a lovely stroll through Sun Peaks European-style alpine village at the foot of the ski hills to find the famous Rocky Mountain Chocolate Factory. We found it by following the delicious scent of melting chocolate wafting through the crisp, clean mountain air in the village.
One creamy cashew cluster, one bear claw with luscious milk chocolate, caramel and pecans, three marshmallows on a stick dipped in caramel and one white chocolate holiday snowman later, we found ourselves wandering the mountain village streets again.
The village's main pathways are pedestrian only and are surrounded on all sides by quaint mountain shops, pubs, cafés and restaurants. With three mountains encircling the entire village, its easy to ski in and out from any of the village's many hotels and chalets.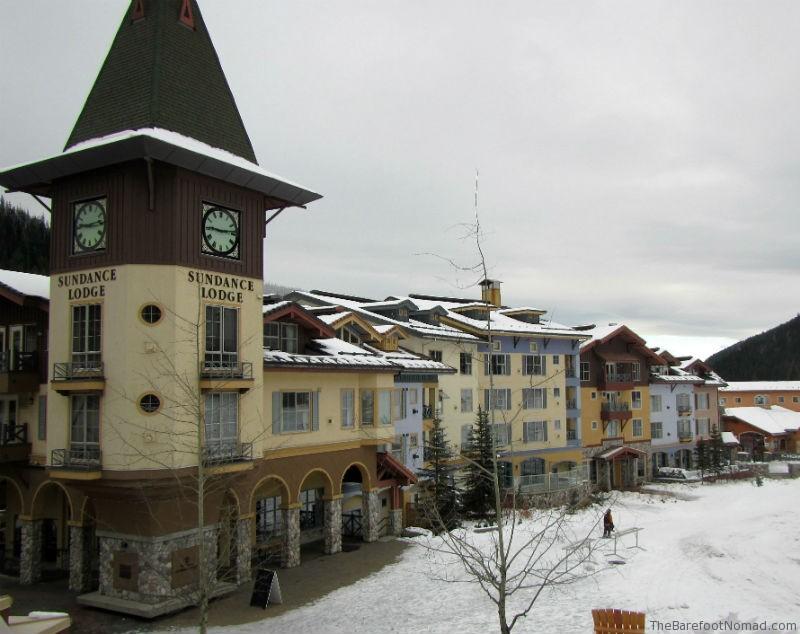 Sun Peaks is rightfully known as one of the most family and dog friendly ski resorts in North America. Families with little ones and folks with their dogs wandered through the village as we made our way to Cahilty Creek for a cold, locally brewed, beer and a hearty meal of pasta and steak. The food was good, the beer was cold and the servers were friendly and fun.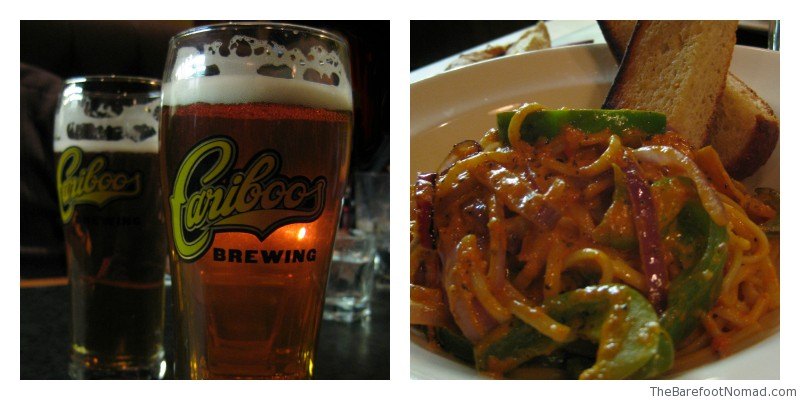 After all that beer, chocolate and pasta, I was about to pass out from sheer happiness. The next stop: a soak in the hot pools at the Delta Sun Peaks resort. Leaning back in the hot water, we breathed in the cool mountain air and gathered our strength for Cole's first day of snowboarding the next morning.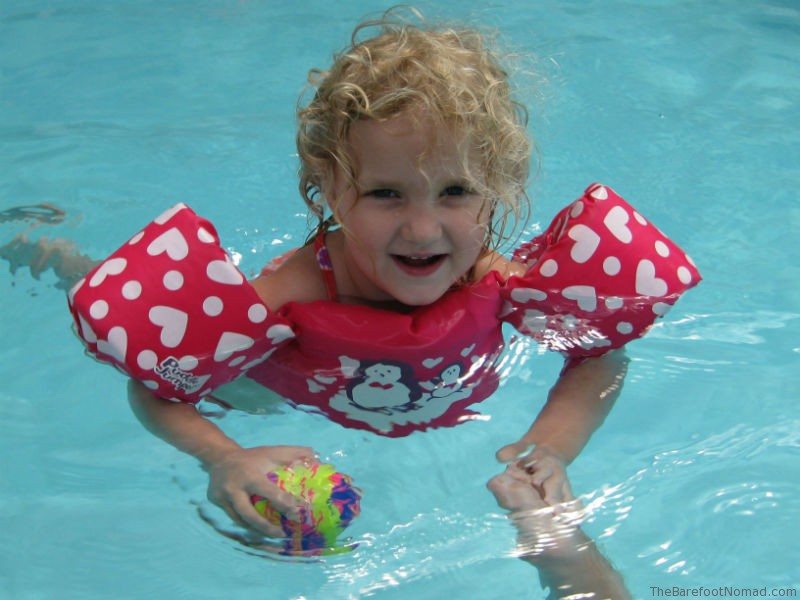 After a hearty breakfast, it was time to hit the slopes to give Cole his first taste of snowboarding. We were all feeling great and ready for a day of excitement after lapsing into a hot tub, chocolate and pasta-induced coma for the night at the gorgeous Delta Sun Peaks Residences,
Within 10 minutes of strapping on his board, Cole, at age seven, was flying down the bunny hill with abandon. Armed with a snowboard that reached just past my knees, he carved past me like I was standing still. He loved the speed and I'm sure he'll be spending more time on the hills in the coming years.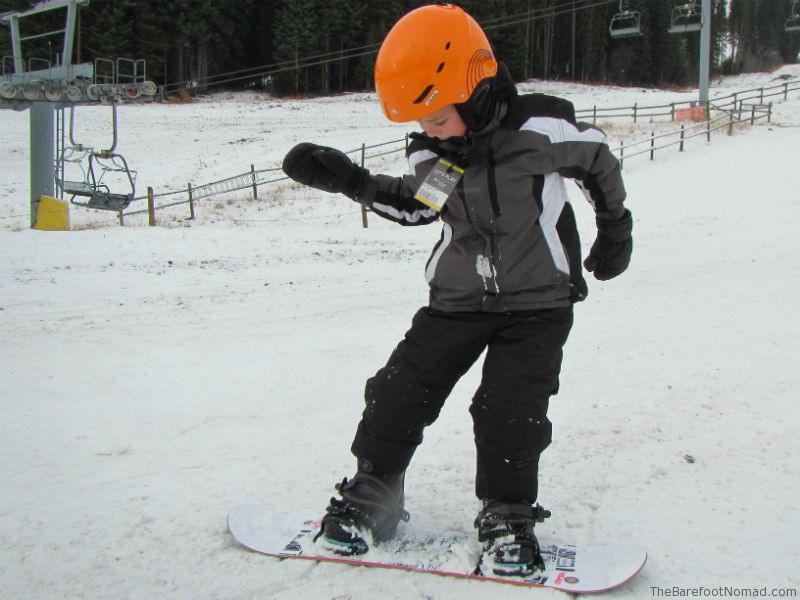 Since we were there so early in the season (it was opening weekend), there was only a small fraction of the snow that they get over the course of winter however we still had a blast. It would have been nice to see the place at the peak of the season however we were content just getting a chance to play in snow before enjoying our winter in a warmer climate this year.
Check out this beautifully shot video of winter at Sun Peaks to get an idea of the place in all its splendor. I dare you not to fall a little in love with Sun Peaks after watching this.
Winter at Sun Peaks Resort from Sun Peaks Resort TV on Vimeo.
More information
About Sun Peaks. Sun Peaks is one of Canada's largest ski resorts, tucked away in the interior of British Columbia. Check out the Resort's webpage for more information.
Hot pools. While we soaked in the pools at the Delta Sun Peaks Hotel, the Village has a year round heated pool for public use, and most condos and hotels in the Village have private hot tubs for their guests.
Children's programs. Sun Peaks offers ski and snowboard lessons for kids from age three, and a daycare at the base of the hill to take care of little ones while their parents ski. Special programs for teens are often held in the Mascon hangout.
Winter Activities.
Sun Peaks is chock full of fun things to do, ranging from ski and snowboard lessons to driving a dog sled to taking a horse-drawn sled ride through the Village. Check out the
Sun Peaks Resort Activities page
for more ideas.
Getting there. Sun Peaks is an easy 40 minute drive from nearby Kamloops. The nearest international airport is a four hour drive away in Vancouver, with daily commuter flights to Kamloops on WestJet and Air Canada.
Where to stay. Sun Peaks has over 7,000 beds, ranging from ski chalets to hostels to ski-out condos at the base of the hills. With various lifts positioned throughout the area, nearly every place has ski in/ski out access.
The Rocky Mountain Chocolate Factory is located at the base of the Residences at Delta Sun Peaks, on the main Village strip.
Tourism Sun Peaks and Sun Peaks Resort kindly hosted our lift tickets for their opening weekend, but they didn't tell us what to write, and they definitely didn't ask us to lapse into a happy chocolate coma for the night.