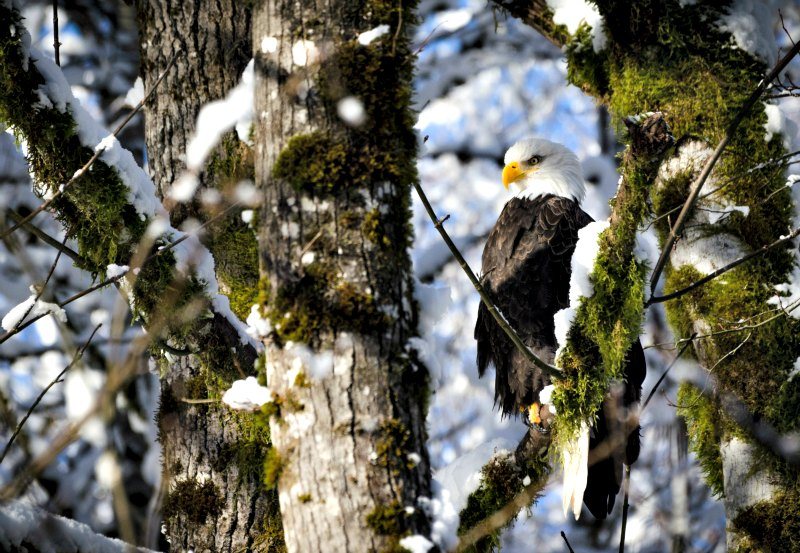 The snow is falling in soft, giant, sleepy flakes, muffling almost all sound. All I can hear is the gentle splashing of our oars and the gurgle of the stream below. The scenery is stunning, with Sunwolf's yellow rafts bobbing on crystal-clear glacial water, and dreamy mist-cloaked mountains in the distance.
But I came for the eagles, and they don't disappoint.
Soon, the silence is broken by the swoosh of a bald eagles' wings as it settles to rest in the trees along the bank. The enormous eagle's beak rips apart a half-eaten salmon that's clutched in the raptor's razor-sharp talons.
It's the spawning salmon that bring thousands of bald eagles here. They return every winter to this spot just outside of Squamish, in the small community of Brackendale, British Columbia to gorge on salmon from the glacial-fed Squamish and Cheakamus rivers.
Today, Brackendale is rapidly becoming known as one of the best places in the world to spot bald eagles.
My first eagle is soon joined by another, and another, and within 20 minutes I'm starting to lose count. Along this stretch of the river, it's not uncommon to see 80 or more eagles during a one-hour float tour.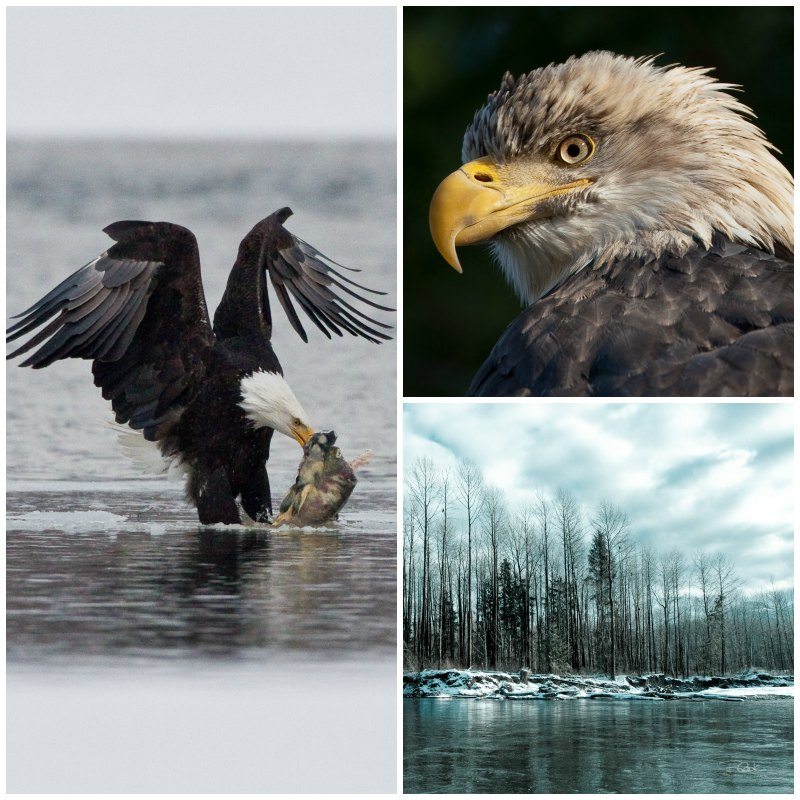 Seeing this many eagles in their natural environment is a privilege that was almost denied to all of us. In the late 1950s, bald eagles were on the brink of extinction in the continental United States, with only 412 nesting pairs in the 48 contiguous states of the USA.
Today, thanks in large part to the reduction of the use of pesticides like DDT and controls on hunting, the bald eagle population has rebounded, with an estimated 110,000–115,000 birds in Canada and the USA.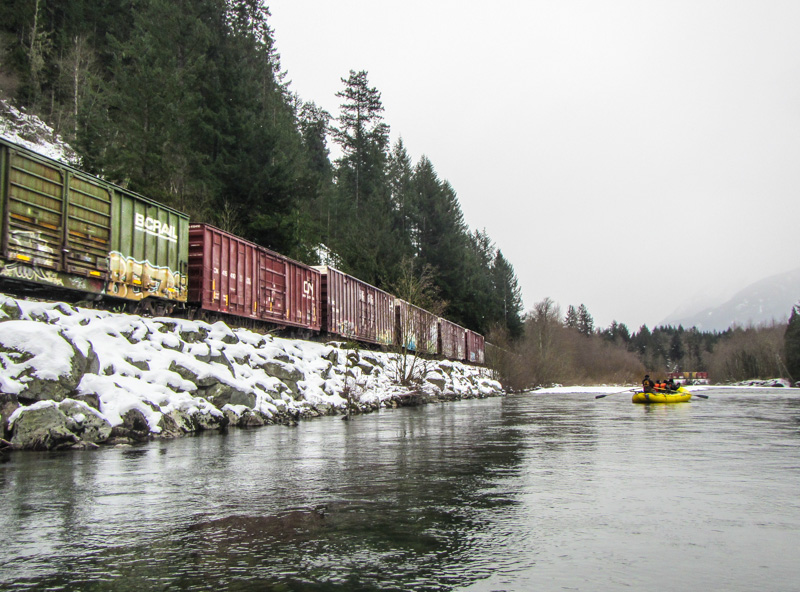 After an hour on the water, my feet are starting to tingle from the cold.
Luckily, hot chocolate and warm chili by the fire in Sunwolf's cozy riverside lodge are a welcoming treat. The treats, plus some impossibly thick homemade brownies, are from the on-site Fergie's Cafe.
Here's a note from Fergie's website, 2019! Fergie's is currently closed due to a fire in our kitchen in April 2018. The long-awaited rebuild began on October 15, 2018 and we are hoping to reopen in the spring of 2019.
Fergie's, best known for its tasty Eggs Benny, is fast becoming the go-to breakfast place for anyone driving the Sea to Sky highway between Whistler and Vancouver.
After stuffing myself with a few brownies, I'm off to my welcoming little cabin, which is also part of the resort operated by Sunwolf. My cabin is rustic but cozy, and kitted out with a gas fireplace and a comfy queen size bed.
Ever-present at the resort, and on the float, are Jake and Jess, Sunwolf's energetic and personable owners. They're a young British expat family who left behind thriving careers in the UK for the welcoming climate and outdoor adventures in nearby Whistler. After a stint working hospitality jobs in Whistler, the couple bought the rustic Sunwolf lodge.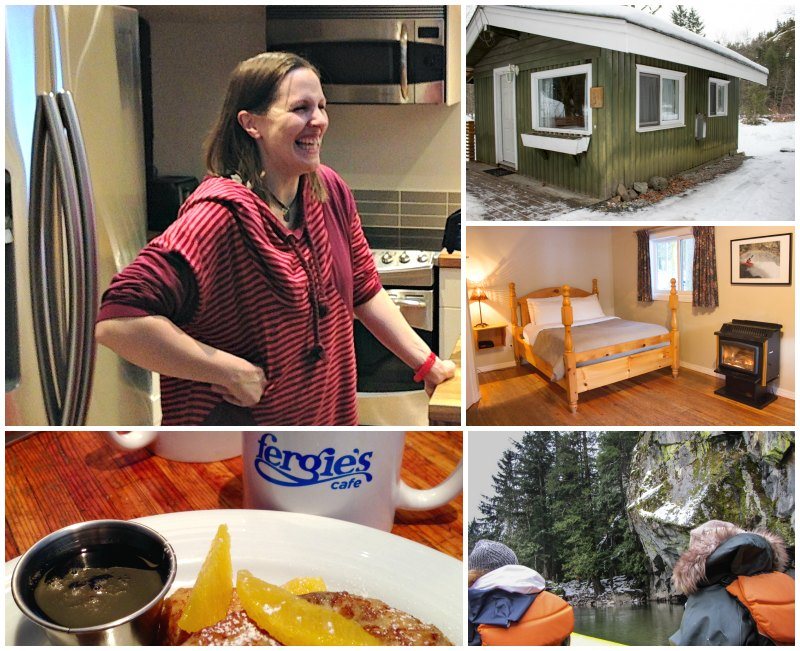 With the decision to buy Sunwolf, Jake and Jess became part of a close-knit community in Squamish, which works together to promote eagle conservation.
The heart of that conservation effort is a few miles away at the Brackendale Art Gallery in the town of Brackendale, a small community just north of the Squamish town center.
If you're lucky, you'll run into Thor Froslev, the Gallery's owner. Thor's an 83 year old who's been an outspoken advocate for the eagle population in Squamish probably since before you were born.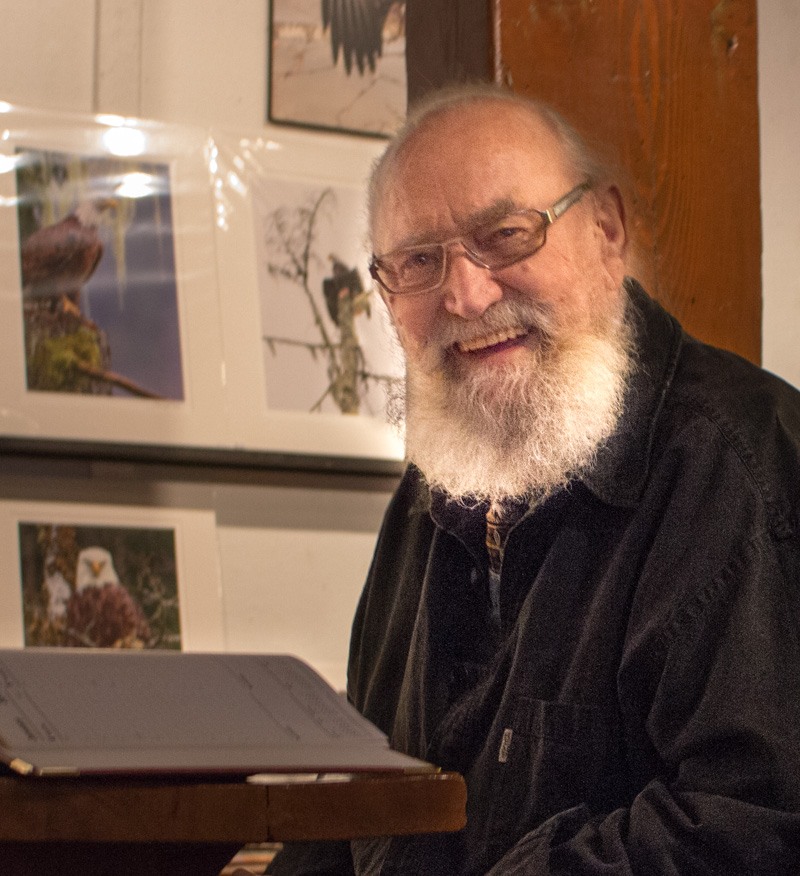 We're in luck when we visit, and pretty soon Thor's telling us a winding tale that's liberally peppered with good-humored expletives. To hear Thor tell it, his involvement with the eagles started on a typical day with the "West Coast pissin' down rain", and continues to this day.
As he regales us with the tale of his journey from longeshoreman to Brackendale's most outspoken eagle advocate, you can see that even though he's 83, he has no plans of slowing down.
Brackendale Winter Eagle Festival & Count
Every year in January, the small community of Brackendale hosts the Winter Eagle Festival. Most events are arranged through the Brackendale Art Gallery, and include music, dance, and even a lecture series.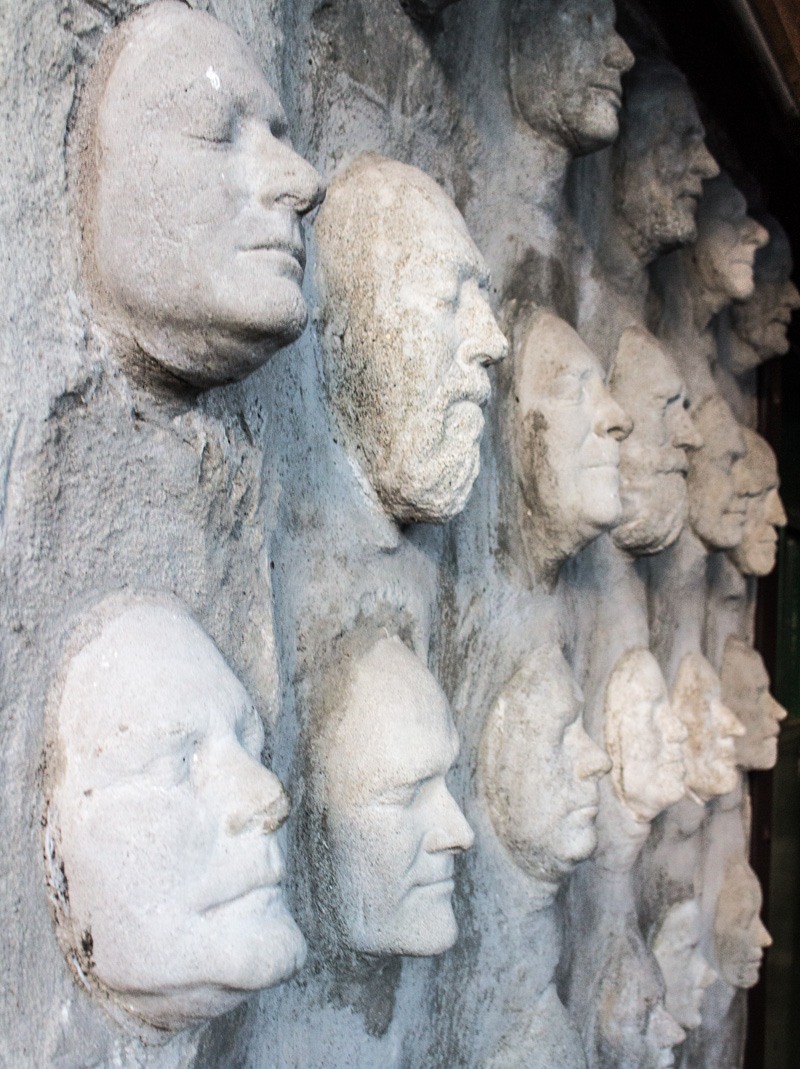 What you need to know: the Eagle Float
You can book the Eagle Float Tour directly through Sunwolf. Tours take about an hour, and depart at around 10:30am directly from Sunwolf. Tours start at $110 CDN, and include tea, coffee, muffins and a lunch afterward. Rain boots, pants & jackets are provided if you need them, as is a personal flotation device (PFD). Dress warmly!
Where to stay
Sunwolf offers rustic riverside cabins, each outfitted with a gas fireplace and cozy queen bed. Some come with a full kitchen, or small kitchenette, and many have a double day bed. Larger groups can be accommodated in the fully renovated Fisherman's Cottage (sleeps eight) or the Logger's Shack (sleeps four).
Where to Eat
Fergie's Cafe is part of Sunwolf lodge, and the goodies we ate after the eagle float were all handmade at Fergie's. It's a small place that serves up a hearty and homemade breakfast and lunch, with picnic tables outside for the summer months.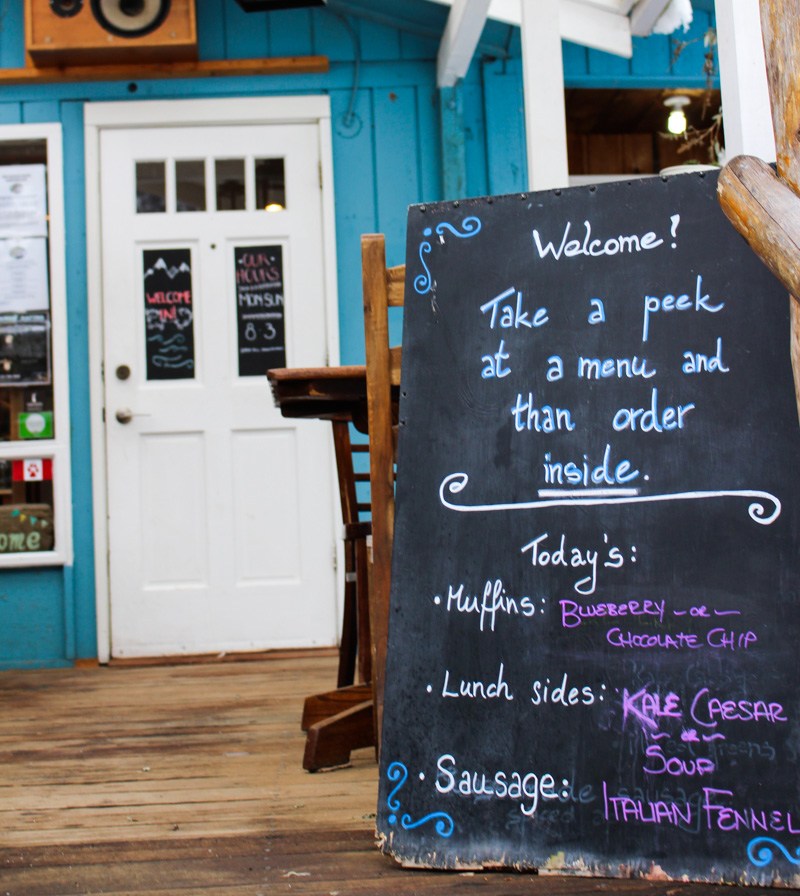 How to get there
Brackendale, located in northern part of the town of Squamish, is a short 40 mile (63 km) drive from Vancouver, BC. You can rent a car, or Sunwolf can arrange a shuttle for the eagle float that can pick you up from Whistler or Vancouver.
The closest international airport is Vancouver (YVR), which has flights arriving from most international destinations everyday. 
Adventure the easy way – tours in Squamish

Don't forget to check out the stunning Sea to Sky Gondola when you're in Squamish. The views are stunning, and you can grab a bite to eat at the restaurant, wander along hiking trails, go tubing, or walk across the suspension bridge onsite.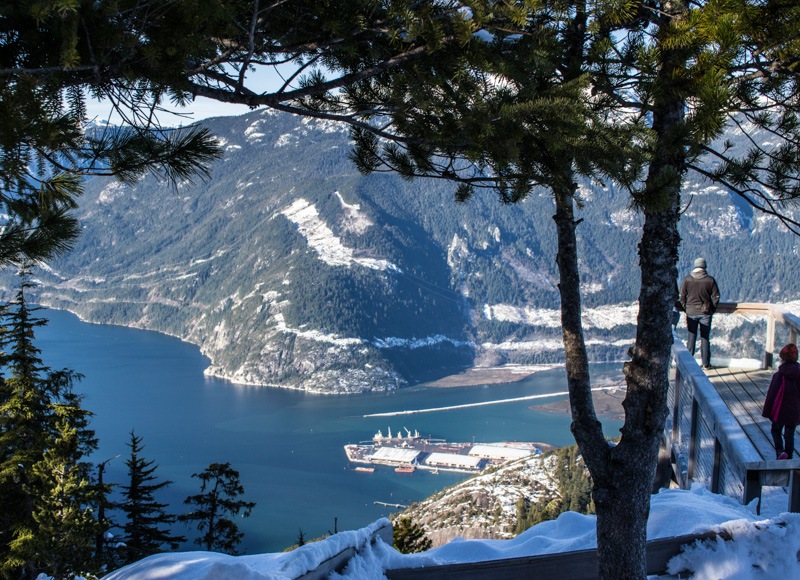 Need more info?
Be sure to check out the official Explore Squamish website, and the Destination BC website.
In the mood for a little more beautiful scenery? Check out this video from Destination BC that shows how truly wild and beautiful this province really is.
*Note: I visited Squamish courtesy Destination BC. As always, though, all opinions are our own — We would never recommend something to you that we haven't tried and loved!