Advertisement: This is a paid partnership with Choice Hotels™ Canada.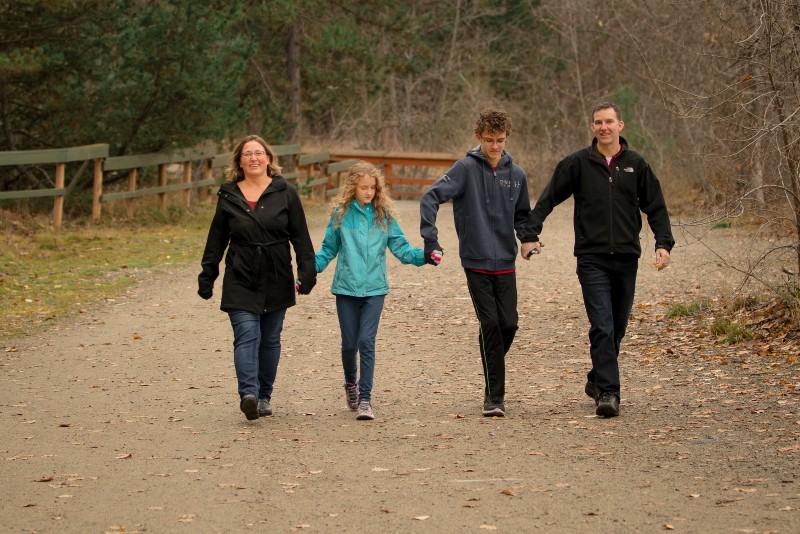 As a traveling family, we've had amazing adventures together, like camping in the Sahara desert, riding in a hot air balloon in Turkey, looking for land turtles in the Galapagos, and road tripping across Spain and Portugal.
But you don't have to travel far to make amazing memories. We just enjoyed a fun family staycation in our hometown at the Comfort Suites Kelowna, here in British Columbia, Canada. Plus, we earned Choice Privileges™ points for our next adventure with Choice Hotels Canada while getting a chance to experience Kelowna from a fresh point of view.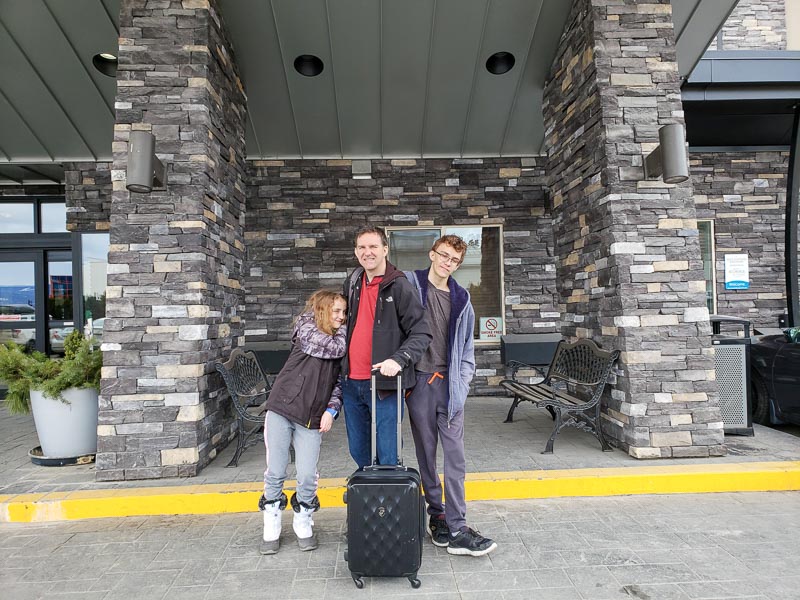 It's easy to overlook your hometown when making travel plans. Especially during shoulder seasons such as now when the weather isn't always predictable.
Be honest: How long has it been since you visited some of the top things to do in your hometown?
We're especially lucky, since it's hard to beat Kelowna's combination of outdoor adventures, spectacular mountain and lake scenery, world class wineries, and fantastic local food.
Since we're all about saving money while we travel, and maximizing our experiences, we were excited to partner with the Choice Privileges rewards program for this trip. As Choice Privileges members, we get benefits instantly, from booking a hotel with exclusive member rates, to earning points with our hotel stay, to redeeming points for over 20 gift cards!
Learn more about the Choice Privilege rewards program here. Signing up is so easy, and member benefits begin instantly!
How to Have the Perfect Kelowna Staycation
So, how do you make the most of a staycation? Here are some of our top tips for making the most of your time.
Check-in to a great hotel
One of the best parts of travel is getting away from everyday life and responsibilities. Sure, it may be tempting to take the cheaper option and stay at home, but it's hard to relax when you're looking at the same unmade bed, unwashed dishes, and uncompleted household projects that you see every day.
Even better, you get to snuggle up in that huge, comfy hotel bed. The first thing our 14 year old did after checking in was snuggle up in our room's King size bed. Lucky kid!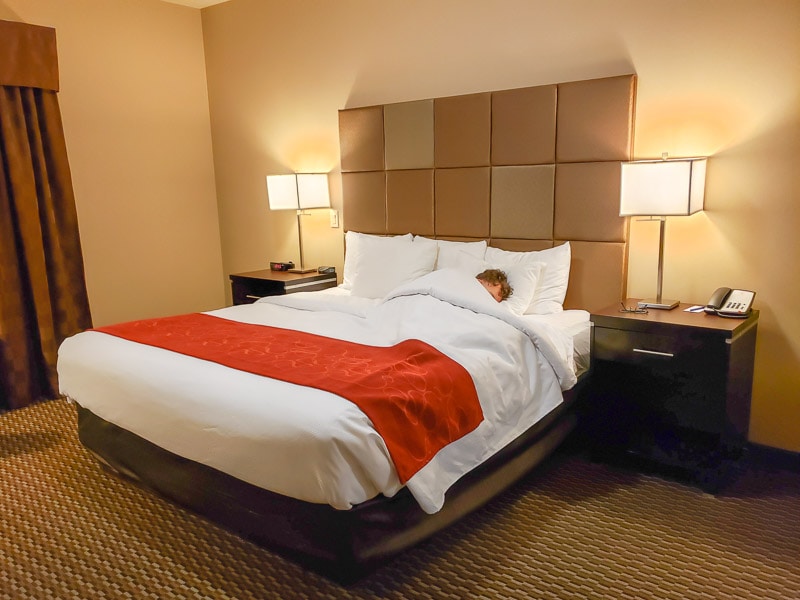 The trick to a great staycation is to physically get away from everyday life an check into a great hotel. When you check into a hotel, someone else makes the bed, and cleans up after you. All you need to do is relax and enjoy your time!
Enjoy the hotel amenities
Even better, our hotel (Comfort Suites Kelowna) had a great waterslide and pool to burn off some of the kids' pent up energy. We even stopped by the exercise room for a little extra activity.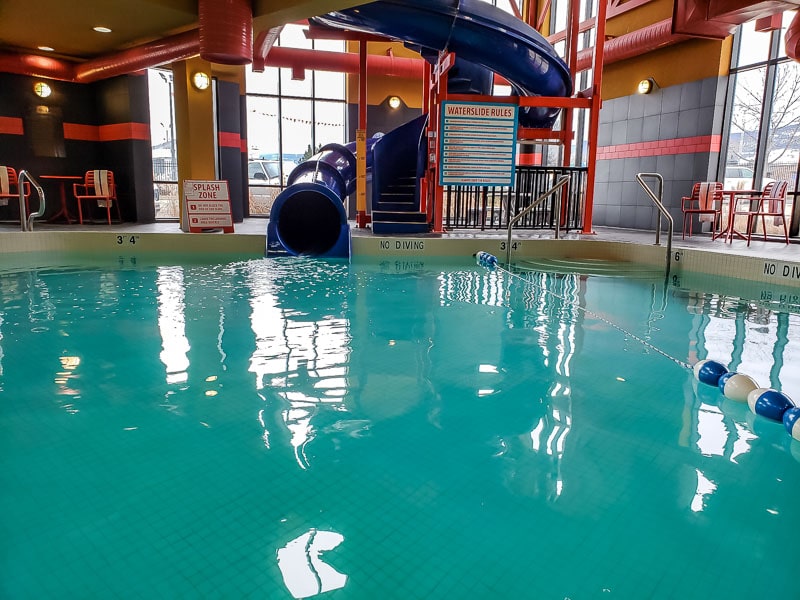 Free hot breakfast
One of our favorite hotel amenities is the hot breakfast, and Comfort Suites definitely didn't disappoint.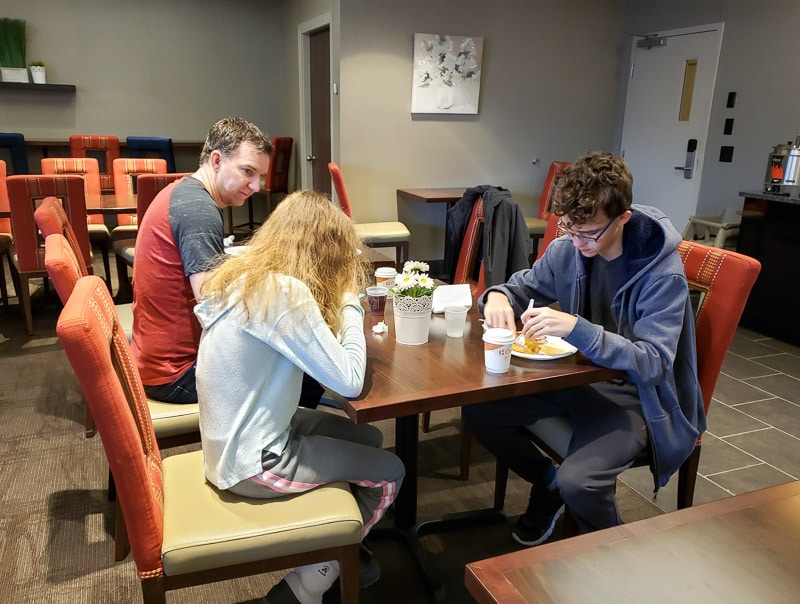 I was a fan of the freshly brewed coffee and huge pile of fresh fruit, and Charles and the kids made a beeline for the freshly made waffles and bacon. How good was it? So good that I couldn't even get them to look up when I snapped the above photo!
When we booked our hotel in Kelowna, I used our Choice Privileges membership to get access to exclusive member rates, making it a great deal!
Because we're Platinum members, we even got a few great perks with our booking, like earning 25% extra bonus points! Those bonus points will count toward our next hotel stay.
Get outdoors
We spend far too much time indoors in our daily life, so a staycation is the perfect chance for outdoor adventure.
Kelowna has almost limitless opportunities for getting outside with the family. We put on our hiking shoes and checked out one of Kelowna's most popular hikes at Knox Mountain. There are plenty of trails, beaches, mountain scenery, and stunning views of Okanagan Lake. Even better, Knox Mountain is easily walkable from downtown Kelowna.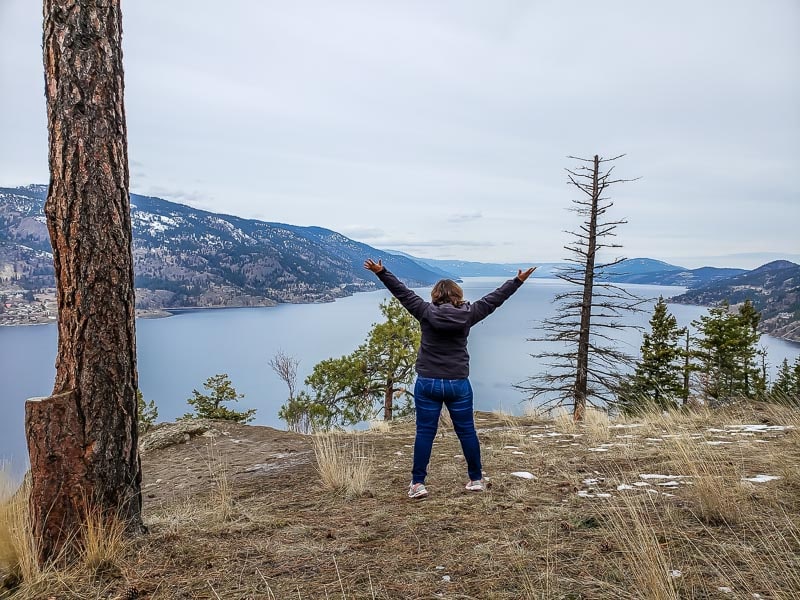 There's also great hiking at Bear Creek and we love the short hike at Mill Creek for families with younger children. If you don't want to have to exert a lot of effort, Mission Creek is also a great choice with its well-groomed pathways and easy accessibility.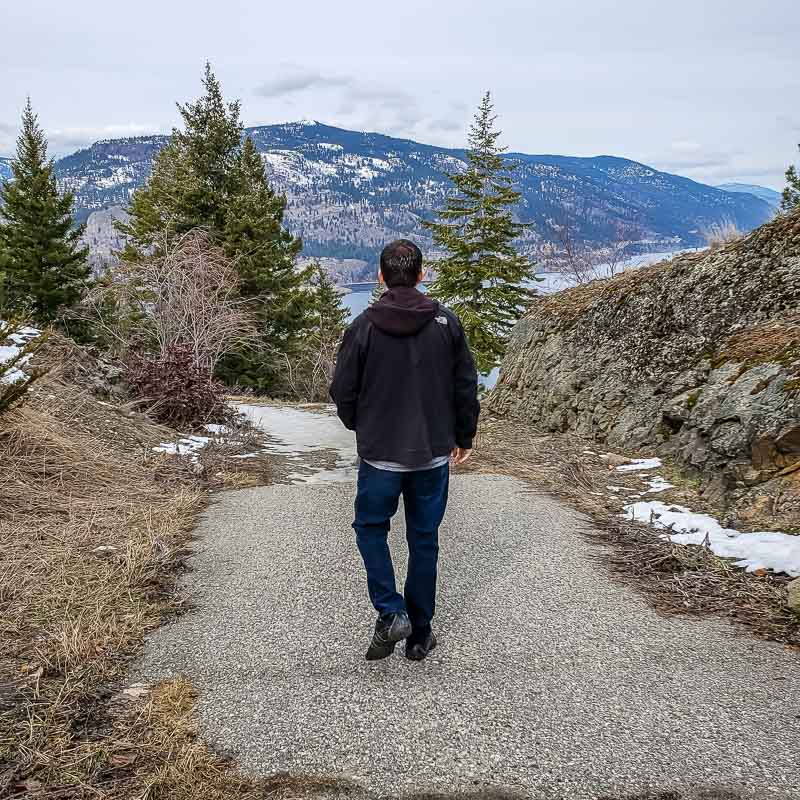 If you're more of the city type, Kelowna has an easily walkable, accessible downtown with a wide, flat kid-friendly boardwalk that runs along Okanagan Lake and marina. In the summer, kids will love downtown's sandy beaches, playground, water trampoline park, and spray park.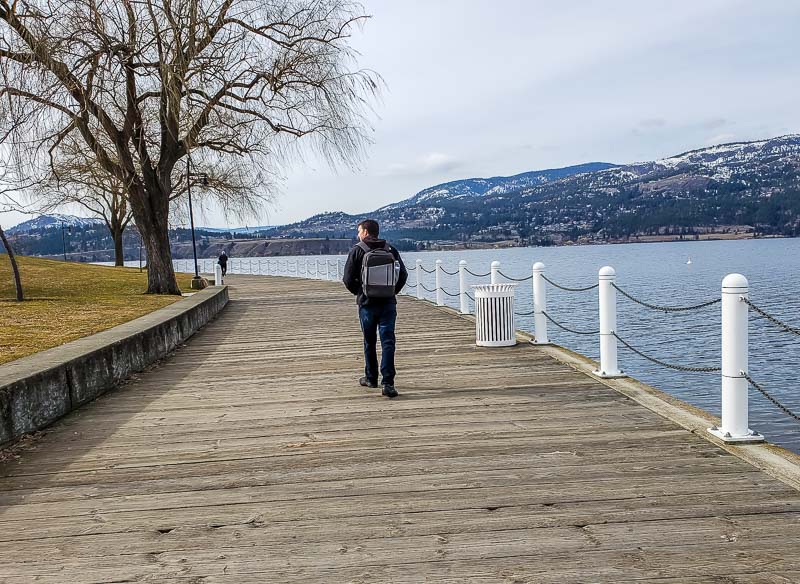 If you visit Kelowna in the winter, there's plenty of fun on the outdoor rink at Stuart Park (which was already closed for the season when we visited in late February), snowboarding or skiing at nearby Big White, or snowshoeing and cross country skiing up at Telemark Nordic Club.
If you're looking for a winter outdoor adventure that's more unstructured (and free!), we spent a fun afternoon tobogganing down a local hill near Telemark.
Local's tip: The toboggan hill is at the corner of Glenrosa Rd and Jackpine Forest Service Road, just past Telemark on the road to Crystal Mountain Ski Resort.
In the summer, be sure to hit one of the over 30 beaches in Kelowna proper for some true summer family fun. There are plenty of options at the downtown marina or one of the numerous beaches to rent a powerboat, kayak or stand up paddle board to get out on the lake.
Looking for more ideas? Check out our family things to do in Kelowna article.
Enjoy local restaurants
One of my favorite parts of any vacation is getting a chance to have someone else handle the meals.
Kelowna has a vibrant food scene, with great farm to table dining options, fun family restaurants, and tried and true favorites.
We stopped by one of our all time favorites, the Train Station Pub, in a restored 1926 railway station, and easy walking distance from downtown.
It was the kind of day that called for the quintessential Canadian snack food: poutine, drenched in rich gravy and cheese curds.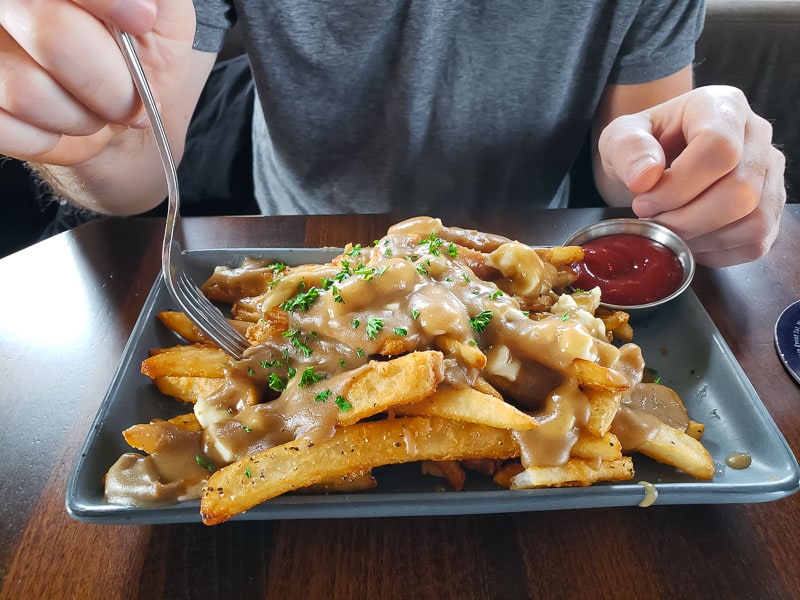 One thing I really like about the Choice Privileges program is that you can redeem points for shopping, travel or restaurant gift cards. There's even an Ultimate Dining gift card, which has awesome brands like Swiss Chalet, Harvey's, Milestones, Montana's, Kelsey's, and so many more!
For this trip, I redeemed my points for Starbucks and Cineplex movie theaters. I'm a huge Starbucks lover, so it was wonderful to indulge in all the caramel drizzled espresso macchiato drinks my heart desired for the weekend! I even treated my 14 year old to his favorite Strawberry Acaí Refresher drink. It's amazing, and perfect if you're not a coffee lover!
We're huge movie fans, so the Cineplex gift card lets us treat ourselves to a movie at our local theatre. Our Cineplex even has reclining seats, so we can catch a flick in comfort, too!
Take a drive
In our day-to-day life, we tend to stick with the tried and true, never venturing far out of our neighborhood. No matter where you live in the world, a staycation is the perfect chance to shake off the everyday and go for a drive.
We hopped in the car, and went for a winding drive among the mountain roads above Okanagan Lake, stopping to take in the views.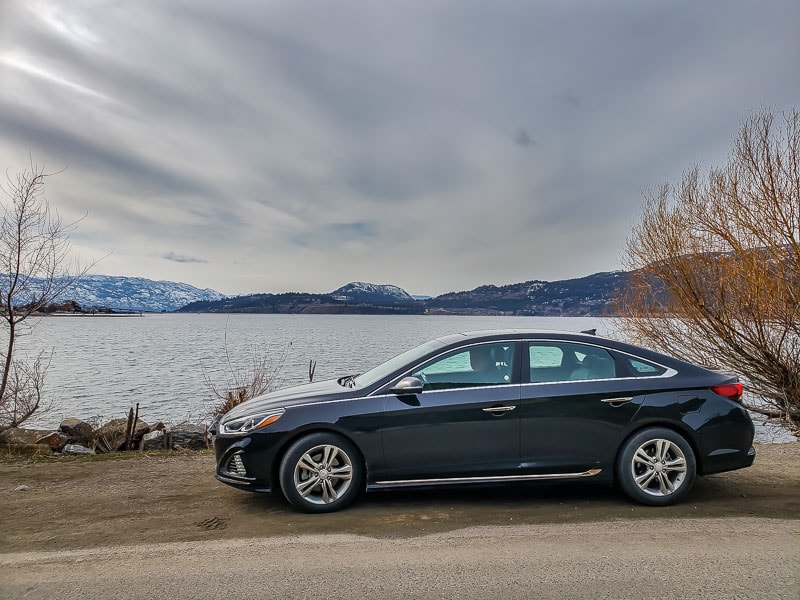 For our Kelowna staycation, we decided to earn some Choice Privileges points by renting a fuel efficient car from a Choice Privileges rental partner for our adventures.
Not only did we get a stylish car for our little road trip, but we were also racking up Choice Privileges points!
Renting a car was also a great way to save on gas, since our regular vehicle is a bit of a gas guzzler. We need our regular vehicle to tow our travel trailer in the summer, but it was so nice to rent a smaller vehicle for the weekend. Not only was it a greener choice, since it had much better gas mileage, but it was also nice to save racking up extra kilometers on our regular vehicle.
In summer, one of our favorite Kelowna road trip adventures is to drive along the Westside Wine Route, home to amazing wineries like Mission Creek and Quail's Gate. With over 300 wineries in the local Okanagan region, stopping at a winery (or three) is a must any time you head out for a road trip.
For a relaxed summer drive, I love to cruise by Arlo's Honey Farm (tours by appointment), Carmelis Goat Cheese Farm, and the Okanagan Lavender Herb Farm. You'll pass orchards full of plump, ripe fruit along the way.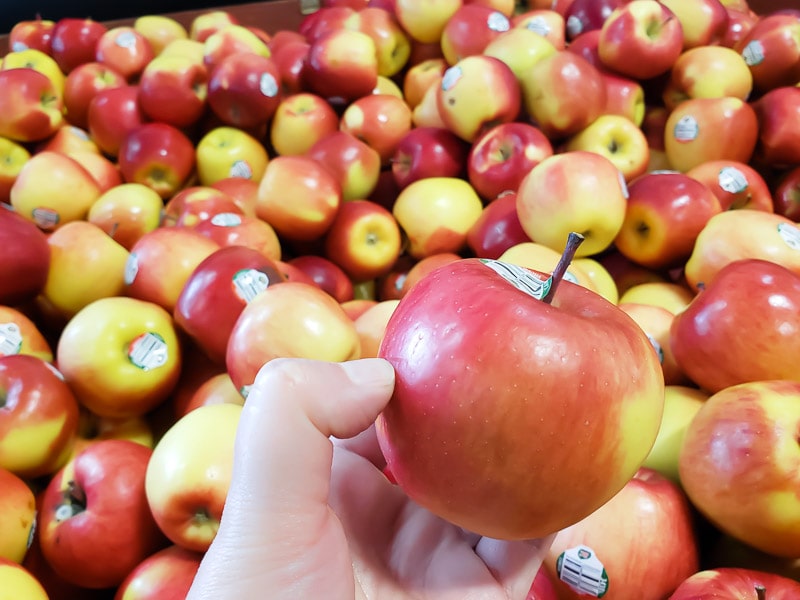 Local's tip! If you're lucky enough to visit during cherry season, stop by Arndt Orchards to pick cherries by the bucket full. It's a tradition we've done every summer since moving out here and nothing beats eating cherries right off the tree!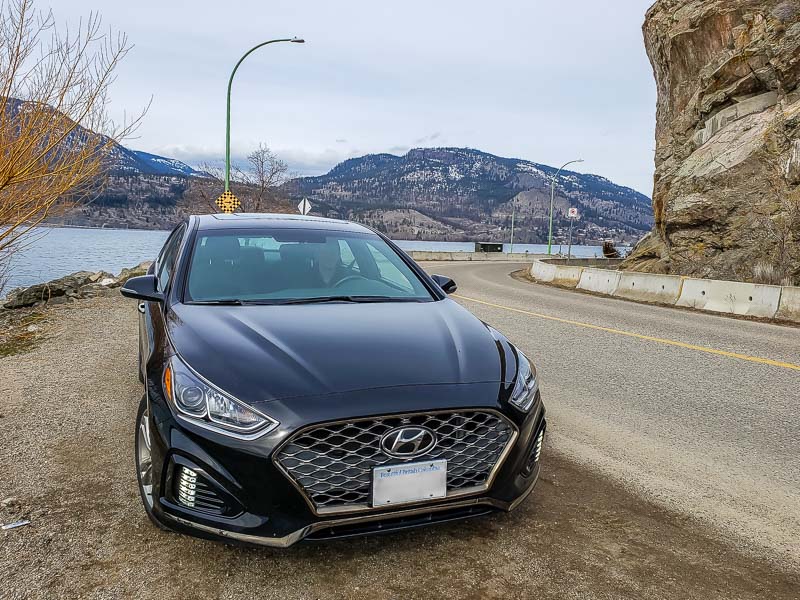 See local attractions
Kelowna's best known for its wineries and outdoor adventures, but it also has a thriving museum culture.
The city's home to the Okanagan Heritage Museum, Okanagan Military Museum, Central Okanagan Sports Hall of Fame, and the Laurel Packinghouse, home of the Okanagan Wine and Orchard Museum. There's also the Sncewips Heritage Museum (in West Kelowna), Kelowna Art Gallery, Rotary Centre for the Arts and the Geert Maas Sculpture Gardens Gallery and Studio.
On our walk downtown, we stopped by the Laurel Packinghouse, home of the Okanagan Wine and Orchard Museum. It's one of Kelowna's best known event venues, and even home to numerous movie sets. The Laurel Packinghouse was built in 1917, using bricks made from clay from Knox Mountain, and originally served as a packing house for local orchards and farms.
We had a blast browsing around the Okanagan Wine and Orchard Museum, and a fun chat with museum staff, who were full of enthusiasm and knowledge.
Later on, we decided to test out the quirkier side of Kelowna by visiting Axe Monkeys indoor axe throwing center. With only a handful of locations around the world, it's great we have our own center here. What a blast and a staycation was the perfect excuse to finally check it out for ourselves.
How to use Choice Privileges
As Choice Privileges Canada ambassadors, we're excited to share how the program works. As existing Choice Privileges members, we've been collecting and using points off and on for over a decade and already knew that the rewards can be sweet.
What is the Choice Privileges program?
Choice Hotels, which most Canadians know best for its Comfort Inn and Quality Inn brands, has its own loyalty program: Choice Privileges.
It's free and easy to join online, and member benefits begin the instant you join.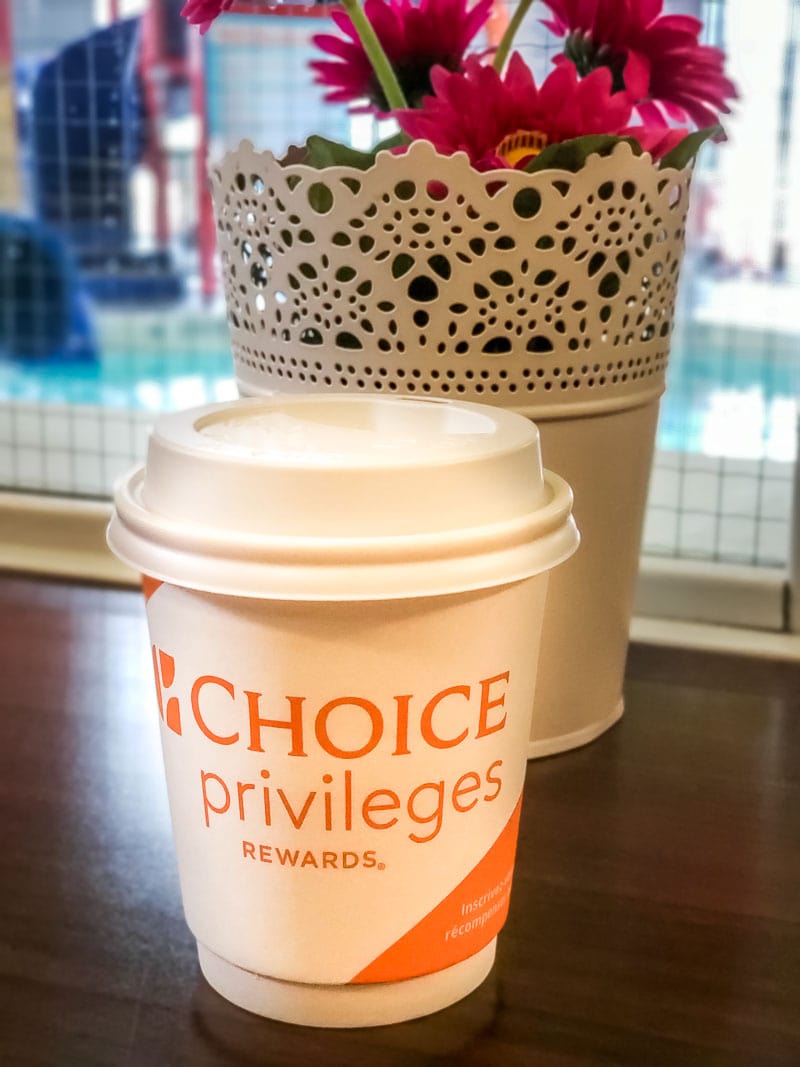 How do you earn rewards?
Once you join, you can earn rewards with hotel stays, renting a car, or by staying at Choice vacation rentals or resorts! You can even earn points on car rentals with Avis or Budget, by referring a friend, or by exchanging points with other rewards programs. Once you reach Choice Privileges Gold, Platinum or Diamond membership status, you can earn even more Choice Privileges points per stay, get welcome gifts, and even room upgrades!
When you book a hotel, you'll get special member rates offered to all Choice Privileges members.
For hotel stays, Choice Privileges rewards members earn 10 points per every U.S. dollar spent.
How can you redeem rewards?
You can redeem points for hotel stays, vacation rentals, resort stays, gift cards for shopping, merchandise or restaurants, on airline or Amtrak travel, or you can exchange points with other rewards programs.
Stay tuned! We'll be writing a full review and guide of the Choice Privileges program in a later post. Sign up for our newsletter here so you don't miss it.
Learn more about the Choice Privileges™ program here.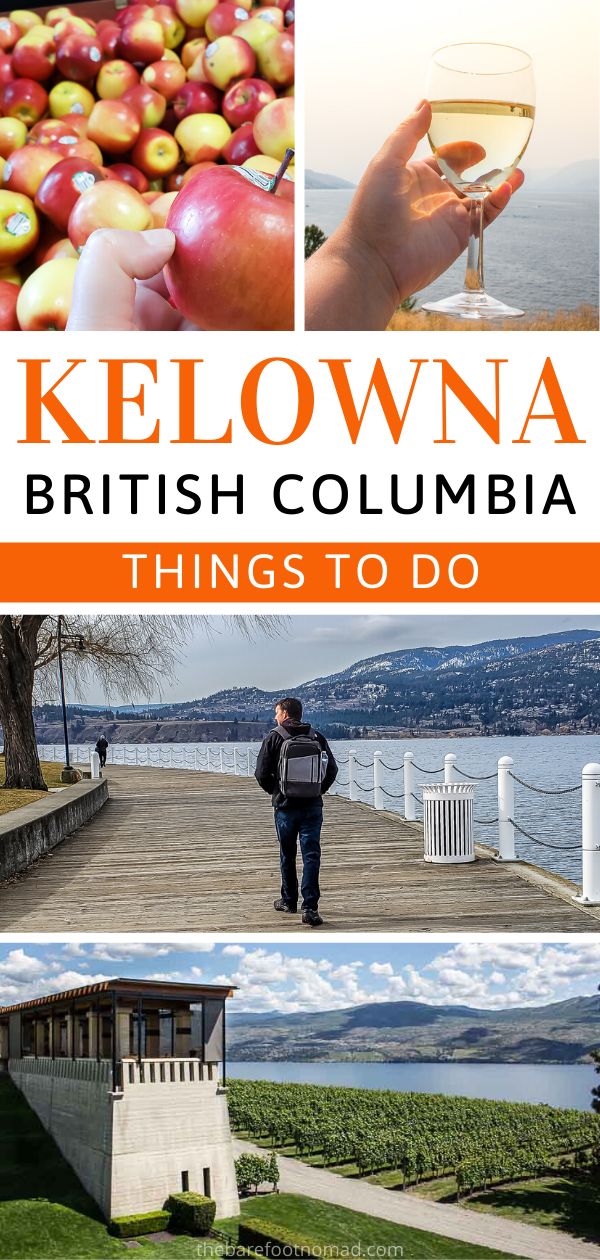 Have you checked out the Choice Privileges rewards program?