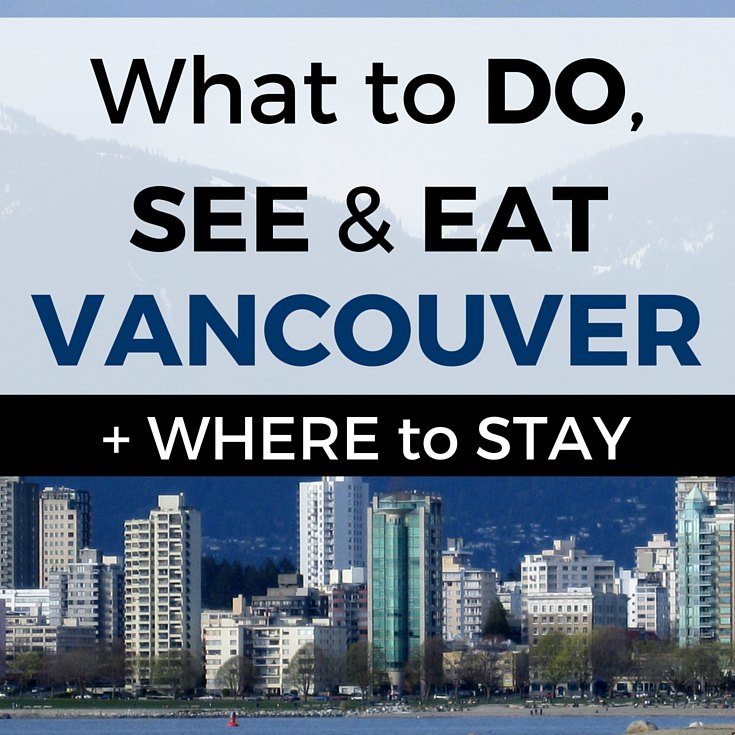 Vancouver, British Columbia is all about relaxed West Coast vibe and stunning scenery. With a thriving downtown and a reputation for great food, it's a city where you can grab a tasty breakfast, browse the local markets, shop for high end fashion then hike a local mountain before it's noon.
We've been lucky enough to spend a good chunk of time in Vancouver, and it remains one of our favorite Canadian cities.
If you're planning to check it out, here are our tips for the best things to do, see and eat in Vancouver, plus some recommendations on where to stay. So whether you're splurging on luxury or staying on a budget you have a ton of choices.
The Best Things to Do and See in Vancouver
It's often been said that Vancouver's one of the most beautiful cities in the world, and it's really no exaggeration. It's a truly world class city, where nature is never more that a 15 minute walk away from wherever you happen to be. Here are our top picks.
Visit Granville Island
Granville Island is Vancouver's most popular tourist attraction, and beloved by locals as well. Once you check it out, it's easy to see why.
It's located near the heart of downtown, surrounded by the waters of False Creek, and features a thriving public market chock full of homemade treats, fresh fruit and veggies, and artisan handicrafts. We loved the Vancouver Foodie Tour (more on that in What to Eat in Vancouver later), which gave us a sampling of many of the artisan foods on site.
There's a separate kid's market, Granville Island Brewing, and the Emily Carr University of Art + Design nearby. Be sure to take some time to walk by the floating water homes and check out the view of Burrard Street Bridge.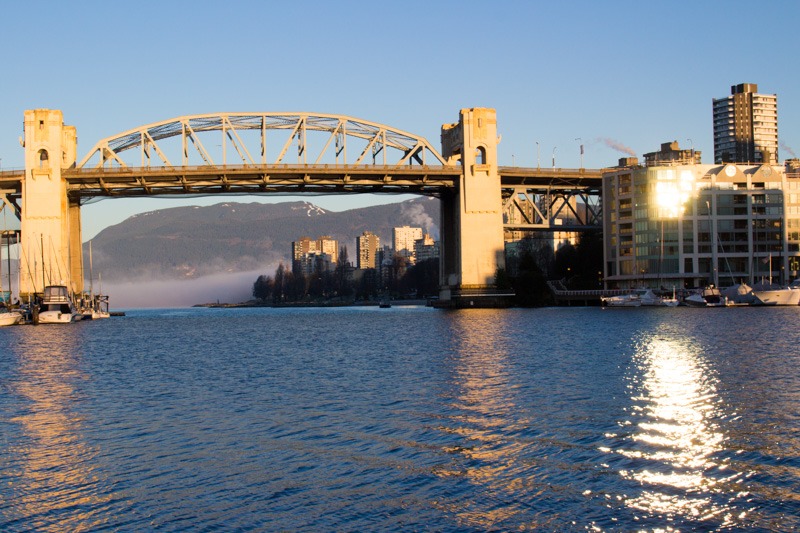 Visit Stanley Park
Located in the heart of downtown Vancouver, Stanley Park is over a thousand acres with great views of the Vancouver skyline. It's a must-see place, with giant red cedar trees towering over a park that's largely natural and untouched. You won't find sculptured lawns and pretty flower beds here; this is a natural park.
The First Nations people of Vancouver have played a large role in preserving the park in its natural state. If you're interested in First Nations culture, and especially the relationship between First Nations people with Northwest coast trees and plants, I'd highly recommend taking the Talking Trees tour with Talaysay Tours. It's a two hour tour, and I was fascinated by our soft-spoken guide's intimate and detailed knowledge.
While you're in the park, be sure to check out the Stanley Park Miniature Railway for kids and Prospect Point totem poles. It's one of the best things to do in Vancouver with kids.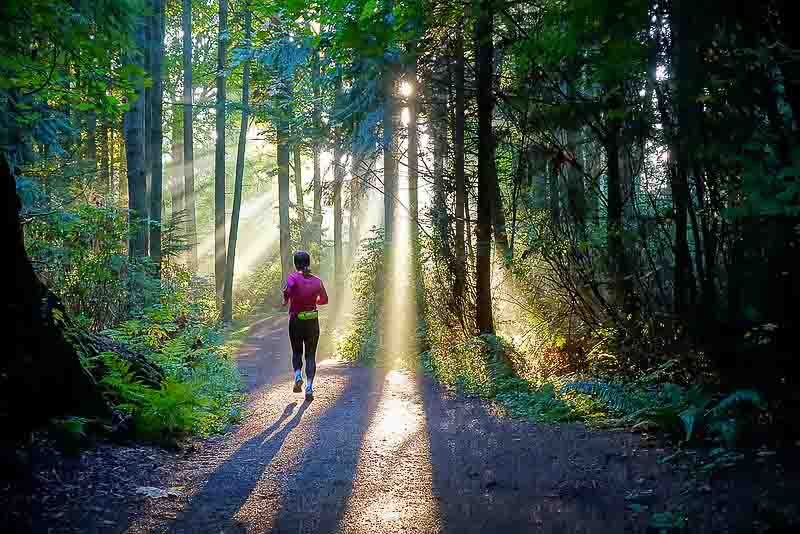 Walk or bike the seawall
The Seawall is a 28 km (17 mile) long pathway that runs along most of metro Vancouver. It's the perfect place to take in some stunning views. It's a long hike to do the entire distance, so we suggest just walking along a section or taking the advice of Gemma from Two Scots Abroad and cycling the seawall.
Go to the beach
Vancouver BC is home to several lovely beaches. You can go swimming in the summer, but they're perfect for walking along while checking out the tidal pools and scenery any time of year. In summer, the Vacation Gals recommend swimming in English Bay, or First Beach, both on the perimeter of Stanley Park.
Be sure to visit Jericho and Kitsilano beaches in trendy Kitsilano, which Adelina from Pack Me To calls one of Vancouver's most desirable neighborhoods, due to its proximity to both downtown and nature. Kits is also home to the H.R. MacMillian Space Centre and the Vancouver Museum.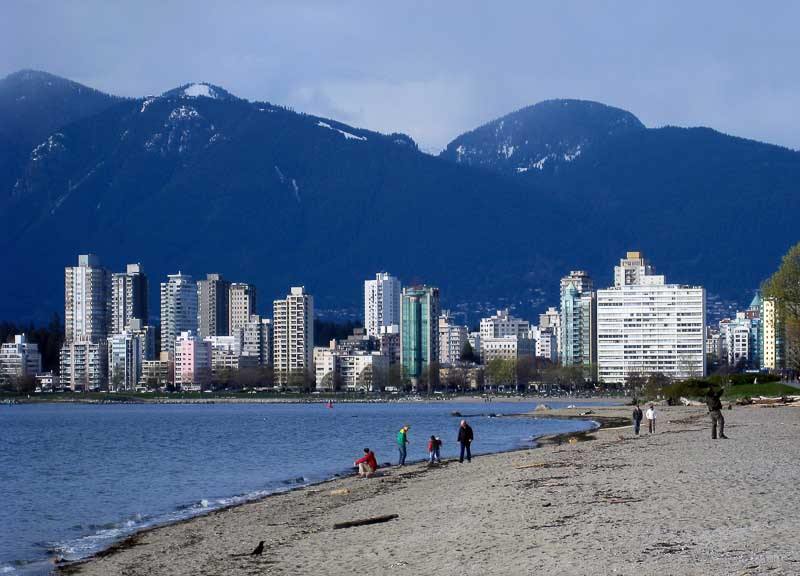 Visit a swinging suspension bridge
Most Vancouver guides suggest checking out the popular Capilano Suspension Bridge. While Capilano's definitely beautiful and accessible, it's expensive at approximately $38 per adult.
The lesser known (and free!) Lynn Canyon Suspension Bridge in North Vancouver's Lynn Canyon Park is a solid alternative to the Capilano bridge and has some nice pathways leading up to the some great natural pools and waterfalls.
If you're heading out to the Sea to Sky Gondola to check out the views (and you should), there's also the pretty Sky Pilot suspension bridge at the top of the gondola ride.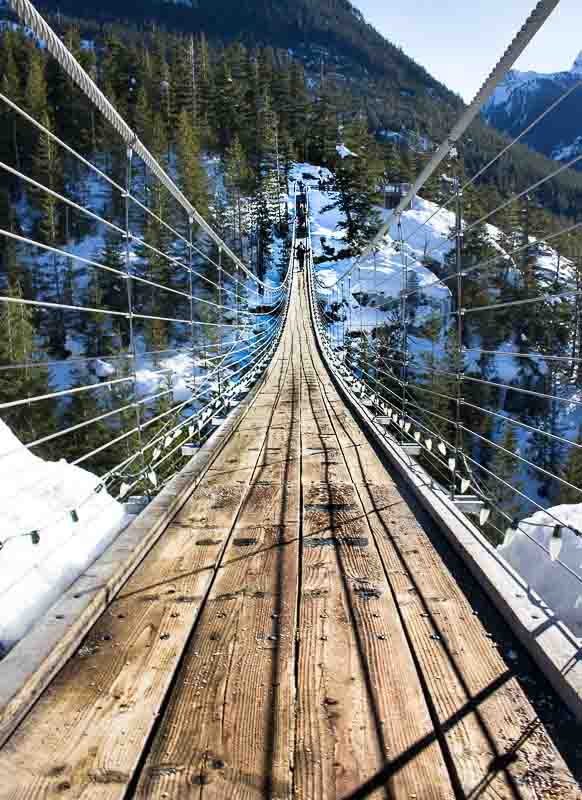 See the Telus World of Science
This hands-on science museum is hard to miss, with its eye-catching geodesic dome at the tip of False Creek. There are plenty of hands-on exhibits to delight kids and adults alike, plus an OMNIMAX theatre.
Explore downtown on foot
Vancouver's downtown neighborhood is diverse enough to be worth spending some time exploring on foot. You'll find plenty of action in downtown Vancouver, which comprises of the West End, Yaletown and Gastown.
Gritty Gastown, Vancouver's oldest neighborhood, teems with great restaurants, pubs and shops. The Vancouver Art Gallery is well worth a visit, with rotating exhibits and an attractive exterior. If you're not keen on walking, grab a seat on the Vancouver Trolley.
See Trolley Tickets on Viator tours here.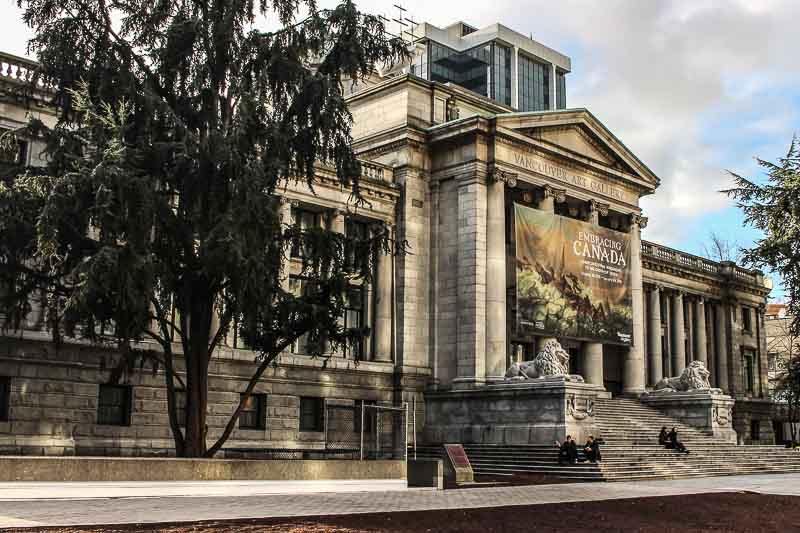 Get outdoors
Even in the heart of downtown Vancouver, you're never more than half an hour from the ocean, or from hiking a local mountain. There are plenty of outdoor adventures in the city, and Vancouver's close proximity to the mountains and ocean makes it easy to get deep into nature without a lot of effort.
Adelina of Pack Me To suggests kayaking in Deep Cove in North Vancouver. Deep Cove is only about half an hour from downtown Vancouver, and kayaking here gives you a chance to get out on the water in a smaller, quiet community.
If you're the athletic type, take the steep Grouse Grind (1.8 mile/2.9 km) hike to the top of Grouse Mountain in North Vancouver for beautiful views of the city from the top.
Because of its close proximity to the Pacific Ocean, you can go whale watching off the coast near Vancouver. Erin and Josh with Travel with Bender give you the details about whale watching here. You can take the same tour they talk about with Viator.
Check out Vancouver's craft brewery scene
It's well worth checking out Vancouver's booming craft beer scene. Taylor and Daniel from Once We're Young Travel recommend taking in the craft beer at Storm Brewing, Parallel 49, Powell Street Brewing, 33 Acres, and Dockside Brewing.
Viator offers a few fun brewery tours, including a new Electric Bicycle VIP Craft Beer Experience tour. We ran into some folks on the electric bicycle tour on our last family trip to Vancouver, and it looked like they were having a blast.
Explore Quirky and Offbeat Vancouver
Vancouver's a young, vibrant city, with a quirky side to match. Here are just a few of the offbeat things to do in Vancouver.
Cuddle a few cats
Catfe is Vancouver's first cat cafe, featuring adoptable cats from the BC SPCA! It's hugely popular, so make sure to make an online reservation as soon as you can.
Stroll the Richmond Night Market
The Richmond Night Market is probably the closest you're going to come to a crowded Asian street market in Canada. A giant rubber ducky greets you at the entrance, and inside you'll find tables selling everything from knickknacks to CDs, a midway, and a food court tucked in the back. We haven't eaten there, but Savored Journeys suggest visiting Rotato, which offers a deep-fried potato cut in a long spiral with 8 different possible flavors. Most food items are under $5.
The Richmond Street Market is held through the summer months during weekends. You can get to the night market by SkyTrain from downtown Vancouver. While you're in Richmond, stop by Steveston Village, a picturesque former fishing village, for some fresh seafood and charming views.
Visit the Jimi Hendrix Shrine
Every summer, the Jimi Hendrix Shrine opens at 432 Homer Street. Jimi spent summers in Vancouver with his grandmother Nora, who hosted a number of visiting performers like Nat King Cole and Louis Armstrong.
See the street art
Vancouver's street art scene is thriving, with some talented artists involved. The City of Vancouver has some helpful information on self-guided street art tours of Vancouver at Vancouvermurals.ca. For a preview, check out Travel Addicts' post on the street art around Cordova Street.
One of the largest is the Giants, a huge graffiti mural on silos at a cement factory on Granville Island, painted by two Brazilian artists OSGEMEOS.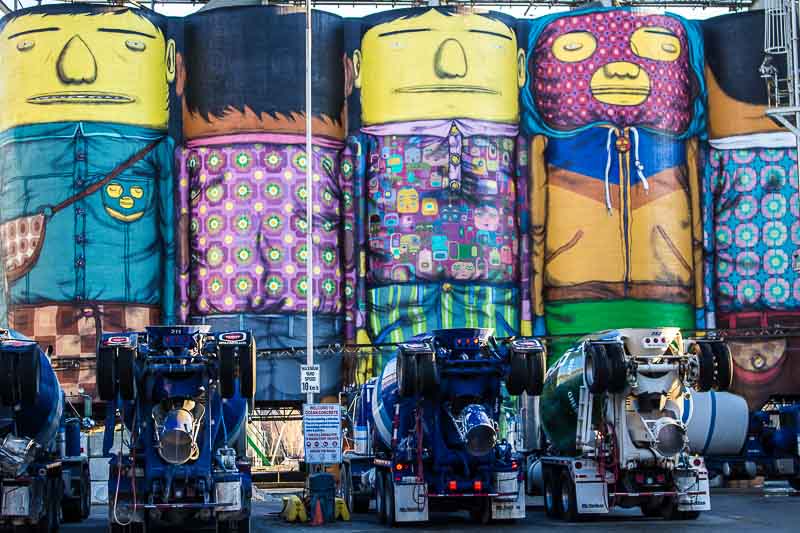 Stop by Chinatown
Surprisingly, you don't often see Chinatown mentioned in most Vancouver activities recommendations, but Chris and Heather from A Brit and a Southerner make the point that Vancouver's Chinatown is well worth a visit. While you're there, stop by Dr. Sun Yat-Sen Classical Chinese Garden. It's small but a distinctive place to relax, with colorful plants and symbolic yin and yang representations.
Go Shopping
Granville Island is our top pick for grabbing some souvenirs and goods with a real local vibe. There are almost 300 stores on Granville Island. Be sure to check out Edible Canada's retail store for Canadian goodies like maple syrup, smoked salmon, and goods from artisans across Canada.
If you're a fashionista, the place to shop is Robson Street, with shops including Zara, Le Chateau and Plenty. Check out Alberni Street nearby for luxury stores like Hermes and Gucci. You'll find independent fashion like Roden Gray in Gastown and along Main Street (20th to 22nd Avenue).
If you're looking to buy or rent quality outdoor gear, Mountain Equipment Co-op (or MEC, as it's known by locals), is our top pick. MEC has been around since 1971, and is still run as a co-op by members. To shop there, you'll need to buy a $5 membership share, which gives you co-op voting rights. We've been members since 1989.
Smack in the heart of downtown Vancouver, Pacific Place Mall has hundreds of retail stores and places to eat. Pacific Place Mall is clean, spacious, and largely underground, making it a great choice if you're looking for indoor shopping.
Visit the Vancouver Aquarium Marine Science Centre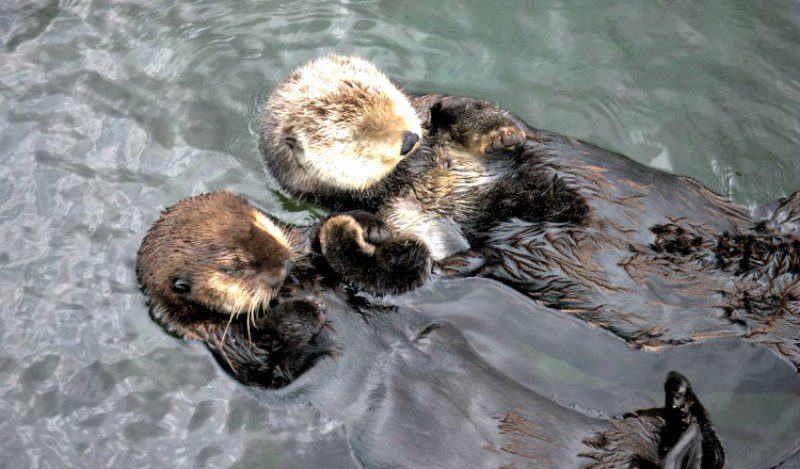 In a time brewing with controversy about the treatment of marine animals (think Blackfish), the non-profit Vancouver Aquarium Marine Science Centre gets it right. It's an organization committed to rehabilitation and re-release (wherever possible) of injured, ill or abandoned marine creatures. It also operates Ocean Wise, conservation program that works directly with local restaurants, markets, food services and suppliers to ensure that they have the most current scientific information and to help them make ocean-friendly buying decisions.
The Vancouver Aquarium is Canada's largest aquarium and home to over 58,000 animals, including beluga whales, dolphins, sea otters, anacondas, three-toed sloths, eels and more. It's a great place to take kids, with the new Discover Rays touch pool, and plenty of kid-friendly exhibits and play areas.
For more than 47 years, the Vancouver Aquarium has operated the Marine Mammal Rescue Centre. The program rescues and rehabilitates marine mammals found injured, ill or abandoned until they're healthy enough to be returned to their natural habitats.

Tanu, one of the otters in the photo above, was rescued as baby too young to how to eat by herself or groom herself. Dedicated staff had to bottle-feed and groom her until she learned how to do it herself. Now, Tanu is over five years old, and thriving in the Aquarium habitat.

The Rescue Centre admits over 150 distressed marine mammals annually. Over the years, rescued animals have included harbour seals, Steller sea lions, northern fur seals, elephant seals, sea otters, orcas, dolphins and porpoises. Some have been threatened or are endangered species.
The Sea to Sky Gondola
If you're making a trip to Whistler, make time to visit the stunning Sea to Sky Gondola near Squamish. The views are breathtaking, and you can grab a bite to eat at the restaurant, walk along hiking trails, go tubing in the winter, or walk across the suspension bridge.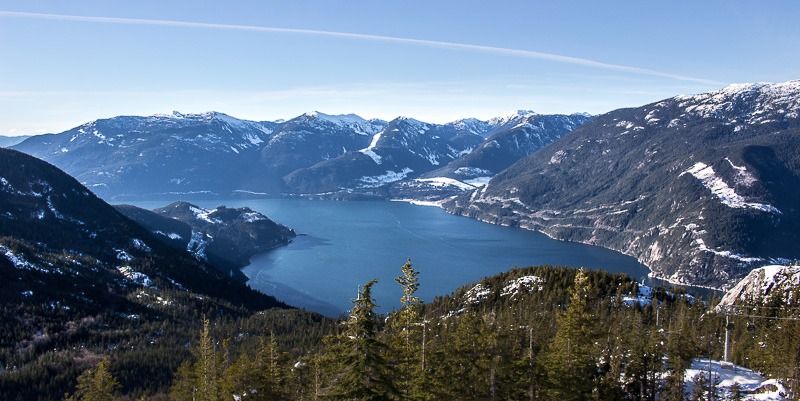 If you're looking for some more ideas for what to do in Vancouver, Viator Tours offers some fun and affordable activities, including sightseeing, whale watching, a private tour to Whistler, a trip in a seaplane over Vancouver, or a distillery tour.
If you're looking to use Vancouver as a stopping off point for a larger adventure to discover the Canadian Rockies or even to do Alaska by ferry and rail, then it may be worth checking out the tours offered by G Adventures.
Where to Eat in Vancouver
Vancouver has no shortage of fantastic restaurants, running the gamut from trendy, award-winning restaurants, to expensive Michelin-star affairs, to inexpensive, hole in the wall local favorites.
Given Vancouver's location on the West Coast of Canada, there's no shortage of fresh seafood, and the local melting pot of cultures means that you can enjoy almost any type of food you'd like.
AnnaLena

As a vegetarian, I spend a lot of time eating meals that seem to be a bit of an afterthought compared to a restaurant's carefully prepared meat dishes, even at more expensive restaurants.
Two thumbs up to the kitchen at AnnaLena who bucked that trend in a big way. I'm not sure I've ever had a better entree than their vegetarian pasta with potato agnolotti, wild mushrooms, confit shallots and asiago foam.
Turns out I'm not alone in my praise. AnnaLena was named one of Canada's best new restaurants by enRoute Magazine. Located in trendy Kitsilano, AnnaLena, also serves a wickedly good desert selection and finely crafted cocktails.
Price: $22 to $35 mains
YEW Seafood + bar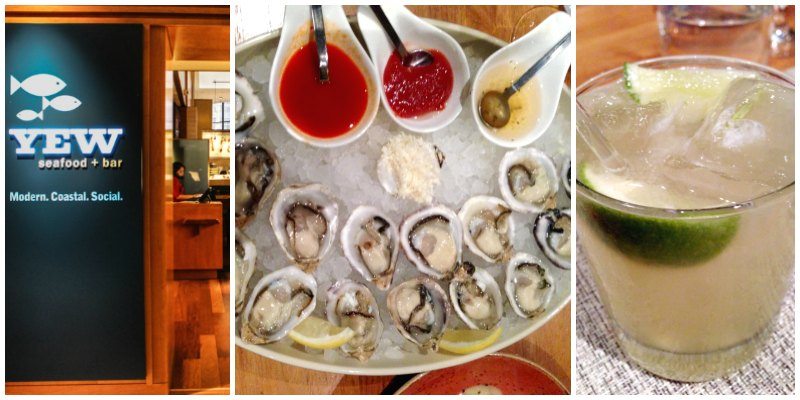 YEW Seafood + bar at the Four Seasons Hotel Vancouver was the baby of Chef Ned Bell, who's well known for his farm-to-table philosophy. Bell is founder of Chefs for Oceans, an organization that promotes sustainable seafood. In keeping, the YEW Seafood + bar menu is 100 per cent Ocean Wise.
The menu is bursting with fresh, sustainable seafood options, with everything from fresh oysters to Arctic char and non-fish options like chicken and Wagyu shortribs.
Vegetarians like me aren't left out, with an ample vegan menu that includes fresh, flavorful vegan tacos and a rich, creamy vegan chocolate tort.
Price: $20 to $45 mains
Go Fish Ocean Emporium
Beloved by locals, this little blue shack on False Creek near Granville Island serves up fresh, tasty fish and chips, a daily grilled seafood selection, tacones, sandwiches and sides. It's a take-away spot, but the views of downtown Vancouver and False Creek make it worth the inconvenience.
Price: $5-11 mains
Vancouver Foodie Tours Granville Island
While not a restaurant per se, a foodie tour of Granville Iisland is a wonderful way to get introduced to the best treats at the Granville Island Market. I took the Granville Island Market Tour with Vancouver Foodie Tours, and left absolutely stuffed with homemade bread, artisan cheeses, gourmet coffee, fresh Okanagan apples, Chai tea, homemade donuts and many more delights.
Edible Canada is the must-visit place for foodies on Granville Island. It's dedicated to showcasing the best of BC and Canadian cuisine in a comfy bistro.
Insider tip: Edible Canada's eggs bennie sauce is one of the best I've ever tasted.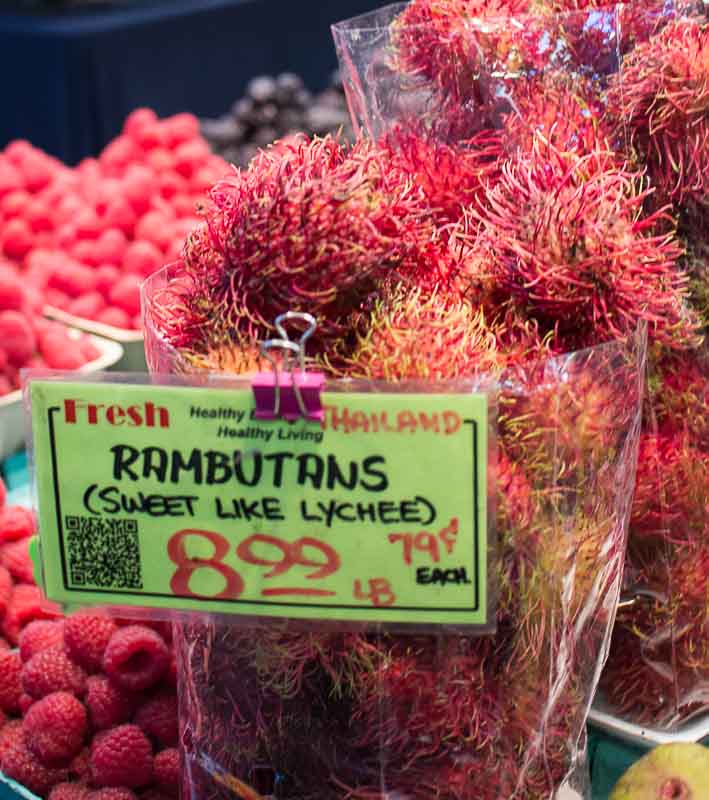 Budget eats in Vancouver
Tacofino is beloved in Vancouver for its affordable fish tacos, vegetarian and chicken burritos, and relaxed vibe. There's a Tacofino restaurant in Gastown and Tacofino food trucks pop up all over the city.
Mains: $6-11
Brunch in Vancouver
Brunch is pretty much an institution in Vancouver. There are too many great spots to mention, but The Twisted Fork, Café Medina (long lines, but worth it), Boulevard, The Red Wagon Cafe, and the trendy YEW Seafood + bar are all well worth a visit.

If you're looking to take a foodie tour of Vancouver, check out what Get Your Guide offers in Vancouver.
They offer everything from craft brewery tours to Stanley Park walking tours.
Where to Stay
Vancouver has hundreds of hotels. Places to stay in the downtown area tend to be higher in price. Here are our tip picks for where to stay, no matter what your budget.
Family – The Fairmont Waterfront Vancouver
We stayed at the Fairmont Waterfront Vancouver for two very happy days. This is a gorgeous hotel that caters perfectly to families. The rooms are modern and beautiful, with plenty of room for little ones to run about, and it has every amenity you would want, from a heated outdoor pool to a spacious gym to great dining downstairs. There's even a rooftop herb garden and beehives that you can visit!
One of our favorite things about the hotel was the location facing Vancouver's oceanfront. The kids (and us!) were mesmerized for hours watching the cruise ships (including the Disney Wonder) dock, and watching seaplanes land.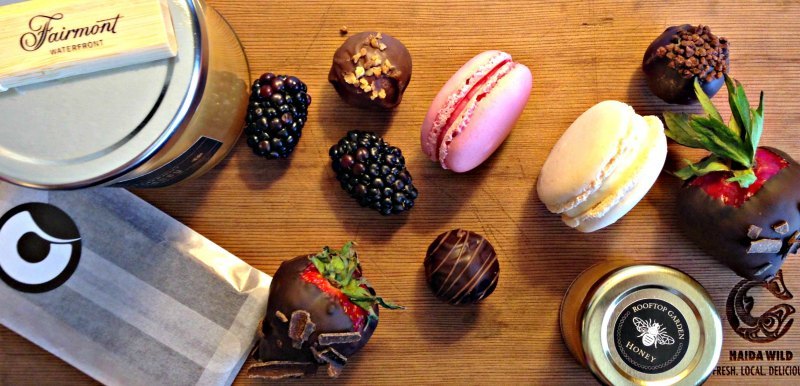 Luxury – The Four Seasons Hotel Vancouver

The Four Seasons Hotel Vancouver is everything you'd expect in a downtown Vancouver luxury hotel. Service is relaxed, friendly and impeccable. The hotel sits above the Pacific Centre mall, and it's a short walk to most downtown Vancouver attractions. There's a welcoming heated indoor/outdoor pool and hot tub leading to an outdoor rooftop patio, with the fantastic YEW Seafood +bar downstairs. Basic WiFi is free, but there's a surcharge for those who'll be using a lot of data.
Airport Convenience – Fairmont Vancouver Airport In-Terminal Hotel
The Fairmont Vancouver Airport In-Terminal Hotel is Vancouver's only in-terminal airport hotel. It gets great ratings, and might be worth the splurge if you're looking for a little luxury at the airport. There's a surcharge for WiFi.
See prices and availability here.
Budget downtown
If you're looking for a budget hotel in the heart of downtown, Robson Suites and Sunset Inn and Suites both get good reviews. We haven't stayed in either because they're always infuriatingly fully booked far in advance, but they're both smaller boutique hotels that should run you close to, or under, $120 a night for a double room. Both hotels include free WiFi, but Robson Suites is closer to Stanley Park (but doesn't include breakfast, though rooms have a kitchen or kitchenette), while Sunset Inn is right next to Stanley Park (and includes breakfast in the rate).
See Robson Suites availability.
Check Sunset Inn and Suites availability.
Value – Holiday Inn Express Hotel & Suites Riverport Richmond
If you're up for taking the SkyTrain or driving into downtown Vancouver, and want to save a few $$, the Holiday Inn Express Hotel & Suites Riverport Richmond is an affordable, clean option. We stayed here for a few days last year, and would stay again. It's a pretty standard chain hotel, but clean and new, with free breakfast, free airport shuttle, fast, free WiFi, and a pool and hot tub.
See prices and availability here.
Hostel – SameSun Backpacker Lodge
SameSun Backpacker Lodge gets great reviews (8.6/10 on Hostelz.com, which we like because it has independent reviews), and includes WiFi and breakfast. It runs about $28 for a bed in an 8 room dorm, or $42 a person for a shared double with en-suite bathroom. You must be 18 years old.
Check prices and availability now.
The Hidden Gem – The hotel on Granville Island
Granville Island Hotel is one of Vancouver's less known gems. It's a boutique hotel located right on Granville Island, overlooking the water, and gets great reviews. Check prices and reviews here.
Airbnb
Vancouver has a host of Airbnbs available. Prices vary a lot depending on location and size, but you can get a small private studio starting at around $60/night downtown, and a private two bedroom starting at around $100.
Sign up using this link, and get $35 in Airbnb credits the first time you use them.
Camping
We don't usually suggest camping in our city guides, but Vancouver's proximity to nature makes it an option. You can pitch a tent or park your RV in the busy Capilano River RV Park, which has an outdoor pool, Jacuzzi tub, and WiFi. There is more concrete and cars here than nature, but it's as close to metro Vancouver as you're going to get while camping. Book as early as possible, as sites go fast.
Looking for something different? Tourism Vancouver lists a few campsites within Vancouver itself, and Destination BC has a helpful search feature here if you're looking for a private or national campsite further out from downtown Vancouver.
You can rent camping equipment and outdoor gear from Mountain Equipment Co-op.
In the mood for a little more beautiful scenery? Check out this video from Destination BC that shows how truly wild and beautiful this province really is.
Need more info?
Be sure to check out the official Tourism Vancouver website, and the Destination BC website.
*Note: I visited Vancouver courtesy of Destination BC. As always, though, all opinions are our own. We would never recommend a place to you that we haven't visited and loved!