This post brought to you by Best Western. The content and opinions expressed below are that of The Barefoot Nomad.
There's no denying that our family loves the road trip.
All it takes is a tank full of gas, a rough idea of a destination, an open timeline and a little wanderlust and you have the making of a great experience. The kicker is that not all road trips need to be epic.
Sure, we once drove over 20,000 km around Australia in the course of a few months and last year spent nearly a month in the car driving all over Spain and Portugal, but it doesn't always need to be that way. For instance, this past spring we jumped in the car and headed a few hours south down to Osoyoos to check out what all the fuss was over this small, lakeside BC town known for its delicious fruit and warm weather.
With no particular agenda and the kids having a school in-service day, we set off around lunch with no particular destination in mind.
We could have stopped in Kelowna, Peachland, Summerland or Penticton (all great little towns in their own rights) however we ended up near the US border in Osoyoos.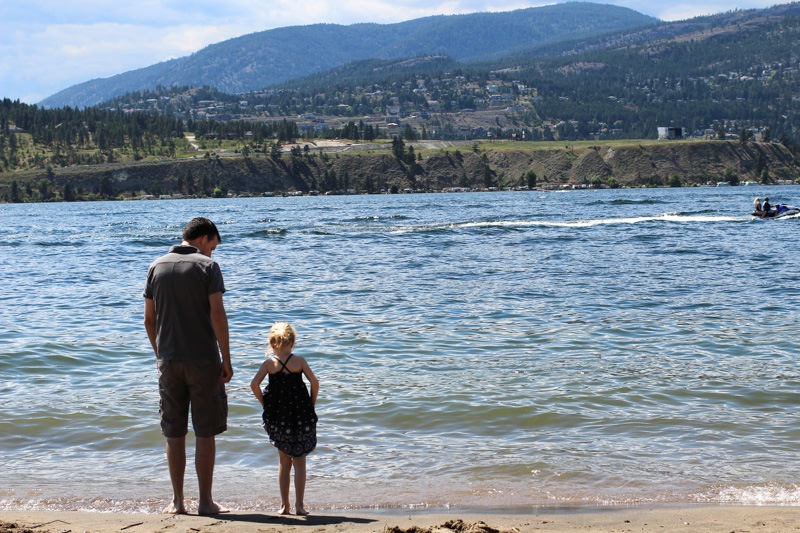 After a quick drive around town familiarizing ourselves with the layout, we decided to book a night at the Best Western. It's a great hotel and with the AAA/CAA rate we saved 10%. We love whenever we stay at a Best Westerns throughout North America because of their delicious breakfasts and hospitality.
The one in Osoyoos was no exception and the staff was really nice.
Sometimes some of the best memories don't have to take place on the other side of the world. They can happen right in your own backyard.
Once we checked in, we perused the front kiosk listing all the attractions in town and gave the kids a few choices on things we could do.
Without having to drive for hours on end like most epic roadtrips and arriving a little travel worn, we still had tons of energy and more than a few hours to kill before supper.
I think that's the biggest benefit to the mini roadtrip, more time to enjoy your destination and more energy to explore it once you're there.
To be honest, there isn't that much to do for young ones in early spring in Osoyoos but we did get the chance to let the kids play outside in the warm sun at a park along the waterfront when the majority of Canada was still snow covered.
After that we grabbed a delicious treat from the Lake Village Bakery and enjoyed it on the bench seat in front.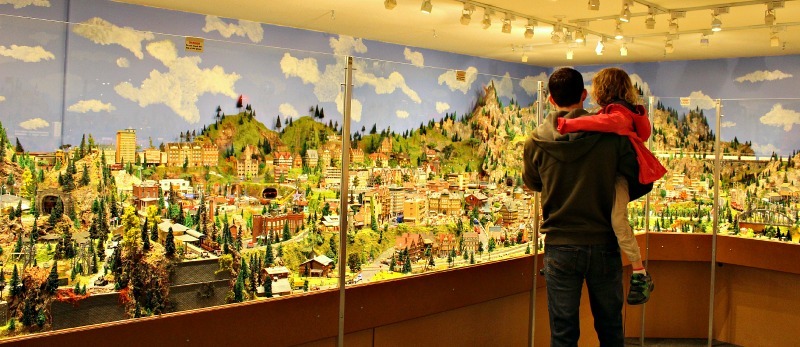 One of the best attractions in Osoyoos definitely has to be the Osoyoos Desert Model Railroad. While we were in Osoyoos we had no less than 6 recommendations to check the place out while we were in town and it really is a miniature wonderland.
With over 40 working trains, 2 km of track, 16 000 hand painted figures and 40 000 sq. feet of space we were all in awe over the attention to detail and the often comical placements of the figures.
You could spend minutes just staring at one little section and still not see every little things the modelers set up.
One of the highlights was watching the kids enjoying a rousing game of "I Spy" on a miniature level that left everyone (including the people around us) laughing at the end.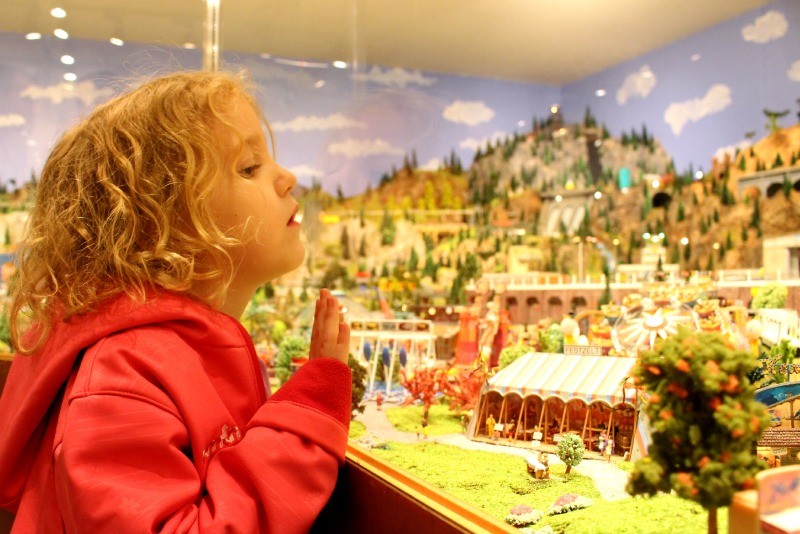 While we were in Osoyoos we also crossed the border into the US to do a little shopping and to search for the elusive Macintosh Toffee I enjoyed in my youth.
With no luck finding it in the great big world, I finally snagged a piece from the Best Western lobby. In truth, our mini roadtrip was a resounding success. It got us out of the house and helped fight off the last of the nasty winter blues.
The kids had a great time and it reminded us that roadtrips don't have to be epic to be enjoyable and that sometimes some of the best memories don't have to take place on the other side of the world. They can happen right in your own backyard.
We keep everyone entertained in the car with great kid friendly Audible books or audiobooks for everyone.
Osoyoos, BC:  For anyone looking to beat the cold this winter, Osoyoos is a very popular place for Canadian retirees since it doesn't get much snow (it's one of Canada's only desert areas) and is considered by many to be the warmest place in Canada.
We found out first hand that it's especially popular with Canadian "Snowbirds" that can't get travel insurance in the USA or don't want to leave Canada. It's also popular as a stop gap for Canadians that are returning from the southern states but aren't in any rush to get back to cold weather in whatever province they hail from.
This post was sponsored in part by Best Western, however this trip was 100% all us. 101% if you include the Mack candy I inhaled. 😉
If you want to save on your stay, register for the Best Western Promotion for AAA Members, where AAA members always get 10% bonus rewards points.