I imagine this is what the moon looks like; a landscape bleached and barren, rocks twisted and torn by an alien wind. The four of us stand motionless in the hot sun, sweat running down our backs, trying to make sense of the bizarre vista in front of us. We're in the badlands of Dinosaur Provincial Park, nestled firmly in the grasslands of Canada's lonely prairies.
Cretaceous shale and sandstone are exposed in eerie, lunar formations wherever a rare stream slashes a deep cut into the parched soil. Each turn of our walk reveals more bizarre rock shapes.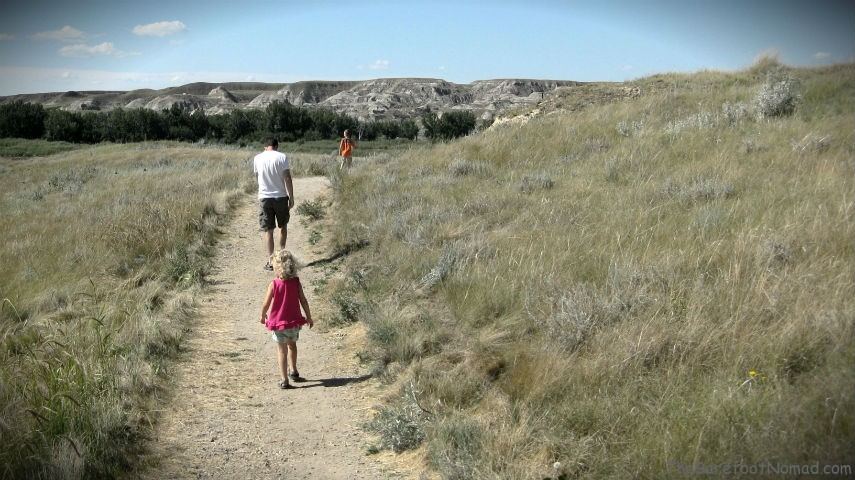 75 million years ago, this dry, ravaged landscape was a lush, subtropical forest teeming with life. Towering, meat eating Daspletosaurus thundered through the lush forest, their large frames ripping branches from trees and clawed feet tearing the soft earth of the forest floor. Pterosaurs bigger than small airplanes soared overhead, while plesiosaurs hunted crustaceans and fished in the ancient sea. Today, all that remains are fossils, buried deep in the warped badlands.
I first saw these badlands as a photography summer student for Drumheller's Royal Tyrell Museum. I worked for Phil Currie, one of the world's most famous palaeontologists, seeing him only in passing as he jetted to digs in China's Gobi desert. I spent most of that summer in the Royal Tyrell Museum's darkroom, developing photos of dinosaur skeletons plucked from this Park.
Now, over 20 years later, I'm here with Charles and our dinosaur loving seven and three year old.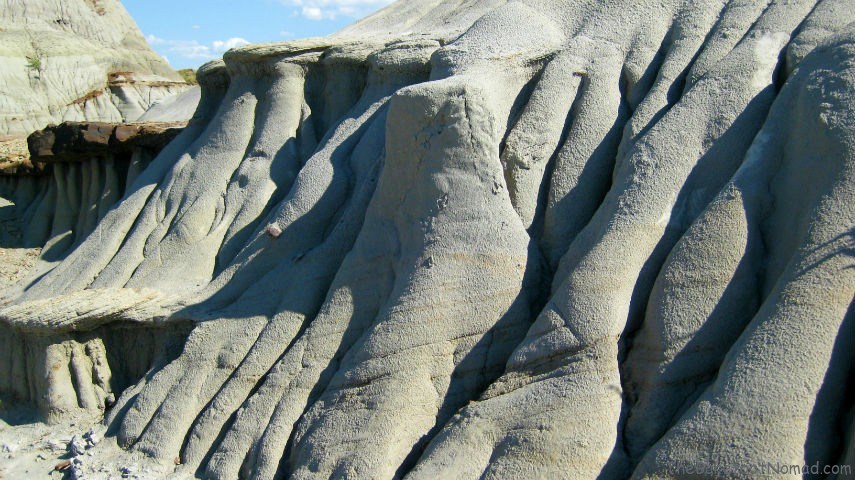 Dinosaur Provincial Park may have the richest concentration of dinosaur fossils in the world. Dinosaurs from every known family of the Cretaceous period have been unearthed here and over 500 species, from microbes to towering carnivorous dinosaurs, are preserved in the Park. The Park's Oldman Formation alone has produced over 150 complete dinosaur skeletons, which are on display in more than 30 museums worldwide. Fossils of turtles, fish, frogs and flying lizards lurk frozen in time.
While much of the Park is a natural preserve accessible only by guided interpretive programs, a section of the Park has been set aside to let visitors explore on their own. We walk the Badlands Trail. The kids race ahead in the searing heat, hoping to be the first to spot a T. Rex skeleton, while we lag behind, snapping photos.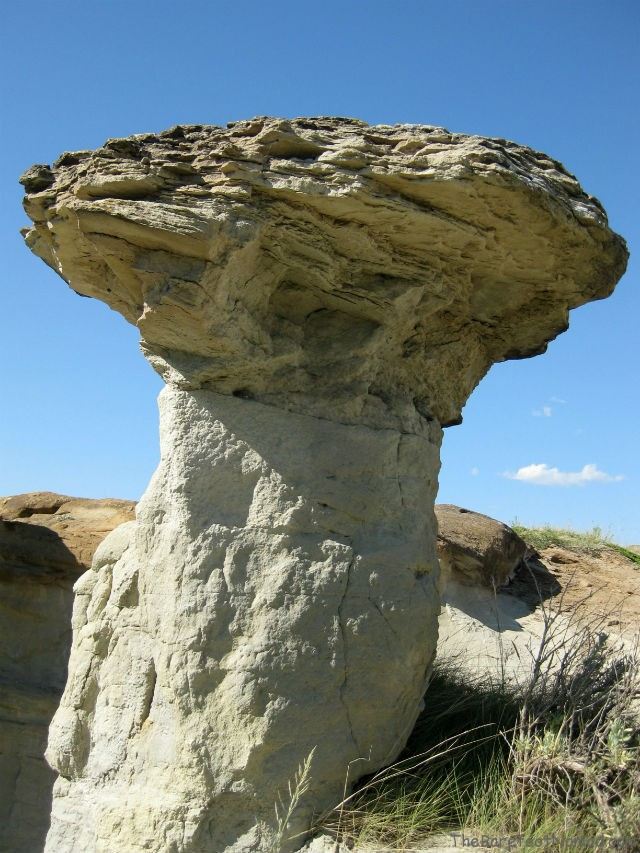 Later, we squint through glass at fossil displays set up along the public trails. Peering at these fossils through the glass feels odd, like being in a zoo where the animals have disappeared, leaving only their skeletons behind, lodged in grey dirt.
Our walk complete, we take refuge from the sun in the Visitor's Center. The Park's Visitor Center doesn't begin to compare with Drumheller's world class Tyrell Museum in terms of size or diversity. That said, we found it well worth the paltry $3 admission fee to step out of the scorching summer heat. Inside, we found a small, well presented collection of fossils, a theatre showing interesting videos and an excellent presentation on the plants and animals of the grasslands.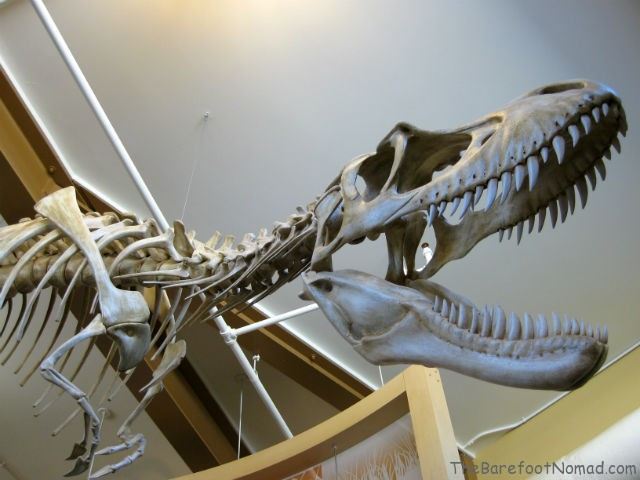 The Visitor's Center is interesting, but the allure of Dinosaur Provincial Park lies in the striking badlands within it and the abundant fossils hidden there. The Park takes up a sprawling 18,000 acres, with 15 miles of badlands.
The eerie badlands are part of a complex ecosystem that includes prairie grasslands and riverside cottonwoods. Nighthawks and coyotes howl at dusk among stands of cottonwood trees. Grasslands sway in the breeze and cacti take root in the parched ground. All three a rarity in the rest of Canada, Prairie rattlesnakes, black widow spiders and scorpions hide from the heat of the day. Pronghorn, golden eagle and plains spade foot toad call the Park home.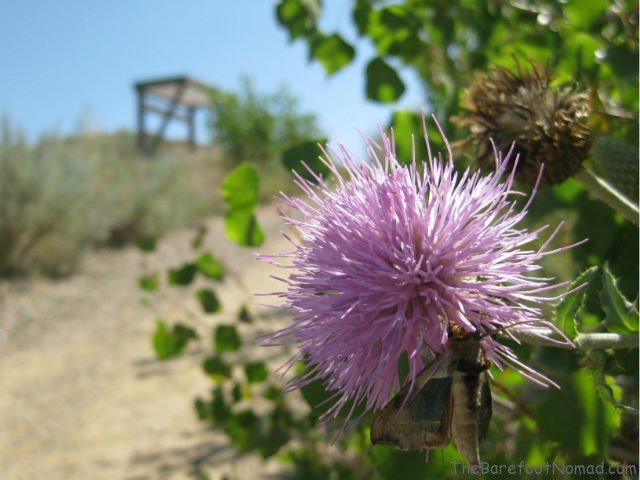 As we drive away, I glance back as the badlands give way to fields bleaching to white gold in the sun. 75 million years ago, these fields were the mouth of a river leading to a shallow, ancient sea and dinosaurs roamed the land. I try to imagine what will be here in another 75 million years and something like vertigo washes over me.
More Info
How to get there:  Dinosaur Provincial Park is a two and a half hour drive from Calgary. If you get a flight
 into Calgary, the most affordable and flexible option is to rent a car
 at the Calgary airport. Day trips also run from major hotels in Calgary.
When to go:  The Park is open year round however summer temperatures can reach over 100 °F, while winter temperatures can drop to -25 °F so plan accordingly.
What to do:  The Park offers guided tours. Interpretive programs include bus tours around the Park, family programs, enriched learning programs and guided hikes. You can book tours online.
What are the costs:  Adult admission to the visitor's center is $3 for adults, $2.50 for seniors and children under six are free. There's no charge to enter the Park and view the public loop trail and walks.
What are the hours:  Seasonal.
What are the essentials:  Summer temperatures in the Park can shoot up well over 100 °F, so pack plenty of water and sunscreen. Don't forget mosquito spray, as mosquitoes can be bad in the summer.
Where to eat:  There's a reasonably priced convenience store and concession beside the Park's parking lot and campground. The store closes in September and re-opens in mid-May.
Where to stay:  You'll need to either stay onsite in the campground, or get a hotel
 room nearby. You can get a hotel
 in the town of Brooks (a 40 minute drive) or stay in the lone hotel in the nearby town of Patricia (a 15 minute drive). Nestled along the Red Deer River, the attractive onsite Dinosaur Provincial Park Campground has large leafy trees providing shade. There are 126 campsites, with picnic tables and fire pits. The campground offers showers ($2), toilets, water, power, sani-dump, firewood, a playground, boat launch, cafe and convenience store. Unserviced sites are $23, sites with power are $29. The campground has comfort camping at seven sites with real beds and private decks. Comfort camping prices range from $95 to $120 per night.
What else is nearby:  Alberta pioneer John Ware's log cabin sits in the Park's leafy campground. Ware was born a slave in the southern United States, and became one of most legendary cattlemen of the Canadian prairies.
Where to get more information:  Unesco's information on the Park is is impossibly dry, but informative. You can find a more entertaining read at the Park's official website and in this overview.
More Great Reading
Encyclopedia of Dinosaurs
. Clearly written, this is an authoritative book for serious dinosaur lovers.
National Geographic Little Kids First Big Book of Dinosaurs
. An interesting and beautifully illustrated book for young dinosaur fans.
Dinosaur Provincial Park:  A Spectacular Ancient Ecosystem Revealed. A fascinating and readable academic look at the dinosaurs of Dinosaur Provincial Park, edited by Phillip Currie. This is a free link on Google Books.
Titans of the Skies:  Azhdarchid Pterosaurs. A scholarly look at the flying lizards. Free online link.