Being so close to Vancouver, it can be hard for us to figure out the best places to stay in Vancouver for a family vacation.
So while we've stayed downtown for a quick Vancouver family vacation more than a few times, and though there are some fantastic hotels in the area, there are two big disadvantages to a downtown Vancouver family stay.
The first is cost. Hotels in downtown Vancouver can be quite expensive, especially if you look at getting a suite with a bedroom or kitchenette, or if you're booking in peak season. Parking can also be crazy expensive if you're by the water and some of the nicer hotels require you to pay extra for WiFi, sometimes even per device.
Second, downtown Vancouver accommodations can be quite busy, and it's not always the most kid-friendly place, especially around the bars on Granville Street. Though Vancouver is a great walking city, staying downtown still requires you to be careful, especially with little ones in tow.
So when UBC's West Coast Suites, located on the quiet and stunning University of British Columbia (UBC) lands, reached out to us about a stay, we were excited to give it a try.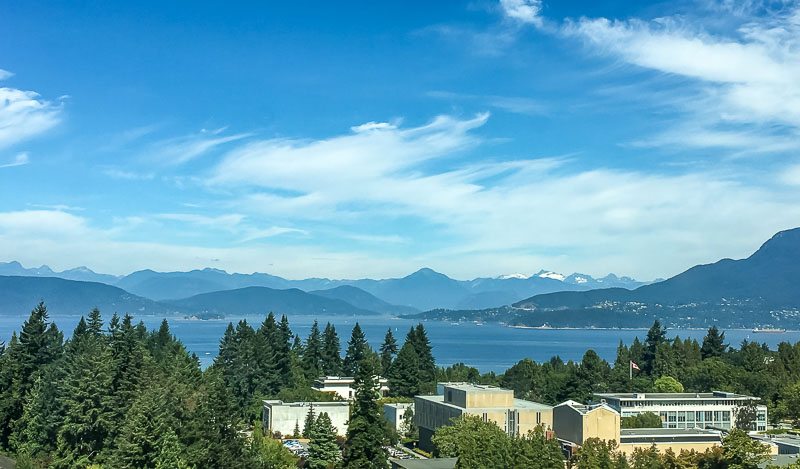 We planned to use the fully furnished suites, perched on the quiet and expansive green campus, as our base for exploring Vancouver with kids. Not only are the world class Museum of Anthropology, the impressive Beaty Biodiversity Museum, the fantastic Botanical Gardens and more within easy walking distance at UBC, there's an abundance of great food right on campus.
The best part is that downtown Vancouver and many of the city's other major attractions are just a short car trip or bus ride away.
See prices and availability here. Check out reviews on TripAdvisor.
West Coast Suites UBC
As we drove through busy Vancouver, and on through the quiet, lush, green oasis of the enormous UBC property, we were sure we'd made the right choice. On one side we could see the spacious UBC campus on the left of us and we kept getting peeks of British Columbia's stunning Pacific Coast on the other.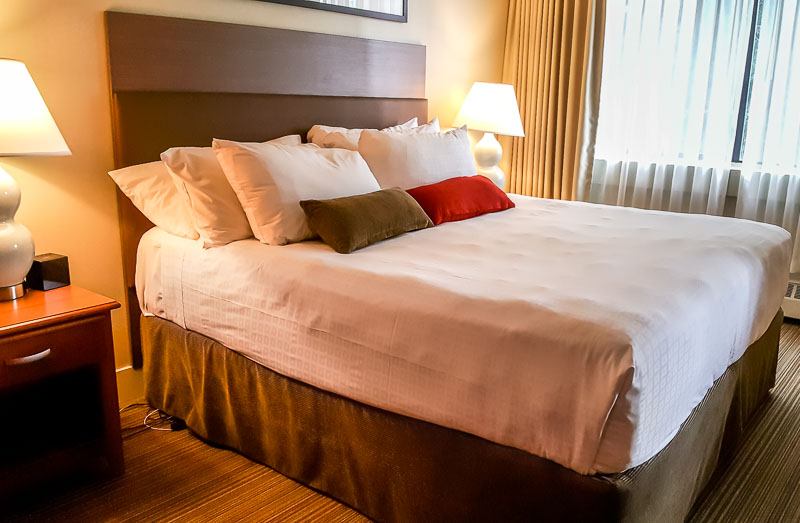 After the easy drive to West Coast Suites, we checked in at the next door Walter Gage Residences. The helpful front desk staff promptly got our key card, and pointed out some of the fun things to do with kids on the UBC campus. More on the details of our Vancouver family vacation later!
Within a few minutes, we'd whisked our stuff up the elevator, and I was relaxing on our couch, overlooking the trees in the courtyard, and enjoying a fresh Starbucks coffee from the single serve coffee maker in our cozy kitchen.
Our Suite
All of the suites at West Coast Suites are large, quiet one bedrooms with balconies and full kitchens.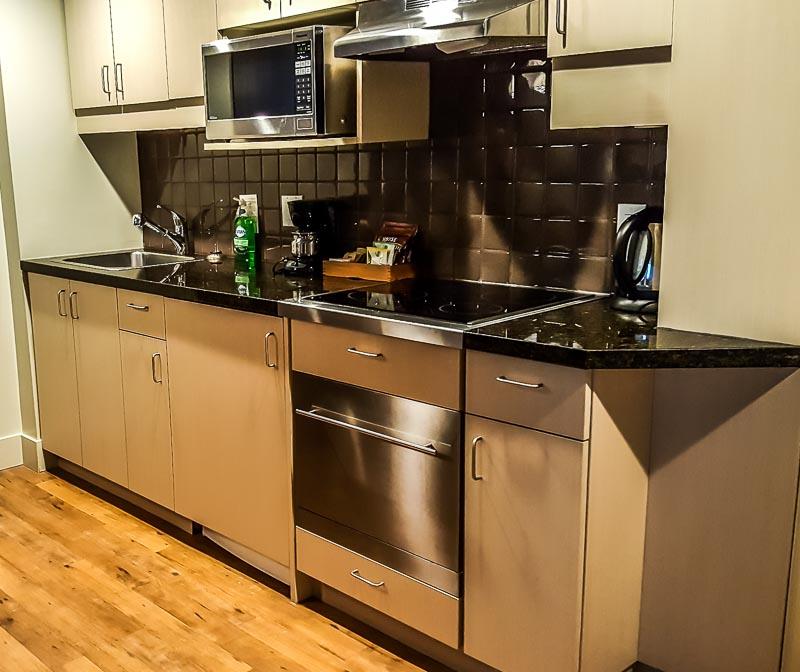 There's no oven in the suites, but there is a stove top, a microwave, and most importantly, a dishwasher, plus a full kitchen table and mini-fridge. The kitchen was fully kitted out, including everything from pots and pans, glassware, cutlery, and even a corkscrew and bottle opener.
All the suites at UBC's West Coast Suites are one bedroom, with a king bed in the bedroom plus a sofa bed.
There's a LED TV, an in room safe, plenty of quality toiletries, and high quality linens.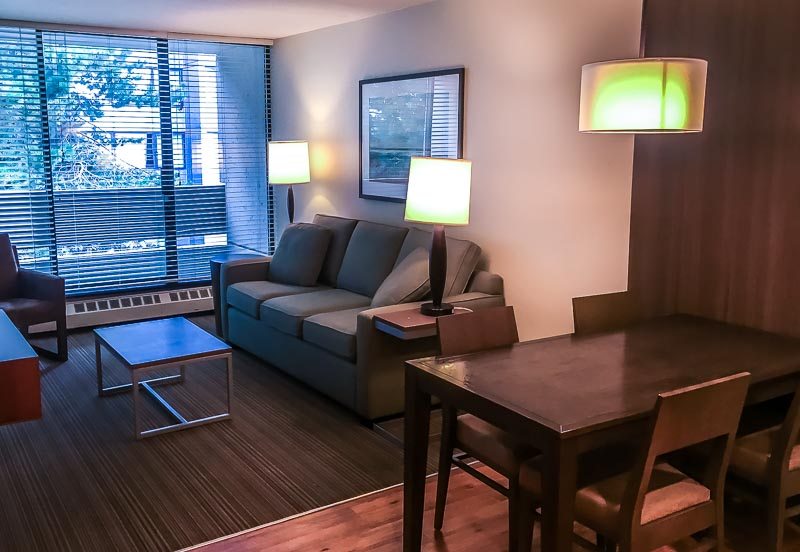 Amenities
At the top of my list for hotel amenities is always WiFi. WiFi here is fast, free and reliable, with speeds at well over 35 mbps. That's far better than the WiFi you'll find in most homes.
There's even free long distance in North America, making it easy to connect with friends and family.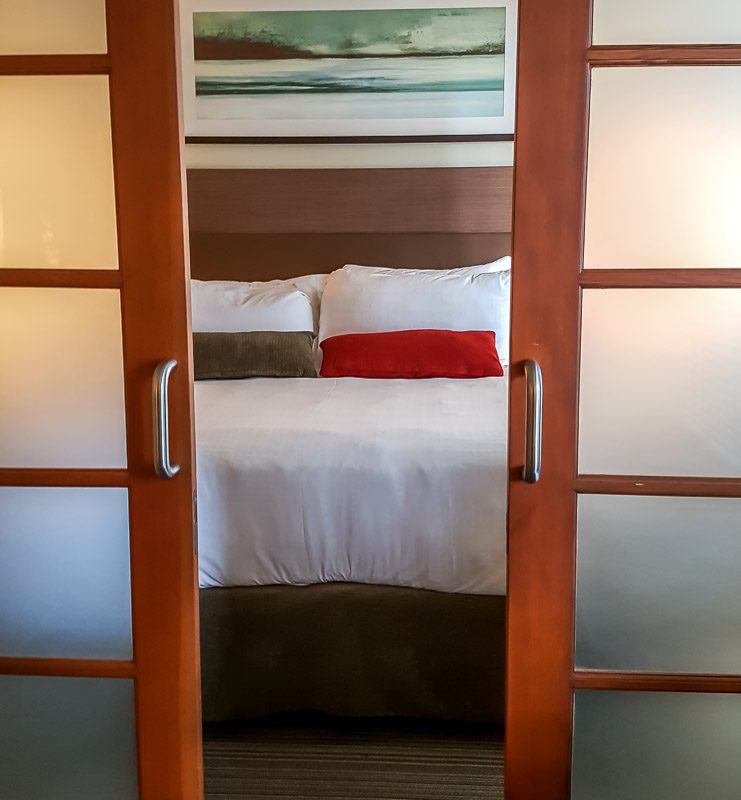 Room Amenities at West Coast :
Free Canada/USA calling
Large LED TVs with cable channels
Parking is $10/day plus applicable taxes
24 hour front desk
Guest launderette
Complimentary newspapers at reception
On-site vending facilities
Open year round
See prices and availability here.
Check out reviews on TripAdvisor.
What's nearby?
We were pretty busy around the University of British Columbia itself, before we even headed into Vancouver proper for our downtown Vancouver family day trip. There's a full list of what we did on campus below, but our highlights included the Museum of Anthropology, the Beaty Biodiversity Museum and the Greenheart TreeWalk at the UBC Botanical Garden. Click here to skip to our list of fun family activities and attractions near UBC.
There's also a lot to eat on campus at the UBC, with dozens of cafes, restaurants and food trucks. Click here to see all the great eats on the UBC campus.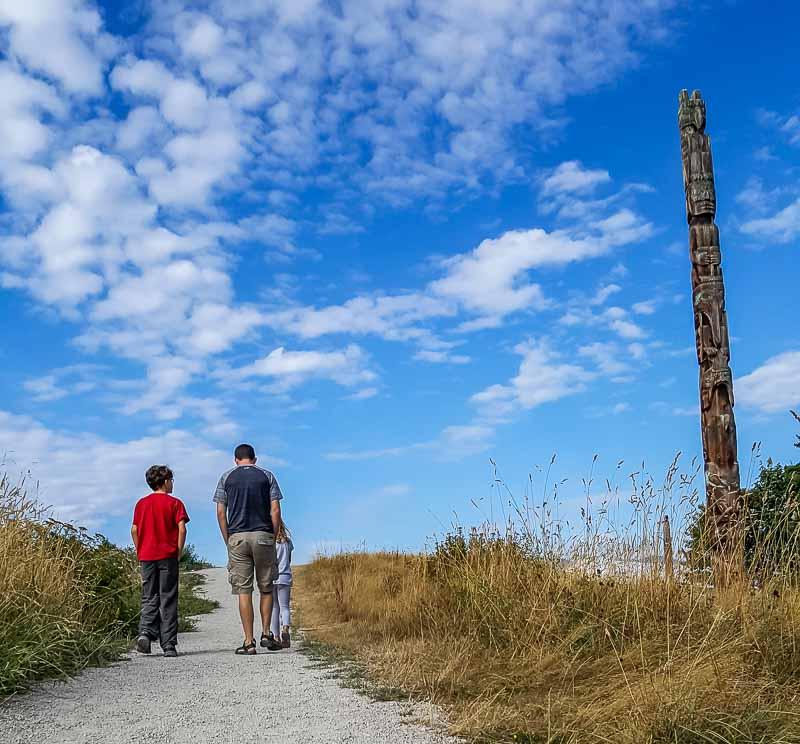 West Coast Suites at UBC is a short drive from downtown Vancouver, but located on some of the most beautiful land in Vancouver. The University of British Columbia pretty much owns the entire western tip of the Point Grey Peninsula. Within walking distance, there are rose gardens, Japanese rock gardens, botanic gardens, canopy walks, regional parkland, hiking trails, plus all the amenities below. The Museum of Anthropology is a ten minute walk from West Coast Suites, and Pacific Spirit Regional Park is two and a half kilometers (one and a half miles) away.
Shopping
One thing we were a little uncertain of was if there was shopping nearby for groceries and other necessities. Luckily for us, it's a short drive (or even walking distance, if you're so inclined) to Wesbrook Village shopping center, which has a Save on Foods grocery store, plus plenty of shops.
Vancouver with kids – at UBC Campus
We had a blast being in Vancouver with kids at the UBC Campus. There's a lot to do on the University grounds, and we've listed some of our favorites below. You can check out the other UBC attractions here.
Tip! If you're planning to visit several UBC attractions, look into the UBC Museums and Gardens Pass. You can buy adult, concession (senior, youth or student) or family passes. The pass gives you admission to the Museum of Anthropology (MOA), the Beaty Biodiversity Museum, the Nitobe Memorial Garden and the UBC botanical garden. It also gives discounts on food, books, clothing and the canopy tree walk.
On campus events and the Eclipse!
We were lucky enough to visit UBC during the 2017 solar eclipse. The astronomy society was handing out free eclipse viewing glasses just a short walk from our hotel at West Coast Suites, with displays and plenty of folks on hand to help.
While the eclipse was the big event when we visited (the people in the picture below were all gone an hour later), be sure to check what's going on at UBC during your visit. There's almost always something fun and interesting happening on campus.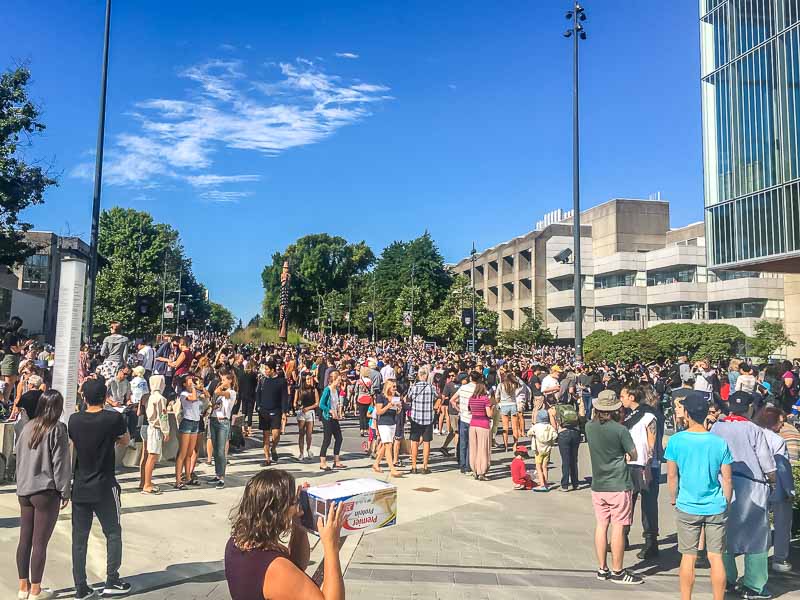 Beaty Biodiversity Museum
The first thing you'll notice at the Beaty Biodiversity Museum is the blue whale skeleton that looms over the entire facility. There's an interesting documentary to watch inside about how the fossil was found, unearthed, cleaned and installed. Inside the vault-like downstairs, there are more than two million specimens of plants, marine invertebrates, insects, birds, fish, vertebrates, fungi, and fossils.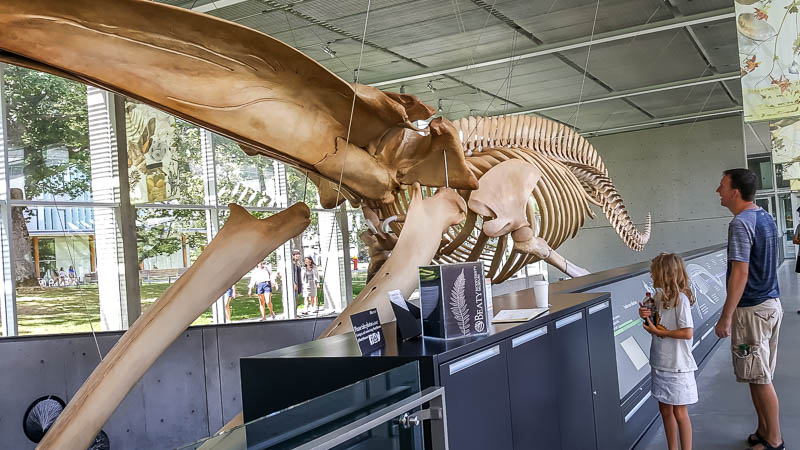 Museum of Anthropology (MOA)
We were especially taken by the stunning displays of First Nations totem poles inside the main floors of the MOA. It's an impressive collection, as the MOA houses 38,000 ethnographic objects, as well as 535,000 archaeological objects inside. It houses collections from multiple cultures, but is best known for the large and impressive collection of art from First Nation band governments of the Pacific Northwest. The MOA building was designed by famed architect Arthur Erickson.
Tip: Don't miss the outdoor longhouse recreation behind the museum building.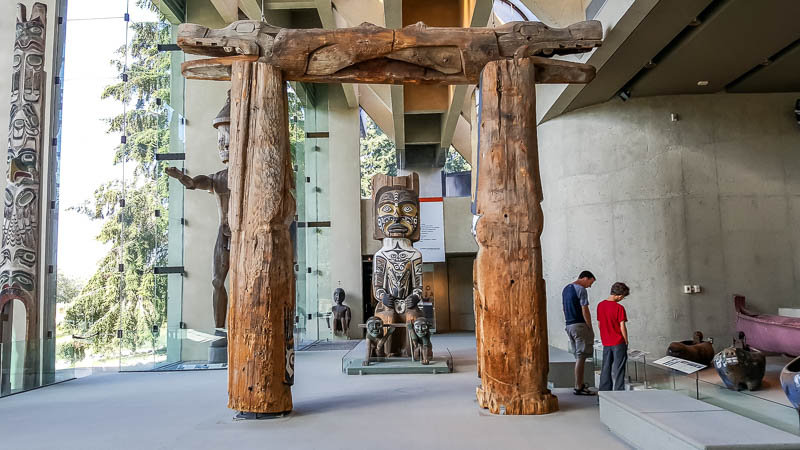 UBC Botanical Garden
Lovers of botany will adore the UBC Botanical Garden, as it covers nearly 110 acres (44 hectares) and has over 8,000 different plants.
We loved the long, serene winding trails under great big, shady trees, as it gave the kids (and us!) a chance to burn off some energy.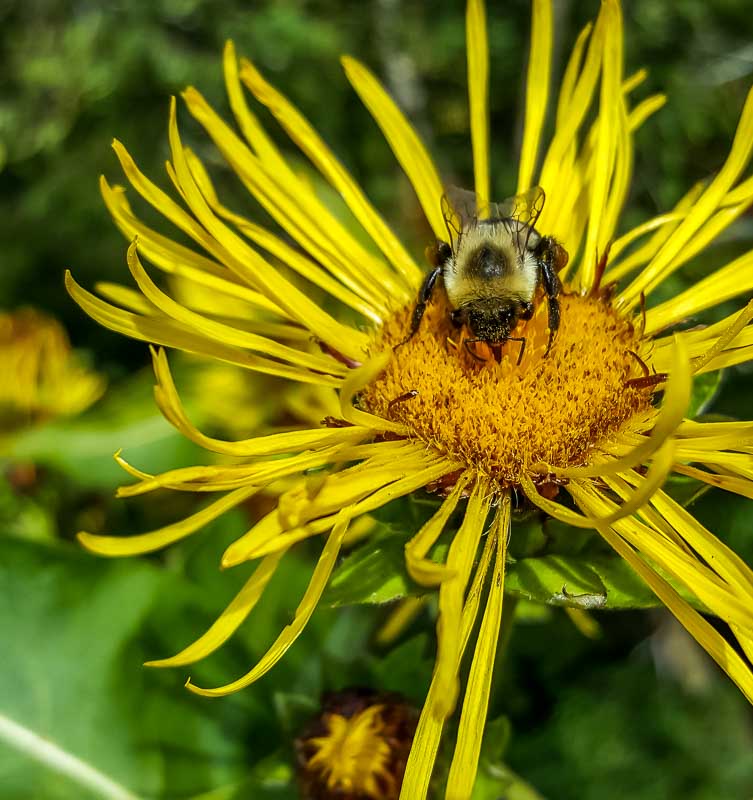 Greenheart TreeWalk
While you're there, don't miss the Greenheart TreeWalk! The kids had a blast tearing along this 310 metre (1,000 foot) long canopy walkway. The walkway is suspended from looming cedars, Douglas firs and grand firs (many of them over 100 years old), and reaches a height of almost 20 metres (65 feet). This isn't for the faint of heart, or lead of foot, but our eight year old managed it beautifully, even taking the lead and egging us on.
Tip! The Greenheart TreeWalk is not included in the UBC Museums and Gardens Pass; the pass offers a 10% discount on the treewalk.
Nitobe Memorial Garden
The Nitobe Memorial Garden is a traditional Japanese Tea and Stroll garden. It's officially part of the UBC Botanical Garden, but it's located separately, close to Wreck Beach.
UBC Aquatic Centre
New in 2017, the UBC Aquatic Centre has a kids area, diving pool, swimming pool, whirl pool, hot tub and a sauna. It's also only a two minute walk from West Coast Suites.
Farmer's Market
UBC farmer's markets serve up farm fresh produce at a weekly on-campus market from late spring to fall. We stopped by the pop-up market at the UBC bookstore, but there are also farm gate sales. Dates and details change, so check here first before you go.
Tip! There are also seasonal u-picks for blueberries, pumpkins, hops and more. If you're around on the weekend, the UBC Farm offers free public tours at 11:00 am each Saturday. Check the UBC Farm page for details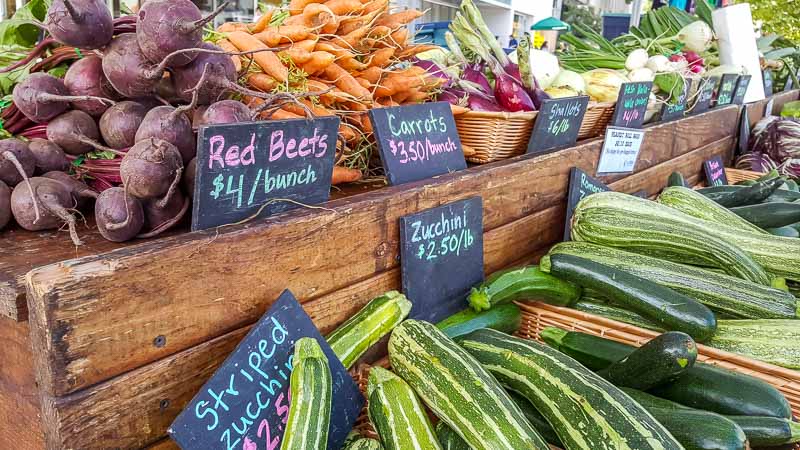 More UBC attractions
There are plenty of other attractions on campus, including the Chan Centre for the Performing Arts and the UBC School of Music. Check out the UBC attractions page for more.
Wreck beach
Well, what to say about Wreck beach? There are a few things you need to know before you go.
First, it's absolutely stunning, and well worth a look. Second, it's clothing optional, so do with that what you will. Third, the most popular access is by Trail 6 by a steep and difficult set of 473 stairs.
Fourth, it has quite the reputation around Vancouver for it's alternative culture, which includes the clothing optional scene, but also extends to a hippie culture of body painters, beach casinos, and a relaxed attitude toward pretty much anything. Read into that what you will but everyone we talked to said it was a cool place to hang out on a hot day and the unobstructed Pacific Ocean views from the beach are breathtaking.
Vancouver Family Vacation
There are hundreds of other things to do on a family vacation in Vancouver. I'd say the top, don't miss family attractions, are the Vancouver seawall, the Vancouver Aquarium, Science World at TELUS World of Science, Stanley Park, the Capilano Suspension Bridge (or the free Lynn Canyon Suspension Bridge) and Granville Island. Our comprehensive post on family things to do in Vancouver is coming soon!
While at West Coast Suites, we took the car downtown (it's a short 15 minute drive if traffic is good) a few of times to visit friends, and check out a few downtown attractions. Most people just jump on a bus and grab the Skytrain around town.
Vanier Park
Vanier Park is in the Kitsilano neighborhood in Vancouver, and home to the Museum of Vancouver, the Vancouver Maritime Museum, the City of Vancouver Archives, and the H.R. MacMillan Space Centre. There's a lot of green space here, making it perfect for a relaxing day under the trees.
If you go during summer, check to see if the International Children's Festival is happening in the park.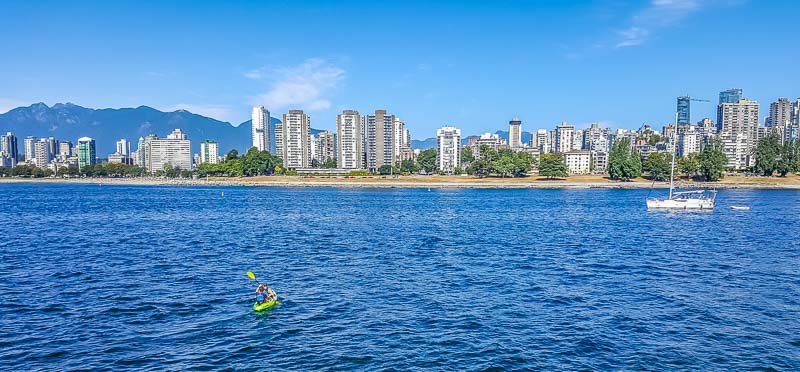 Kitsilano Beach Park
Kitsilano Beach Park is just to the West of Vanier Park (you can easily walk from one to another). It's a long, lovely stretch of sand that faces picturesque English Bay.
Yaletown
We even got a chance to check out a little nightlife in Yaletown, when we popped out for supper with a friend. Yaletown is one of the busiest parts of Vancouver, and packed with trendy restaurants and bars in old warehouse buildings.
Food at UBC
Food on the UBC Campus is divided into two main groups: outlets owned by the Student's Union, and outlets under the ubrella of the University's Food Services.
UBC Food Services
UBC Food Services has over 40 outlets on campus with everything from chains like Starbucks and Tim Hortons, to mini marts, to full service restaurants, to food trucks. Many get their ingredients from the on campus UBC Farm, and fresh seafood is 100% Ocean Wise certified. We couldn't try all 40 places to eat (unfortunately!), but we did get a chance to check out a few.
The Hungry Nomad
Where else would us Barefoot Nomads go to eat than the Hungry Nomad?
This food truck serves up delicious vegan poutine, with large portions for around $6. We bought two poutine as a snack, but there was far too much for the four of us (two adults and two preteen kids) to eat. Great value.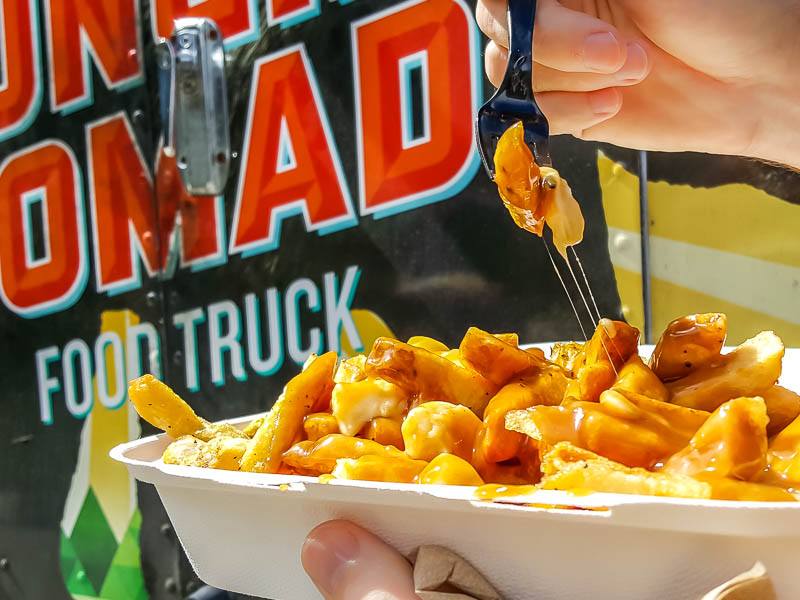 Harvest
We came in quite late one night after a long walk around the UBC Botanical Gardens, and wanted nothing more than to put our feet up and relax in our room. Luckily, Harvest was on the way home, and we grabbed a rotisserie chicken, roast vegetables, a tasty chickpea sandwich, and two bean burritos for the kids. Perfection!
Mercante
This is the place to go on campus if you've got a craving for authentic made-to-order traditional Italian pizzas cooked in a hot stone hearth oven. Each pizza is a great value at about $12, and we only needed two to stuff two adults and two preteen kids to the gills.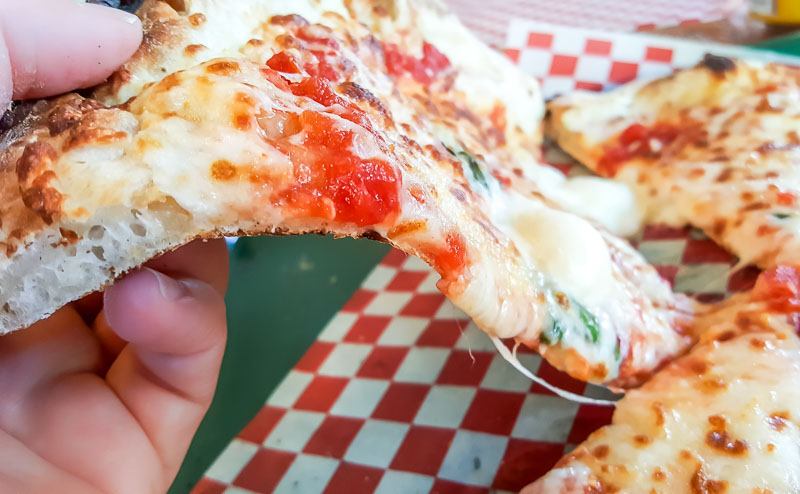 AMS Student Union
UBC's student's union (AMS) has several foood and drink eateries located in the Nest (the main student's union building), including the Grand Noodle Emporium, Uppercase, Honour Roll, The Pit, Palate, and Ph Tea.
Being the coffee and baked goods lovers that we are, we made a quick beeline for Uppercase, which had an impressive display case of baked goods and bagels. Was it good? Let's just say that I was contemplating a move to the UBC campus so that I could make this a daily staple.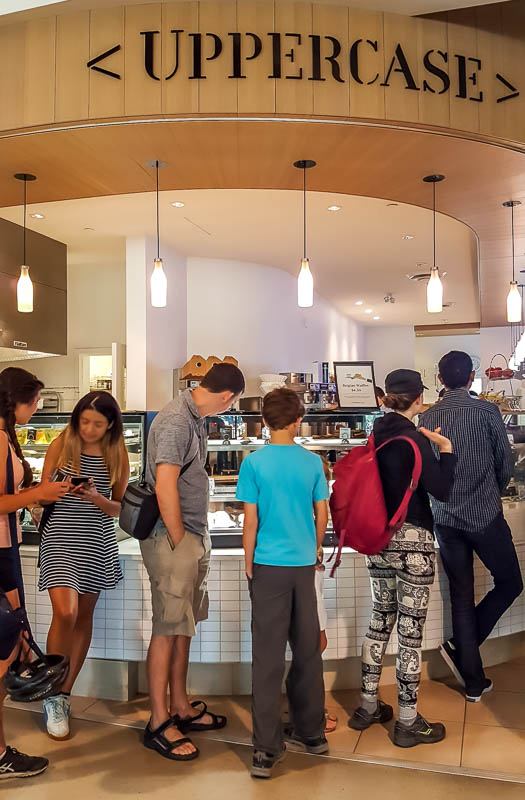 UBC Vancouver Accommodations
We found West Coast Suites one bedroom suites to be perfect for our family, but UBC has other accommodation choices as well.
Pacific Spirit Hostel at Place Vanier Residence
With rooms starting at $39 a night, this is a fantastic value in sometimes expensive Vancouver.
The Pacific Spirit Hostel has private single rooms or private twin rooms. There's a shared lounge with LCD TV and on site laundry. Linens, towels and bath amenities are provided. Parking is $10 a day plus taxes, or you can buy a weekly permit.
Ponderosa Residence and Walter Gage Residence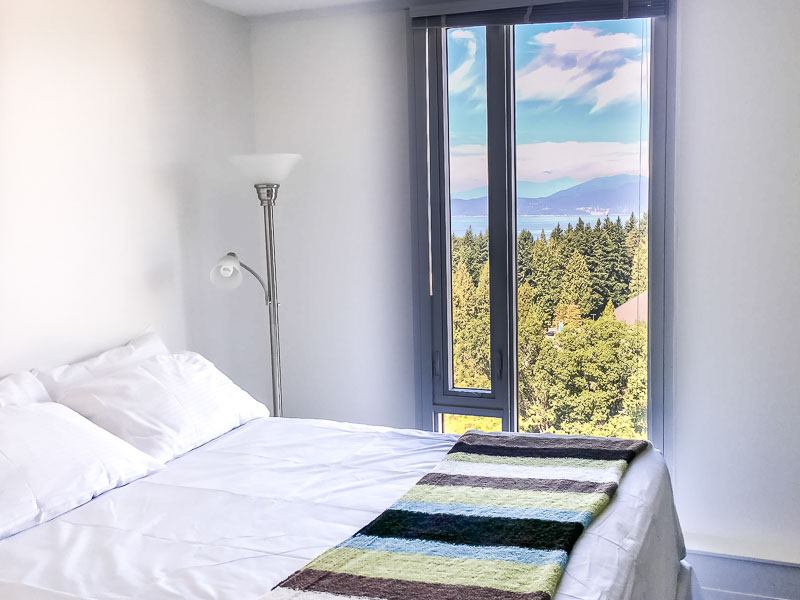 Private suites at Ponderosa Residence and Walter Gage Residence are only available from May 15 to August 25 each year. There's a wide range of places to stay here, including studios, one bedroom and two bedroom units.
Units have a full kitchen with complimentary high speed WiFi, LCD TVs and free Canada/USA calling.
Accessible suites are also available. Parking is $16/day plus applicable taxes at Ponderosa. Parking is $10/day plus applicable taxes at Gage.
What you need to know
West Coast Suites is on the UBC Campus, at 5961 Student Union Blvd, Vancouver.
West Coast Suites is easily accessible by car, but can also be accessed by transit, with a major bus exchange located on campus.
Have you stayed at West Coast Suites UBC? What did you think?