Do you enjoy bourbon, rye or single malt Canadian Whisky? How about vodka, gin, brandy or delicious fruit liqueurs?
Now, what are your thoughts on locally made craft spirits sourced straight out of people's backyards? Interested?
Okanagan Spirits, out of Vernon, BC is western Canada's oldest craft distillery and the quality comes through both in the taste and in the story of how this small family owned distillery has become a driving force behind the provinces' burgeoning small craft distillery market.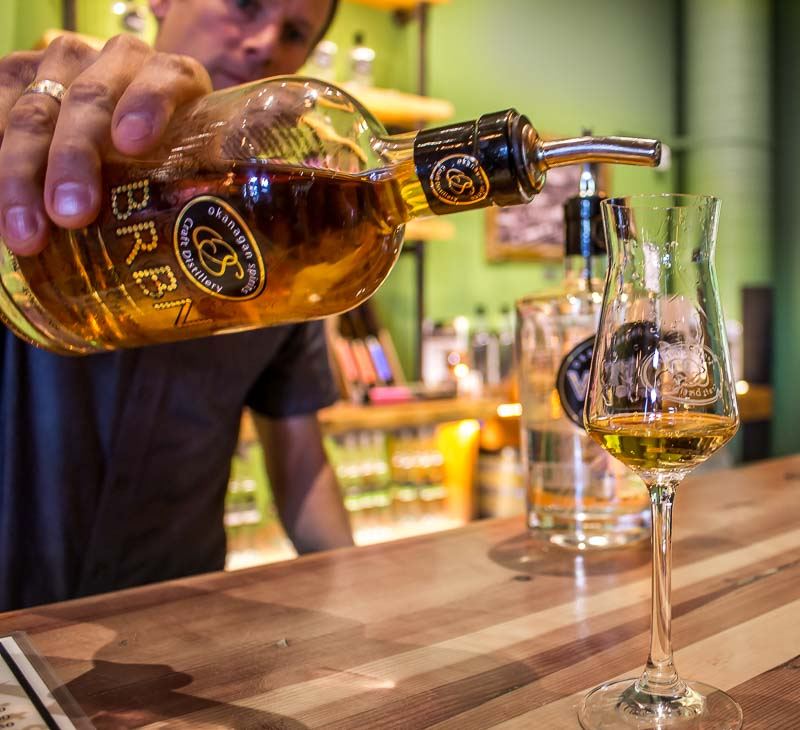 We were lucky enough to find ourselves at the impressive new 16,000 square foot Okanagan Spirits Vernon location and had the opportunity to try out some of their newer lines, as well as some of the classics, while talking with the family who helped bring this product to life.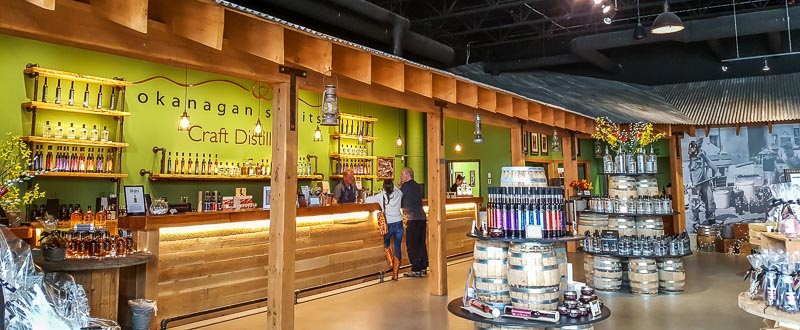 We visited our local Kelowna's Okanagan Spirits branch a few years back and loved trying out all their specialty craft liqueurs. Well, two years on, we're still big fans and the fact that all of Okanagan Spirits' ingredients are 100% locally cultivated here in our home province of British Columbia makes it all the better. We especially love that the majority of their spirits retain a little of their fruit heritage.
The Okanagan Valley is a 200 km (125 mile) long mountain valley boasting a string of crystal clear mountain lakes, pine forests and stunning mountains in the southern interior of British Columbia, Canada. It's best known for some of Canada's warmest weather and it's hundreds of world class wineries centered around the valley's largest city of Kelowna. It's also the home to the majority of Canada's fruit orchards, all bursting with apples, cherries, peaches and apricots.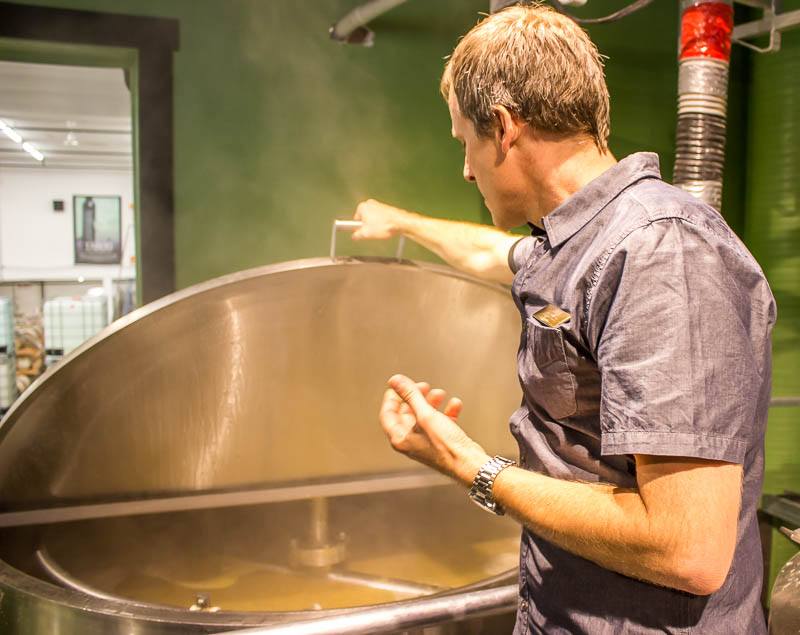 At Okanagan Spirits family owned distillery, all alcohols are made from local 100% British Columbia grains and fruit. The produce comes from local farmers, growers, orchardists and often even from some local's backyards.
When they couldn't source enough rhubarb from local growers, the company put a out call out to local gardeners. Soon, they were inundated with locally Okanagan grown rhubarb for their award wining rhubarb liqueur. Likewise, they've traditionally made their apricot brandy from a local 100 year old apricot tree.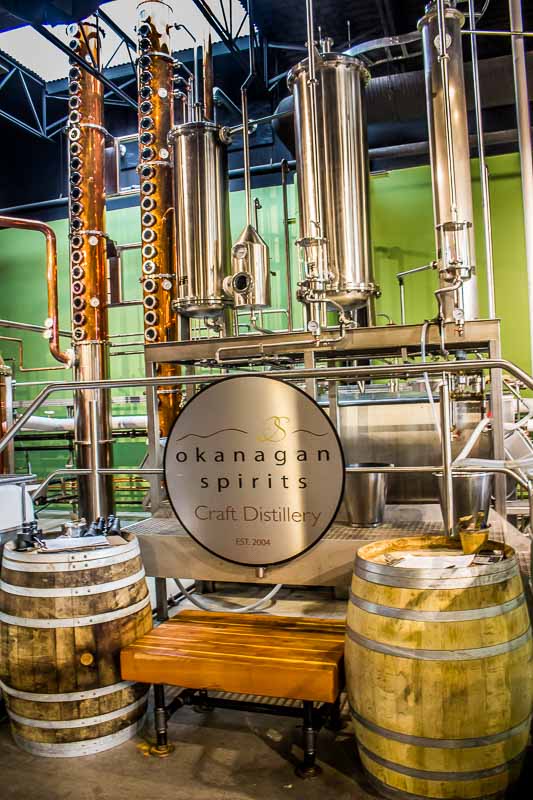 Today, Okanagan Spirits is North America's only World Class designated distillery and masterclass designated distiller from the World Spirits Awards in Austria.
We met with Tyler Dyck, whose family has been at the center of Okanagan Spirits from the beginning. Tyler says that the demand is especially strong for gin, vodka, and whiskey spirits. In fact, their Canadian whiskys are so popular they can't keep up with demand, especially for their award winning Laird of Fintry single malt.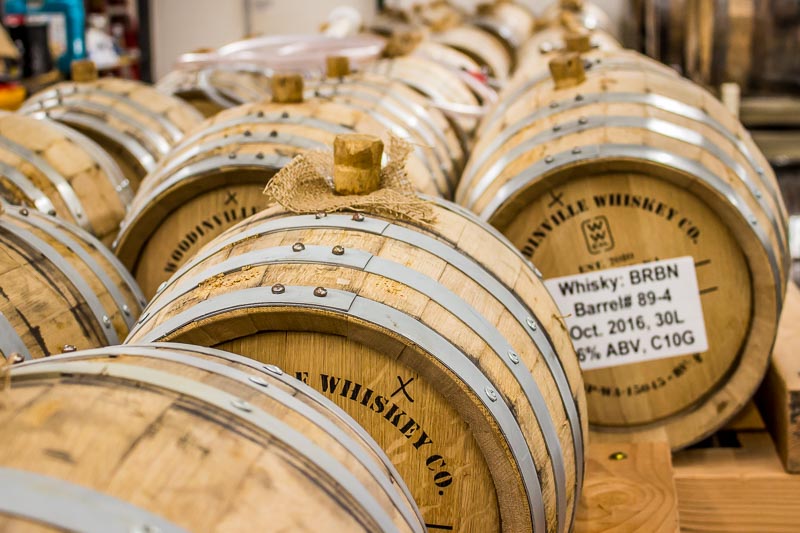 Luckily for us, they hold back a percentage of every release so you can still try Canada's first bourbon style corn whisky (BRBN), Western Canada's first single malt whisky (Laird of Fintry) and their fabulous Canadian Rye whisky (Okanagan Spirits Rye) at either their Vernon or Kelowna branch.
What's in a name? You'll notice that Okanagan Spirits spell whisky without the ey at the end. Guess what, both whiskey and whisky are allowed spellings. Traditionally, the Scots spelled it whisky while the Irish spelled it whiskey. American whiskey's traditionally end with the extra "e" as well, and most Canadian and European countries spell it whisky.
Laird of Fintry single malt whisky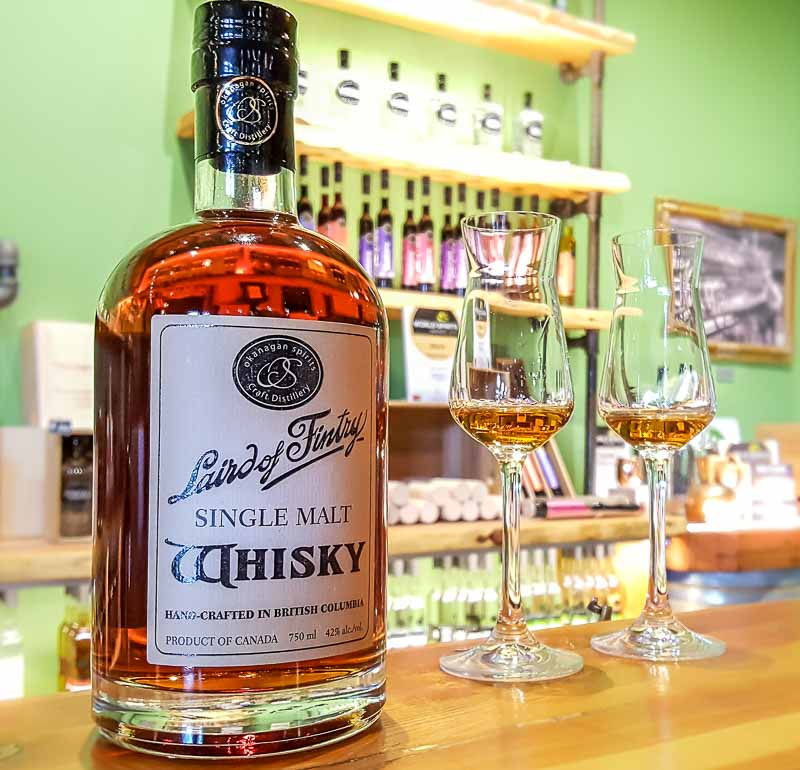 The quality of Okanagan Spirits whiskey-based liquors hasn't gone unnoticed in some pretty notable quarters. During a Royal visit to the Okanagan Valley in 2017, Prince William and Kate had a chance to sample the spirits, with William saying he "liked the Laird of Fintry, and Kate thought the blackcurrant liqueur was lovely" says Tyler.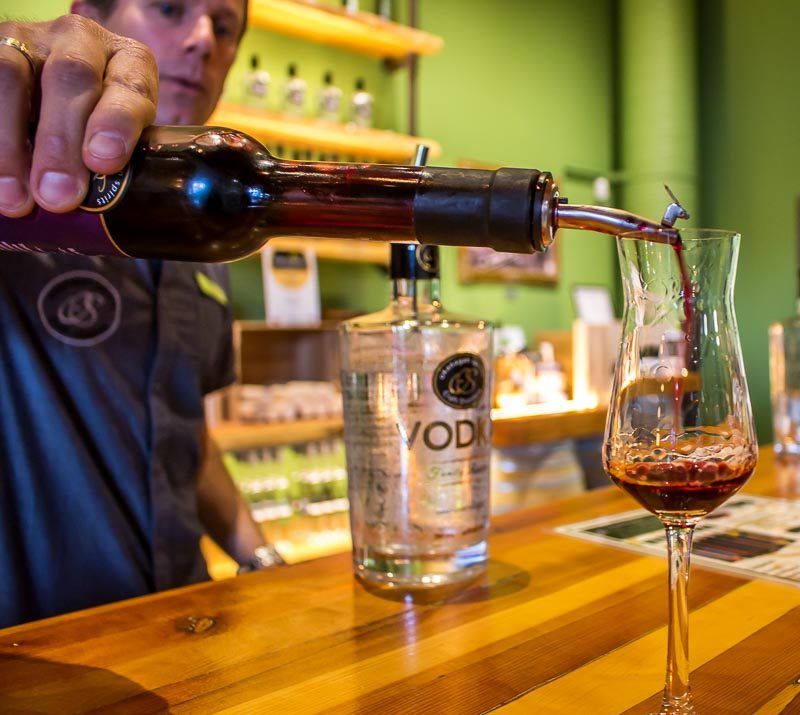 There's no denying that the Okanagan Spirits Canadian whiskeys are hugely successful, not only with customers who love their unusually smooth quality, but with judges at the World Spirits Awards in Austria.
The Laird of Fintry Single Malt Whisky was the first Canadian Whisky to receive a gold medal at the World Spirit Awards. It's one of eight awards taken home from the World Spirit awards in 2017, including five gold, one silver and two bronze.
Tip! Want to get your hands on the award winning Lord of Fintry whisky? Click here to join their newsletter and you'll find out when the next batch is ready.
BRBN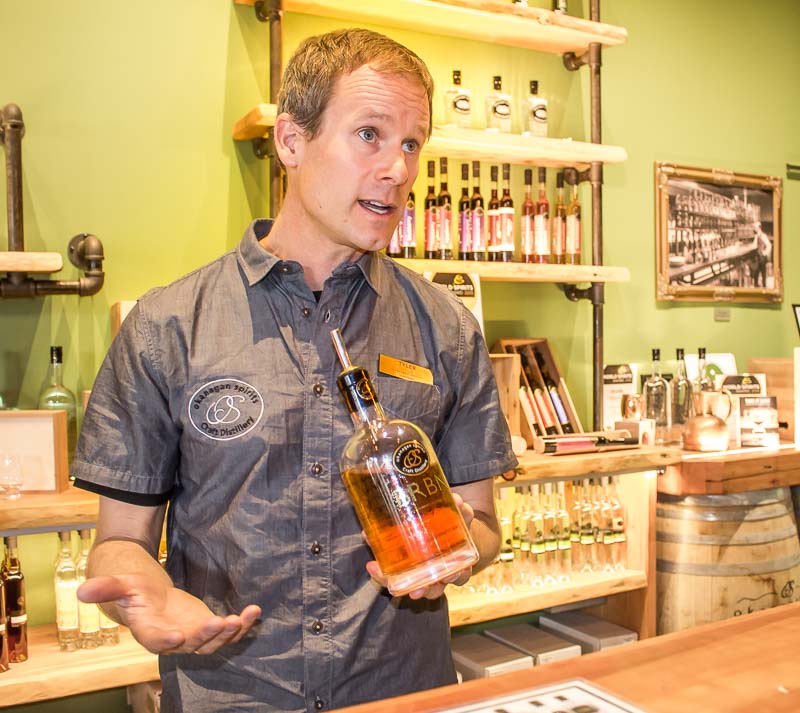 Since bourbon can't officially be called so in Canada unless it's US made, similar to how sparkling wine can't be called Champagne unless it's made in France, a fortified wine can't be called Port unless it originates in Portugal or Scotch has to be made in Scotland, Okanagan Spirits has had a little fun with the name and BRBN is the result.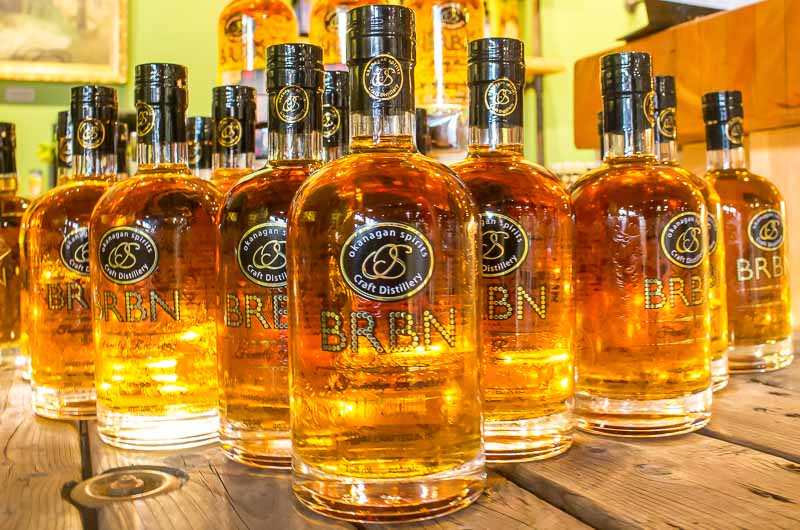 Regardless of how it's spelled, Okanagan Spirits BRBN is made in the traditional bourbon way using corn and barley all sourced just miles from their shop. Milled onsite, once fully fermented it's left to mature in carefully selected white American toasted oak casks. If you fancy yourself a bourbon lover, you'll love it's sweet honey and molasses flavour with just a touch of burnt caramel.
Scroll down for our Suburban BRBN Iced Tea Lemonade Recipe for a tasty summer drink!
Okanagan Spirits BC Rye Whisky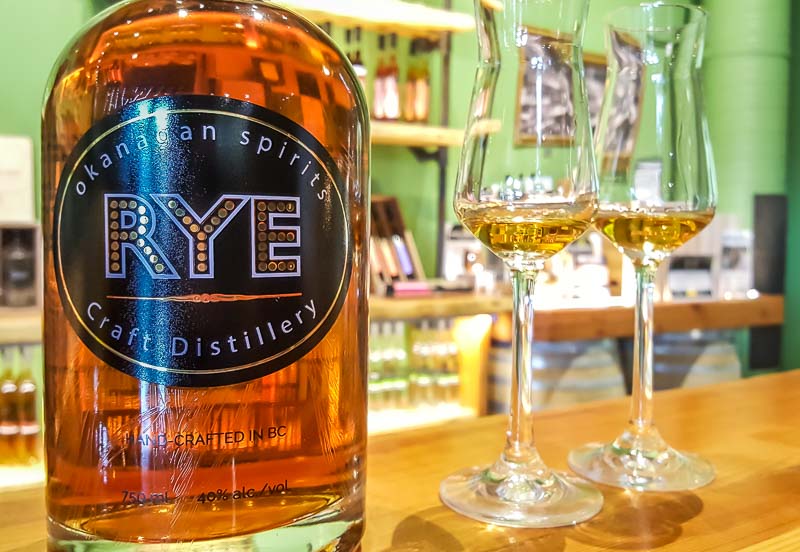 Canadian rye whisky is known the world over. While you'll find a Canadian whiskey behind nearly every bar around the world, Okanagan Spirits rye isn't setting out to imitate what has come before. With their own blend of locally harvested rye and malted BC barley, there's a lot of love that goes into every bottle.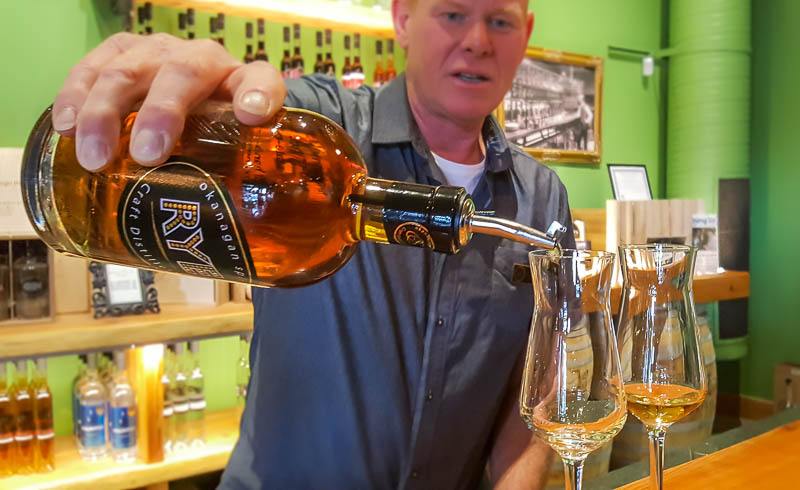 This love is apparent when you get a chance to sample the Okanagan Rye for yourself. Like all of Okanagan Spirits alcohol, extra time is taken to remove all the impurities resulting in some of the highest quality spirits you'll find this side of the border.
Visit for yourself to get a world class tour and tasting, and ask any of the helpful and knowledgeable staff about the fermentation and distillation process and how the team at Okanagan Spirits goes that extra mile to ensure that only the best of the best ever sees the inside of a bottle.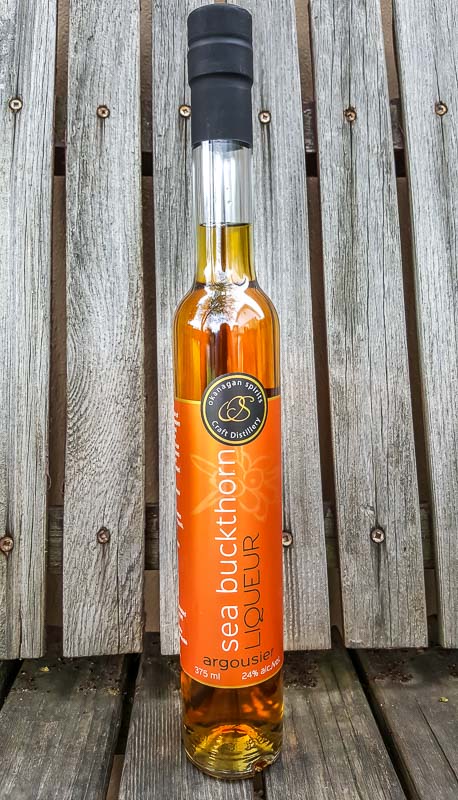 While you're there, be sure to try the amazing sea buckthorn liqueur. You'll most often see sea buckthorn touted as a new super-antioxidant used in top tier skin care products. In a liqueur, it's honey-smooth taste is finished by a note of almost citrus. It's light, not cloying, and will make you want more!
The story and the team behind Okanagan Spirits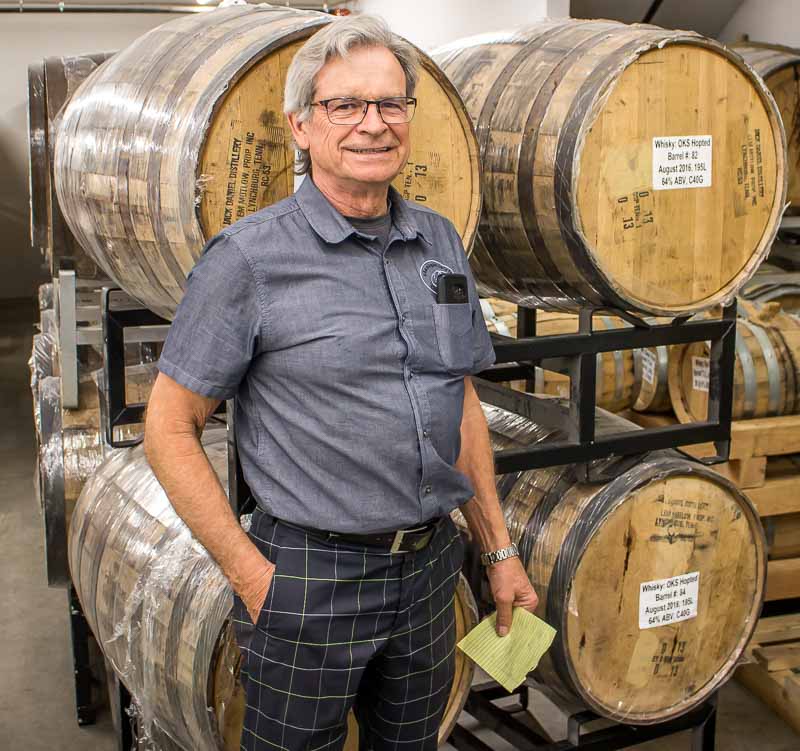 Okanagan Spirits is a true local success story. It was started with a group of like minded investors led by the Dyck patriarch, Tony Dyck, back in 2004. A few years later, Tony and the family bought out the rest of the group and now Okanagan Spirits is wholly a family owned (and run) business.
The Dyck family has been part of the Okanagan Valley for close to a century, with roots among family and friends in the early days of back yard stills and moonshine so in some ways you can say they're carrying on a long family tradition.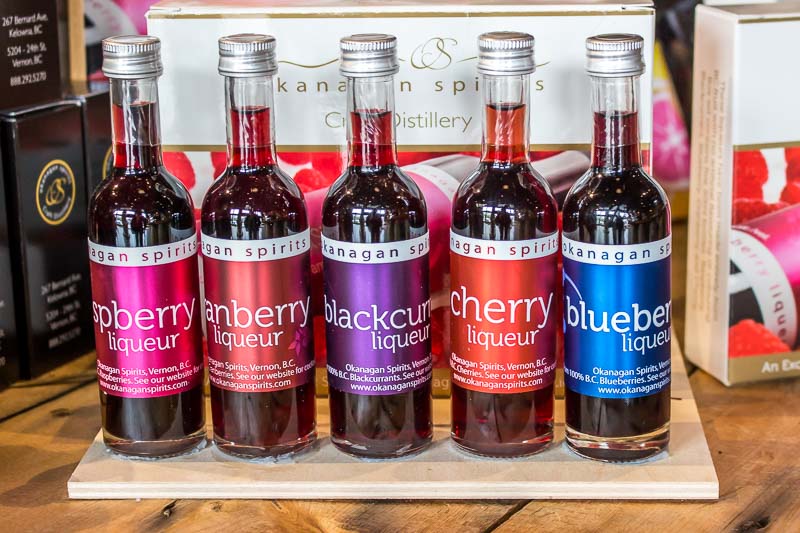 In 2004, the new distillery started with Eau de Vie fruit brandy, aiming to blend high quality spirits with local origins. Over time, customer demand saw them expand to spirits like gin, vodka, whiskey, absinthe and their many delicious fruit liqueurs. The fact that the majority of their liqueurs are fruit based rather than grain based means a little of that lovely fruit flavour remains present in every product.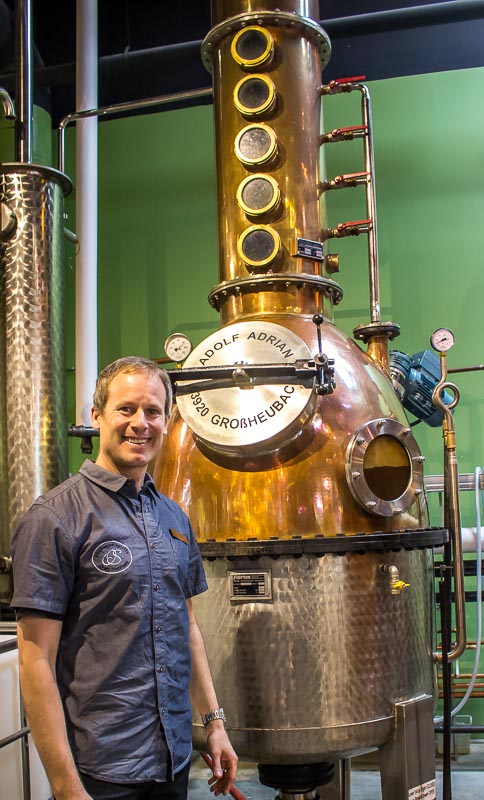 Today, son Tyler Dyck (CEO) has a hand in what seems to be every aspect of the business and even heads the Craft Distiller's Guild of BC to help bring about change in how BC deals with local craft distillers.
Extended family, like Tony's sister Mary are often on hand to help out and when large events occur, every one in the family gets called in. Last year, the distillery was part of about 80 fundraiser and charity events.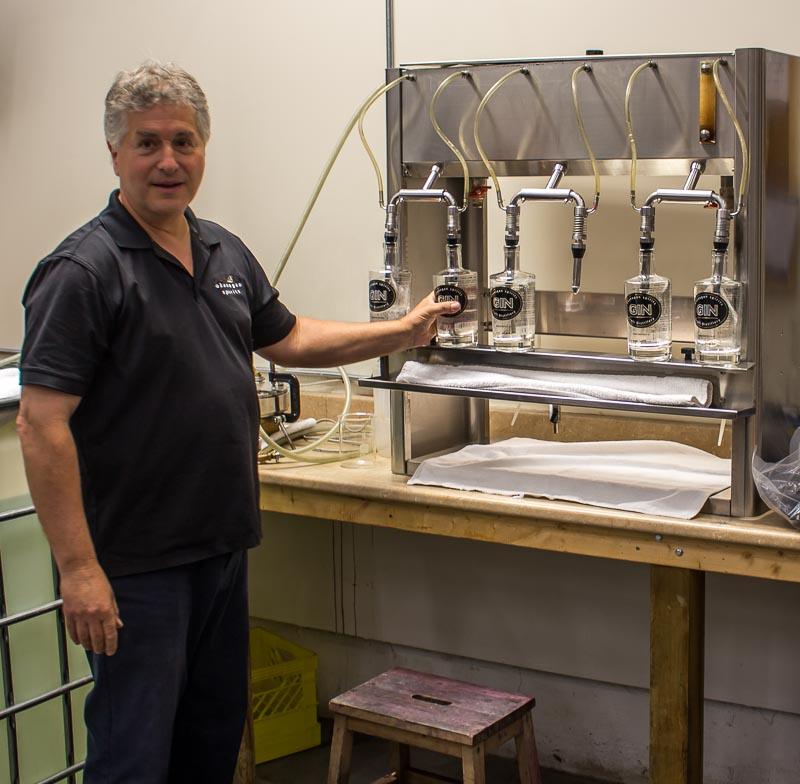 Master distiller Peter von Hahn has been the creative mastermind behind a lot of the products and is a major part of Okanagan Spirits focus on quality. He is Canada's most awarded Craft Distiller and the only distiller in North America with both the Master Class and World Class Distillery designations from the European Based World Spirits Awards.
In person, von Hahn is both engaging and personable, with plenty of travel stories, and it's easy to see where the creativity at Okanagan Spirits alcohols originates.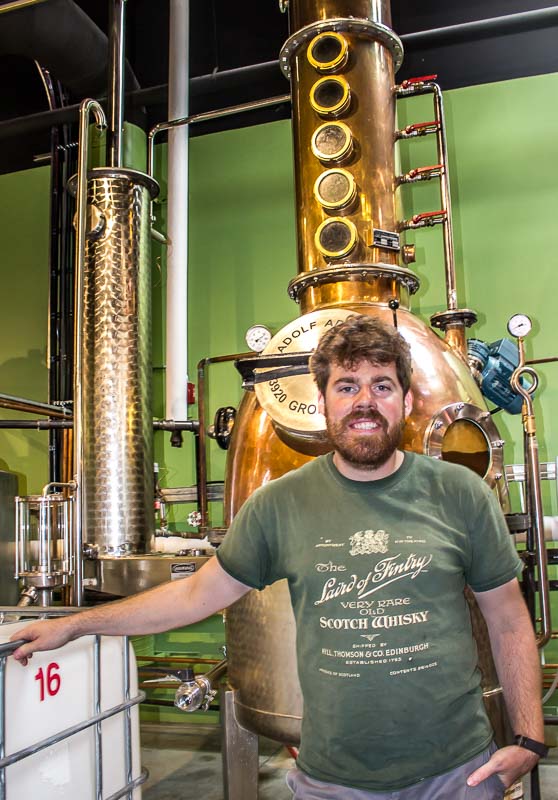 Junior Distiller Christopher Burke is in charge of Okanagan Spirits' expansion into one of Micki's favorite Okanagan Spirits whiskeys, the Bourbon-style BRBN. With a degree in Brewing and Distilling from Heriot-Watt University in Edinburgh, he brings a European sensibility to the team.
Despite talented distillers and family teamwork, getting a new craft distillery up and running hasn't always been an easy ride. The Dyck family has pushed for years for changes in liquor laws to allow craft distilleries to succeed in British Columbia. They're still struggling with provincial requirements that cap the amount of whiskey that craft distillers are allowed to produce and sell and have even formed the Craft Distiller's Guild of BC to help fight for those changes with the government.
A peek inside Okanagan Spirits Vernon distillery location
The new location in Vernon opened in 2015. It's an impressive facility, at over 16,000 feet with a gorgeous 1930's prohibition era theme.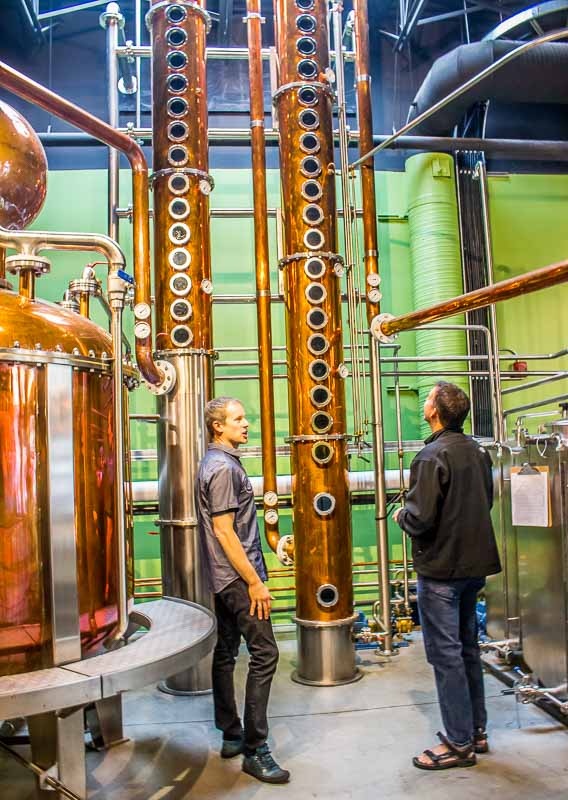 Without a doubt, the stunning showpiece of the distillery is North America's tallest copper pot still, a 24 foot, 50 plate distillation system. We've never seen anything like it. In fact, the distillation system is so tall they had to cut a skylight in the roof to accommodate it.
The distillation system was purchased from Germany and assembled on site in Vernon, as what Tyler says was like "the world's largest and most challenging LEGO set".
Each type of alcohol is carefully distilled in the behemoth distillation system and due to it's height and design, Okanagan Spirits can achieve a higher purity than many of it's competitors. This means a lot of their alcohols, and their whisky for sure, have a smoother finish with less of the burning sensation you get from less pure blends.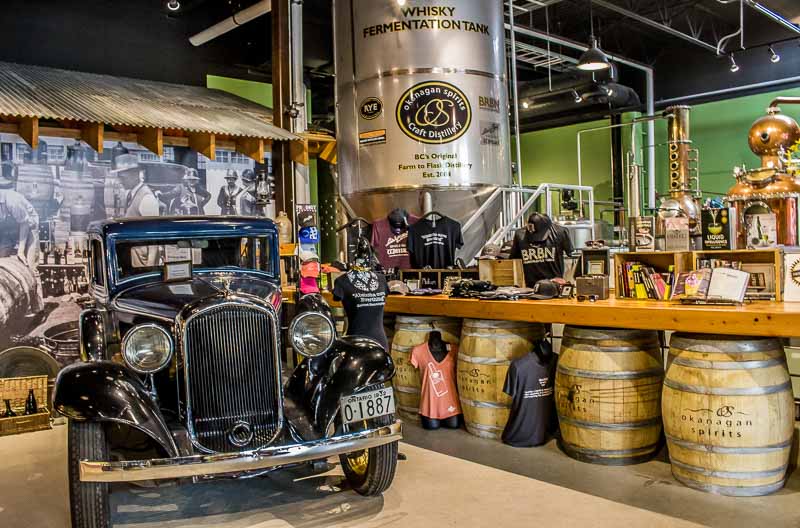 The distillery itself taps into the rich history of homegrown stills and bootleg moonshine in the Okanagan. The showrooms speakeasy style features a vintage car plucked from the dusty garage of an old family friend and a long bar set on aged barrels.
Want to see more? Peek inside the Vernon location.
Suburban BRBN Iced Tea Lemonade Recipe
We experimented with about five bourbon-based drinks at home for this post so we could bring you our own tasty BRBN-based summer cocktail (yes, lol, sometimes our job is tough), and this was by far our favorite. It's a light, refreshing summer cocktail that's easy to drink yet still allows a little of that bourbon flavour through.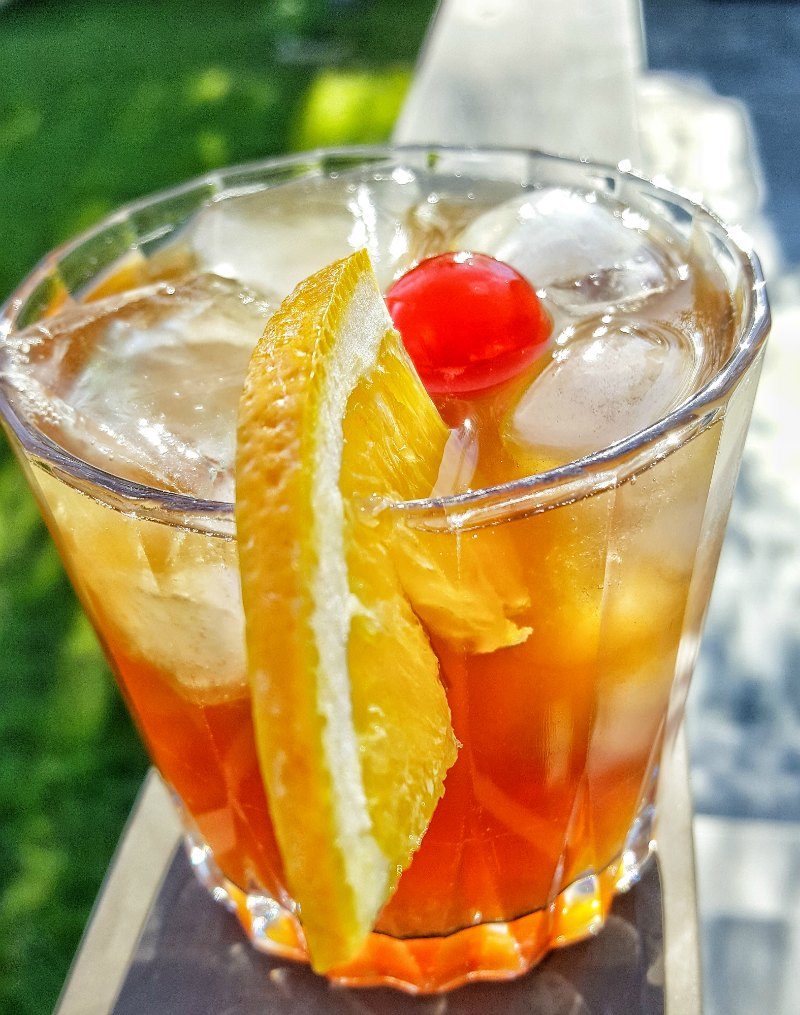 What you'll need:
2 cups boiling water
4 Earl Grey tea bags
1 oz BRBN
1 oz orange juice
1/2 oz lemon juice
1/2 oz simple syrup (you can also use 1 tbsp granulated sugar as a substitute)
Ice
Orange slices, for garnish
maraschino cherry, for garnish
How to make
Pour boiling water over tea, steep for five minutes. Take out tea bags and refrigerate for at least an hour.
In a highball glass, add 1/2 cup iced tea, bourbon, juices and syrup or sugar. Serve over ice and garnish with orange slice and maraschino cherry.
Tip! We used fresh squeezed orange and lemon juice, and it gave a nice flavor, but boxed juice works perfectly well.
Irish Buck
While this is traditionally a Saint Patrick's Day recipe, we love the combination of BRBN, lime and ginger ale for summer.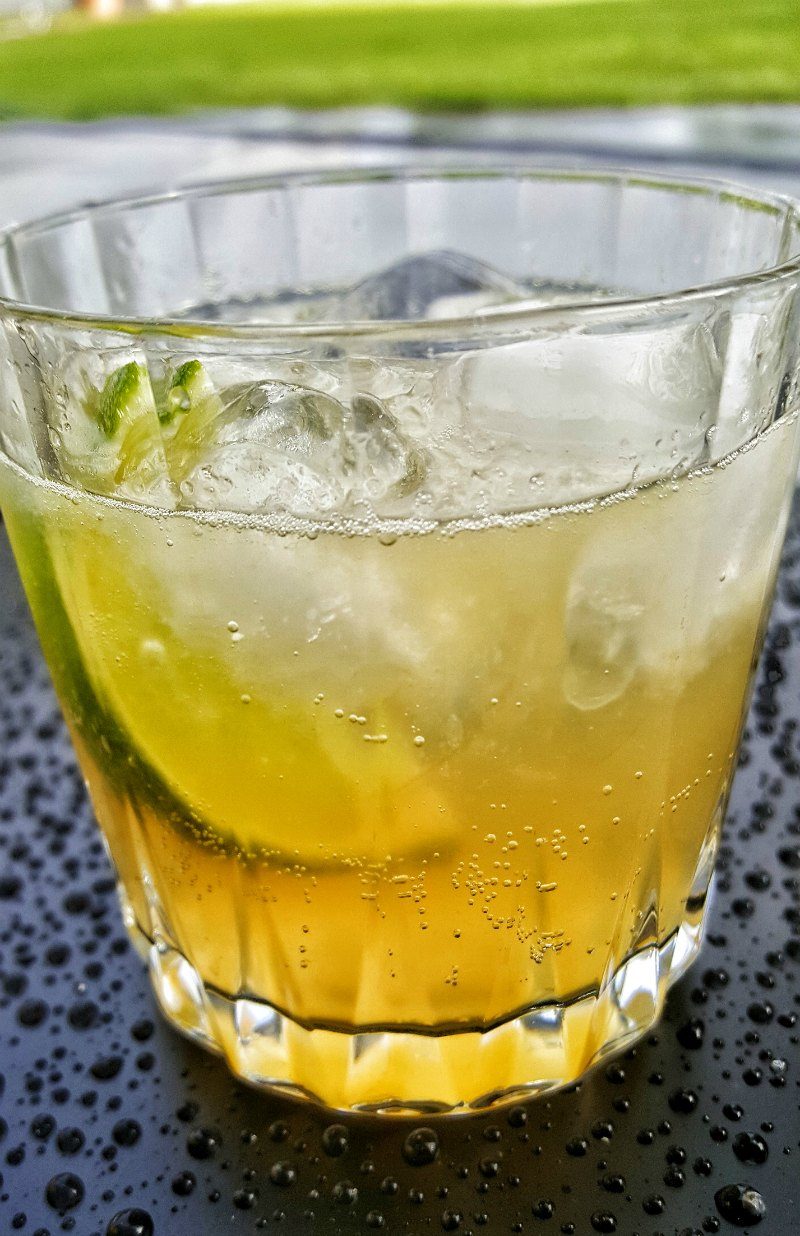 What you'll need
Ice
1 oz BRBN
1 tbsp fresh lime juice
5 oz ginger ale
lime wedge, for garnish
How to make
Fill a glass with ice, and pour over BRBN, fresh lime juice and ginger ale. Garnish with a lime wedge.
When to Visit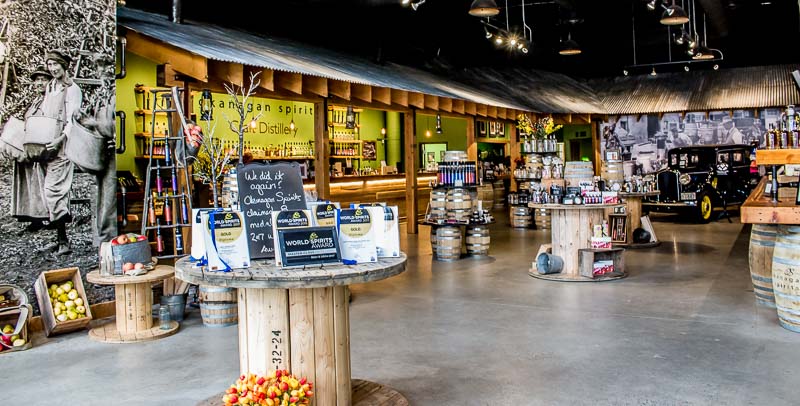 Visiting the Okanagan Valley in British Columbia, Canada this summer? Besides for hundreds of wineries, great beaches and some amazing hikes, make sure you check out Okanagan Spirits Vernon or Kelowna locations. They're open year round and besides for the taste rooms, they also have a lounge and patio in the summer.
You can check out our previous Okanagan Spirits Kelowna tour here and if you're trying to figure out what else there is to do in Kelowna check out this post we wrote last summer.
Want to find out more?
You can order Okanagan Spirits online, or pick some up at your local BC liquor store.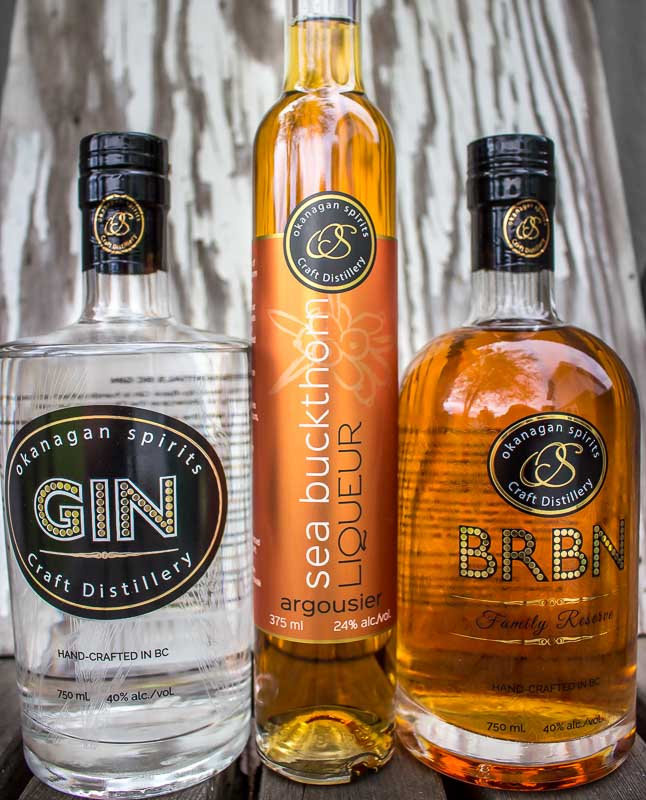 You can also visit Okanagan Spirits Craft Distillery in store in the new Vernon distillery location, or at their Kelowna storefront.
Visit them on their website, or on Facebook or Twitter.