I'm sitting at the beach bar at the Victoria House in Belize, enthusiastically attacking the best Greek salad I've had in years, and staring out at the impossibly crystal clear turquoise ocean.
Just out of my hearing, the kids are tearing up and down the white sand like two happy puppies. Later, we're all heading out for an afternoon boat trip to Shark Ray Alley to snorkel with nurse sharks and stingrays.
Yes, this is what luxury is like on Ambergris Caye.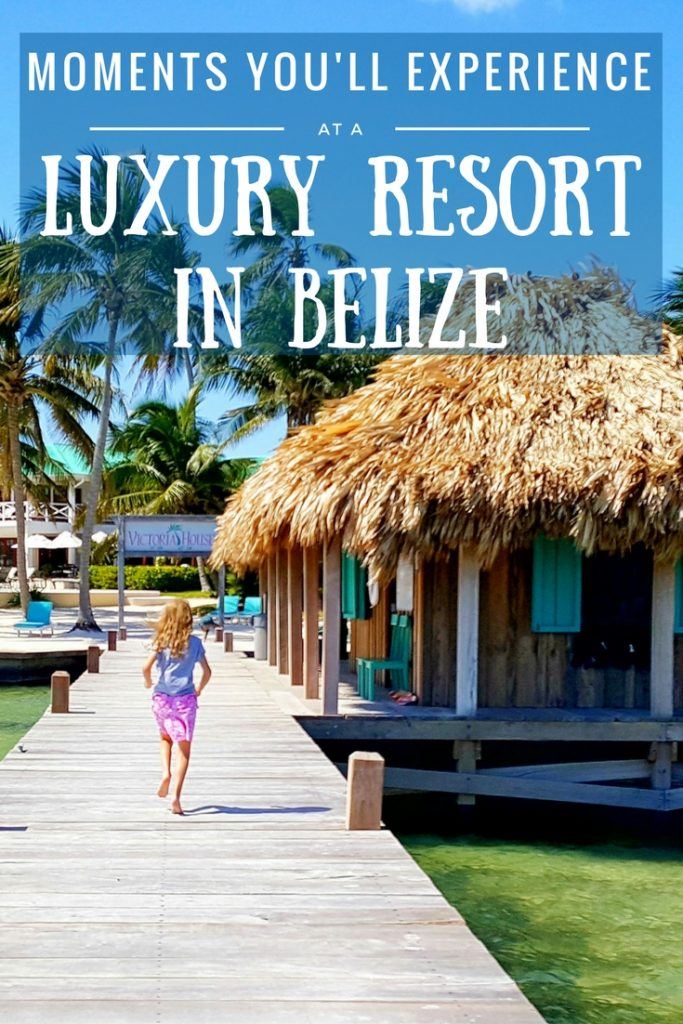 Victoria House awards and more
I should have expected something special here at Victoria House in Ambergris Caye, Belize. After all, this San Pedro resort has a swath of awards longer than my arm, including multiple TripAdvisor's Travelers' Choice Awards, Condé Nast Johansens Awards for Excellence, 2012 Travel + Leisure Magazine Top 500 Hotels and Resorts in the World, and a 2013 Fodor's Choice Award of Distinction. Not too shabby at all. You can check out the Victoria House reviews for yourself on Booking.com and TripAdvisor. Check prices here.
If you ever have a chance to check out a luxury hotel on Ambergris Caye in Belize, don't hesitate for a second. Grab your passport, your wallet, a swimsuit and your sense of adventure. If you do, there will come a moment when you'll totally understand what I'm writing about today.
Here are some of the amazing moments you'll experience.
Frolicking barefoot by the ocean
Hands down, the relaxed, Caribbean vibe on Ambergris Caye is my favorite part of the island. It's all about sunny beach days, playing in the water, reading great books, and letting all of your at-home responsibilities and worries slip away.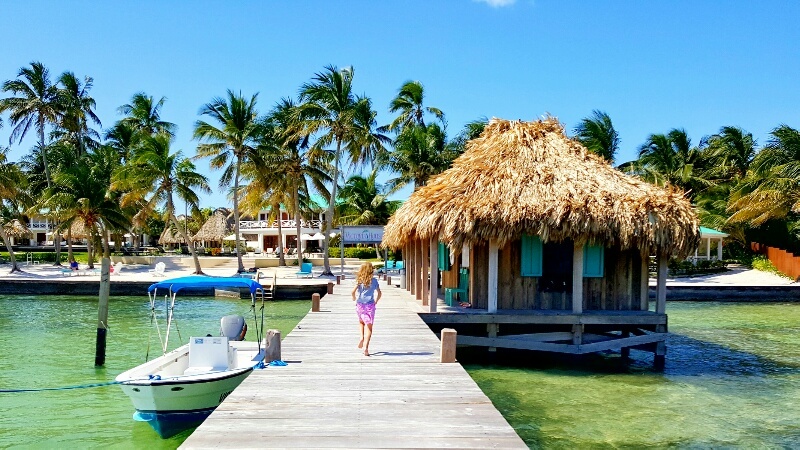 Finding the most gorgeous places to catch up on work or relax with a book
Hands down, the thatched roof palapa by the infinity pool at Victoria House was one of my all time favorite places to catch up on writing blog posts, surfing the net or catching up on reading.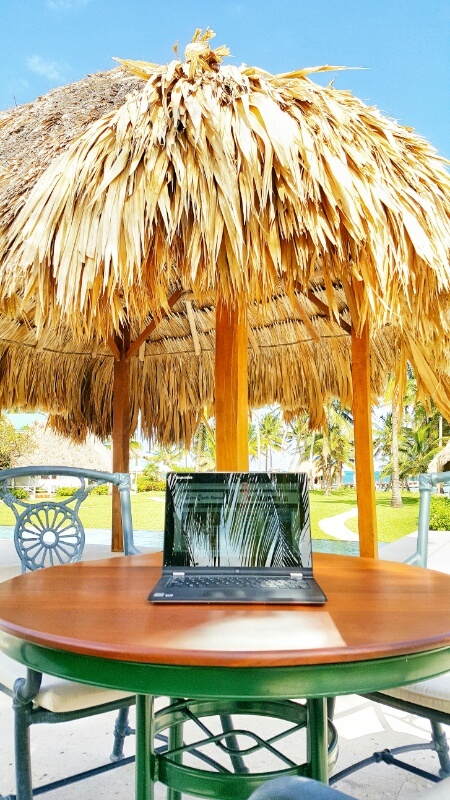 You'll feel like you're among old friends
It's hard not to feel welcome here. We were greeted with ice cold fruit drinks when we stepped into the lobby, and every single person I met greeted me with a warm smile.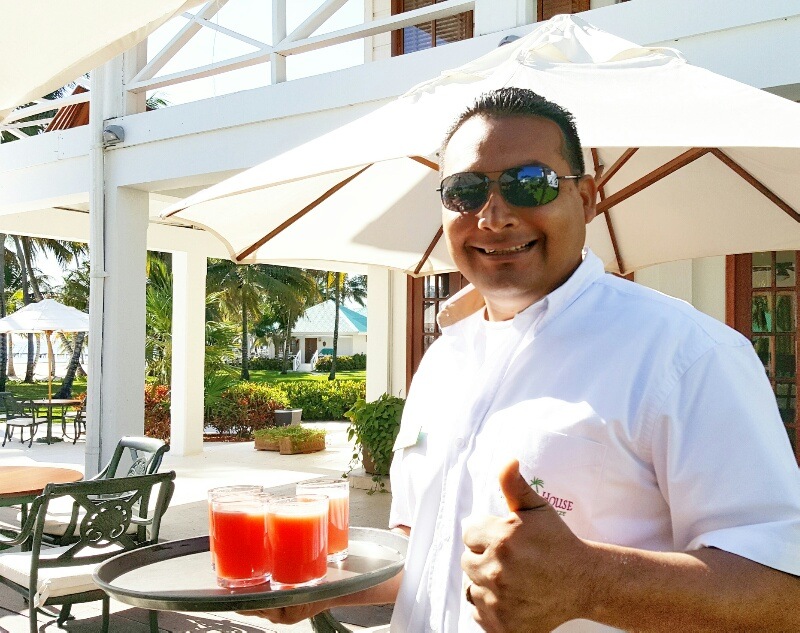 Eating snacks by the ocean
There's something wonderful about sitting by the ocean for lunch. Admiral Nelson's Bar at the Victoria House serves up some of the tastiest homemade snacks and lunches I'd had in a long time. Try the Greek salad. To. Die. For.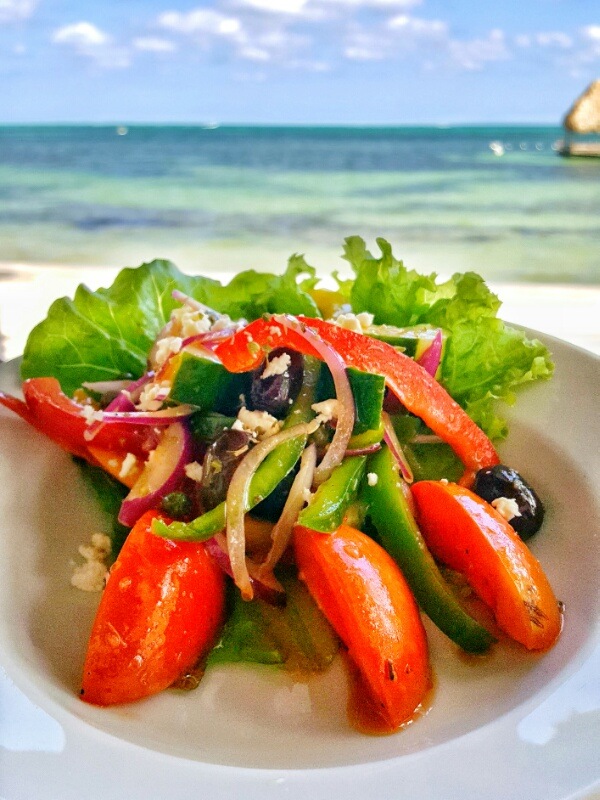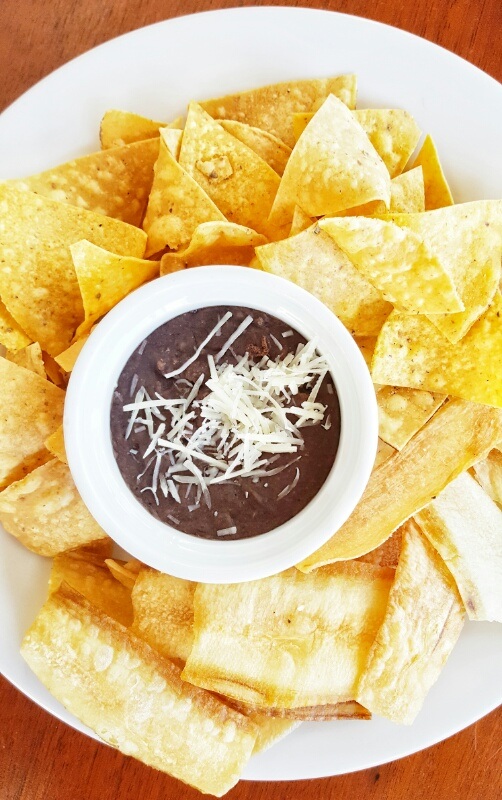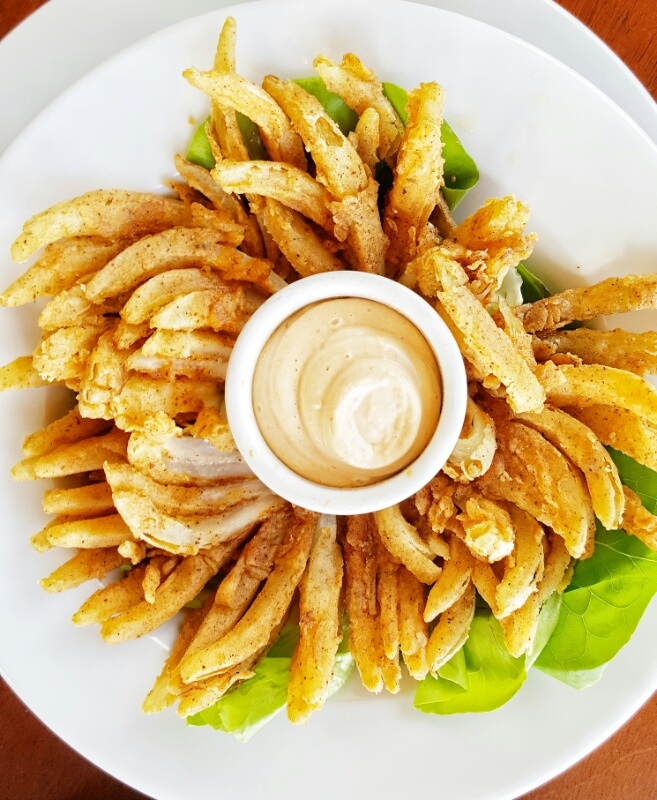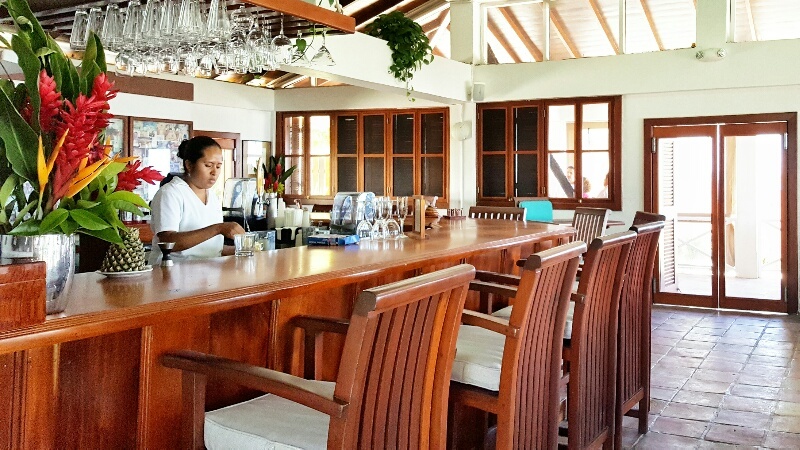 Sinking into your luxury bed
We were lucky enough to stay in one of Victoria House's villas, with a gorgeous king size bed. There's not much more inviting than crisp white sheets on a luxurious bed at the end of a long day of swimming, exploring the town of San Pedro, and then enjoying delicious food.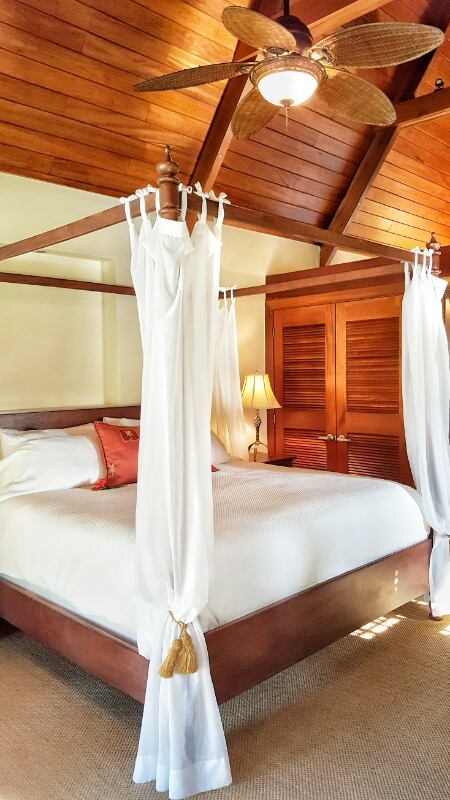 Dangling your feet in the ocean-side pool
There are two pools at Victoria House; one lovely infinity pool toward the back of the property, and an ocean side pool. It's perfect for splashing around in and watching the ocean. The kids loved to sit on the loungers here and dangle their feet in the water. When we were there, the pool wasn't being heated so we only went swimming in it once.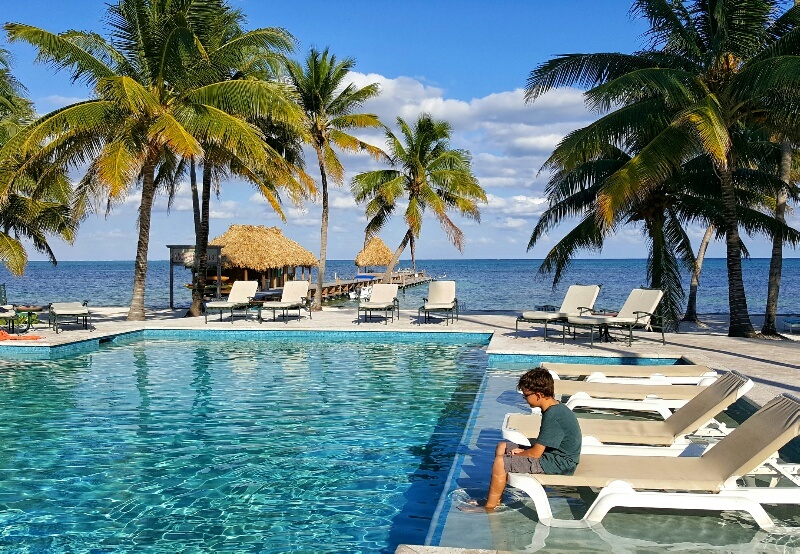 Lounging on the private dock
We found the private dock at Victoria House to be one of the prettiest spots on the island and that's saying a lot on an island that's surrounded by clear aquamarine water, white sand, and dotted with charming, colorful houses.
At the entrance of the dock, there's a dive shop with free stand up paddle boards (SUP) and kayaks for use by guests. At the end of the pier there's a small palapa for shade and lots of room to sit down if you want to relax and stare out at the ocean or dive into the clear water.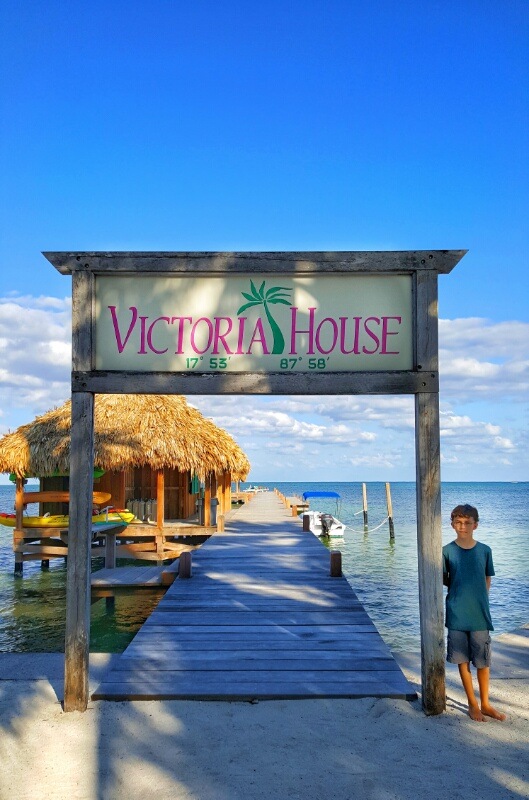 Blissing out at the Spa
I can't even begin to tell you.
There's a pages long menu of spa treatments and services, all designed to pamper and relax you. The Spa at Victoria House itself is a brand new 3,500 square foot colonial building set among coconut palms, bougainvillea, and gentle ocean breezes.
Charles and I both opted for a couples traditional relaxation massage. It was flawless, relaxing, and one of the best spa experiences we've ever had.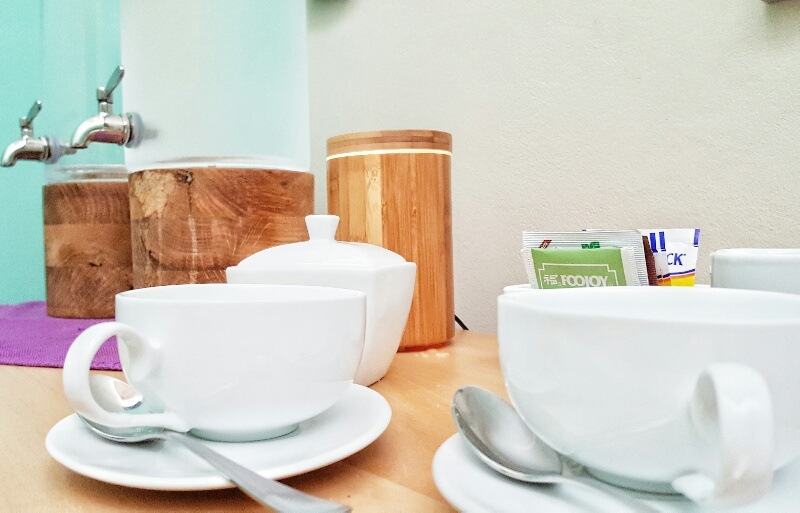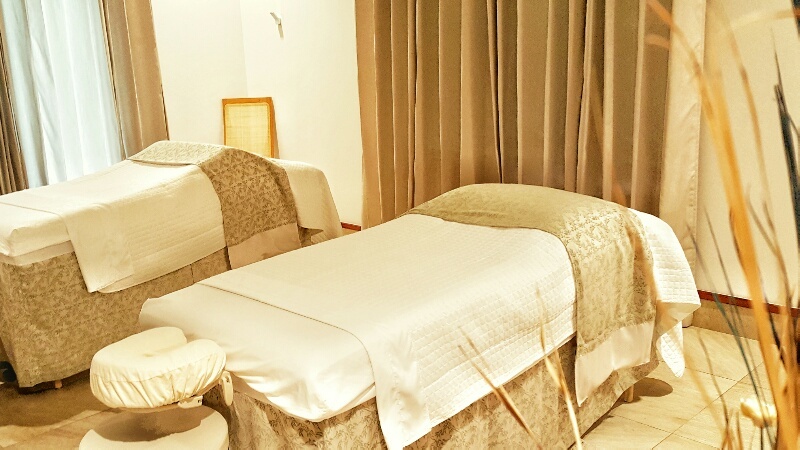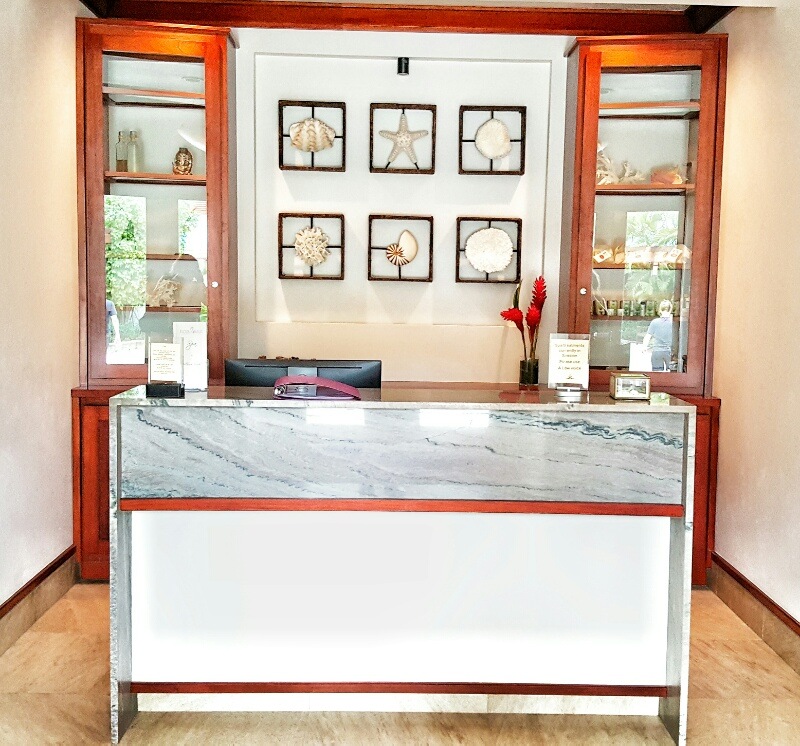 Dining by candlelight
The beautiful Palmilla Restaurant comes with a considerable price tag, but it's well worth it. If I were a professional food writer, I'd be throwing around words like "scrumptious" and "mouth watering" to describe my nightly vegetarian pasta courses and Charles' chicken selections. The Palmilla Restaurant at Victoria House has a nice air conditioned dining room with plenty of seating, plus an outdoor patio. It's open to the public as well if you happen to be staying somewhere else in San Pedro and want an upscale meal.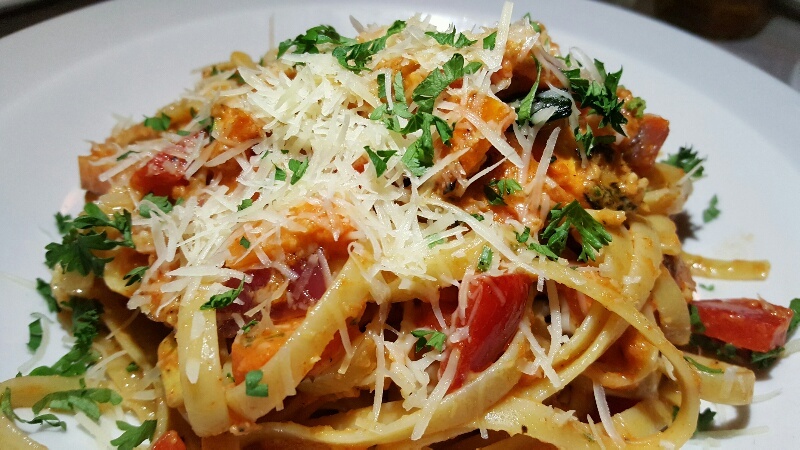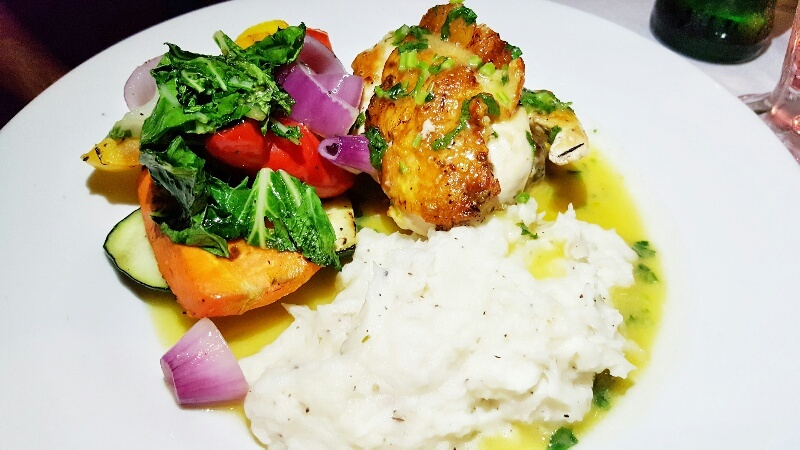 Eating freshly made pastries every morning
The Palmilla restaurant is also where you'll eat your complimentary breakfast in the mornings, complete with fresh juices and home made baking. Be sure to try the delicious, fresh-baked muffins or the home made granola. They were delish!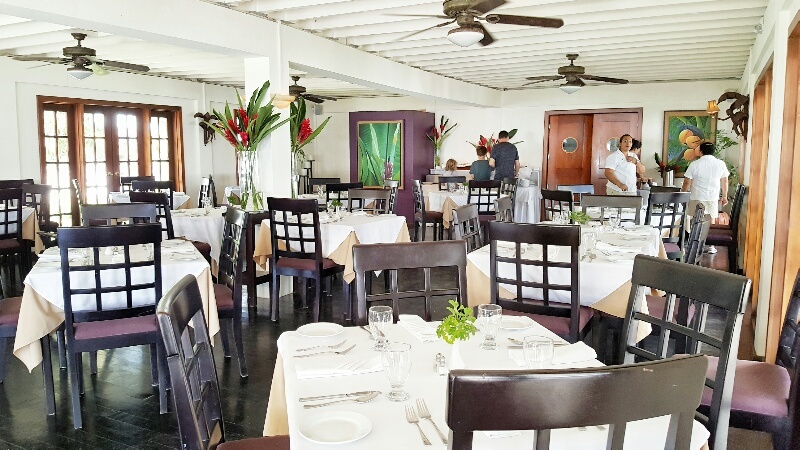 Walking along the ocean boardwalk
Victoria House, like most of the hotels on the island, has an ocean side boardwalk instead of a traditional beach area. The waterfront at Victoria House is also enormous, making a walk along the ocean boardwalk here extra special.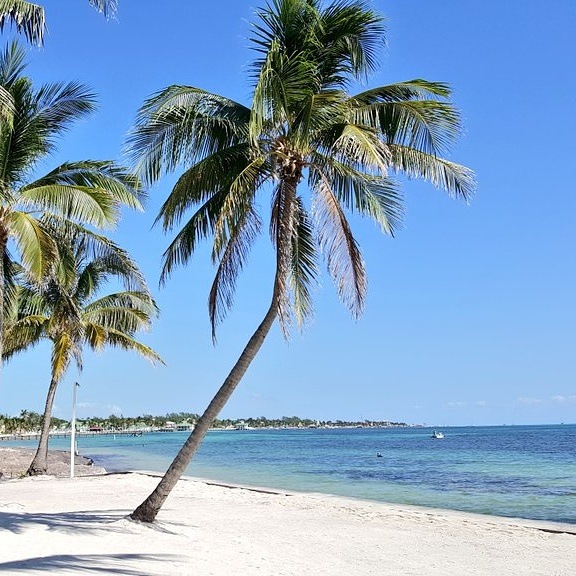 Diving off the pier into the clear blue ocean
Since there's no sloping beach to get in the water, the best way to get wet is to jump off the pier that juts out into the ocean or when taking out one of the free paddle boards or kayaks.
Lounging by your villa
We were lucky enough to stay in one of Victoria House's huge two bedroom private villas. As such we could just sit and watch the world pass us by from 2 great vantage points.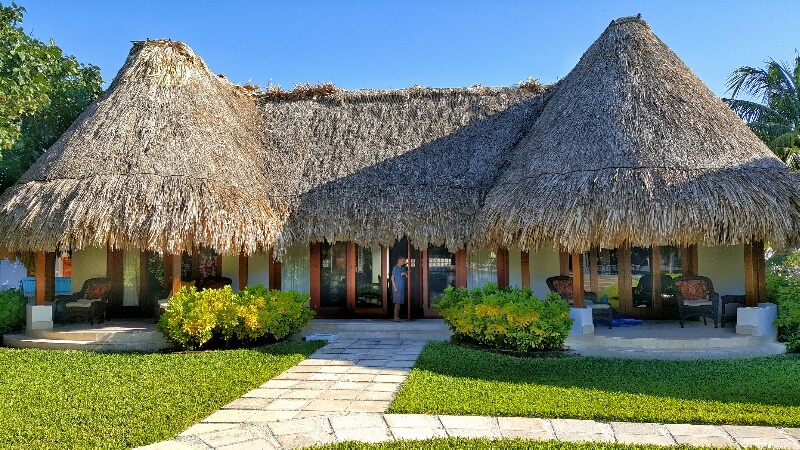 Enjoying the ample luxury in your suite
Our huge, 2 bedroom villa came with fresh flowers, a fully appointed kitchen, two bathrooms, and even an extra, private, outdoor shower for both bedrooms! Don't worry, there are also traditional indoor showers, if you prefer to soap up in privacy.
There were also new flatscreen TVs with good English cable service in every room however you won't find a phone anywhere in your suite. Somewhat charmingly, when we requested a wakeup call, we got a wake up knock at our door instead!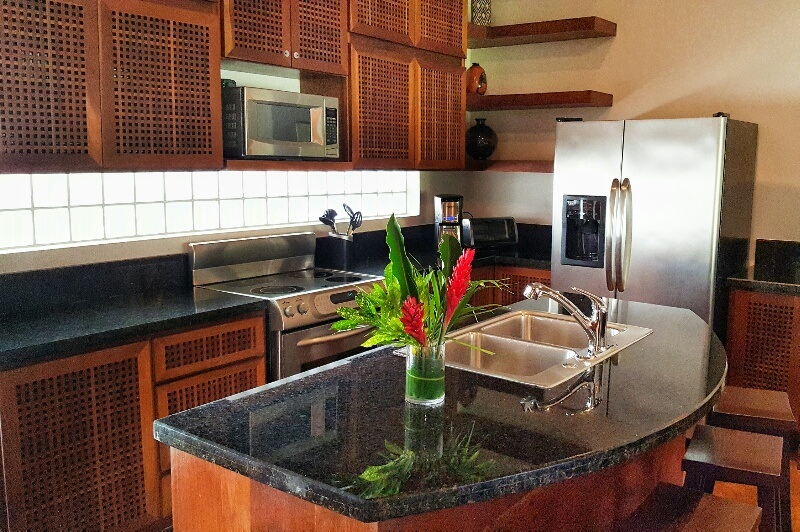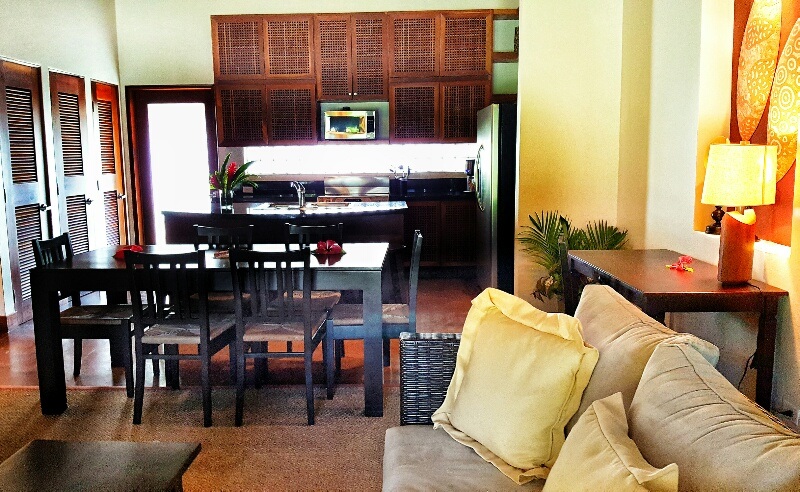 Waking to the sound of ocean waves
Though the ocean is fairly calm around San Pedro, you can still here the water lapping against the shore some mornings and there's usually a nice breeze blowing in off the water.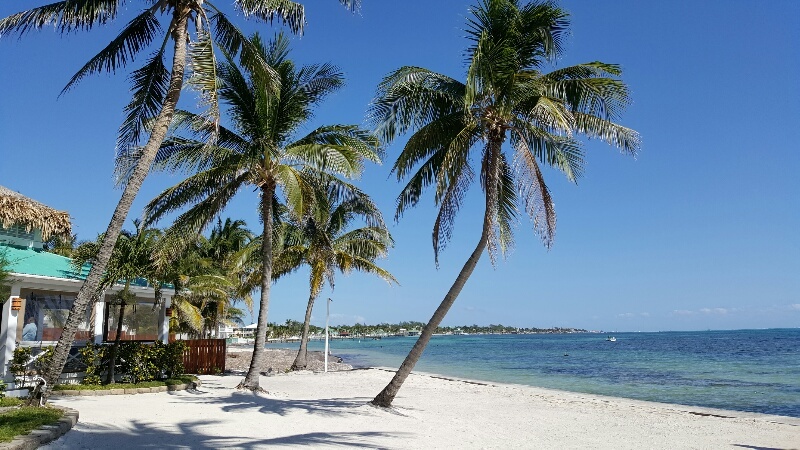 Playing games by the ocean
The kids loved hanging out on the wide swath of sand beside the ocean. We lounged in the hammocks, and played beanbag toss or ladder golf for hours.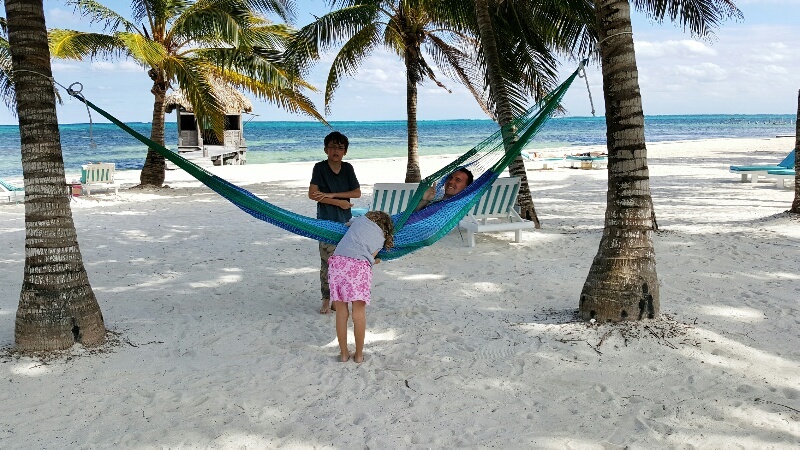 Admiring the expansive, groomed grounds
I'm not sure how large the grounds are at Victoria House, but they must run into several acres, at least, and they're perfectly, meticulously, manicured. There's not a lovely tropic flower, or verdant green tree out of place.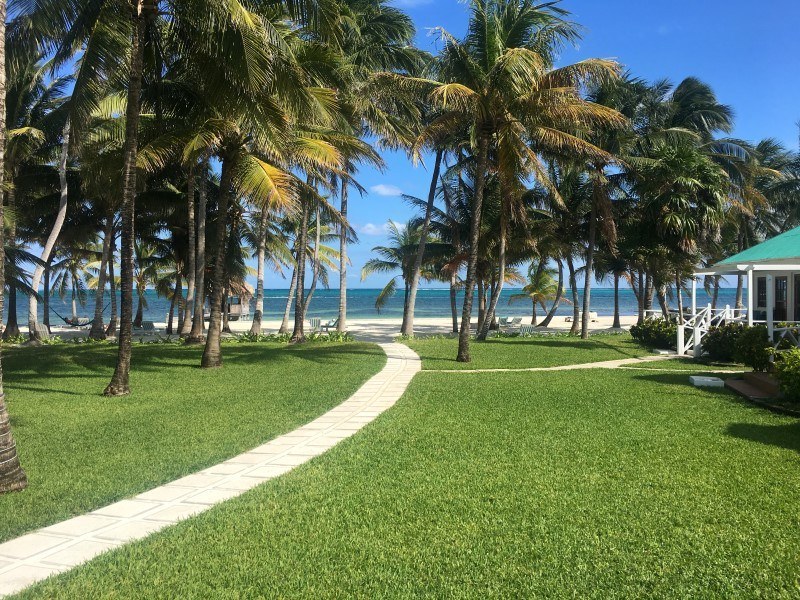 Sinking your toes in the white sand
The sand at the Victoria House resort in Belize is bright white and easy on the feet. There are also loungers and chairs strewn about in the sand and under the many palm trees that line the water giving everyone staying at the resort plenty of space from the other guests.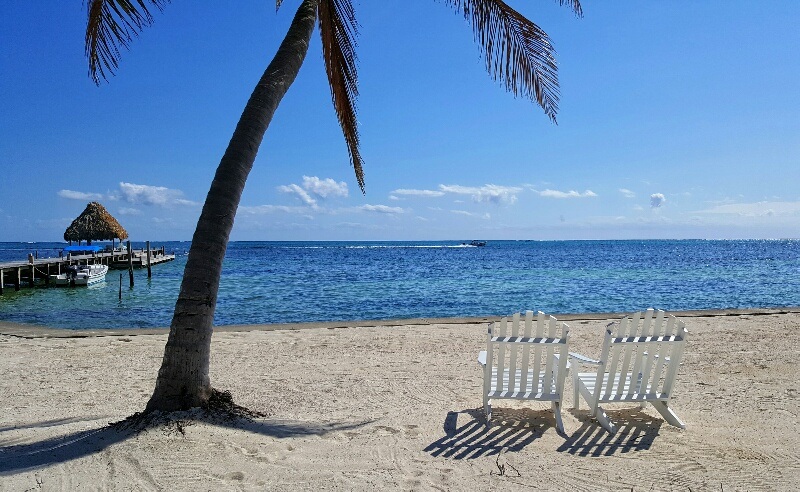 Enjoying the exclusive toiletries
One of my very favorite things in a luxury hotel are the toiletries. You'll find Victoria House's very own spa line of shampoo, conditioner and body lotion here, made with Mayan bee honey. They're as perfect as they look.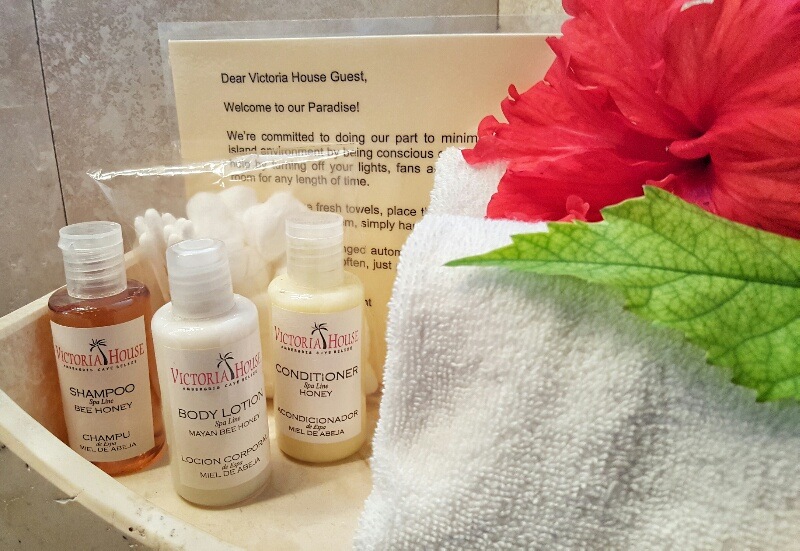 Savoring delectable desserts
Molten chocolate lava cake cooked to order.
Creme brule.
Homemade ice cream.
Need we go on? Absolutely heaven.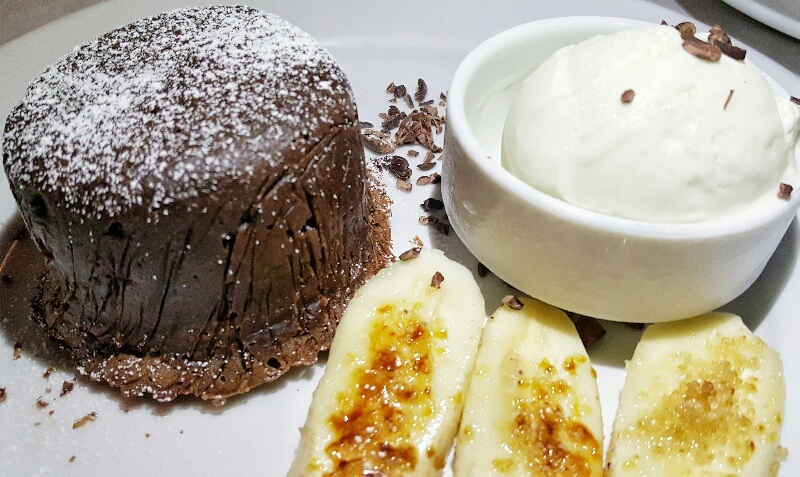 Gazing over the infinity pool
With pool side loungers, and plenty of chairs and tables, the infinity pool is the perfect place to relax and unwind. It's also gets great Wifi.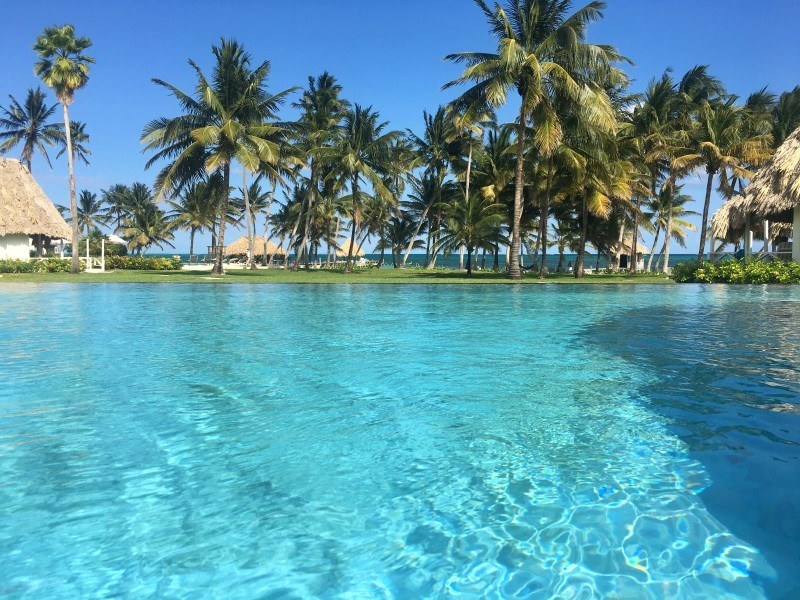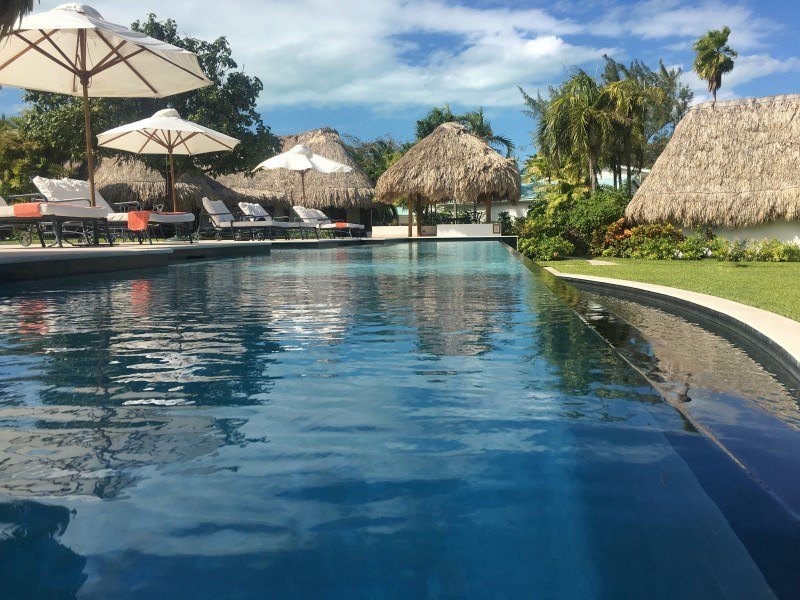 Working out in the air conditioned exercise room
Tucked away in the spa building, the exercise room is the perfect place to get in a workout in air-conditioned comfort.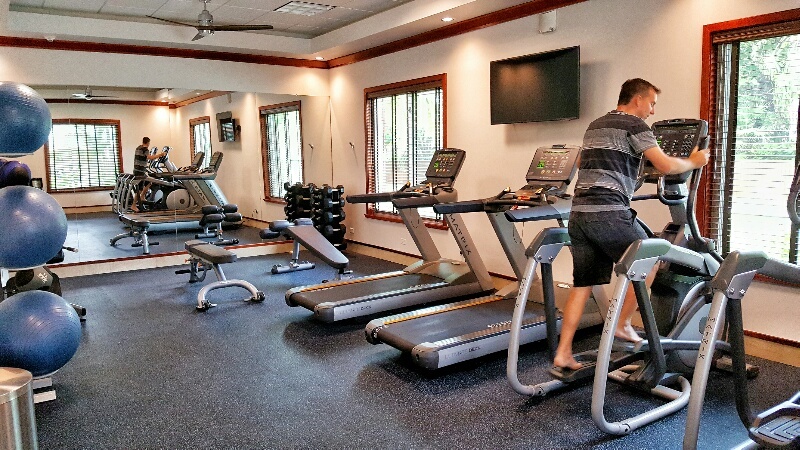 Soaking up the sunset
Ambergris Caye has some of the most beautiful sunsets in the world. The ocean side pool at Victoria house is the perfect place to unwind, cocktail in hand, at the end of a busy day.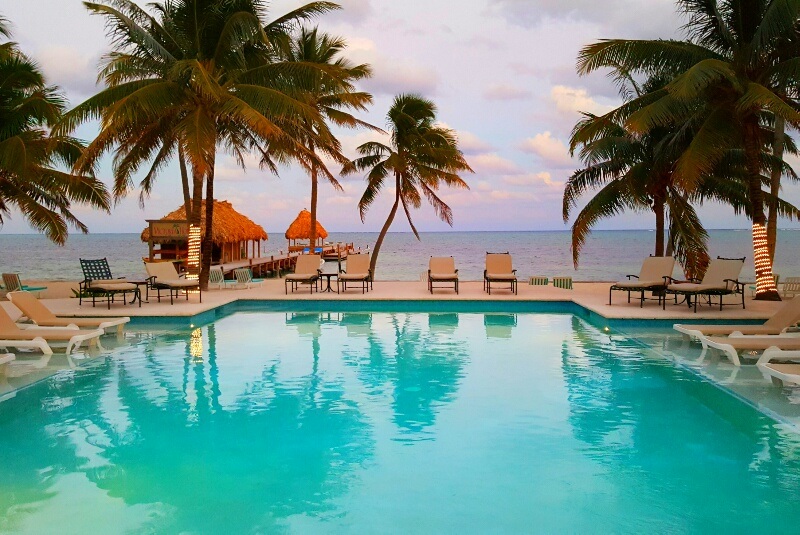 What you need to know
Victoria House Beach Resort is a luxury resort on the Island of Ambergris Caye, Belize. There are 42 rooms, including private pool villas, luxurious suites, staterooms, and casitas.
The resort is a few minutes just outside of the main town of San Pedro to the south, so you'll either need to take taxis (which can become expensive) or rent a golf cart for your stay, which is the main mode of transportation on the island. They also provide free bike rentals which can be an option depending where you're biking to.
We rented a golf cart during our stay, and had a blast scooting around the island. You can rent independently, or Victoria House can arrange a rental for you. You can also arrange tours to nearby attractions like Mayan ruins, Shark Ray Alley, cave tubing and more through Victoria House.
The Spa at Victoria House
There are over 30 treatments, massages and facials available at the Spa at Victoria House.
Dining
There are two restaurants on site: the more casual Admiral Nelson's Bar, and the elegant Restaurant Palmilla.
Want to know more?
You can find out more on the Victoria house website. You can also find Victoria House on Twitter, Facebook, and Instagram.
Want to book a room?
Check prices here. You can book a room through the Victoria House Resort directly, or through Booking.com or compare prices on TripAdvisor.
Location: San Pedro, Ambergris Caye, Belize
Our stay at Victoria House was complimentary, but that doesn't mean they forced us to lounge by the pool, enjoy some amazing meals or have one of the best spa experiences we've ever had. As such, all thoughts and opinions shared in this post are entirely our own.