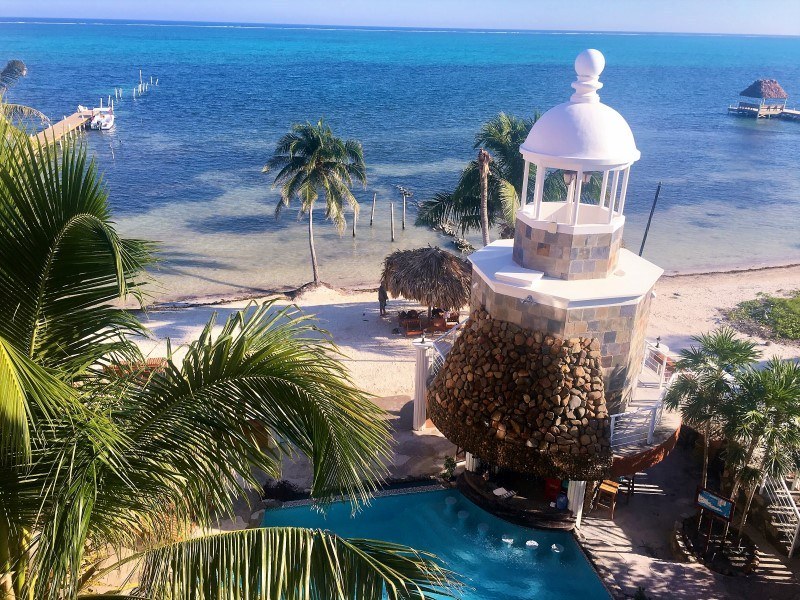 Dreaming of an ocean getaway, but hate the crowds? Athens Gate Resort in Belize might be what you're after.
Located just a few miles south of San Pedro on the island of Ambergris Caye, this TripAdvisor favorite boutique beach resort is a quiet place with a ton of hidden gems. We recently had the chance to stay and review Athens Gate Resort Belize for ourselves and, to be honest, we had a great time.
For one, this unassuming boutique hotel features huge suites with some of the most well stocked kitchens I've ever seen in a hotel. Featuring a dishwasher and all stainless steel appliances, when you factor in it also included a full washer and dryer, roughing it in Belize takes on a whole new meaning.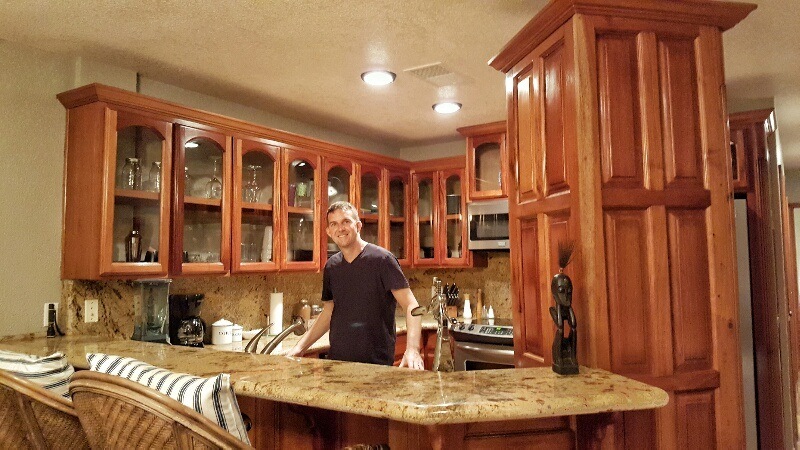 Secondly, Athen's Gate is outside the hustle and bustle of busy San Pedro, however when you rent a golf cart to get around and tour the island (like everyone who stays in San Pedro does) you're only a few minutes from great restaurants and the best bakery we found on the island (The Baker – try their cinnamon buns!).
Since Athen's Gate is located on the south side of town, you don't have to deal with the hassle of crossing the island's only toll bridge ($5 BZD each way) which can get annoying after a few trips or hearing the constant beat of San Pedro's late night beach bars if you stay at a place in town.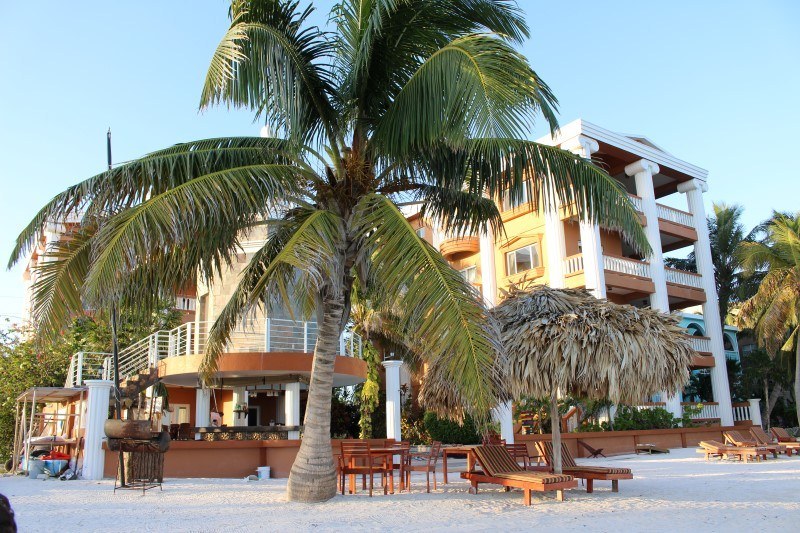 The staff of Athens Gate Belize
As great as the hotel is, the best part of Athens Gate Resort could very well be the staff. Glen, William, Dennis and E. make you feel like you're at home, and go out of their way to make sure you have everything you need during your stay.
Glen even drove Micki to the airport when a family emergency called her away, and we didn't have time to get a taxi. Thanks again Glen!
Outside of that, if you need a ride, they'll call you a taxi. Want to rent a golf cart? They'll have one delivered right to you for cheaper than renting in town. Thinking of taking a snorkeling or dive tour? They'll get you picked up off their own pier and you'll have one of the best snorkeling trips of your life.
Belize has the second largest barrier reef in the world and both Shark Ray Alley (which is a quick boat ride from Athens Gate Resort) and Mexico Rocks have amazing marine life. At Shark Ray Alley, you can swim in shallow water with harmless nurse sharks as well as huge sting rays. Mexico Rocks has more colorful fish and friendly sea turtles, but it's a little farther north of the island.
Amenities at Athens Gate Belize
One of the nicest things about Athens Gate Belize is that they actually have a real beach, which is rare in Ambergris Caye. If you enjoy sitting on the sand with your toes in the water, or watching your young ones frolic on the beach, at Athens Gate you can.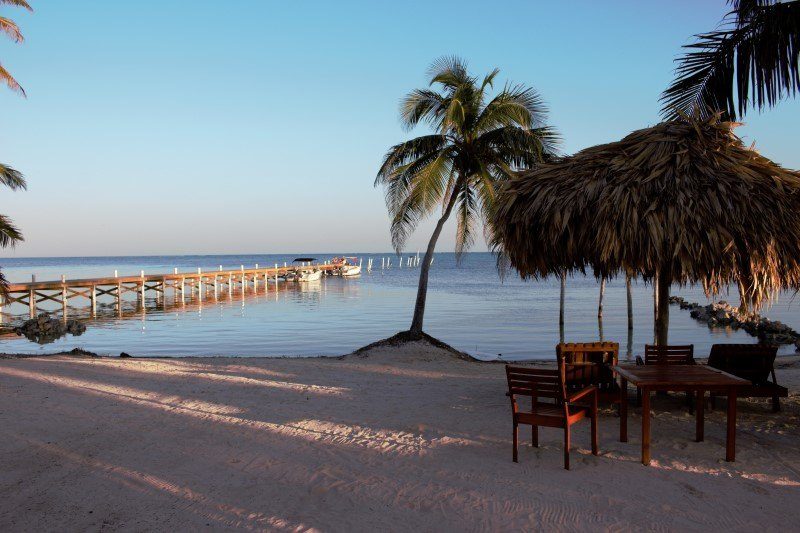 Kids will also enjoy the nice pool, complete with free pool toys like noodles and loungers.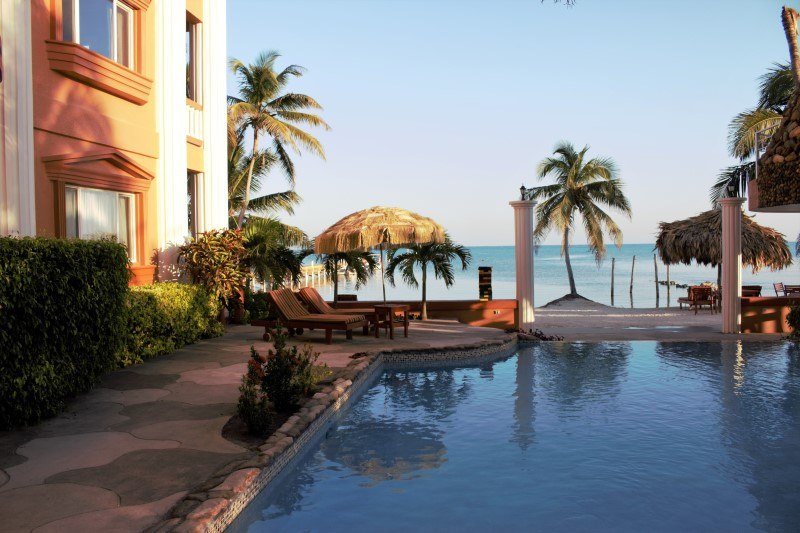 Like the rest of the island, they also have a long pier to get you out of the seagrass and there's decent snorkeling right off the dock. Since all beaches in Belize are public, you can also walk a few docks down to the right to enjoy some great snorkeling there as well. If you don't have a snorkel or fins, just talk to one of the guys and they'll set you up with some free of charge.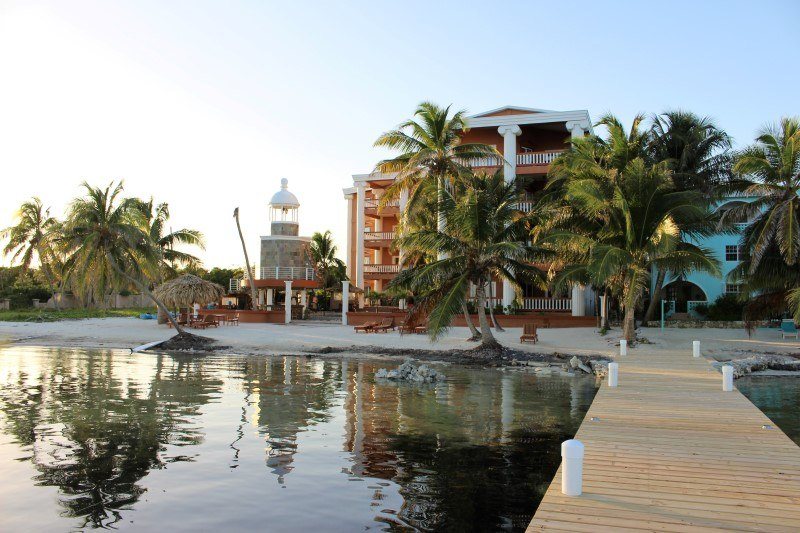 Grabbing a beer while sitting on the dock over the clear water and watching as the sun sets over the island might very well be the highlight of your year. For those that crave margaritas by the pool, William is your man and he can whip you up some delicious cocktails that will leave you wondering why you don't live on Ambergris Caye permanently.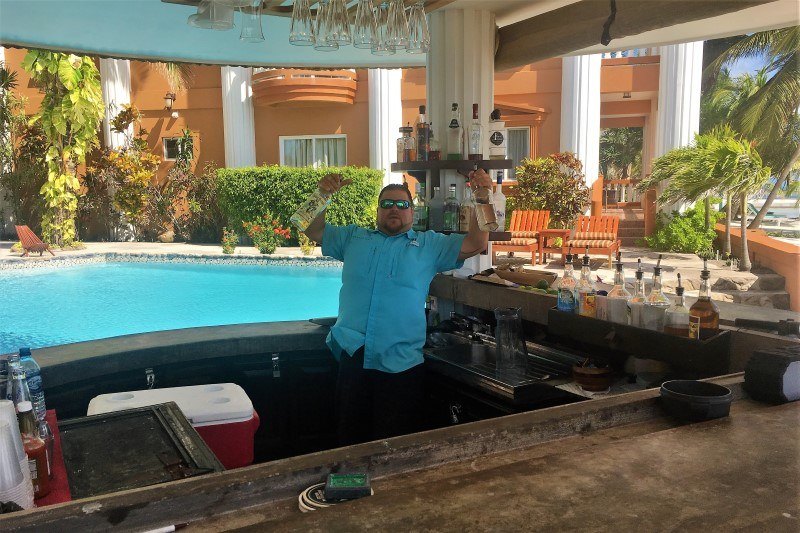 Water activities at Athens Gate Belize
While staying at Athens Gate Belize we also enjoyed grabbing one of their free kayaks or stand up paddleboards and cruising around the quiet bay. Unlike a lot of the resorts, where you need to sign a few things or walk to a specific pier far from the resort, at Athens Gate you just need to grab a board or a kayak and go.
Out past the piers, the water is so clear and blue that you can see everything from fish to lobster to turtles just below the water. There are even huge conch shells within grabbing distance of the dock. Glen also told me that if you wait long enough, you'll see giant eagle rays leaping out of the ocean.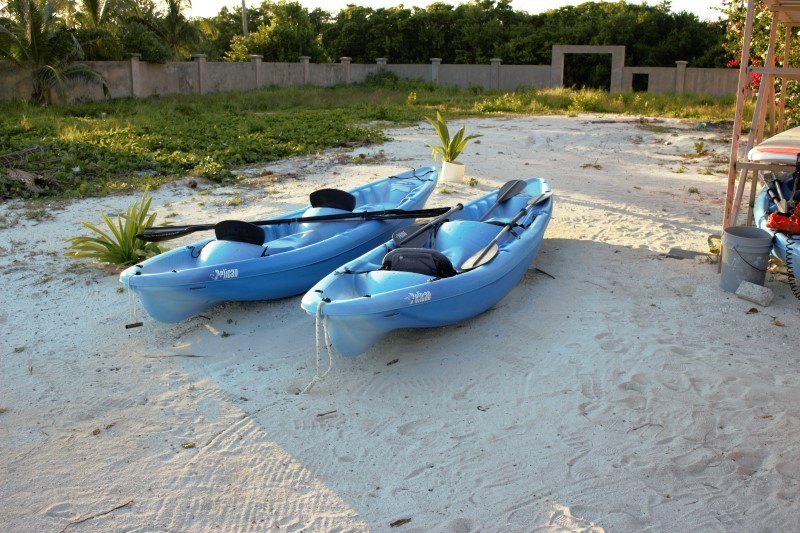 For me, one of my all time, on the water highlights happened while I was staying at Athen's Gate. As I paddled my stand up paddle board back to shore one extremely calm evening, a giant ray crisscrossed under my SUP. I followed it for a good 30 or 40 feet as it zoomed around. The water was so clear it was like it was hovering in air.
A true boutique hotel
Whether you're staying on the first floor or the fourth, each lavishly appointed suite has amazing views over the clear aquamarine waters for which Belize is famous for.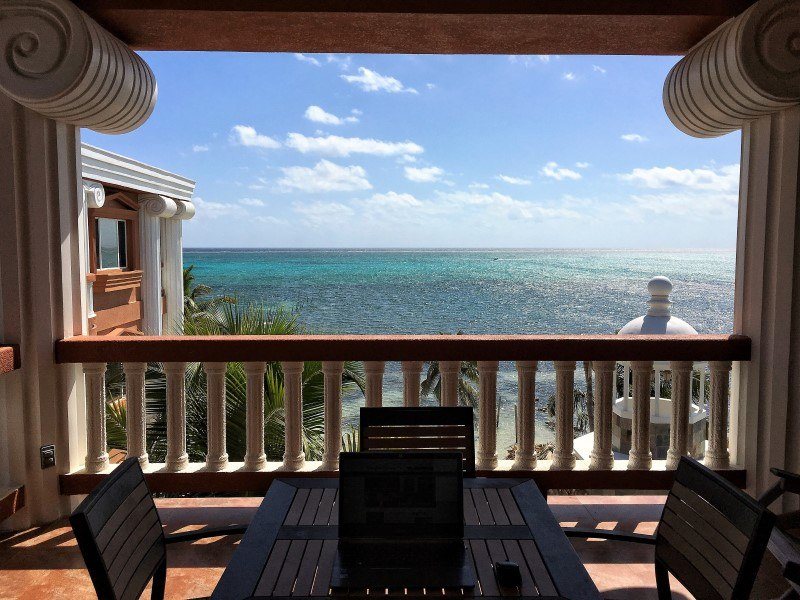 With only a dozen suites, Athens Gate Belize is definitely a boutique hotel, and the only thing missing for some would be an on site restaurant. Of course, the kitchen was so well stocked with everything from a Ninja blender to a cupboard full of spices, the kids and I decided to get some baking done. It's not that often that you get a full oven at a hotel and we made blueberry muffins for breakfast one morning and crepes the next. It was awesome!
For those that don't want to cook, there are well reviewed restaurants within a block and a half (the well reviewed Black Orchid Restaurant is one of them) and San Pedro proper has dozens of great restaurants from seafood to pasta. For us, it was a nice break from a traditional sleep only hotel, and in addition to getting some baking done, it gave us a chance to make some of our favorite meals like pasta and Mexican.
If you want to cook for yourself there are a few decent supermarkets in town and a little store just down the lane. Since Belize is officially an English country, shopping for food is really easy.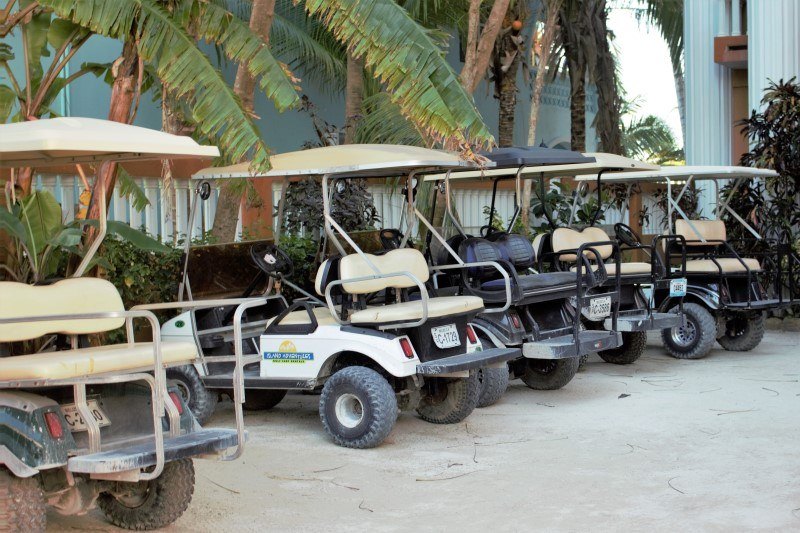 The suites themselves are large and clean and well furnished. The king sized bed in our room was heavenly to sleep on. Our two bedroom suite also had twin beds for the kids, as well as their own TV and bathroom which was a nice bonus. However we had trouble keeping Jordan out of the large jetted tub in our private bathroom.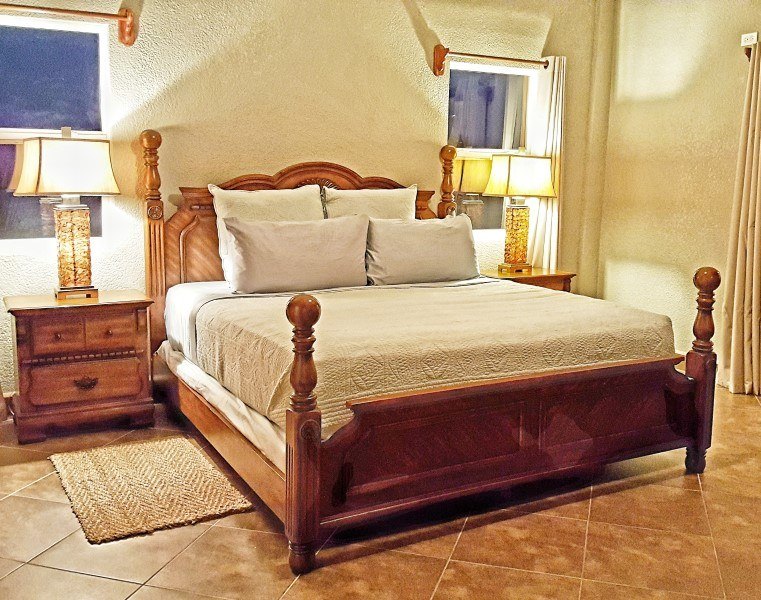 Cole enjoyed the new 60 inch TV in the large living room, while I loved having a dedicated work desk to get some work done. We all enjoyed the fact we could watch YouTube and Netflix at the same time via the free in-room WiFi.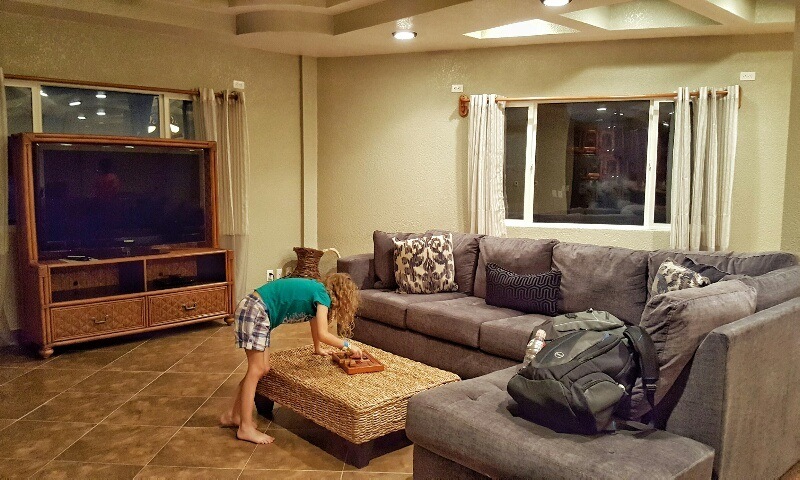 Final thoughts on Athens Gate Belize
So, to recap, if you're looking for a spacious home away from home along a quiet beach just outside of a touristy town with some amazing snorkeling, diving and paddleboarding directly on your doorstep, then Athens Gate Resort on Ambergris Caye island in Belize might be just what you're looking for.
Tell them we sent you! If you see a ray while paddling, take a picture and send it to me because the only thing I regretted about my stay there was not having a camera with me the day I saw one.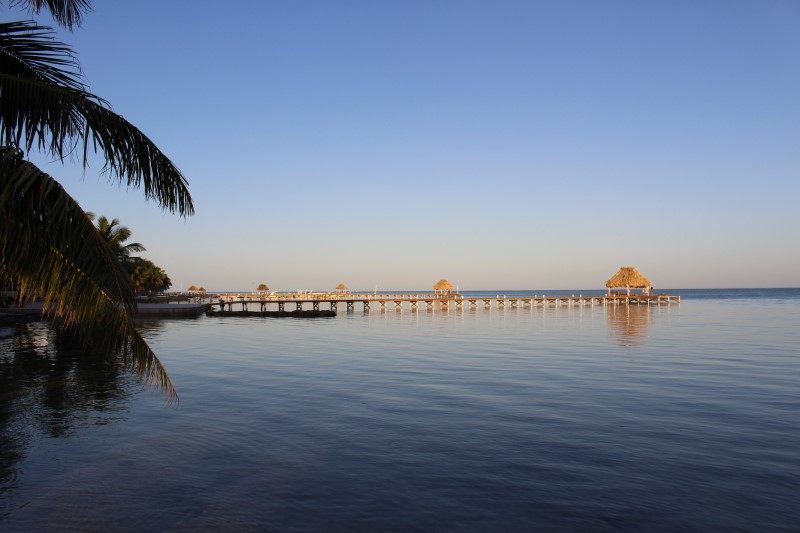 Thanks again to Glen and his team for such an awesome stay.
Things to note about Athens Gate Belize
There is no elevator, so if you're on the 4th floor there is a bit of a climb. The view is worth it!
There is no restaurant on site, however there are several nearby.
The resort is a bit out of town, so if you don't have a golf cart rental you're looking at long walks or taxis. Golf cart rentals are much cheaper by the week than daily.
There is a larger sister resort a few doors down called Pelican Reef that also has a restaurant on site.
Tiny sand flies (no-see-ums) can be bad on the beach around dusk and dawn everywhere on Ambergris Caye, especially when there's no wind. This is true everywhere on the island, so bring bug spray or stay off the sand around dusk.
The rooms are some of cleanest we've ever experienced. There's daily cleaning and they'll even do your dishes if you forget a few in the sink. Thank you Gloria, Gladys and Janna!
This place is perfect for families that like to cook for themselves or those looking to get away from the crowds of San Pedro, but it's still close enough that amazing restaurants and fun nightlife are just around the next bend in the road.
Want to know more?
You can find out more on Athens Gate's official website, or check out their reviews on TripAdvisor.
How to get here
Most visitors get to Ambergris Caye by flying into Belize City, and then either taking a commuter flight (a bit pricier and incredibly scenic) or an hour long ferry (cheaper) to Ambergris Caye.
We wouldn't advise spending any time in Belize City itself. We've heard plenty of first hand reports of Belize City crime, so if you need to overnight in the city be careful to stay in a good hotel, in a good area, and heed cautions not to go out at night or down side street. It may also be a wise precaution to avoid walking around, especially overnight, and take a taxi wherever you need to go.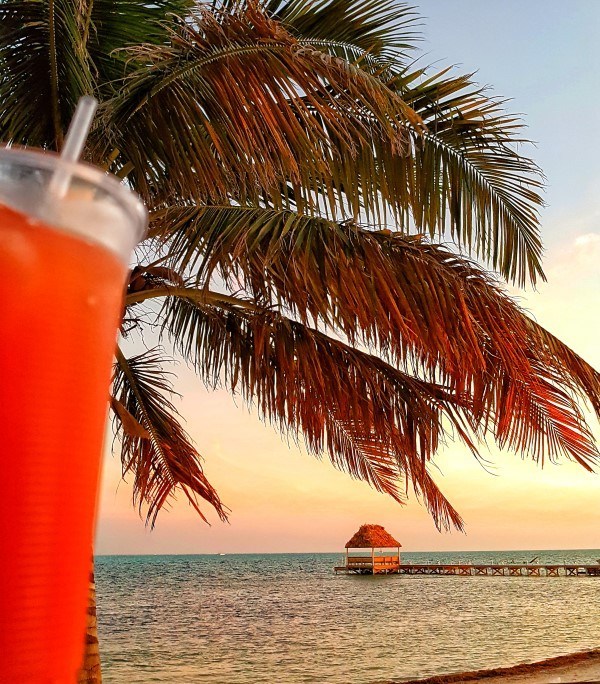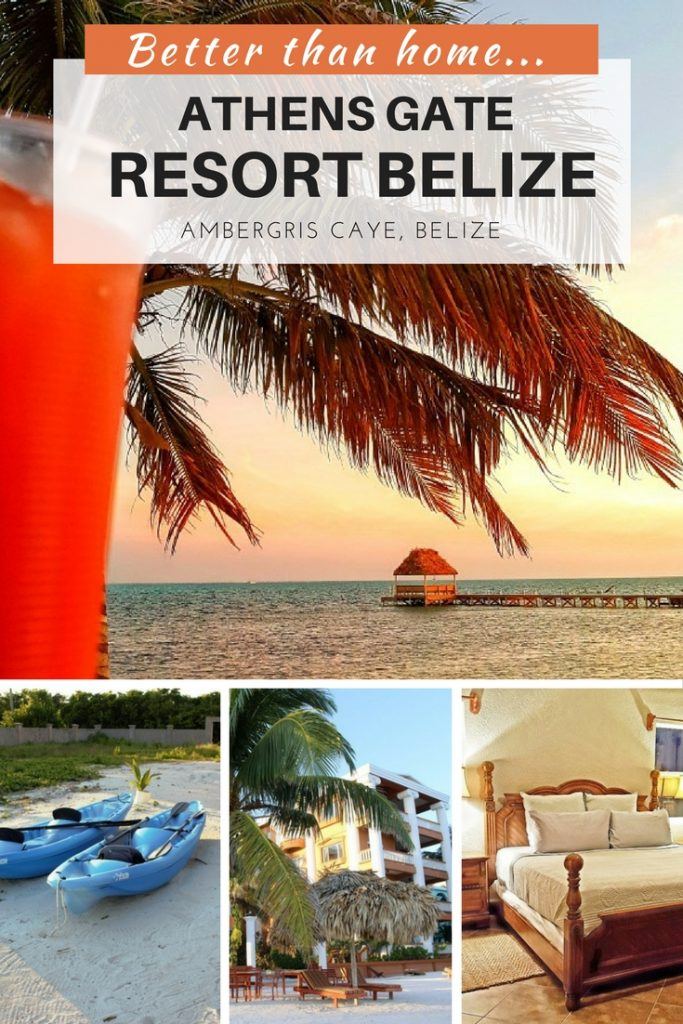 Athens Gate kindly hosted us, but our opinions are all our own.