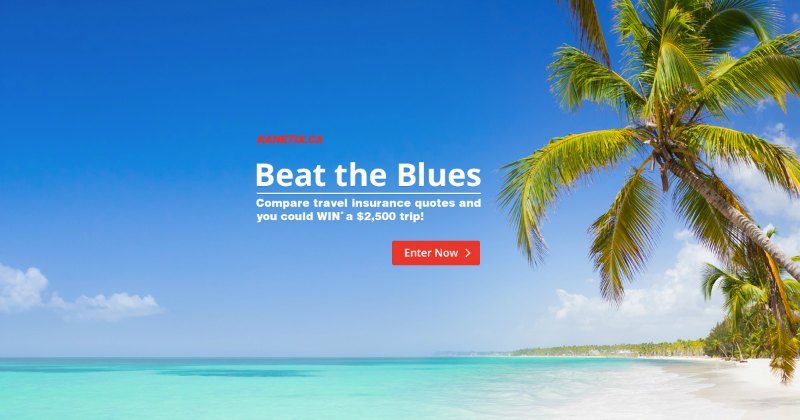 We're thrilled to bring you a chance to win a $2,500 travel voucher, compliments of KANETIX.ca!
To enter, just head on over to the contest on KANETIX.ca, and get a quote for travel insurance. There's no obligation to buy anything.
Think about what you could do with a $2,500 travel voucher! It would definitely go a LONG ways towards beating the winter blues for any Canadian!
What to do if you win?
Anything you want!
This time of year, $2,500 would definitely help getting you somewhere bright and sunny, preferably with endless margaritas, a turquoise ocean, and white sand.
If sun and sand aren't your thing, you could hop on a plane to visit family you haven't seen in far too long, or take the kids on an epic vacation to Disneyland.
Been thinking about visiting Paris, going on a cruise, or just want to have a great stay-cation to check out some great destinations in your home province? You can do that too!
Now, our very favorite part – your chance to enter to win $2,500 towards a dream vacation!
Here's how to enter
Entering is easy.
To enter the contest, just go to KANETIX.ca and complete an online travel insurance quote. Until March 31st, 2016, eligible Canadians are automatically entered into a draw to win a 2,500 travel voucher. You will need to give your email address so they can contact you if you win.

What could you win?
The lucky winner will receive a $2,500 travel voucher.
Contest details
The contest starts Jan 21st, 2016 and closes March 31st, 2016. Terms and conditions apply. See the official contest webpage on KANETIX.ca for contest details.
The Contest is open to Canadian residents only, excluding residents of Quebec, who have reached the age of majority in their province or territory of residence at the contest opening date. You must have a valid email address to participant in the contest.
Just click here to go to the contest webpage on KANETIX.ca and complete a Travel Insurance quote to enter to win $2,500 toward your dream vacation!
About KANETIX
Launched in October 1999, KANETIX was Canada's first online insurance marketplace and today provides over a million quotes per year to consumers looking for insurance, as well as comparisons for mortgage rates and credit cards.
The KANETIX comparison service is a one-stop shopping environment for consumers. Each day, thousands visit KANETIX to comparison shop their various financial needs. Shoppers choose what they want to compare, obtain a quotation and complete an online application or, with the help of KANETIX connect with the provider to purchase or apply for the product over the phone.
Through its Software as a Service team, KANETIX is also the leading provider of online insurance quotation technology, developing online quotation systems, mobile solutions, actuarial tools and websites for many of Canada's largest insurance brands.
This post was sponsored by the folks at KANETIX.ca, but our love of travel and contests is all our own.