Life can throw you curve balls.
And there's no time that seems to attract more chaos than being on the road.
After over ten 10 years of travelling together, we've needed to rush to the hospital three times: once on the Greek Island of Kos, once in Southern Thailand and once in the Philippines. Luckily, they weren't life-threatening problems, but the experiences left us with a real appreciation for what can happen on the road. That's why we always have travel insurance.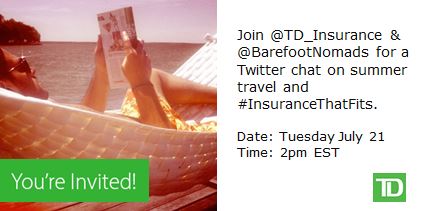 With a lot of Canadians making summer travel plans (or on the road already!), it's a great time to chat about summer travel.
We're heading to beautiful Vancouver and Whistler later this summer, and we'll be visiting family and friends in Alberta as well. We'd love to hear what your plans are!
Join us for the @TD_Insurance #InsuranceThatFits Twitter Chat on Tuesday July 21st at 2:00 pm EST.  We'll be chatting about summer travel, and getting some great travel insurance tips from the experts at TD Insurance.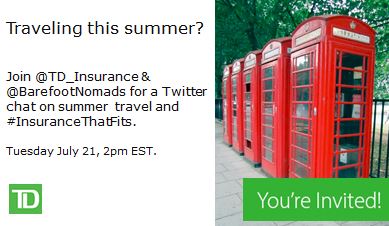 All you have to do to join the chat is to tune into the #InsuranceThatFits hashtag this Tuesday July 21st at 2:00 pm EST. That's 11 am PST for us on the West Coast!
We'll have TD Insurance experts on hand to answer any questions you may have AND you could win one of three $50 pre-paid VISA gift cards!
Twitter Chat Details

We'll see you there!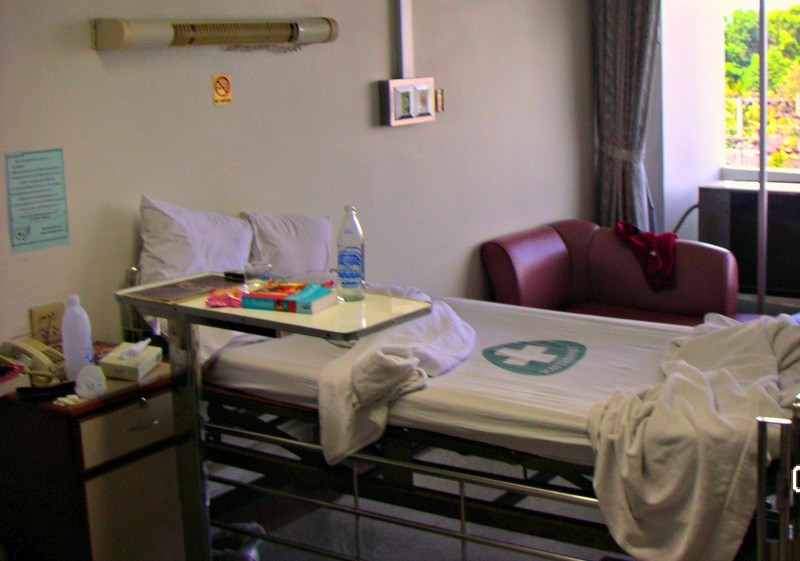 Disclosure: This post was sponsored by TD Insurance, but all opinions, as always, are 100% our own.