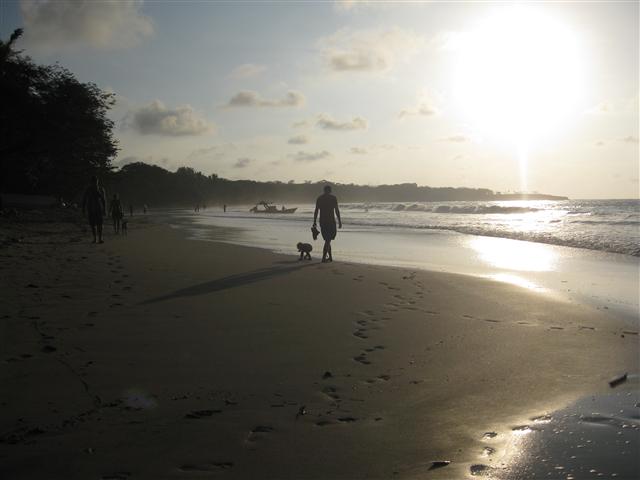 Tamarindo is famous for its surf breaks, and almost equally famous for being expensive and full of tourists. We spent a month in town enjoying the waves, and got a chance to track down some of the best cheap things to do in Tamarindo.
Boogie boarding on Playa Langosta. While Playa Tamarindo is the most famous beach in Guanacaste, Playa Langosta is just a short walk away. The waves at Playa Langosta are generally smaller, and better for families and newbie surfers. That said, we caught the waves at Langosta at high tide on a big swell day, and managed to smash a boogie board in two. Cost: One replacement cheap boogie board from Super Compro grocery, $10.
Zip lining at New Monkey Jungle Canopy Tours. Great from begining to end. New Monkey Jungle has seven zip lines and an awesome Tarzan swing at the end. We ended our tour with some much-needed juicy watermelon. The owner even picked us up outside our condo, and drove us back home after. Charles gives a full rundown of our experience. Cost:  Around $37 per adult, and worth every penny.
Catching a movie. 2019 update! There's a new theatre in town called Multicines. See the website here (Spanish only).
Watching an endangered leatherback turtle lay her eggs on a moonlit beach. Imagine running full-tilt through the pitch black beside the pounding surf, and coming across an enormous, prehistoric leatherback laying her eggs on a secluded beach. One of the coolest things I've ever done is to visit Playa Grande to watch a leatherback turtle lay her eggs at Playa Grande's Parque Nacional Marino las Baulas. Cost:  $25/adult. Children are free.
Surfing the famous break at Playa Tamarindo. Actually, this one should be titled, I didn't surf the famous Playa Tamarindo, and my lame excuses why not. In fact, I have not surfed in some of the most amazing surf locations in the world, including Australia, Florida, British Columbia (Tofino), California, and Costa Rica. I can not surf anywhere. Cost:  Free for my lazy a**, but a week of surf lessons and lodging start at about $859/week at the famous Witches Rock Surf Camp, or around $40 for a two hour group lesson at any one of the dozen surf schools around town. Chat with some of the locals,  and you should easily be able to get the name of a local surfer who'll teach you for less than the surf schools.
Checking out the Monkey Park Wildlife Sanctuary. Monkey Park is a refuge for injured or sick animals. They have a great collection of monkeys, including spider monkeys, as well as birds and other animals like marmosets. This is not a traditional zoo, and is run on a limited budget from the proceeds of admissions. Many of the animals are being rehabilitated for release to the wild, but some permanent residents are unable to survive on their own.
There's an option to spend an extra couple of dollars for a guide, which I wish we'd done. I would have loved to have a guide walk us through and explain the Monkey Park's history and goals. There aren't any signs explaining the rehabilitation of the animals, or each animal's story, although signs do tell you the species of each animal and some basic information.
Try to go in the morning or later in the afternoon to beat the heat. Monkey Park is about a 20 minute drive to the small town of Portegolpe. Cost:  $10/adult without a guide, less for kids. Admittedly a bit expensive for Costa Rica, but the money goes toward the care of the animals in the sanctuary.
Hangin' at the Local Park and Playground. There's a small playground in the centre of Tamarindo, just behind the mall that houses the Cine-Mas movie theatre and Le Petit Cafe. It's too hot to visit in the middle of the afternoon, but Cole and Jordan loved playing on the swings and teeter totters  in the cool of the morning or early evening. This is a Tico playground, so if you're used to the uber-safe playgrounds in Canada or the US, you may be in for a shock. Some of the equipment is broken and rusty, but it's more than made up for by the awesome fabric swing someone's set up in a tall tree in the middle of the playground. If you've ever seen circus performers on the aerial silks, then you'll know what I mean. We tied two ends of the stretchy fabric together, and Cole swung like a wild monkey, springing the fabric up and down. Not that I didn't try it, too. Cost:  My favorite. Free.
Day-tripping in a Tiny Tico 4×4. We rented a little Diahatsu Begu 4×4 and tooled along down the coast to check out Playa Brasilito, Playa Conchal and Playa Flamingo. Cost: $328 for the 4×4 rental for the week, plus $10 in gas. Book your 4×4 ahead of time; last minute car rentals are hard to come by in Tamarindo. 
Playa Brasilito. This is a town built for Ticos, not tourists. Brasilito is missing the veneer of coffeeshops and real estate offices you'll see in Tamarindo and Flamingo. In their place are a lot of small mom and pop convenience stores and smaller eateries. The beach is a dark, muddy-looking sand that's not especially appealing at first glance. Playa Brasilito is about 13 miles north of Playa Tamarindo.
Playa Conchal. If you're looking to find Playa Concal off the highway, you're out of luck. We found Conchal by pure luck while driving along the beach at Playa Negro, and following some other 4x4s over a steep, rocky, narrow incline. It was a Sunday, so Conchal was jammed elbow to elbow with happy Ticos in tents and beach chairs, all enjoying a family day on the beach.
Playa Flamingo. Playa Flamingo is a darn pretty stretch of beach, with the town itself spreading out along the steep hillsides leading away from the beach. Flamingo is a pretty little town that exudes a feeling of prosperity. Huge houses dot the high cliffsides away from the beach, each with a breathtaking view of the Pacific. Playa Flamingo is about 20 miles north of Playa Tamarindo.
Playa Avellanas. Avellanas could easily hold the title of the most laid back beach in Costa Rica. Like almost all the beaches in the Guanacaste province, Playa Avellanas is long, curving and with decent surf. Playa Avellanas is about 12 miles from Playa Tamarindo, though the road is rutted and dusty, and seems longer. Currents in Avellanas can be strong, so weaker swimmers and kids should be careful.
Lola's Restaurant. Besides the great surfing, the big draw at Playa Avellanas is the famous Lola's beach front restaurant. Lola's is an iconic place to hang out, and named after a pig who used to hang out in the shallow surf. The original 400 lb Lola recently passed away, and has been replaced by Lotita, who we found lounging in the trees at the back of the restaurant property.
We stopped by Lola's for a late afternoon lunch, and soon found ourselves sucked into the ultra-relaxed vibe of the place. Lola's was absolutely buzzing with people, and yet managed to seem completely chilled at the same time. Soon, we were chowing down on the the largest plate of nachos I've seen in a long time, and some awesome fruit shakes. We were way too full to head back out on the bumpy road, so we took up residence in a couple of the hammocks and watched the surfers do their thing. Cost:  Around $30 for two appetizers and four smoothies. 
Checking out the Nightlife. OK, so with a six and three year old in tow, we didn't actually make it to any of the local hangouts. But we heard great things about Monkey in the Best Western Hotel on Friday nights (ladies night) and great drink specials at Aqua bar mid-week. Both places are supposedly packed with locals and tourists alike. Cost:  Depends on how much your liver can tolerate.
Sunset Sailing. This doesn't exactly qualify as cheap, but for an amazing view of the sunset, it may be worth it. There are a couple of catamarans that go out, and both will provide you with a bar and snacks. The Marlin Del Rey is the bigger boat, but the smaller Blue Dolphin gets great reviews as well. Cost:  $85.00/adult and $42.50 for the Blue Marlin sunset tour, $85 for adults on the Marlin del Ray. You may be able to get a cheaper rate by booking through a local tour operator, as they get bulk discounts.
Ripping around through the forest on an ATV. There are quite a few ATV tours in Playa Tamarindo, but the ones with the best buzz seem to be through Go Adventures. Cost: Too rich for our blood. The ATV tours aren't cheap, at 80. 00 per person (based on 2 or more people), but get great reviews.
Checking out the Sunset on the Beach. Almost all of the beachfront restaurants in Tamarindo run happy hour specials from around 5-7, which coincides happily with sunset. Grab a chair, sip a cool mojito, and enjoy the gorgeous view. Cost:  About $7 USD for two for one specialty drinks during happy hour. Around $5 USD for two frosty Imperial beers.
There are definitely plenty of cheap things to do in Tamarindo. Because we travel for such long periods, we generally don't check out the more expensive things to do, but Tamarindo has some well rated spas, and very nice, high end restaurants to check out.
Next post, I'll talk about our search for cheap restaurants in Tamarindo. Our Barefoot Guide to Tamarindo also checks out Tamarindo's self-catering grocery stores, dishes on car rentals and reviews Mango condos, one of the more affordable condos in Tamarindo.