In my last post about our travels in Costa Rica we were bouncing our way South down the Nicoya Peninsula. I say bouncing simply because the only road from Naranjo to Paquera is about as rough a road as you'll ever drive. After such a tough stretch driving down, we were greatly relieved to finally make it to our planned destinations.
We were hopeful that Santa Lucia, Tambor and Montezuma would ease our frazzled nerves and give credence to their well deserved reviews. Well, that isn't totally true. After that rough road we were anxious to just sit back and rest. We weren't sure Santa Lucia and Tambor would offer much respite, but we looked forward to seeing them regardless.
We met a nice couple while on a day tour out of San Jose when we checked out some active volcanoes, a coffee plantation and a whole bunch of waterfalls, who passed on some great advice. They had just spent a week renting a large house in Santa Lucia with a dozen extended family members. They had all converged on Santa Lucia for a week from all over North America and in their last few days in the country (when me met them) they all went their own ways to do their own things. We thought it was a nice way to have a joint vacation and are hoping to do something similar with our extended family in the coming years.
Anyway, they loved the area, but said there really wasn't a whole lot to do in Santa Lucia proper. Oh sure, they went ziplining, did a little snorkeling, walked the beaches and went kayaking but there wasn't a lot to do in the town itself. Following their advice, we simply cruised through town and did a quick stop at the local beach to check out the views.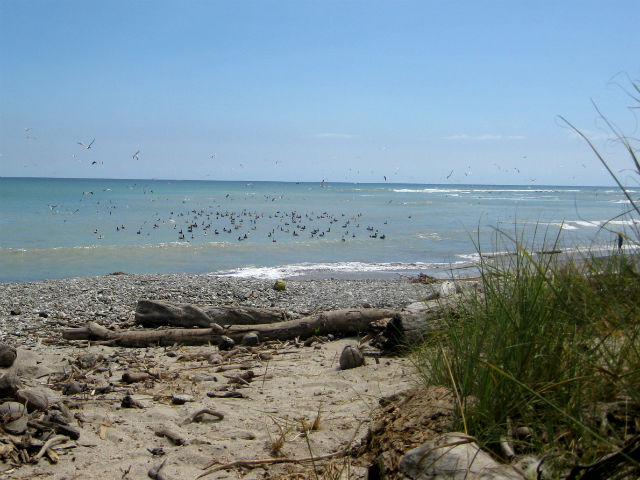 The area around Santa Lucia was gorgeous (as expected) however they were right on the money in terms of things to do. If you're hoping for a string of restaurants and a wild nightlife just keep on trucking. Santa Lucia is perfect for those looking to get away from it all and have a nice quiet stay. Some of the houses right off the water would be a great place to relax for a few days with the kids, however the lack of close amenities could be a massive turnoff for some.
In a similar vein, if it wasn't for its tiny airfield, the large all-inclusive Barcelo Tambor Beach Hotel and the Los Delfines Golf and Country Club, we're not sure Tambor would exist on a map. Since we weren't flying out from there (they offer 20 minutes flights to and from San Jose and several other Costa Rica destinations for a surprisingly reasonable amount) and weren't planning on staying at the very large and seemingly very nice Barcelo Tambor Beach Hotel (though we were awfully tempted to check in for a few days of all-inclusive decadence) there wasn't a lot to do in town.
There's a supermarket, a few car rental places (due of the airport) and the usual collection of souvenir shops and tour operators. We did a drive by to check out the beach and though the surf seemed calm (Ballena Bay is supposedly one of the safest bays to anchor in on the Pacific coast of Costa Rica) and the volcanic grayish sand looked fairly fine we decided to keep on driving to Montezuma.
Of all the places on the southern tip of the Nicoyan Peninsula, we had heard the most about Montezuma. It was both greater and less than we expected.
On that note I'll leave you wondering. You can expect the Montezuma post up in a day or two.
Safe travels Barefoot Nomads!