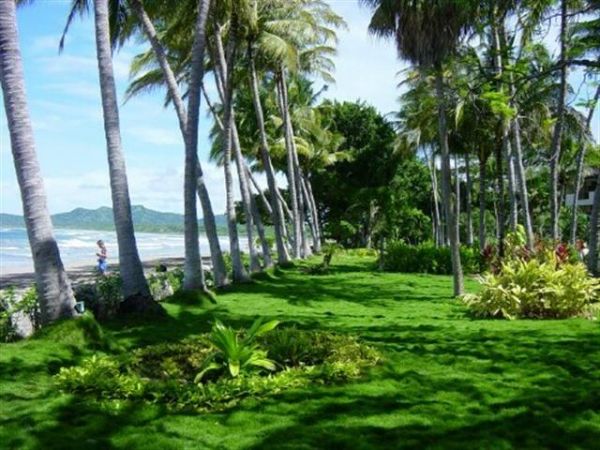 Tamarindo's a bustling beach town on the Pacific side of Costa Rica.
Tamarindo is just one of those towns:  You love it or hate it. Noone seems to be ambivalent about Tamarindo. Me? I loved and hated Tamarindo.
The Good
Tamarindo's amazing beach to seems to go on forever
Great waves, perfect for surfing, boogie boarding, or just chilling by the sand. At high tide, the waves are way too big and powerful for little kids and weak swimmers. At low tide, waves are smaller, and a bit more manageable for the little ones, if you keep an eye on them.
A foodie's dream beach town. Tamarindo has a great selection of fantastic restaurants (though a bit expensive), but there are a few budget restaurant options.
Friendly folks and a laid back vibe.
You won't be bored. There are a ton of activities in town, and some of them are surprisingly affordable.
The Bad
Holy, f***ing hotness. And we were there in the January, in the cool season. I'm not talking a bit hot, I'm talking an hour in the direct sun will fry you into a nice replica of those instant bacon strips. We hid inside from 1-3 in the afternoon because we were afraid our kids would spontaneously combust on the three minute walk to the beach.
It's called Tamagringo for a reason. A fun beach town, but definitely not for anyone looking for an authentic Costa Rican cultural experience.
Infrastructure. Or the lack of it. While the main road into town is (mostly) paved, most of the road in town is a rutted, dusty dirt track with constant traffic spewing dust, noise and exhaust. Definitely not pedestrian friendly.
Growing rumors of a drug and crime problem. Locals warned us repeatedly to stay away from the beach area near the traffic circle after dark. Waitresses ran to rescue the belongings we left on the table when we went to pay at the cash register, telling us that our stuff would be swiped immediately if we didn't keep an eye on it. In the month we were there, we never had a problem, but the constant reminders told us that there's a problem brewing.
The Take Home
You should visit Tamarindo if you're in the mood for an alternative to a standard, packaged beach vacation.  Tamarindo is small enough to make you feel like part of the local vibe right away.
Check out these posts: