Tamarindo's expensive, and the grocery stores are no exception. We spent a month in town, so we had plenty of time to check out all the local places for self catering.
Once we got used to the sticker shock after coming from San Jose, we managed to find almost everything we needed at the local Tamarindo supermarkets.

View Barefoot Guide to Tamarindo, Costa Rica in a larger map
Super 2001
Our condo was about half a block away, so this was our default place to stock up on groceries. This is a very small supermarket (only about five isles, so about the size of a convenience store in Canada or the US).
The good. Considering the store is so small, they have a respectable selection of North American staples. There are some decent bakery items (including pizza) in the cases next to the cashiers. The wine selection was good.
The bad. Not cheap, but nothing is in Tamarindo. This is the smallest of the three main grocery stores in Tamarindo, so you're better off doing your major shopping somewhere else. The produce selection is pretty lean, and what's in store is generally wilted and looking a bit worse for wear.
The indifferent. We'd been told Super 2001 was the most expensive place in Tamarindo, but after comparing the supermarkes, their prices seem pretty much the same as anywhere else.
Super 2001 is located just after the turnoff to Calle Tamarindo. Matt at 10feettravelling has some good pictures of Super2001.
Super Compro
I wanted to like this, I really did. It's the most typical Costa Rican store of the three supermarkets in town and caters more to locals than tourists.
Unfortunately, Super Compro isn't air conditioned, and there's no air flowthrough the store. There were some pretty nasty smells oozing though the store on a couple of our visits. That said, it's well stocked, though you won't find more than standard North American items here (parmesan reggiano is out of the question, though you will find some standard American cheeses). We did pick up a cheap $10 boogie board.
Super Compro is located just across from the local park in the center of town.
Super Las Palmeras
Super Las Palmeras is a one minute walk from the Hotel Diria, on the main paved road into Tamarindo. It's reasonably well stocked with the basics, and is conveniently across from the beach for a quick stock up on sunscreen.
Auto Mercado Supermarket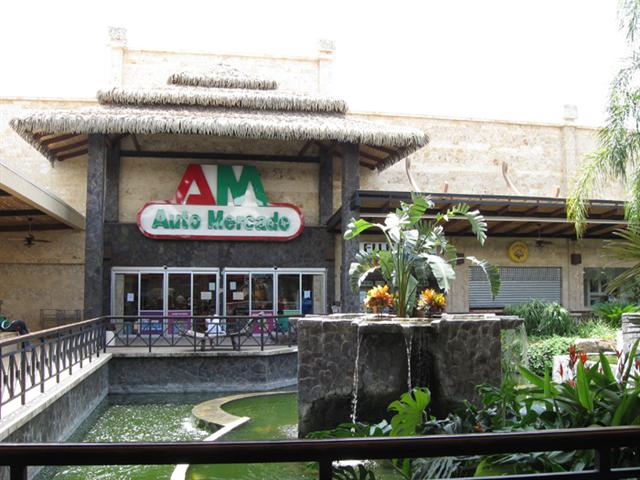 Auto Mercado is about two miles outside of central Tamarindo. It's only a $5 cab ride, or (as we learned the hard way) a hot, sweaty, dusty 30 minutes walk down a busy road with no sidewalks. Spring for the cab.
Auto Mercado is the nicest, newest, most Western of all the supermarkets in town. It's part of a chain of San Jose grocery stores. Once you step foot in here, it's easy to forget you're in Costa Rica. You easily could be inside any generic supermarket, in any generic North American town.
The store is well stocked, so you should be able to find almost anything your little North American heart desires, from American coffee to gnocci and Ritz crackers. They carry a good selection of housewares, and probably have the best wine, beer and liqour selection in Tamarindo.
Their bakery is well stocked and darn delicous, too. The produce section is the biggest in Tamarindo and the produce looks fresh.
The good. Amazing selection. Clean and air conditioned. Great bakery and produce, and a well stocked fresh fish and butcher shop.
The bad. If you're looking for an authentic Costa Rican shopping experience, this is not where you'll find it.
Auto Mercado Supermarket is located in the Garden Plaza Shopping Center, just off the highway on the way into town.
If you get a chance to stock up at a grocery store in San Jose or Liberia, you'll save a bundle. Grocery stores in Costa Rica are generally cheaper than in the US, Canada, or Europe, but you'll pay about the same price for packaged foods (like Oreos) as you do at home.
We stopped at the Mega Super supermarket in Santa Cruz (the closest large town), and (surprisingly!) found the prices no cheaper than in Tamarindo. The trip to Santa Cruz was worth it, just to see a glimpse of more typical Tico life than you see in Tamarindo.
This post is part of our Barefoot Guide to Tamarindo, which dishes on the cheap restaurants in Tamarindo, fills you in on some of the great activities we found to occupy ourselves, and gives some hints on how to actually find a car to rent in Tamarindo, Costa Rica.