Costa Rica will always have a special place in our hearts.
Some of our experiences were both eye opening and surreal, like watching an endangered leatherback turtle lay her eggs on a moonlit beach at Playa Grande.  Some of our times there were more carefree, like the amazing afternoons spent lounging by the pool and boogie boarding at the Langosta Beach Club.
Some were simply exhilarating, like gliding down a zipline head first as your feet just barely clear the treetops. Some were also ominously relaxing, like swimming in a natural hot pool on the slopes of a still active volcano.
Even more profound and memorable, however, is that Costa Rica was the place where we first discovered Trits.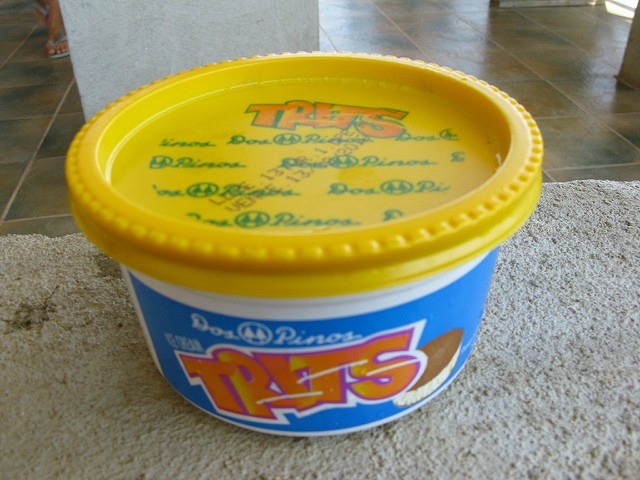 Oh. My. God. Trits. Which should formally be known as the most delicious ice cream concoction in the world.
To belittle and simplify what it is you could call it an ice cream sandwich.
To my taste buds it's what dreams are made of. For whatever reason it comes in a little plastic container which almost seems wasteful however if it came wrapped up in a gold leaf box I would still buy it.
It's essentially a generous portion of melt in your mouth vanilla ice cream lovingly embraced between two cookie like amalgamations of graham crackers and sugar cookies with a small dollop of yummy chocolate sauce thrown in for good measure.
We bought one for each of us almost every time we walked into a convenience store and even had a small collection sitting in our freezer on those days we just didn't feel like braving the afternoon heat. They were only a dollar and a bit each and if they made them in Canada I would probably be overweight within a few months because they are just that good.
They're made by Dos Pinos and until very recently they were only available in Costa Rica and Nicaragua. I read somewhere that they were slowly being introduced to the U.S. so I either have to wait patiently until they come out up here or just jump on a plane and head south. I wonder how fast I can buy a ticket…