Over the course of the past few weeks we've had the opportunity to really explore the Guanacaste Province. After leaving San Jose we jumped on a shuttle bus to Tamarindo. The kids and Micki had caught a nasty cold a few days after our last outing and over the course of the nearly 6 hour bus ride they actually managed to go through a box and a half of Kleenex. As much as I pitied them I felt bad for the other dozen people around us who were trapped in there with us. All in all though it wasn't actually that bad of a trip.
After a few days getting over that cold, we were ready to really get out and explore the area. What we quickly discovered was that Tamarindo was hot. Not just a "where's the shade" hot but the "oh my god turn the air conditioning on and let's never go outside" hot. From 11 to 3 if you're not near a pool or in the ocean then you will find it almost unbearably warm. Of course the locals will be dressed in jeans and saying stuff like "if you think this is hot just wait until April" but for visitors without a few months to acclimatize themselves you'll find it warmer than you like. Think warmest day in summer in Canada continually for 4 months before getting really hot.
Another thing about this area is that it is one of the driest in Central America. Not quite desert like conditions but more like mid fall in Canada. Lots of brown grass and leaves falling. Locals say that it might not rain for 4 months and after being here for almost 3 weeks I'm inclined to believe them. The only thing keeping the leaves green and things from drying up is the humidity.
In my previous post I talked about ziplining being popular in Costa Rica. That's probably a bit of an understatement considering there are literally dozens of places to do it all over the country. We were really hoping to be able to go before we got here but realized that it would be near impossible with Jordan along. That was until we got into a long chat with one of the tour operators out here. It seems that kids can indeed go ziplining. The only caveat is that they need to either go with a guide or a willing parent. In our case, it was both.
We were picked up at 8 in front of our condo and whisked off to the New Monkey Jungle compound. The friendly driver (who also turned out to be the owner) said that it was just us that morning. New Monkey Jungle is the closest operator to Tamarindo and we arrived in about half an hour. On our way we picked up the lead guide (who spoke passable english) and when we got there we were given our climbing harnesses, helmets and gloves. We were also given a quick how-to and then we all jumped (us and our 3 guides) back into the tour van. The tour van climbed a very steep trail up the side of the mountain and we all got out at the highest platform.
One of the nicest things about this tour is that there's no real climbing involved. What a lot of the tours don't explain is that some outfits require you to climb up a bunch of very high ladders and platforms before descending the zipline. Some places actually require multiple climbs after each descent. New Monkey Jungle only required climbing up one ladder right towards the end and it's a pretty short climb. This was one of the reasons we chose that tour. Climbing with Jordan would have been awkward at best.
When we were all gathered and ready the guides explained the process. Cole would go with the first guide and then Micki on her own. Jordan would follow with another guide followed by me on my own and then the last guide. Within moments Cole was strapped onto the line with his own pulley and the first guide was right behind him. They took off like a bolt and Cole was grinning like a fool. Micki quickly got strapped in and whisked away over the treetops. Her shouts of glee could be heard throughout the valley.
The next one up was Jordan. She had been a little cranky that morning and it was at that moment that she chose to let it all out. After a few minutes of consoling, she was doing better. There was no way that she was willing to go with the guide though. That wasn't a problem further down the tour when the cables were shorter and slower but the first two lines were not only the longest but also the fastest. Reluctantly, the guide strapped Jordan in and me right behind her. He then attached his pulley to the line and we took off like lightning. Jordan's cry of protest was almost as loud as Micki's but not in a happy way.
By the time we got to the platform Cole was already on his way down the next line. Micki got set up and continued on her way. Jordan fought tooth and nail and if I could have I would have stopped right then and there. However, we were now fully committed and there wasn't any turning back. So we took off down the second line. Jordan's screams weren't half as bad as the first time though.
Micki was feeling bad that I wasn't getting to enjoy the tour so she took Jordan down the rest of the lines (there are 7 lines in all with the first two being the best). By the last line Jordan was not only not crying but laughing and applauding. When she got to the last platform she was ready to keep going and was actually sad it was over.
For those thinking that she was scared don't worry. Jordan is fearless. What she isn't is a pushover. If she doesn't want to do something she will literally fight you tooth and nail until you relent. She is the happiest girl in the world as long as the world isn't forcing it's happiness on her.
Cole, on the other hand, is happiest when others give him a goal and he's running towards it. He absolutely loved ziplining and if given the chance he would have gone back for seconds and thirds. Bar none it's been the highlight of his trip. I agree that is was lots of fun (even with Jordan screaming) and would totally recommend it for any ages above 4. At that age you can probably talk them through it if they're having any problems.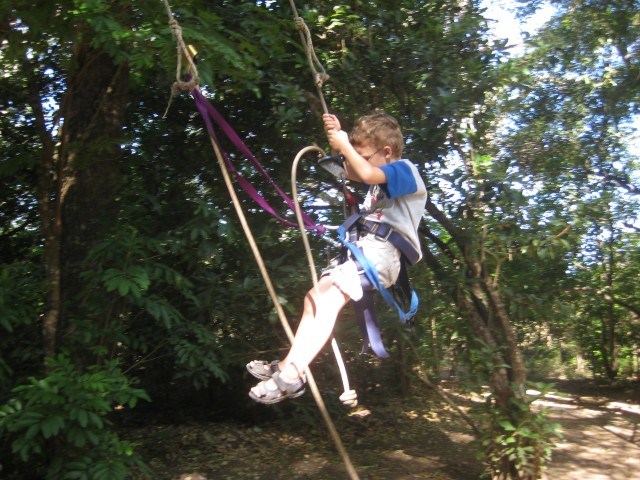 After the ziplines, they had something called a Tarzan swing. Basically you climb a tall tower, hook your harness up to a long cord tied high on a tree and have one helluva swing over a small ravine. Cole really enjoyed it and both Micki and I had a turn while Jordan stayed on the ground. It was almost as good as the ziplines and if I had the proper tree at my cabin I would consider setting up something similar.
All in all it was good day and a nice way to spend a morning. The owner was nice enough to even offer a free second round on the ziplines with the next tour that was coming but we declined. I think Jordan would have been fine but I wasn't willing to test that theory out at the time. There's a good chance that we go again somewhere else in the country but I think this time we'll only take Cole and leave Jordan behind. The only real question remaining is which lucky parent gets to enjoy the thrill of the zipline and which gets to hang out with Jordan. Anyone have a double headed coin they can lend me?