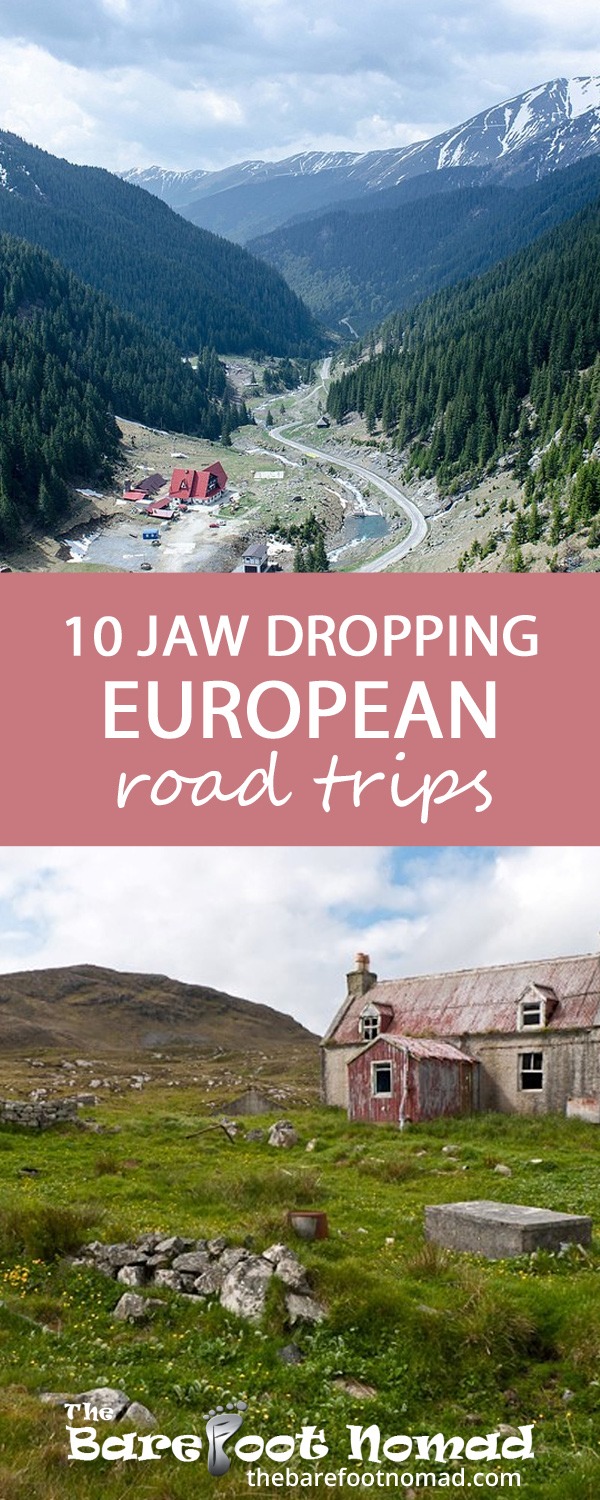 While train travel is the most popular and accessible way to travel through Europe, a road trip allows you to get out of the crowded cities and into the heart of the countryside. Discover the incredible landscapes and picturesque villages of European countries by taking these not-to-be-missed routes.
These roads are not only impressive feats of construction, but also wind through some of the most beautiful parts of Europe.
1. Romania: Transfaragasan Mountain Road
Running along the valley of the River Argea and over a high mountain pass from Pitesti to Arpasu de Jos, the Transfăgărășan Road traverses beautiful mountain landscapes and winds around glacial lakes to connect Transylvania with Muntenia. Untraversable during the winter months, the road rises to 2034 metres at its highest point, Balea Lake, where the world's original ice hotel is annually rebuilt during the winter.
This road also features hairpin turns and more tunnels and viaducts than any other road in Romania. Along the way you will pass the Poineari Fortress, the resident castle of Vlad III the Impaler, who served as the inspiration for Bram Stoker's Dracula.
2. Italy: Stelvio Pass
Located in the Italian Eastern Alps between Stelvio and Bormio, this road rises to an altitude of 2757 metres, making it the second highest paved mountain pass in the Alps. Having changed little since it was originally built in the 1820's, it contains 60 hairpin turns and is a popular spot for motorists and cyclists alike. The cycling race of the Giro d'Italia regularly incorporates it into its route – although it is only open during the summer months.
3. Germany: Romantic Road
The Romantic Road follows a medieval trade route through southern Germany, connecting a number of picturesque towns and castles to take travellers on a trip into the highly romantic, quintessential Germany of yore, a characteristic that persists to this day. Retaining much of its medieval charm, this route winds through forgotten sections of countryside, walled towns and past beautiful historic buildings.
Make sure you stop at the beautiful Neuschwanstein Castle. If you're a little tired of driving by now, stop for a while. Viator has some fantastic tours in the area, including private full day tours of the castle, skip the line tours, and overnight tours of Neuschwanstein Castle and other castles in the area.
4. Northern Ireland: Antrim Coast
Built partially at the bottom of steep cliffs, some extending up to 100 metres above the road, the Antrim Coast road runs for 200 kilometres along the north coast of Northern Ireland between Belfast and Derry.
Drive this route to get a good taste of the varied landscape of Northern Ireland as it winds past beautiful glens, which are, incidentally, great for hiking. The route also incorporates striking headlands, small coastal towns, gorgeous beaches, ruined castles, and some of the country's most famous attractions, such as the Giant's Causeway and the Carrick-a-Rede Rope Bridge.
5. Italy: Amalfi Coast
Italy's renowned Amalfi Coast, one of the most popular tourist destinations in Italy, presents an incredible combination of stunning coastline and small, charming villages. Drive along the steep southern shore of the Sorrentine Peninsula and through the small Italian villages dotted along the way, weaving through crowds of traffic on the edge of a cliff 150 metres above the ocean.
Although no less thrilling than the Stelvio Pass, this road offers a very different Italian travel experience, combining a rich (and, at times, crowded) cultural experience in addition to the incredible scenery.
6. Iceland: Ring Road
Iceland's Ring Road is a 1339 kilometre road running around the circumference of the island that connects its most populous parts. However, for visitors to the country, it provides a glimpse into some of the island's most awe-inspiring scenery. Travel through lava fields, beautiful blue fjords, and past volcanic craters and snow-capped mountains to cover some of Iceland's most striking, unique landscapes.
7. Scotland: The Outer Hebrides
Drive this single-track route running through the rugged, windswept chain of islands off the west coast of Scotland to discover stunning ocean views, beautiful beaches and ancient standing stones. Consisting of many causeways and bridges that connect most of the islands, expect to spend much of your time next to the ocean and in small villages along the way, where you can discover the unique, warm, and incredibly hospitable culture of the local residents.
8. France: Col de Turini
Winding up a high mountain pass in the southern French Alps to connect Moulinet and La Bollène-Vésubie near Nice, this is a narrow road with a total of 34 switchbacks famous for hosting a stage of the Monte Carlo Rally and for occasionally hosting stages of the Tour de France. Drive it to try your hand at the hairpin turns while benefiting from the gorgeous mountain views it offers, being sure to stop at the small church, called the Notre Dame de la Menour, on the way to take a peaceful moment to enjoy the incredible landscape that surrounds you.
9. Germany: Alpine Road
Germany's other popular route is the Alpine Road, a winding 450 kilometre tour through the Bavarian Alps. Along this road travellers will find countless majestic panoramas and mountain lakes, castles, palaces, and abbeys; that is, when they are not enjoying the legendary Bavarian hospitality in one of the many beer gardens and traditional inns to be found along the way.
10. Norway: Geiranger – Trollstigen – Atlanterhavsveien
This route traverses two incredible sections of road in Norway: Trollstigen and Atlanterhavsveien. Beginning in the UNESCO World Heritage Site Geiranger, an area replete with incredible fjords where you will also find the famous waterfall "The Seven Sisters", it then heads to Trollstigen, a winding road encompassed by enormous mountains. After Trollstigen, make for Atlanterhavsveien, or the Atlantic Road, which is a stretch of highway consisting of eight bridges that traverse several small islands and reefs. While this is a great area for outdoor pursuits, the road itself is a marvel of construction that draws highway construction close to the realm of art and sculpture.
11. Switzerland: Furka Pass
This stunning road that winds through the Swiss Alps to connect Gletsch with Realp is famous for being used in the James Bond film Goldfinger. However, aside from its celebrity status, it offers stunning panoramic views of the surrounding snow-capped alps along with exciting driving, making it a top destination for motorists and mountain-lovers alike.
Does all this seem like a little too much work?

Viator has some fantastic tours within Europe, where someone else does most of the driving, and you can kick back and relax a bit more.
Visit the Viator European tours page to see exactly what they offer.
About our Guest Author:
Jayme Collins, originally from Canada, now lives in Berlin. In her spare time, she travels through as many back roads, mountains and villages as she can.