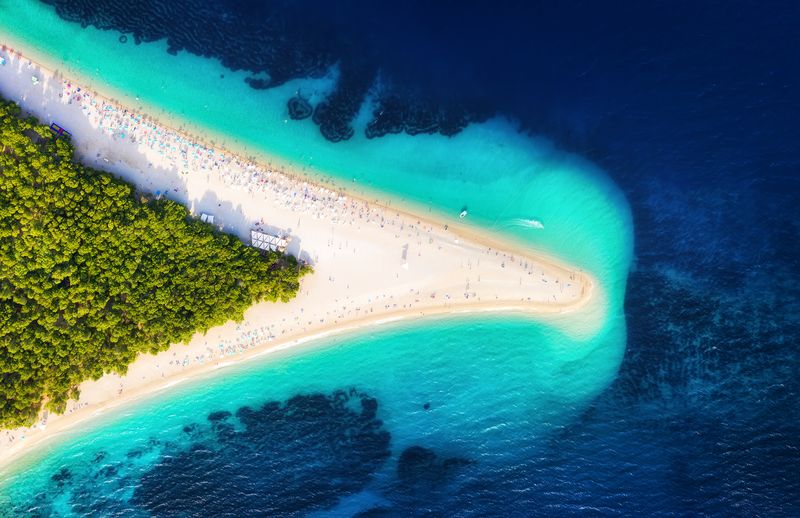 If spending an entire week island hopping in Croatia on a private sailing tour from Split is just too long, then a day trip or two from Split may be a perfect option.
Luckily, Croatia's a relatively compact country, so it's definitely manageable to check out some amazing attractions like the Blue Cave, Krka National Park. Plitvice Lakes National Park, or the white stone architecture of Šibenik old town in a day.
If you're more ambitious, you can even plan longer Split day tours to take in some of the attractions in Bosnia and Herzgovina.
The Best Day Trips from Split Croatia
Split's location makes it a better pick than Dubrovnik for day trips to Plitvice Lakes National Park. Because Split is closer to most attractions, you'll spend less time traveling than if you were based in Dubrovnik.
Here they are, our pics for the best day tours from Split.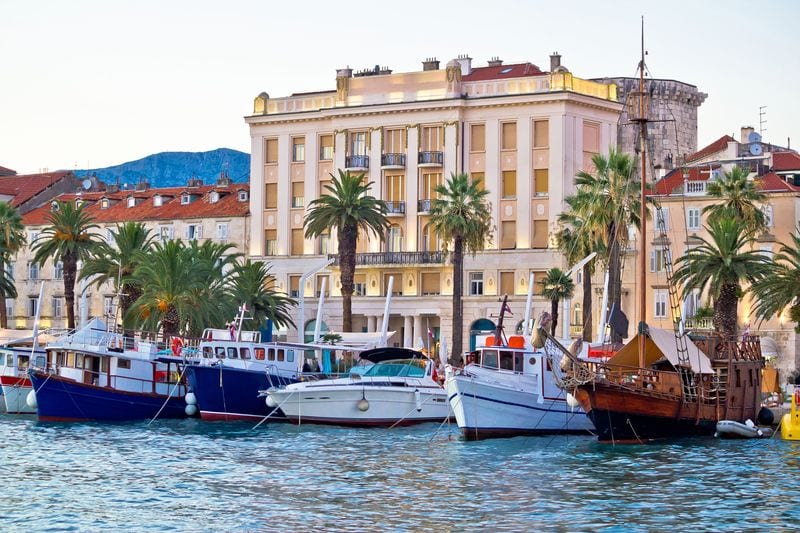 An Epic Day Trip to the Blue Cave
The Blue Cave on Biševo island was accidentally discovered by an explorer a couple of hundred years ago, and today is a must-see for any nature enthusiast.
The journey to the island takes you on crystal waters and in crisp sunshine – the two elements that make the cave so spectacular.
Many trip operators that organize daily visits to the cave. This trip takes you into the cave by boat, where you'll spend about 10 minutes learning the cave's history, with plenty of photo opportunities.
While the Blue Cave is well worth visiting, taking a Blue Cave and multi-island tour will let you explore more of the stunning islands around Split as well.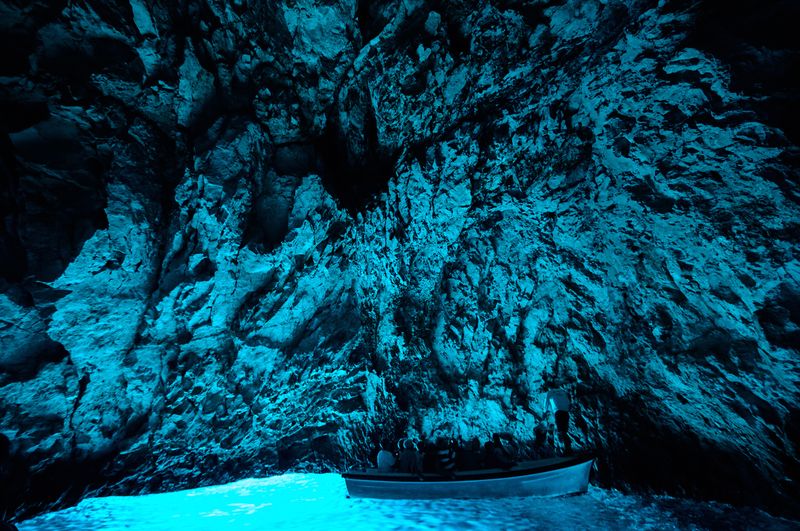 A Day of Fun in Krka National Park
Krka is one of the two world-renowned waterfall parks in Croatia. It's a spectacular area, with natural waterfalls and cascades for swimming.
The water in the waterfalls and cascades stays refreshingly cool even when the sun is scorching. You can take a dip, then explore some of the easy trails in the area, followed by tasting local specialties at restaurants near the water or shopping.
A Krika waterfalls day tour is the perfect break from hot summer days in the city.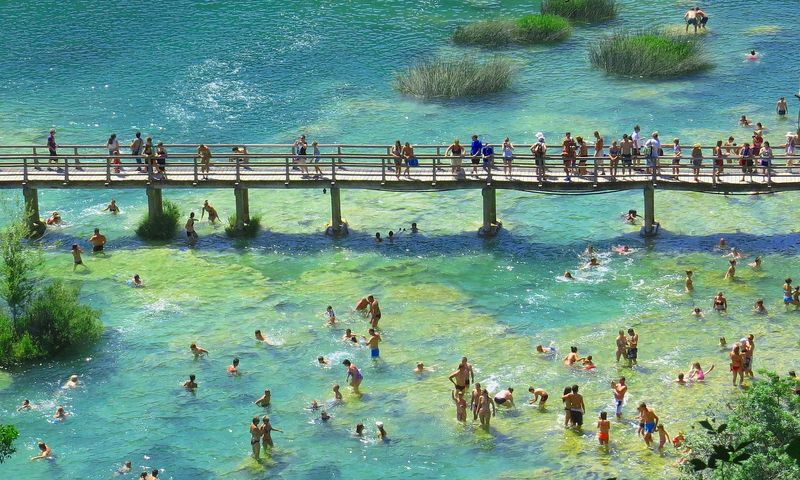 A Trip to the Plitvice Lakes National Park
Plitvice Lakes National Par, is Croatia's largest waterfall park. At Plitvice Lakes, waterfalls that are taller and are longer than in Krka.
The national park has hundreds of cascades that you can walk by and admire. Swimming or bathing in the waters is not allowed at Plitvice Lakes National Park, but the view is one of a kind.
It's well worth taking a Plitvice Lakes day tour just to check out the stunning aquamarine water and waterfalls.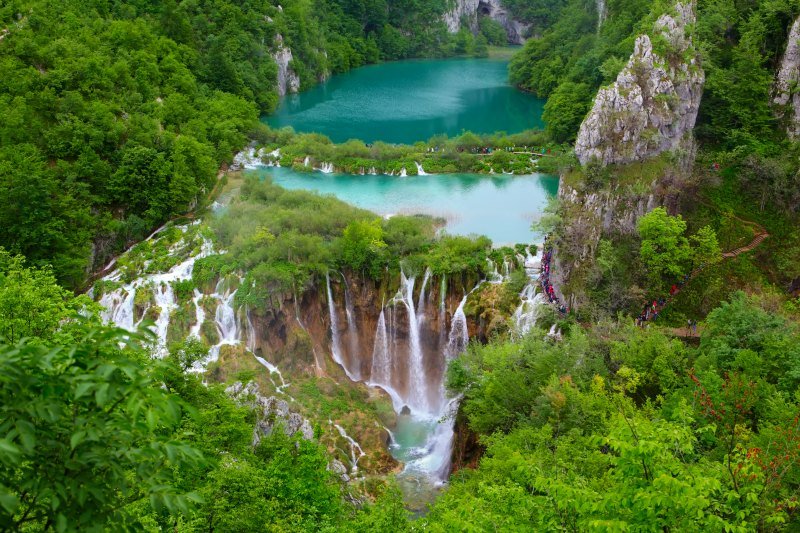 A Visit to Šibenik
Šibenik old town is close to Split – you can get there in a couple of hours.
What makes Šibenik so special is the town center built from white stone. Thought the architecture is similar to other old Croatian towns, the white stone of Šibenik has a unique charm that will make you want to stay.
St. Nicholas Fortress is well worth a visit. It's only connection to land is a narrow walkway that skims the surface of the surrounding water. It's currently accessable only by boat.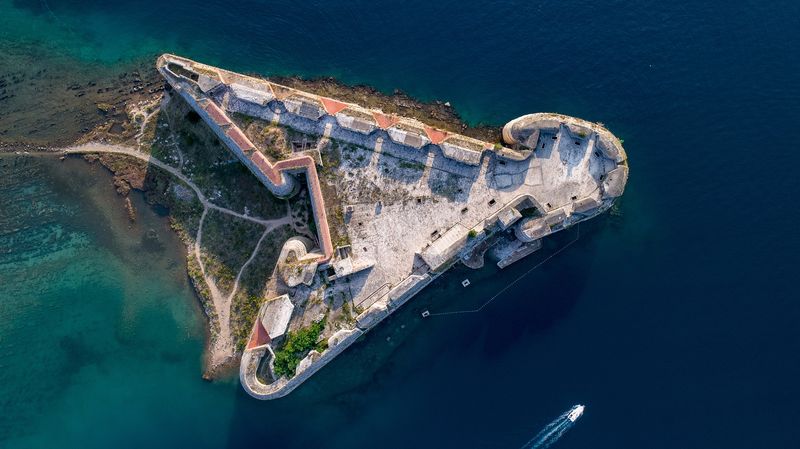 Split to Hvar day trip
Hvar town is Hvar island's main attraction. It's a well deserved honor, since Hvar town has a welcoming Harbour and striking Venetian architecture.
You'll need to do this day trip in summer, because that's the only time you can take a passenger boat from Split to Hvar in the morning and return to Split in early evening.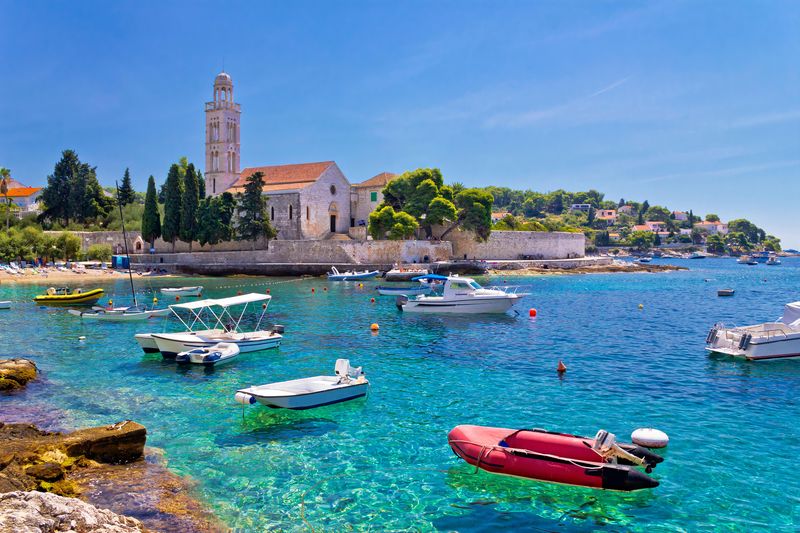 Split to Brac Island day trip
Brac faces Split from the Adriatic Sea, so it's an easy ferry or boat ride from Split. Most people visit Brac as part of an island-hopping trip, but it's well worth the visit for an entire day. Make sure you check out the stunning Zlatni rat beach on Brac Island.
Because Brac is such a large island, you'll find plenty of beaches and bays for swimming and snorkeling and sunbathing.
If you're a hiker, you can fund stunning views among the hills that rise above the ocean, with plenty of well traveled trails. There are even inland trai
Daytrips to Bosnia and Herzgovina
Split is hub for daily trips into neighboring countries.
A trip to Mostar in Bosnia takes you to see the breathtaking old bridge in Mostar.
Nature is also spectacular in the area. Kravice Falls, in the karstic heartland of Herzegovina, are just one of the many areas to explore.
If you choose a day trip, to Bosnia and Herzgovina, be prepared for a long day. If you prefer more leisurely travels, you can take a multi-day trip to the area.