We were starting to think that La Carbonería was simply a legend.
You know, like the fountain of youth, or a good coffee shop in small town Canada.
Sure, there are mentions of this iconic flamenco club on TripAdvisor and even the Lonely Planet, but we were having so much trouble actually finding the place that we were starting to wonder if it was just another cool, urban myth.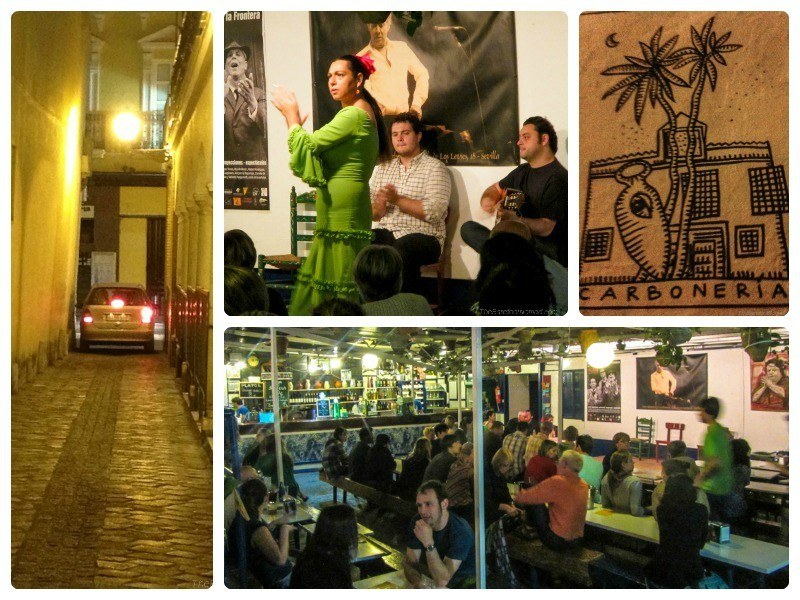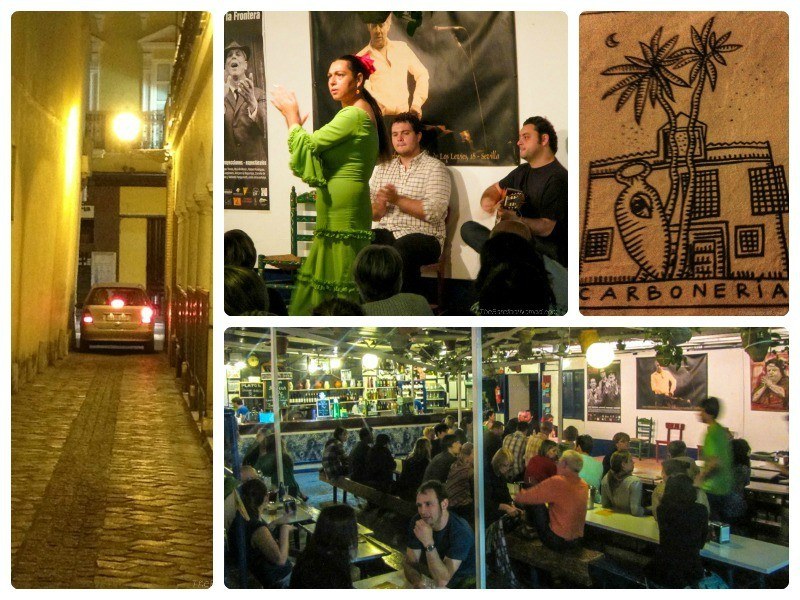 La Carbonería is only a 10 minute walk from the Seville Cathedral, but those 10 minutes were stretching into 20 as we contemplated the labyrinth of tiny cobbled lanes around us.
Four year old Jordan was getting heavier and heavier in my arms as we wandered the alleyways with Charles and seven year old Cole leading the way through the twisting streets. We were all astounded at how cars somehow managed to squeeze through the tiny alleys between the crammed buildings.
As we rounded a corner, suddenly there it was: the entrance to La Carboneria, with a broad red door welcoming us into what looked like an empty warehouse. Jordan's soft little arms hugged my shoulders as we walked inside.
Inside the red door, we found a cavernous, rustic building. In a former incarnation, legend says that coal was once sold here. A huge wooden fireplace sat below a tall ceiling criss-crossed with heavy wooden beams, and a piano, a few scattered tables and a tiny stage area let us know that we were still in the smaller bar.
A kind gentleman who didn't speak a word of English quickly ushered us into the larger, two tiered bar for the main attraction. We were a few minutes early for the 10:00 pm show and found a seat quickly on the raised second row, but the tables were packed within minutes of us entering.
We let the kids choose our seats on one of the thick benches running along the long, roughly cut wooden tables, grabbed a menu and waited for the show to begin.
The kids snacked on a plate of olives and cheese, while I tried their famous sangria (which was excellent). Charles enjoyed a pint of beer while chatting with some nearby patrons.
Being Spain, not much starts before 10:00 pm and the flamenco here was no exception. It was about 10:30 when the performers walked onstage – one guitarist, one singer and a single flamenco dancer.
By then, every available seat was filled, mostly with locals, but with a smattering of tourists as well. By the time we left La Carboneria at the end of the first show, it was so busy it was standing room only. We would have loved to stay for the next show (every 30 minutes we were told), however the kids were so tired that Charles and I didn't feel like having to carry them home if they fell asleep.
The video here isn't the best quality – it was shot on our point and shoot in low light, but I think it shows what all the fuss is about. The dancer is Rocío la Turronera, the daughter of famed singer El Turronero. The guitarist is Antonio Heredia, but we weren't able to identify the singer. When we contacted the folks at La Carboneria to find out, they kindly emailed us back to let us know the singer was a last minute substitution and not their regular performer.
You Should Know
La Carboneria is hidden away on a windy side street at Calle Levíes, 18, in Seville, Spain, where the cobbled lanes are so narrow a single car sometimes has trouble fitting between the buildings.
This place isn't to be missed. The drinks were affordable and the tapas simple but decent. The highlight was definitely the flamenco and the easygoing atmosphere.
If you're on your way here for the 10 o'clock show, budget some extra time to find the building. You will need one (or all) of the following:
a smartphone with Google Maps
a good, detailed local map
a local
a bit of luck
Smoking is banned in all public places in Spain, so La Carboneria is smoke free. Children are also welcome to attend.
Entrance to La Carboneria and the flamenco show are free, but you're expected to buy something to drink. Their house blended sangria is fruity, light and delicious.