This is a guest post by the awesome Erin of Travel with Bender.
Greece is home to several of the most famous islands in the world: Santorini, Corfu, Mykonos and Crete. All are divinely beautiful and all are geared up for hundreds of thousands of tourists that stream in every year.
But what if I told you there were four alternative islands that offered an even more authentic Greek experience? And even better, far less tourists to compete with? Wouldn't that tickle your fancy?
Relatively little is known about the other 18 Cycladic islands, except they are still the islands made of dreams. Sandy beaches, rich hospitality and ancient history collide in our favorite Greek islands found off the beaten track.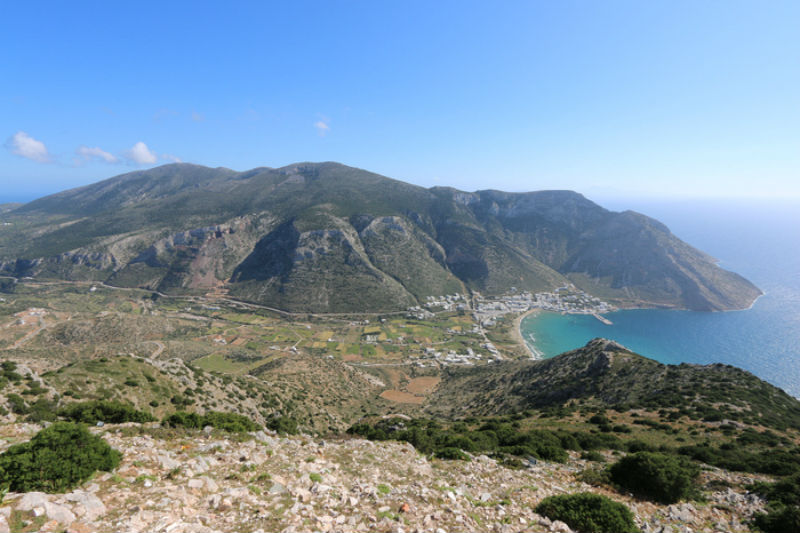 Ios
This island has a reputation for parties and young drunk tourists. But there's so much more than meets the eye.  Apart from being full of expats and Australian backpackers, there's also a host of authentic isolated towns for a really relaxing break. Compared to the other smaller islands, Ios is not completely off the grid, but it's still far less busy than destinations like Mykonos.
Ios is best explored by a scooter which is relatively cheap and easy to hire, just show a drivers licence. The most popular chill-out zone is at Mylopotas beach, lined with restaurants, hotel pools and beach volleyball nets. In the heart of the capital, Chora, you'll find authentic Greek restaurants that can only be accessed on foot.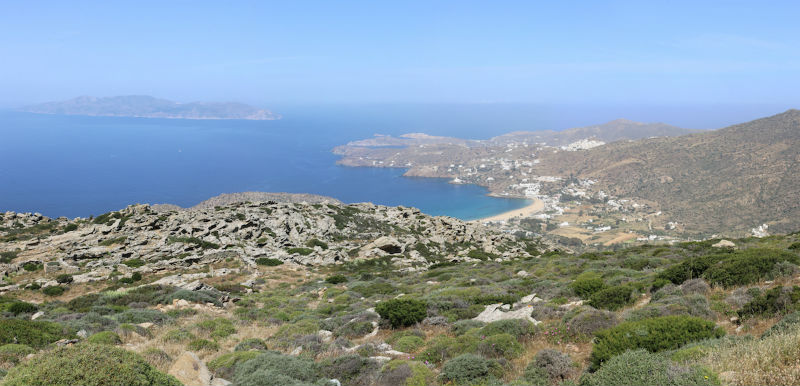 Milos
I'm guessing you've seen pictures of arguably the most famous ancient sculpture in the world – Venus of Milos? This is where it comes from! This island has a rich history dating back thousands of years, from ancient (and modern) mining, to secret religious burial grounds and mysterious caves. Some visitors also believe it contains several of the best beaches in Greece.
Around half of the island is preserved as a nature reserve and can only be accessed via a boat or off-road vehicle. But there's still plenty to do and see, with over 70 beaches, including our favourite, Sarakiniko – it can only be described as a merger between the blue Mediterranean Sea and a colorless lunar landscape.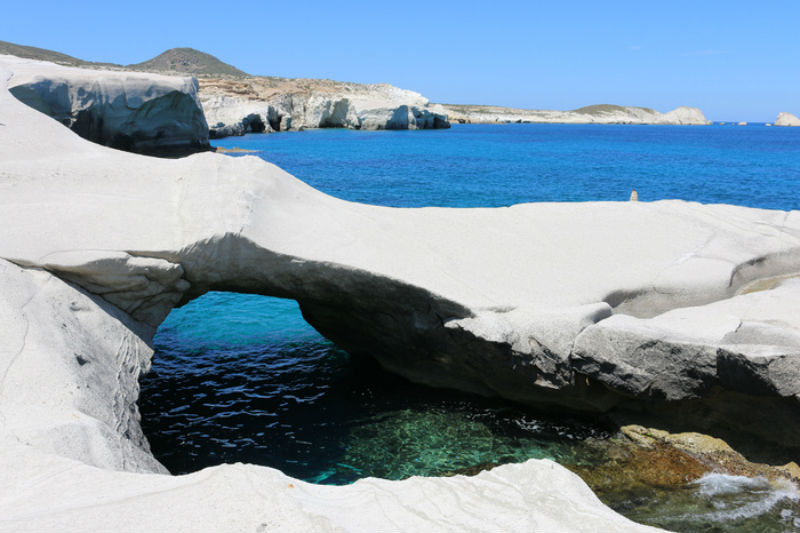 Sifnos
This magical island is where the sea meets the mountains and the mountains meet the sky. Home to the tomb of Homer, ancient archaeological ruins, breathtaking panoramas and gorgeous, secluded beaches – this island has everything for a perfect holiday. I highly recommend having lunch on the beach in the town of Vathi, on the southwest coast. And then drive (or hike) up to one of the many mountaintop monasteries for a surreal view from above. This is one of our favorite islands.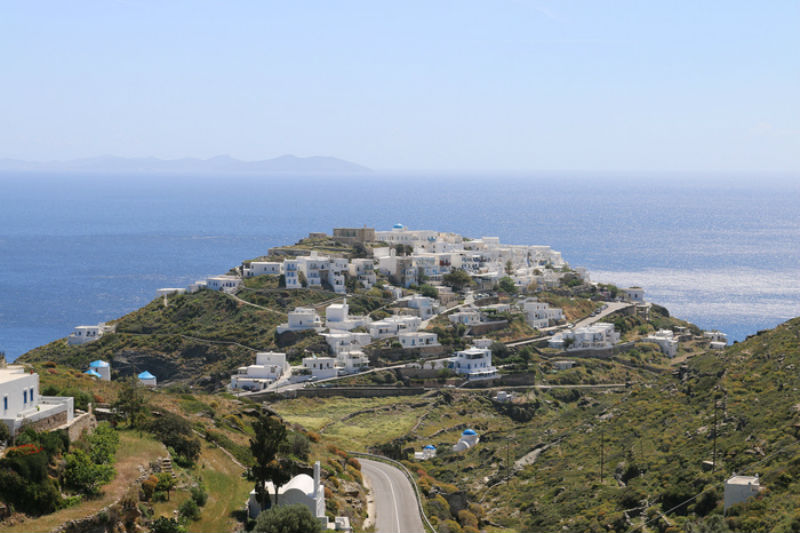 Kythnos
This is about as off the beaten track as it gets. Kythnos is home to 1500 people, 3 police officers, 1 doctor and over 400 churches. Being a highly seasonal destination, the summer months cause the numbers to swell. In one particular town 3 or 4 families can grow to over 150 individuals.  The entire island feels so safe and connected – everyone knows everyone. Cars are left unlocked with keys in the ignition. Locks on houses are rarely used.
It's easy to see how we fell in love with this secluded island. It is still very much under the tourist radar, as the majority of visitors are fellow Greeks from Athens or Russian sailboats touring around the Greek islands. There are almost no expats living here, but you'll find most people speak some English and Greek hospitality abounds around every corner.
If you're looking for a real, authentic Greek island experience, then Kythnos is it.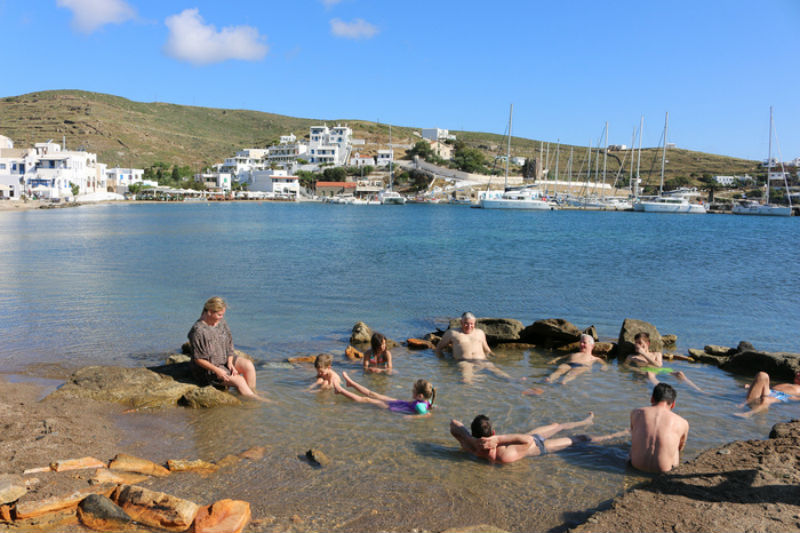 With many beautiful beaches, natural hot springs, and picturesque green valleys, the atmosphere instantly de-stresses you. Any tension and anxiety cannot help but dissipate as soon as you step onto this island.
Oh, and if you love food, then the restaurants here are as fresh and local as it gets. Best of all the prices are very reasonable. What isn't there to love about Kythnos?

If you've never been to the Greek islands, then there is one important tip to learn. Even though they maybe geographically close to each other, each island is unique. The atmosphere, food specialties, scenery and landscapes vary so much. But that means whatever you're looking for, you can find it – nightlife, restaurants, beaches, hiking or just relaxing in the sun. And best of all, there's no need to limit yourself to just 1 island. Ferries regularly operate between each island, so go island hopping this summer and find out which Greek island is your favorite.
Author Bio: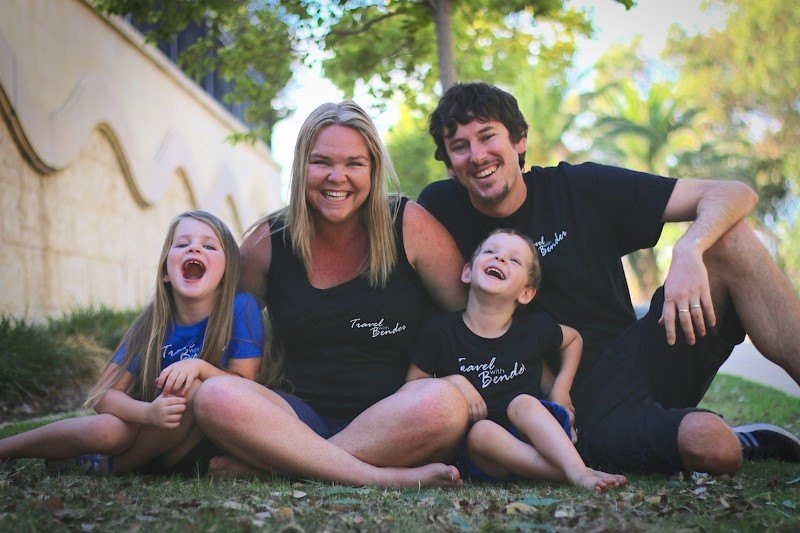 Erin has been travelling with her husband and two children since May 2012. It's an open-ended, unplanned, round-the-world trip discovering amazing places for families. They have stayed in hostels and 5 star luxury resorts, traveled on scooters and cruise liners, danced with leprechauns and cuddled tigers. Nothing is out of bounds or out of reach for this remarkable Australian family. You can find unique family travel insights at her award-winning travel blog, follow her on Facebook, or catch her tweeting on Twitter.