Norway is well known for being one of the world's richest and happiest countries, but did you know that Norway also has Europe's highest waterfall?
Even more fun, did you know that the Colonel-in-Chief of the Norwegian King's Guard, Sir Nils Olav, happens to be a King Penguin?
Read on to learn more quirky and fun facts about Norway.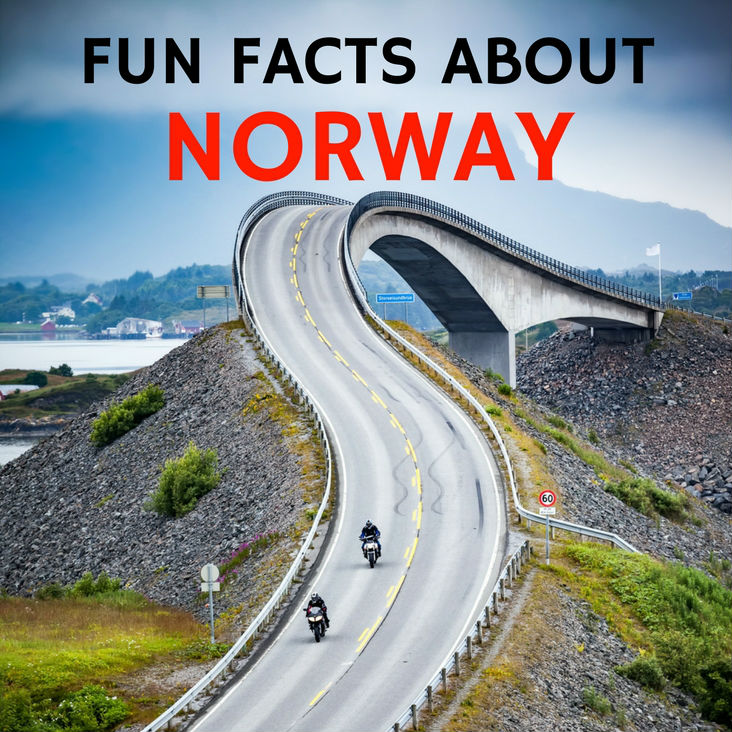 Fun Facts about Norway
Lutefisk, one of Norway's most iconic traditional dishes, is literally gelatinous, salted fish that was made with lye. Today, Scandinavians rarely eat lutefisk and there is more lutefisk consumed in the United States than in Scandinavian countries.
The Guard mascot of the Norwegian King is a king penguin named Brigadier Sir Nils Olav. He doesn't live in Norway though, his residence is in the Edinburgh Zoo in Scotland, where he receives regular visits from the King. No, we're not joking. Here's a video of the Majesty the King of Norway's Guard paying a special visit to the RZSS Edinburgh Zoo to bestow his new title of Brigadier Sir Nils Olav to the resident king penguin.
Alcoholic beverages that are stronger than 4.75% (mainly cider and beer) are sold only in specialized government owned shops called Vinmonopolet (which literally translates to Wine Monopoly in English). Each city has a few such shops and there are no Vinmonopolets in the Norwegian countryside.
Norway's iconic Freia chocolate was an important food source for Roald Amundsen, who led the first party to reach the geographic South Pole on December 14th, 1911.
The Norwegian national drink is a spirit called akevitt or aquavit. It's a strong beverage (up to 60% alcohol) that's made from potatoes and flavored with caraway, sometimes dill, orange peel, star anis, cumin and other spices.
The Lofoten archipelago in Norway is north of the Arctic Circle. However, due to the unique and unusually warm climate of Lofoten, it is home to the world's largest deep-water coral reef, called the Røst Reef. Lofoten is also the most northerly location in the world with above freezing year round temperatures.
In other fun facts about Norway, the country's capital city, Oslo, has provided the huge Christmas tree for Trafalgar Square in London since 1947 as thanks to it's WWII efforts on it's behalf.
Norway's Public Roads Administration is proposing the world's first floating underwater tunnel. It's a whopping $25 billion project that would allow vehicles to travel under the Norwegian Sea, avoiding driving around the country's more than a thousand fjords and the amazingly long 21-hour drive and 8 ferry crossings along the Norwegian coastline.
Norway is one of the safest, most peaceful and richest countries in the world. It also ranks first on the list of the World Happiness Report.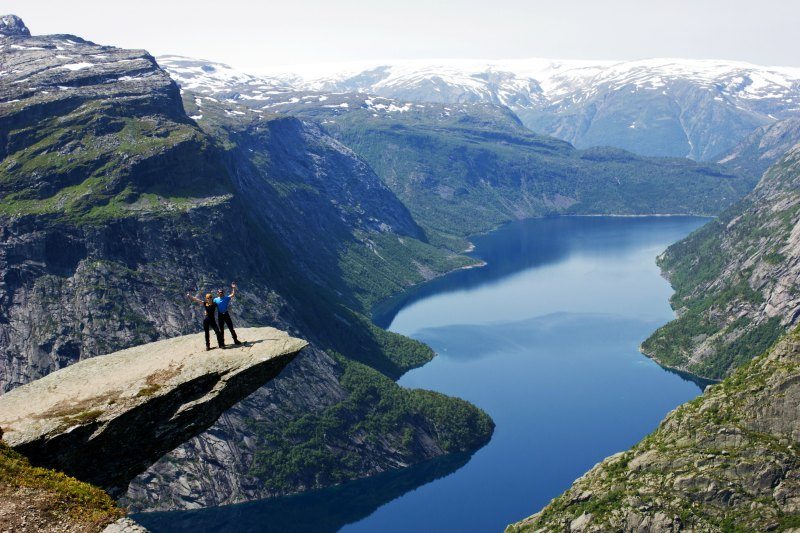 Do you know those crazy Instagram photos you've seen with someone balancing on the edge of a cliff jutting out from a mountainside? They're likely taken at Norway's Trolltunga (or Troll's Tongue in English), which is 2,300 feet (700 metres) above the north side of lake Ringedalsvatne.
The Norwegian coastline is 15,626 miles (25,148 km) long, and its territory includes thousands of islands along the coast.
Norway has over 450,000 lakes, but most of them are fairly small. Of those, only about 200 of them are larger than four square miles.
Norway also has an impressive collection of waterfalls, with the 6 highest waterfalls in all of Europe. Norway's highest waterfall, Vinnufossen is 2,820 feet (860 meters) tall and is the sixth highest in all the world.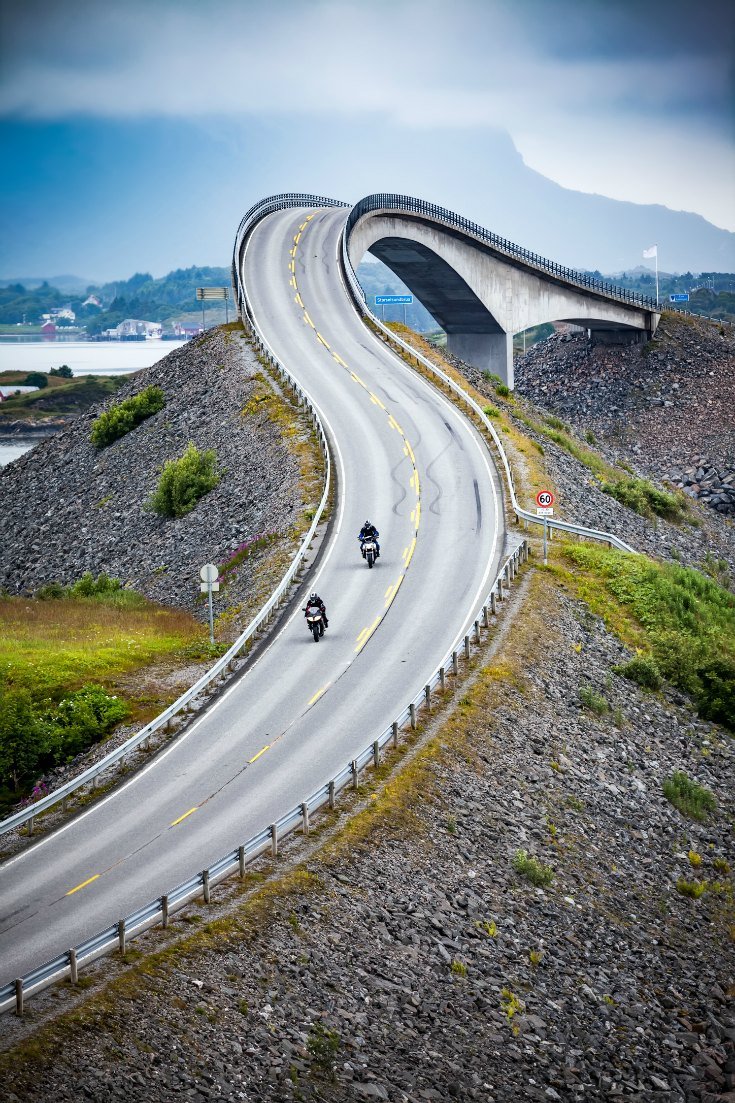 No fun and offbeat Norway travel guide would be complete without mentioning the Atlantic Road in Norway, one of the world's most unique stretches of highway. It was voted Norway's Engineering Feat of the Century in 2005, and is made up of eight bridges over 8,274 meters overlooking the Atlantic Ocean.
Norway has one of the world's deepest underwater tunnels, the Eiksund Tunnel of Norway. It's almost 8 km long and it runs 287 meters under the surface of the water.
The rugged coastline is comprised of fjords, long and narrow inlets lined with steep cliffs, which are the number one attraction for nature-loving tourists from all over the world.
The largest glacier in continental Europe is also in Norway. The Jostedalsbreen glacier covers a territory of almost 500 square km.
Norway is the largest exporter of salmon in the world, but the country's national dish is Fårikål (mutton stew).
For those of us who love both chocolate and cool facts about Norway, this next one is a winner. As previously mentioned, Norway is also well-known for its chocolate. One of Freia's most famous factories that makes hot chocolate, inspired Roald Dahl to write his famous book, Charlie and the Chocolate Factory.
Do you have any cool facts about Norway? Let us know in the comments below!