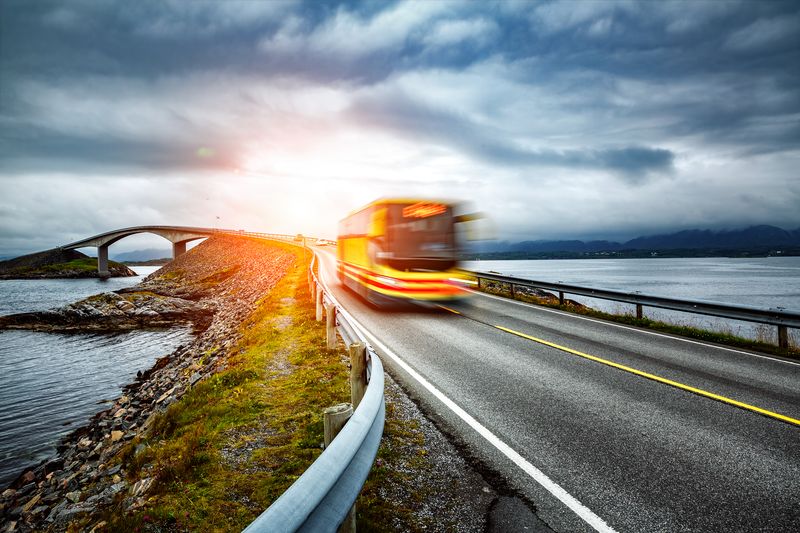 Thinking about traveling around Norway by bus?
Buses are a great way to see Norway on a budget, without having to drive. Norway has an extensive network of bus routes, connecting almost every settlement on mainland Norway, making seeing this beautiful country largely by bus a real possibility.
See Norway bus tickets on Busbud now.
Norway by Bus
Generally, public transport in Norway is excellent. Buses, trains and ferries tend to run (mostly) on time, and cover most of the country.
Express buses connect major airports to nearby cities or ferry terminals, while long-distance coaches between cities often have more luxurious seats, and more space for luggage. The railroad also connects to bus lines, with every end station connected to bus routes to more remote towns.
If you're traveling off the beaten track, the good news is that Norway's public buses generally travel to even more remote areas of Norway. However, many buses on remote routes only run once or twice a day.
You'll need to be organized, and plan your route carefully in advance if you want to take the bus in more remote areas.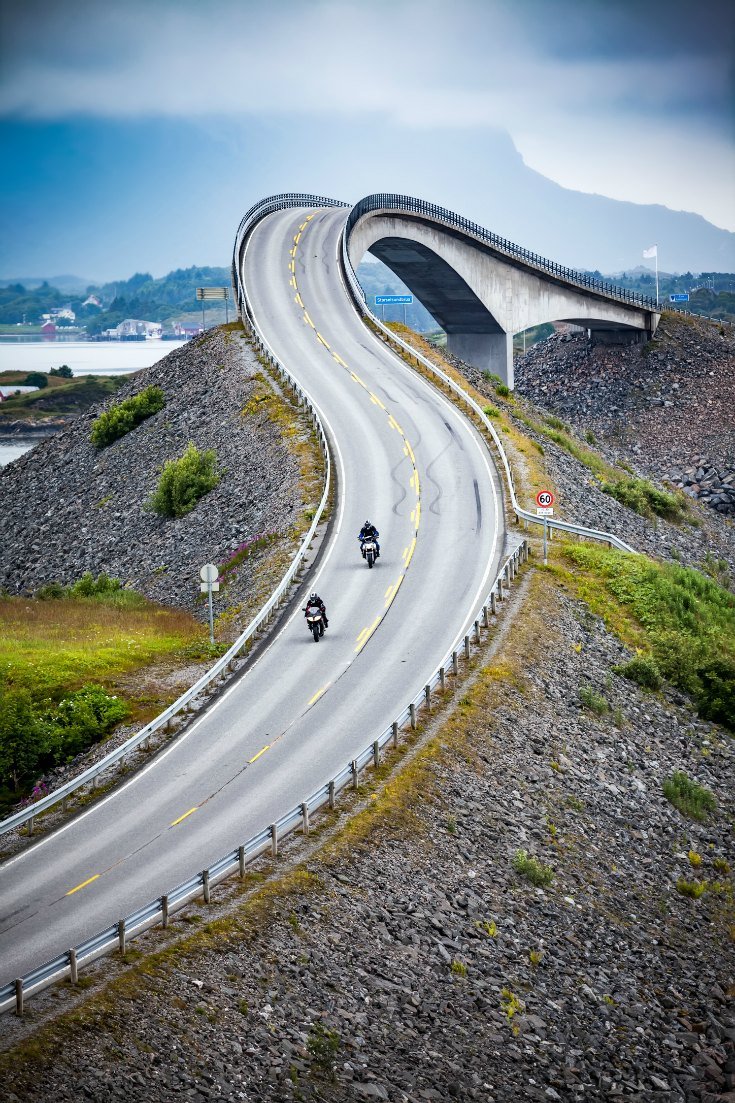 For extremely remote wilderness areas, it may be a good idea to bus between major cities, and then rent a car for the more remote legs of your journey.
Whenever possible, try to book in advance. This is important in Norway mostly because you can save a lot of money. Most bus companies offer huge discounts for tickets reserved online.
Bus services (both local and some long-distance bus services) can have reduced hours on the weekend and the lower (non-summer) months of September to May. Some buses on mountain routes are suspended during winter months as well, so do your research before you travel.
Norway buses
There are countless bus companies in Norway, and they're known to be reliable and well serviced. Generally, they all offer WiFi and air conditioning or heating (but check before you book, just to make sure).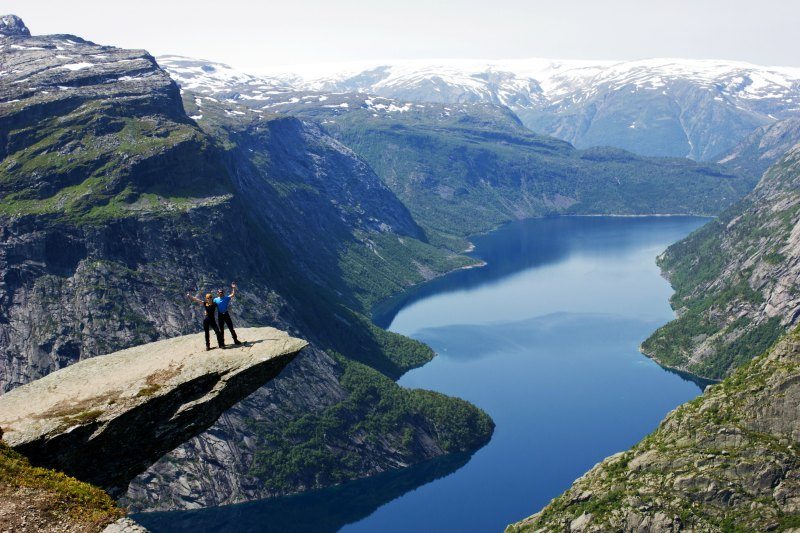 Vy bus (also often called Nettbuss) has routes that cover large parts of southern, western and inland Norway. The Vy Express service services large parts of Southern Norway, connecting to larger cities. Vy bus has one of the largest networks in Norway, and includes Vy bus4you, TIMEkspressen, and Nettbuss Express and others.
Lavprisekspressen bus line is often your cheapest option.
Many remote local bus lines only operate in a single county.
Nor-Way Bussekspress AS has an extensive network of nine different bus companies, which cover most of Southern Norway. See their routes here.
Most bus lines offer discounts for children and seniors and students, and some have low season discounts. If you have an InterRail or Eurail pass, you may also be able to get a discount.
Getting Around by Bus in Norway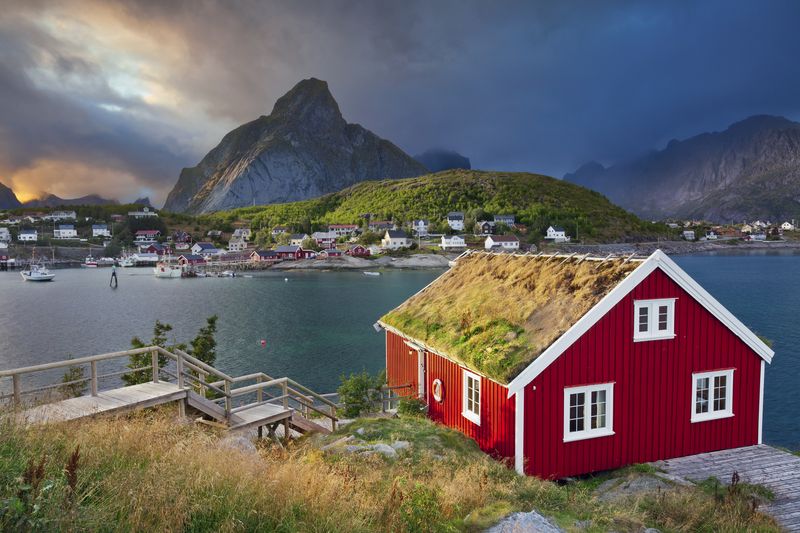 Because there are multiple bus lines in Norway, it can be difficult to find your best route or timetable options, especially if your itinerary requires you to change buses and coaches several times. That's when a third party bus booking site that deals with multiple bus companies comes in handy.
Busbud is a bus-booking website that is easy to use and that makes paying for your reservation equally easy.
Book your next adventure with Busbud here!
To find the tickets for your bus in Norway, just type the name of the departure city and the name of the destination, then hit enter. Then you'll instantly see all your options in one place.
From there, you can refine your search to find the fastest, the cheapest, the earliest or the latest bus for your travel.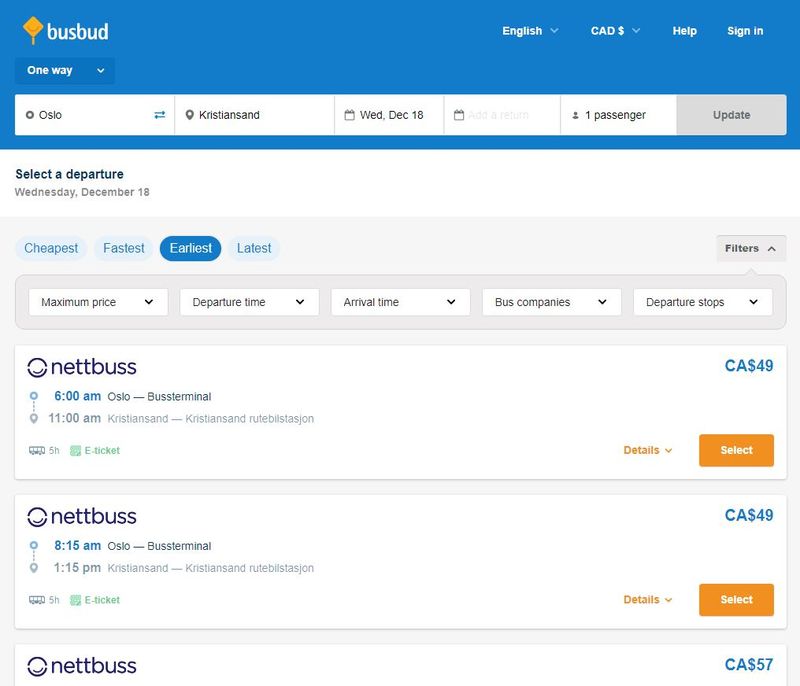 After selecting the best ticket, Busbud walks you through the check-out process, where you pay by credit card. You can either save your digital ticket on your device or print it out. Busbud tells you the boarding requirements, and the amount of luggage you're allowed to bring on board.
Busbud also has a mobile app that you can use from anywhere in the world where you have access to the internet.
You can use Busbud on international bus trips as well, like the well traveled route from Copenhagen to Oslo. Busbud works with over 4,500 bus partners with over 3.8 million bus routes in 84 countries, and serves over 21,000 cities around world.
You'll also find tickets for major routes like from Oslo to Kristiansand (the capital of Southern Norway), or more remote routes.
If you're visiting the fjords, Western Norway is the place. Grab a bus from Bergen to Alesund. The port town of Alesund is on the west coast of Norway, at the entrance to the Geirangerfjord. From Alesun, you can also visit Trollstigen.
See bus tickets on Busbud now.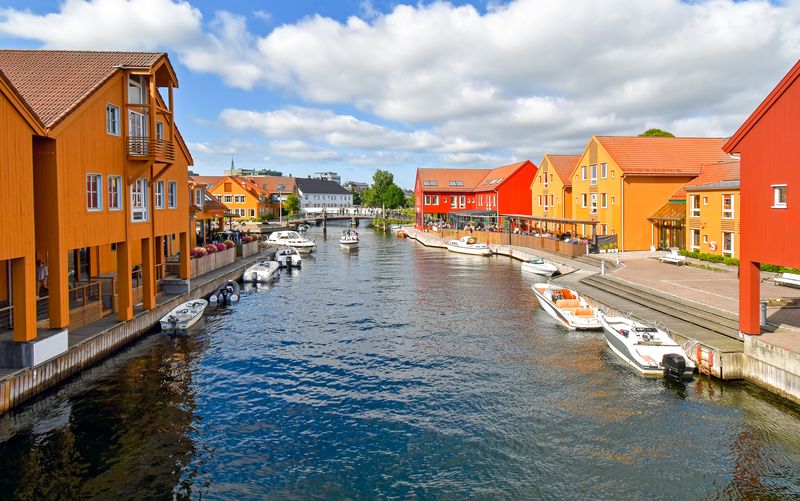 Do buses in Norway take credit cards?
Generally, you can't use a credit card or debit card to buy tickets from a bus driver (other than from some airport and some long-distance buses). So, if you want to use your credit card, you'll need to book in advance.
More helpful Norway resources
The country's official travel app from Visit Norway is incredibly helpful for planning your trip. It's available for iPhones here or on Google Play.
The national trip planner Entur can be helpful for planning routes. Unfortunately, it's in Norwegian only, and we also found the site to be extraordinarily slow.
Want to catch the Northern Lights? Check out the Northern Lights app for iOS and on Google Play.
Looking for more? Check out our fun facts about Norway.