The Mediterranean has no shortage of gorgeous beaches, whether they're secluded coves accessible only by water, or busy stretches of sand in the city. While some travelers flock to the most beautiful cities in Europe, others love to get away from the crowds in Europe, and others head to a beautiful beach.
Here are our top picks of the best beaches for sunbathing, getting together with friends, or simply for long walks along the sand. If you really want to get up close and personal to some of these beaches, you'll need to charter a boat or get a ride from a friend, as many are only accessible via the water.
So pack your swimsuit, sunscreen and floppy hat, and discover these top 10 Mediterranean beaches.
The Best Beaches in The Mediterranean
We found the top 10 beaches in the Mediterranean, from Andalusia to Zakynthos, and everywhere in between. Here they are in no particular order. Be sure to add them to your bucket list of the best things to do and see in Greece!
Navagio Beach, Zakynthos, Greece
Also named Shipwreck Beach or Smugglers Cove after the freightliner that sank in the area in 1980, Navagio is one of the most spectacular and most famous beaches in the Zakynthos area.
You can get to the beach by joining one of the many tours organized from Zakynthos that will not only take you to the wreck, but to the nearby caves as well.
Best of all, this iconic beach is only a 45 minute flight or 4 hour drive from Athens. If you're looking for amazing beaches, you can't go wrong with Greece, a country that boasts great beaches from the westward Ionian Islands to the more central Poros Island to the most eastward island of Kastellorizo.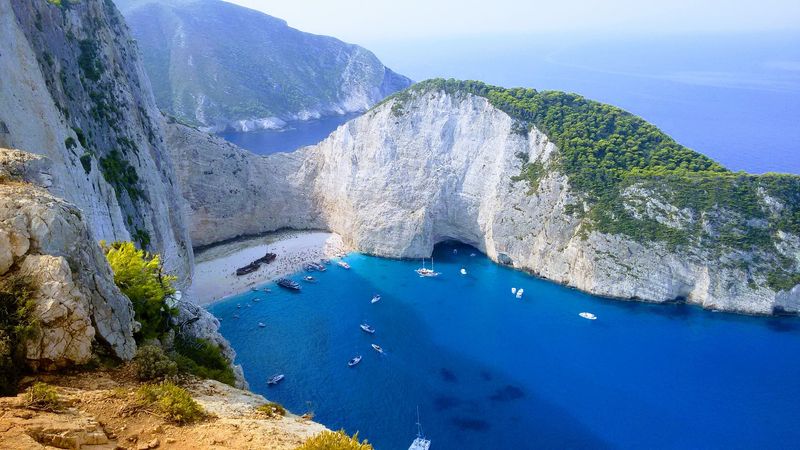 Elafonisi Beach, Crete, Greece
Situated in the southwestern part of Crete, 75 kilometers off the old Venetian harbor today known as Chania, Elafonisi is a tiny island just a few meters away from the mainland.
What makes it so special is that the white sand has pink hues to it as well. The island is a protected area with sporadic vegetation, but even so, it's home to over 100 different species of plants, some of which grow nowhere else in the world.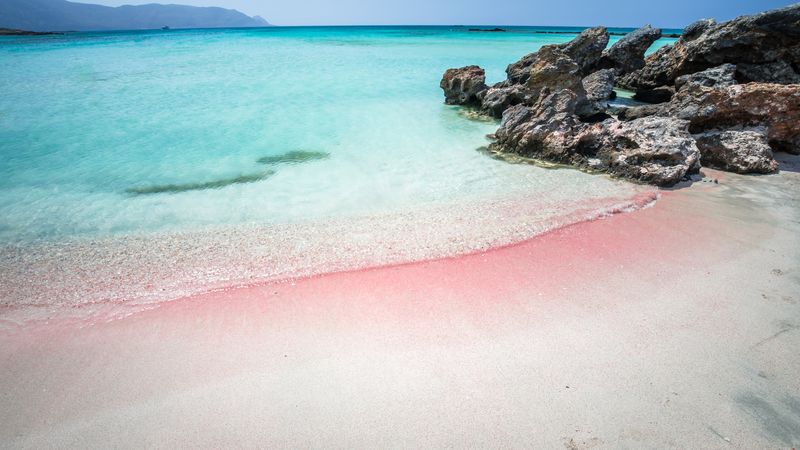 Scoglio di Peppino at Costa Rei, Sardinia, Italy
Located just 70 kilometers off Cagliari, the region's capital, Costa Rei welcomes you with a picture-perfect landscape of white powder sand and crystal blue waters that are so typical of Sardina.
The Scoglio di Peppino beach is one of the best beaches in Sardinia, and is renowned for its spectacular coral reefs as well as the nearby cuisine at Costa Rei. So after you explore the amazing colors and hues of the sea and enjoy the local wildlife out among the reefs while snorkeling, diving or taking a boating trip during the day, you can spend the evening relaxing in one of the charming restaurants or trattorias in Costa Rei that serve tasty local dishes.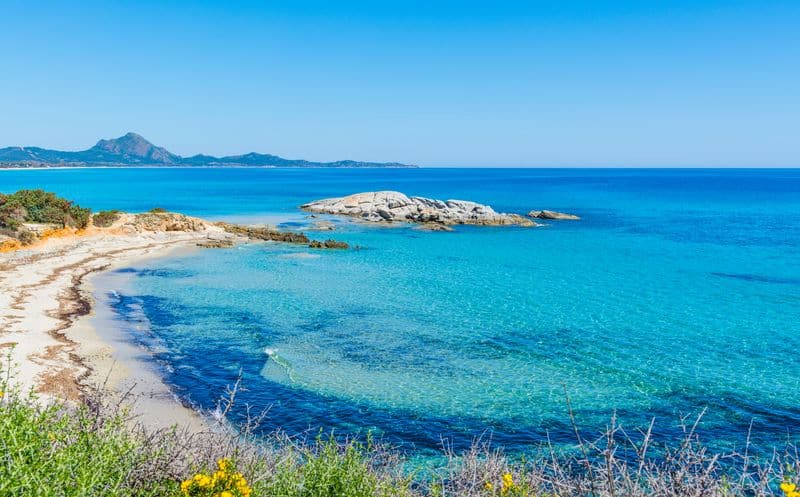 Praia de Falesia, Portugal
The six kilometer long beach of Praia de Falesia in Portugal stretches between Olhos de Agua and Vilamoura.
The golden sand combines with spectacular rock formations that contrast perfectly with the crystal sea. Considered one of the most beautiful beaches in the area, the Praia de Falesia beach is spotted with coves which makes it perfect not only for a peaceful day in the sun, but for enjoying water sports and hiking as well.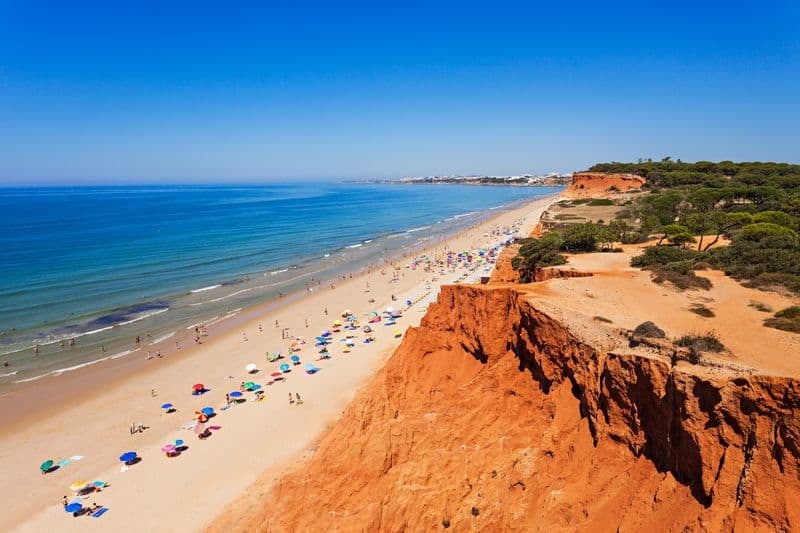 Calo Des Mort, Formentera, Spain's Balearic islands
Calo des Mort is a small, simple beach surrounded by rocky cliffs on the island of Formentera, which is just a quick jaunt away from the popular island of Ibiza. It's the perfect place to enjoy fine sand, clear water, and gorgeous views without the crowds that plague Ibiza.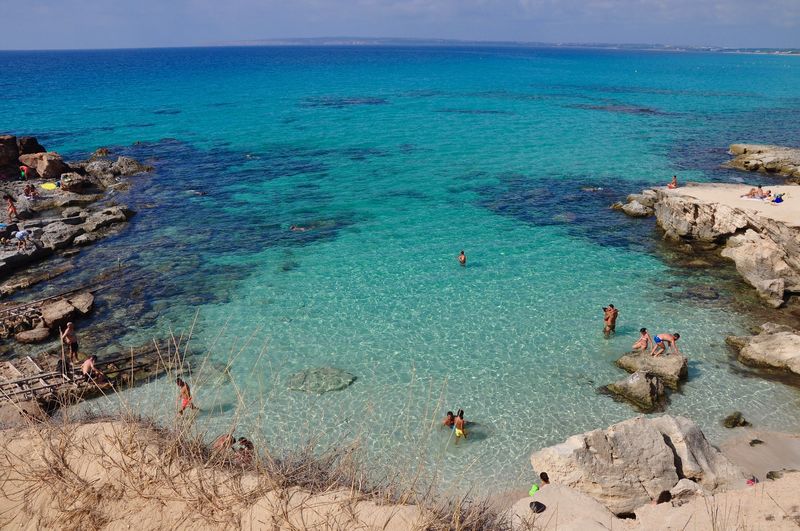 Mojacar Playa, Spain
This 17 kilometer long stretch located in eastern Andalusia, on the Costa del Almeira, is breathtakingly beautiful, but still relatively unknown as a tourist destination.
The deep blue water is framed by a golden, sandy beach that turns into a rugged hillside with a welcoming town that awaits the visitor complete with great restaurants and beach bars.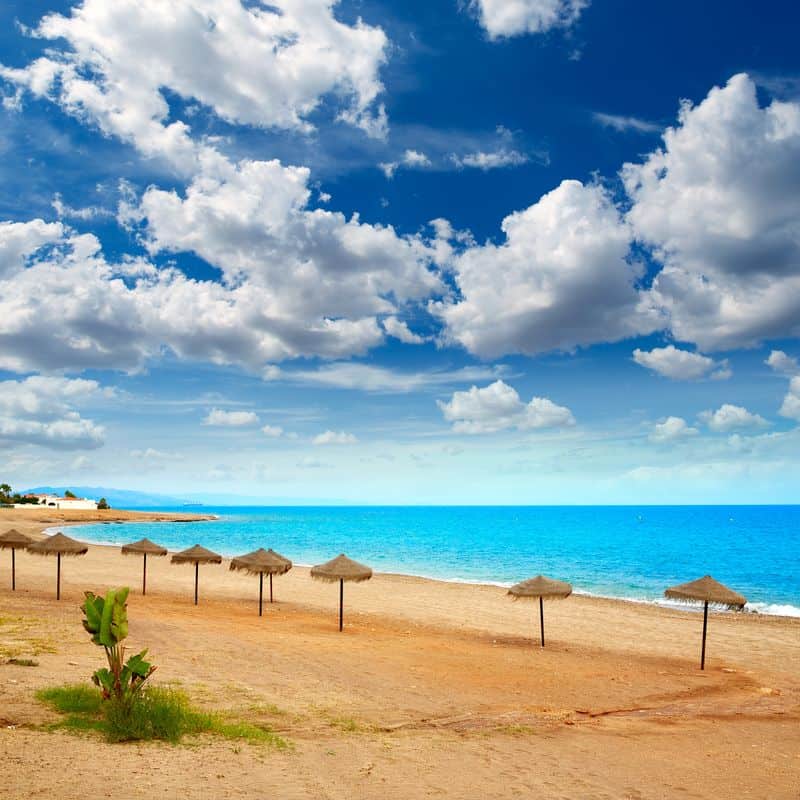 Beaches of Cala Gonone, Sardinia, Italy
Accessible only by boat or by hiking, the beaches of Cala Gonone in the East Sardinia are nothing short of stunning. The beaches are still largely untouched, with dramatic limestone cliffs and deep caves as a gorgeous backdrop.
If you've ever seen Madonna's movie Swept Away, directed by Guy Ritchie, it was set in Cala Gonone. Suffice it to say, the movie is worth a view just for the beautiful scenery.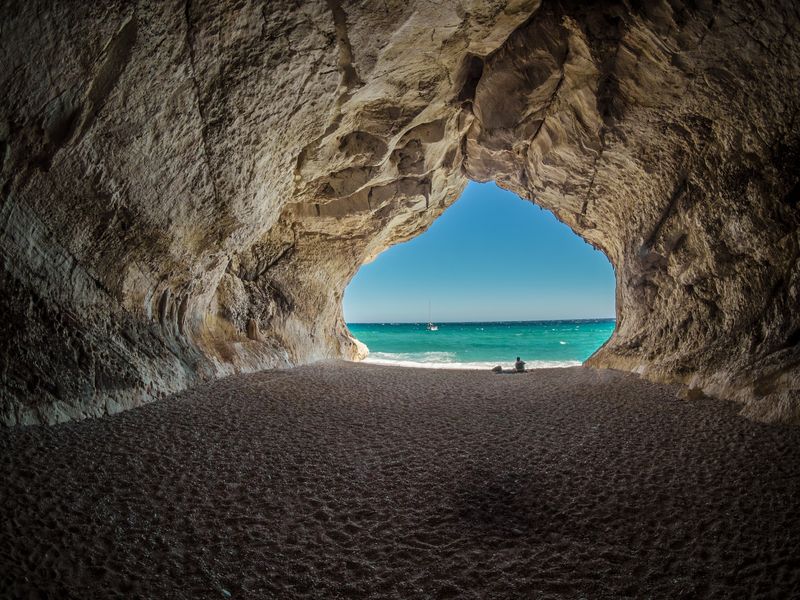 Balos Beach and Lagoon in Kissamos, Crete, Greece
Getting to Balos Beach is a bit of a trial. You can either reach it by a windy dirt road, or by taking a day cruise. Either way, you'll be greeted by striking scenery and gorgeous pink and white sand.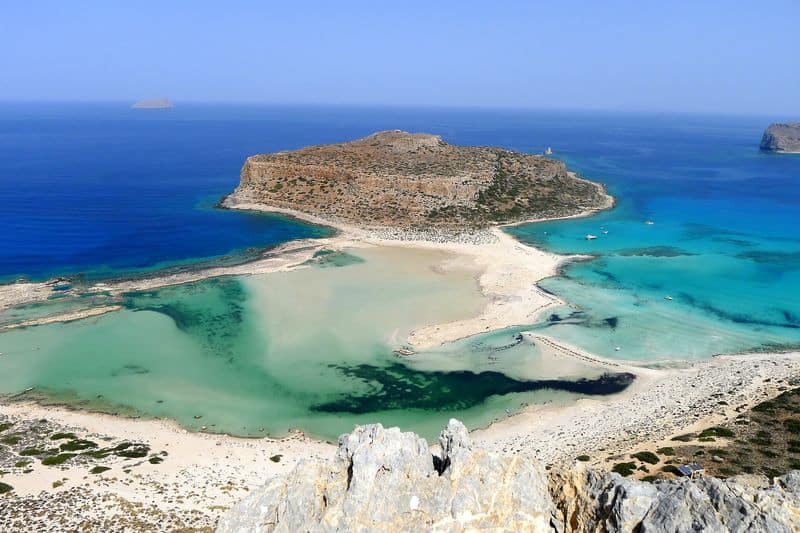 St. Paul's Bay in Lindos, Greece
If you're looking for a fairly uncrowded beach in a a gorgeous bay, St Paul's Bay is your spot. It's south of Lindos on the southeast coast of Rhodes.
There's a small church on the hillside, and two beaches to enjoy. The largest beach (on the south end) is covered with golden sand, and the smaller beach on the north side is a mix of sand and gravel.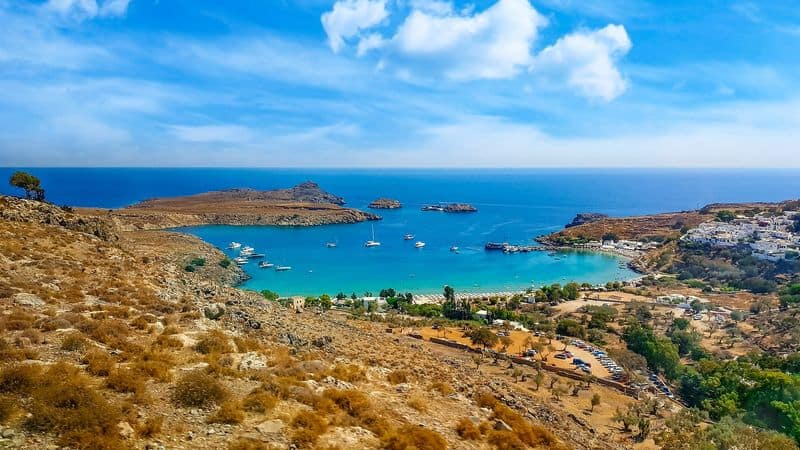 Tel Aviv Israel
Tel Aviv is home to some of the Mediterranean's busiest and most beautiful beaches. Winter here stays above 50 degrees Fahrenheit, making every sunny day (and most are), a great beach day.
Since the beaches also face West, there are stunning sunsets there every night. That said, if you love watching sunsets with a crowd, Saturday night is the time to be there.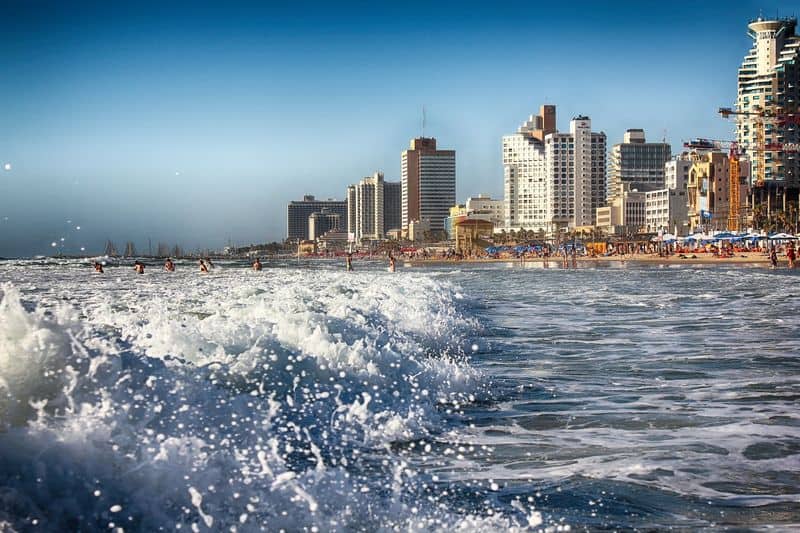 Do you have a favorite Mediterranean beach? Let us know!