I'm going to share a little known secret about me. Ready?
There are few areas in the world that delight me as much as islands.
I'm not sure if it's the isolation, the miles of beaches, the friendly culture or the fact that I can swim in an ocean no matter which way I turn, but islands draw me to them like a moth to a flame. Couple that with unique animals, bizarre landscapes and vegetation not found anywhere else in the world and any island will probably get on my to see list.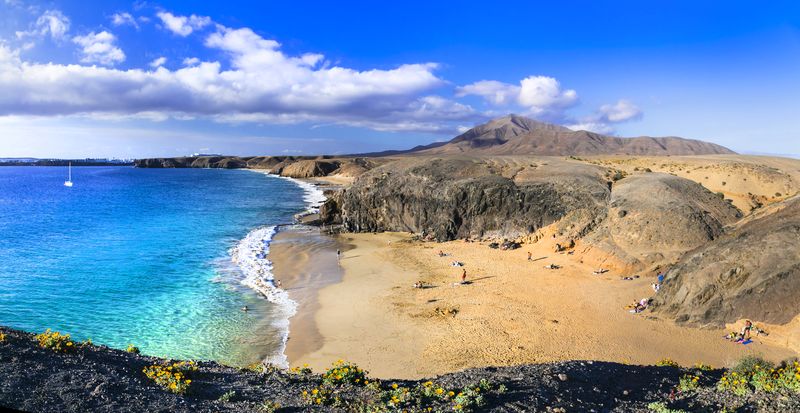 When I look back at all the places we've visited over the years, and which places I find myself daydreaming about on a cloudy day, 9 out of 10 times it's an island setting. I don't even care where in the world it is, as long as there are beaches close by and the temperature is nice.
Queue Lanzarote Island in the Canary Islands. Lanzarote recently caught my attention as a place I want to check out. We've been invited down to the Canary Islands a few times in the past few years, and had we had a little more time during our Morocco visit a few years back we would have crossed over there to see what all the fuss was about.
Short history of Lanzarote
Spanish owned, at 1000 kilometers (621 miles) south of Spain's southernmost tip, it's actually Spain's farthest territory. First colonized in the 14th century by Spain, the Canary Islands lie about 125 kilometers (78 miles) off the Atlantic coast of Northern Africa with Lanzarote being the farthest north of the volcanic archipelago.
Now don't let that all fool you. Lanzarote and the Canary Islands are Spanish through and through. Except maybe a little sandier and in the case of Lanzarote, a little more volcanic than the rest of the country.
With the majority of the islands populated by Spanish descendants and with Spanish as the main language, it's as close to a being in the Caribbean without actually being in the Caribbean you're going to get on the eastern side of the Atlantic.
Why Lanzarote is special
So, what's so special about Lanzarote? Well, never mind that there are dozens of amazing beaches found around the 60 by 25 km island, but there are also unique activities to be had there. Ever take a camel ride on a volcano? How about eating in a volcanic cave or diving into the ocean off a still warm lava field?
Got your attention? You can do all that in Lanzarote and still go out to eat some authentic Spanish tapas (or enyesques as they're known locally) with a group of friends that night.
As you may have guessed, the island got my attention due to its volcanic landscape. When our 10 year old son went through a volcano phase this winter the place landed on our radar. You see, massive volcanic activity in the 1700's left volcanic soil all over the island. Enough so that UNESCO awarded the island the status of UNESCO World Biosphere. How can you not want to check out a place that some compare to the surface of the moon for its rocky surface?
If you're more interested in just relaxing on golden sand beaches by clear warm water and having a nice resort style vacation, Lanzarote has that too. With miles of untouched beaches featuring golden, black and even red sand surrounded by clear blue water, there's also some great surfing, kiteboarding and wind surfing to be had on the island. You can also go kayaking, paddle boarding and there are some great dive sites around the island as well.
Some of the most popular beach towns and resorts are in Puerto del Carmen, Costa Teguise, Playa Blanca and Puerto Calero. Most of these places offer world class resorts that rival anything you'll find on the mainland and all have gorgeous beaches and tons of restaurants, bars and local things to do around them.
With the island only 60 km from top to bottom, most tours and activities can also be done starting from any location, so it doesn't really matter where you're staying if you're planning on checking out all the island's sights.
Food on Lanzarote
There are numerous landmarks and wineries across Lanzarote and though the food tends to be Spanish in flavor and design, it definitely has its own island charm.
Fish and potatoes are staples on the island and like all of Spain, cheese, fruit and variations of ham are common everywhere. However, there are some unique foods you'll only find on the island like black potatoes, Cactus, gofio (a flour comprising toasted grains like wheat or maize), green or red mojo (a Portuguese style sauce for fish or meats) as well as tons of local fruit such as bananas, mangoes, avocados, yams, and persimmons.
Popular dishes on the island include Papas Arrugadas (wrinkled potatoes) with mojo sauce, Potajes (chunky vegetable soups with potatoes), Caldo de pescado (fish soup), Sancocho canario (dried and cooked wreckfish, potatoes, sweet potatoes, mojo and gofio) and you'll often find bienmesabe for dessert. Bienmesabe literally means tastes good to me) in Spanish and comprises of a paste made of almonds, honey and sugar often served with ice cream.
Things to see on Lanzarote
If you want to see all that the island can offer you can take one of the many day tours, such as a Lanzarote buggy tour, available around the island. However, they say that one of the best ways to see Lanzarote is to rent a car for the day and see where it can take you. There are car rental locations in all the bigger centers on the island.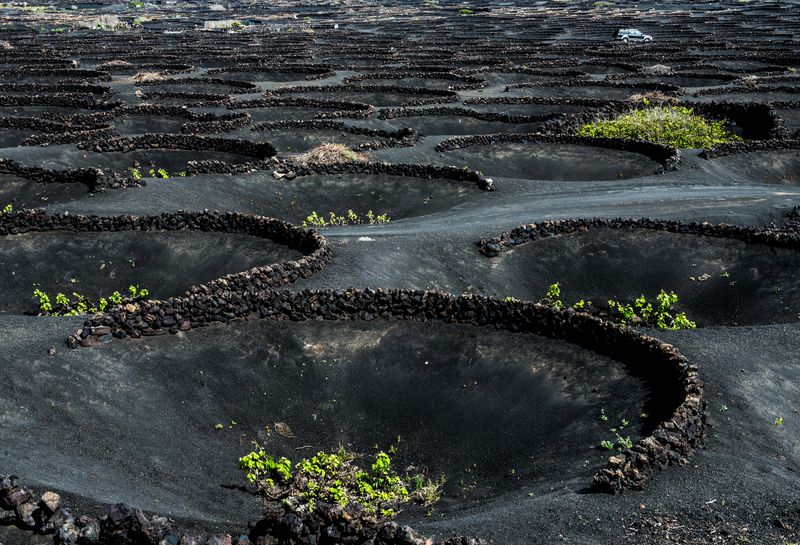 Arrecife
The main capital city of Arrecife is on the east side of the island and makes a great place to begin exploring Lanzarote. There's a good chance you'll be arriving here anyway since it includes the main airport on the island. You can check out the harbor, the marina, the small castles, the beach at Playa del Reducto as well as enjoy the many restaurants and bars that call Arrecife home.
La Geria
On the way to Timanfanya National Park, you'll pass through the wine region of La Geria. Unique to the island, the wines of La Geria are typically made from the Malvasia grape known for its honey-colored sweet rich flavor that produces a wide variety of red, white and rose wines from very dry to very sweet. The wines can be sampled right across the island in most restaurants.
What makes the La Geria region even more special is the work the locals have put into cultivating their wines. Located on the very edge of the volcano fields, they plant each vine in semicircular pits filled with soil then top coat each one with a coarse volcanic ash called picón. The ash helps the ground hold the moisture in and protects the vine from the constant winds in the area.
Seeing a few of these vine pits up close is a cool experience however when you combine over 10,000 of them in one area you find yourself staring at man made art on a grand scale.
Timanfanya National Park and the Fire Mountains
From La Geria you can head Northwest and visit the surreal beauty of Timanfaya National Park.
This is the top tourist attraction on Lanzarote and while there you can enjoy taking a coach tour over the lava fields of Montanas del Fuego or Fire Mountain as well two guided hikes. You can also go on a camel ride that will take you up the volcano and even have a meal that's been cooked over a live volcano.
El Golfo
Just south of Timanfanya lies El Golfo. El Golfo is famous for its green lagoon named Charco de los Clicos. Formed due to a rare hydro volcano, Charco de los Clicos, Charco Verde or Lago Verde as it's also sometimes called, is a small half moon shaped lake that's separated from the ocean by a bunch of black sand. What makes this half lake so special is the hf cone it sits in as well as the crazy color combination of lime green water, red colored rocks, ochre colored hills, black sand beach and blue ocean.

Los Hervideros
Just past La Geria on the western side of the island stands Los Hervideros. Spanish for "boiling water", Los Hervideros was formed during the islands crazy volcanic activities in the 1700s.
This extreme collection of rocks, caves and lava tubes formed as a result of lava meeting cool ocean waves and the unusual rock formations, archways and water funnels make the coastal cliffs of Los Hervideros a sight that can't be missed.
Mirador del Río
Located at the northernmost tip of Lanzarote, the Mirador del Río is a bunker style cafe embedded high up on the cliff side overlooking the island of La Graciosa. The panoramic views are breathtaking so make sure you have your camera with you.
Janubio Salt Pans
Salt played an important factor for Lanzarote in the early 1900's and you can still find them harvesting it at the Janubio Salt Pans. Located on the southwest coast of the island, the Janubio Salt Pans are close to the village of Yaiza and Janubio is the largest still operational salt mine in the Canary Islands.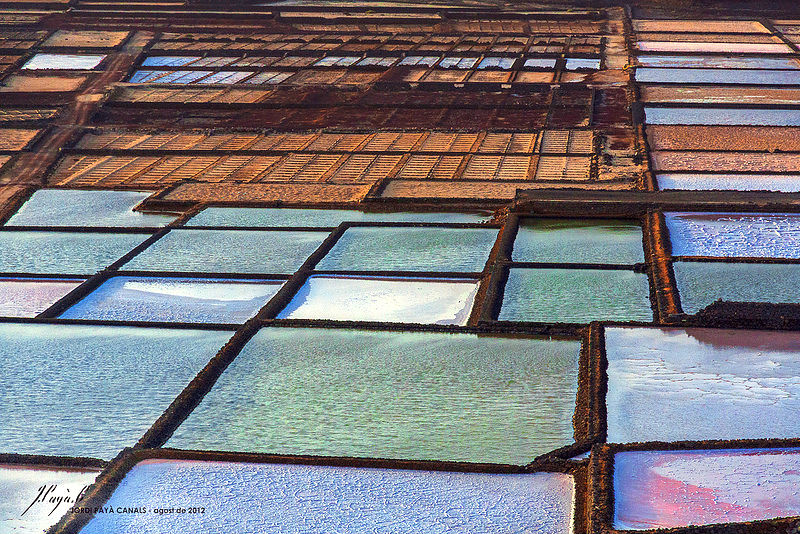 When to go to Lanzarote
Due to its southern location, you can visit Lanzarote any time of the year however April and May are the wettest months. That said, Lanzarote gets an amazing amount of sunshine year round so anytime is really a good time to visit.