There's no shortage of things to do in Mallorca. While Mallorca (also called Majorca) is best known for its beaches, it also offers incredible architecture and history, great food, culture, and even family fun.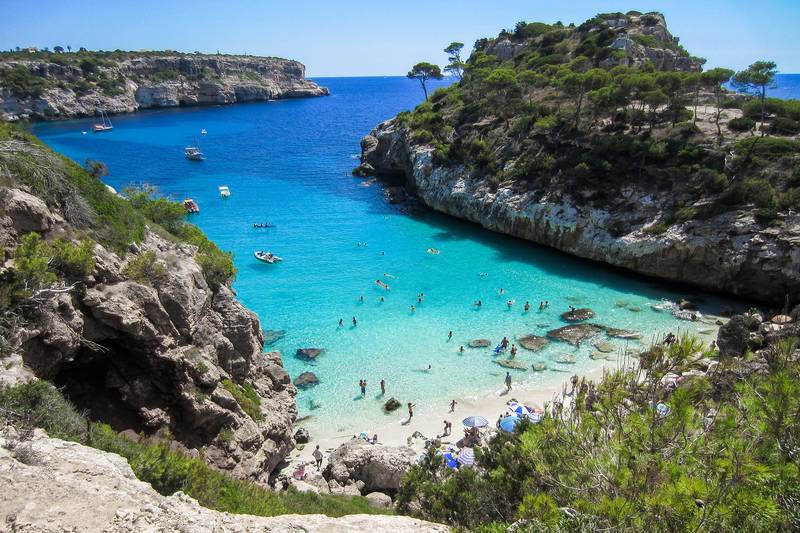 Spain remains one of my favorite destinations. There's a lot to love in Spain, with great food, sunshine, and beautiful architecture high on the list.
Mallorca, the largest of Spain's Balearic Islands, is a little different than mainland Spain, especially more touristy locals like Torrevieja. Because of Mallorca's prime location in the center of the Mediterranean Sea, it's primary draw are beautiful beaches and warm weather, but there's a lot more than that here.
Things To Do in Mallorca Spain
Mallorca has beautiful beaches, a crystal clear ocean, and plenty of activities to keep you busy. If you're a city lover, Mallorca's main city, Palma de Mallorca, is often noted as one of the most beautiful cities in Europe, with it's old European charm and beautiful architecture.
Here are our top things to do in Mallorca Spain.
Visit the Local Markets
The oldest market in Mallorca is Mercat de Santa Catalina, which opened in 1920. While it is not very large, it does have the largest variety of fruit, vegetables and local foods.
This is the place where you can discover the original taste of Spanish deli foods, meats and dairy products. Or you can buy all the ingredients you need and try your hand at cooking Spanish cuisine.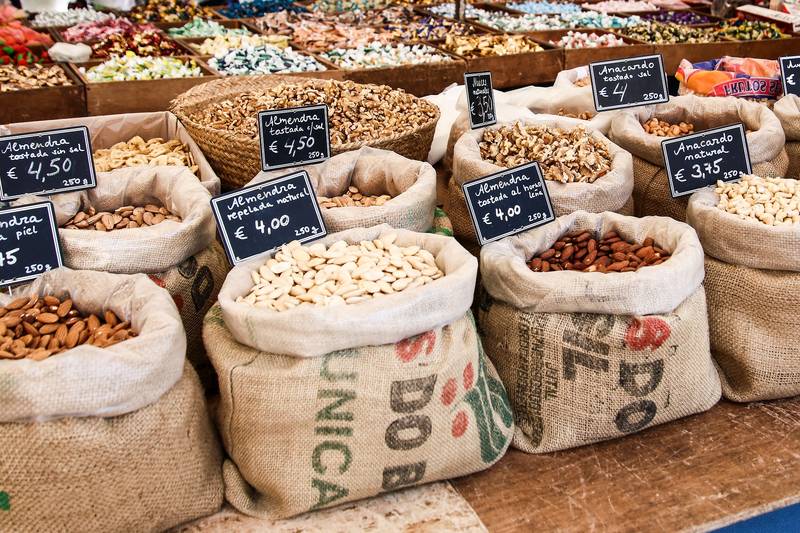 Taste the Local Wines
Mallorca is not known only for its beautiful beaches and live music, but also for it vineyards. At the present, there are over 70 vineyards all over Mallorca, each producing wines appreciated by connoisseurs.
Given the different climate and soil quality across Mallorca, here you will find a large selection of wines. If you want to start with the very best, our recommendations are: El Raiguer, Serra de Llevant, Sierra Tramuntana and El Mijorn.
It is worth reserving at least one weekend for a tour of the vineyards of Mallorca. Just make sure to have a designated driver who will abstain from tasting the delicious wines!
There's even a local Wine Express tour, which takes you on a modified train from vineyard to vineyard on private roads which are not open to the general public. Tours are three to four hours long, and includes snacks and tastings, and a lot of folks say it's a must see in Mallorca.
Get out on the water
Whether you're paddle boarding, snorkeling or taking a luxury catamaran trip, there's plenty to do on the ocean here.
Catamaran trips take off from different parts of the island, but you'll find many leaving from Santa Catalina. Some even include snacks, lunch, and wine.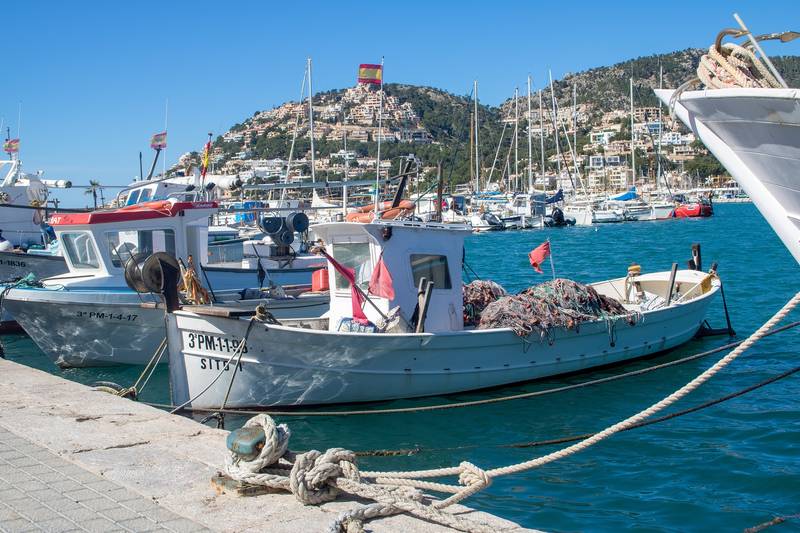 Explore Palma de Mallorca
The historical town of Palma de Mallorca is well worth taking time to explore, and it consistently rates as one of the best places in Mallorca. Palma is full of interesting architecture, including the Cathedral of Santa Maria of Palma (also called La Seu in Catalan).
There are plazas packed with outdoor restaurants, live music, and plenty of people. Take time to explore the narrow streets, do some high end shopping, or just stop by local cafes.
You don't need to stay in Palma de Mallorca itself to make walking the city easy. Mallorca is a relatively compact island. Even if you stay in one of the higher end hotels out of Palma de Mallorca's center, you'll still only be two minutes' walk from the beach and 15 minutes from the centre of Palma de Mallorca itself.
Tour the Catedral de Mallorca
The Catedral de Mallorca is an architecturally stunning building that's well worth a visit. The interior was designed by interior features, designed by Antoni Gaudí and renowned contemporary artist Miquel Barceló,
There are more details for your visit here.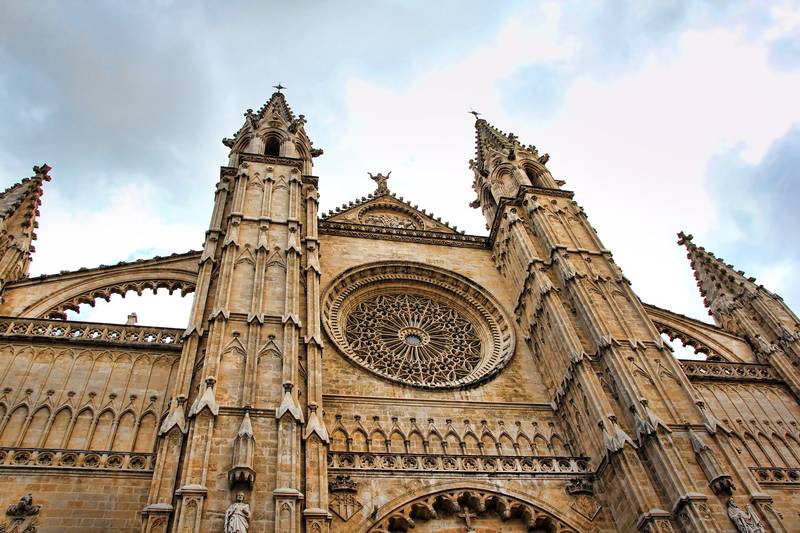 Explore Serra de Tramuntana
UNESCO World Heritage Site Serra de Tramuntana mountain range is well worth taking the time to appreciate.
The range is close to 90 km long, and runs from Andratx in the southwest to the Cap de Formentor in the far north.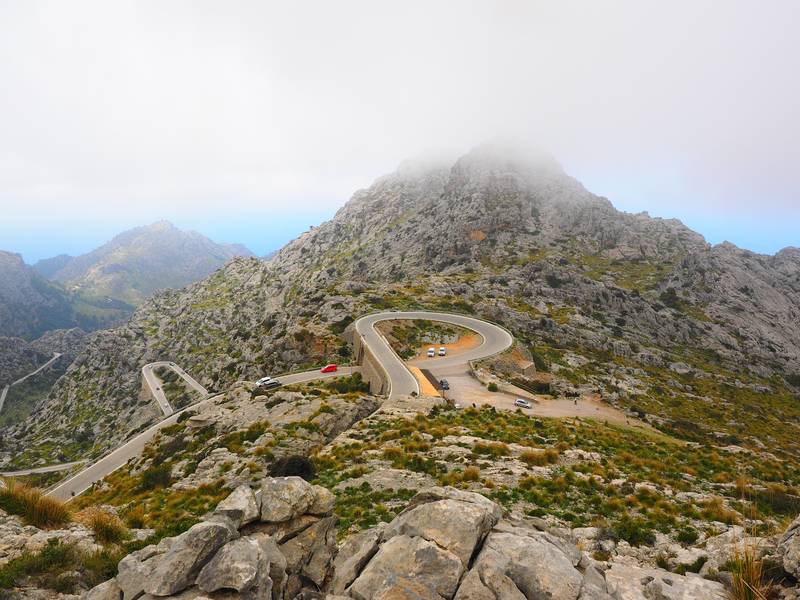 Attend a Festival or catch live music
The island of Mallorca is the place where festivals and music never seem to stop. All year round there are various standalone concerts or festivals you can attend. Many top charts bands and singers come to perform at Mallorca for their fans.
No matter what kind of music you like, you will certainly find an event you would enjoy attending. Music genres vary from classical to jazz, from electronic to rock and pop. Plus, there are many other cultural events worth discovering, such as the Festival de Polenca which takes place in the cloisters of Santo Domingo convent.
However, if you are a fan of club music, you should spend a few nights in Malaguf – the street lined with the most popular clubs and discos in Mallorca. This is the place where the party never ends!
Explore the Charming Villages of Deia, Valldemossa and Banyalbulfar
Everyone raves about the beauty of Palma de Mallorca, there are plenty of wonderful smaller villages on the island. The small and picturesque villages that dot the landscape look as if time stopped centuries ago, and visiting them may be one of the highlights of your things to do in Majorca.
The old houses, narrow streets and friendly people of Deia, Valldemossa and Banyalbulfar will make you feel welcome in the most authentic manner. These are some of the most peaceful and tranquil places you can go to if you have had enough of parties and loud music in the big city. It's a wonderful place to escape the crowds in Europe.
When in Valldemossa be sure to stop by the 14th century Royal Charterhouse, and try a coca de patata. It's essentially a sweet potato roll made with mashed potatoes, eggs, sugar and yeast.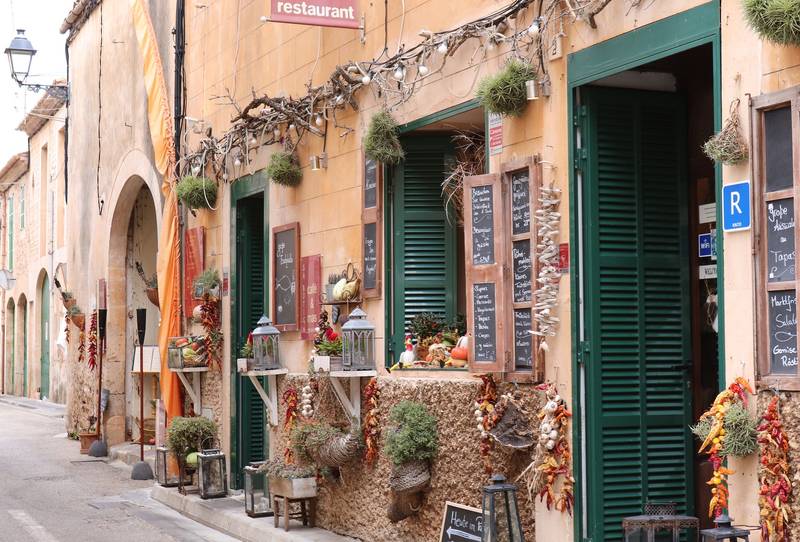 Shop at the Mercat de Santa Catalina
The Mercat de Santa Catalin (Santa Catalina Market, in English) is a long standing food market. It supplies many of Palma de Mallorca's restaurants and cafes.
There's everything here from pastries to fresh flowers to veggies, fruit, meat, cheese, and seafood, and even little cafes scattered throughout serving fresh tapas.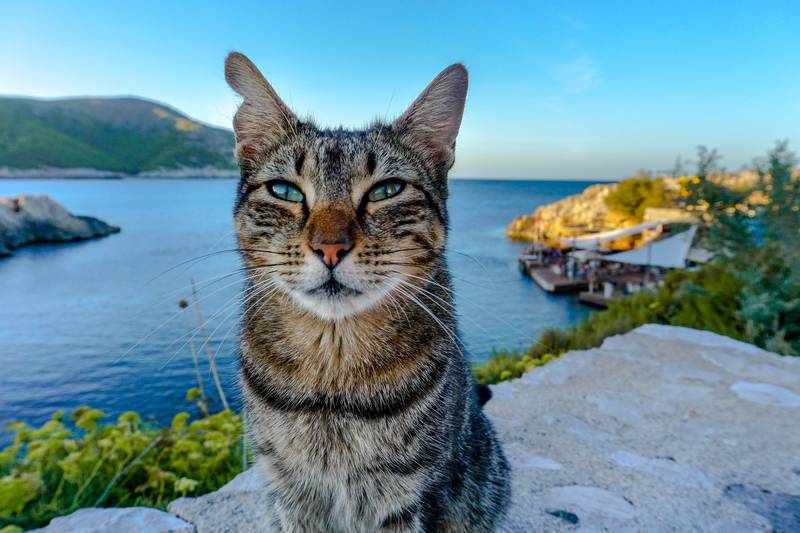 Visit the beach towns of Calo Des Moro or Cala s'Almunia
If you're looking for a change of pace from Palma de Mallorca, grab a rental car and head over to the beach. Mallorca's beaches are definitely known as some of the best beaches in the Mediterranean. The beaches of Calo Des Moro or it's quieter neighbor, Cala s'Almunia are great places to start.
There's not a lot do do here other than to enjoy the view, and go for a fun hike, but the views definitely make it worth the trip! Make sure to bring water and food, as there's a bit of hiking to reach the viewpoints.
The beach at Playa Formentor is definitely worth a visit as well!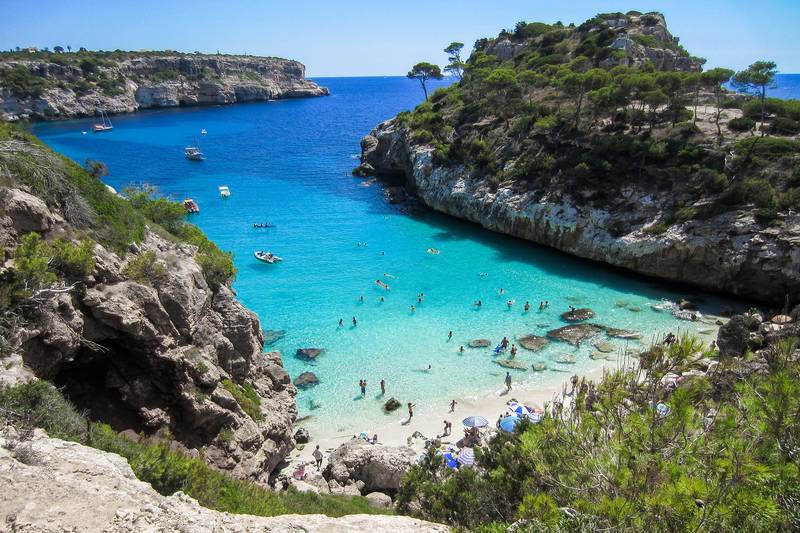 Visit the sand dunes and pine forests of Mondrago National Park
Mondrago National Park jis definitely a unique place, with sand dunes, pine forests along side stunning beaches. You'll need to drive here, and there's a small fee for parking.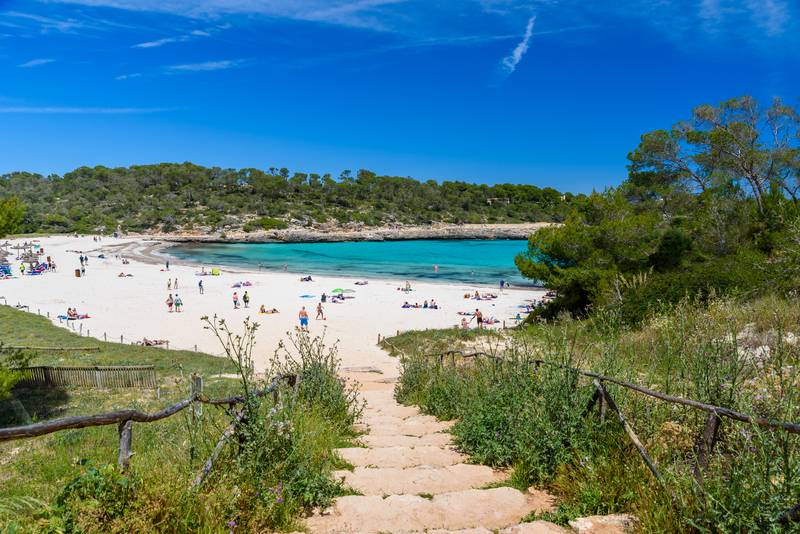 Get your sea legs at Club Nautico Arenal
Club Náutico Arenal, in Palma de Mallorca, is all about enjoying sea sports.
There's a marina, swimming pool, bar and restaurant here, beach, and a relaxed but fun vibe.
Have fun at Katmandu Park
The Katmandu Park water and amusement park is a lot of fun for families. You'll find a splash park, exciting rides, an indoor playground, 4D encounters, and climbing thrills.
Katmandu Park is located near Calviá Beach. Find prices and more on their website.
Explore the Drach Caves
The Caves of Drach in Mallorca are four large caves the go down 25 metres, and extend about 1,200 metres, and house a contain a large underground lake, Lake Martel.
You'll find the Caves near Porto Cristo. Adult admission online is 15 Euro, kids 3 to 12 are 8 Euro, and kids 2 and under are free. Prices at the gate are slightly higher.
Where to stay in Mallorca
Most visitors to Mallorca stay in the capital city of Palma de Mallorca. There are plenty of neighborhoods in Palma for visitors.
For the budget conscious, Son Armadams is a great choice, Portixol is perfect for families, and La Calatrava and Dalt Murada are nice central locations in the historical old center of town for a first time stay.
Whether you're staying in Majorca 5-star hotels or a more budget accommodation, there's still plenty to do and see on this stunning island.
Have you visited? Do you have more ideas for what to do in Mallorca? Let us know!