Southern Spain has a well-deserved reputation for lovely beaches, a rich Spanish culture, tapas, wine and warm weather.
The squat apartment buildings driving into Torrevieja, Spain gave us our first hint that the town might not live up to what the brochures advertised. We were making our way to Torrevieja from the small Andalusian city of Nerja.
Nerja, Spain
Nerja had done a pretty good job of living up to all of the great hype about sun-drenched Southern Spain. We'd spent a month in the little village, in a cute villa overlooking a gorgeous mountain valley with peekaboo views of the sea on the other side.
In Nerja, we went to our corner grocer every day for fresh bread, bartered in broken Spanish at the local markets, and wandered through cobblestone streets and neighborhoods filled with lemon trees and flowers.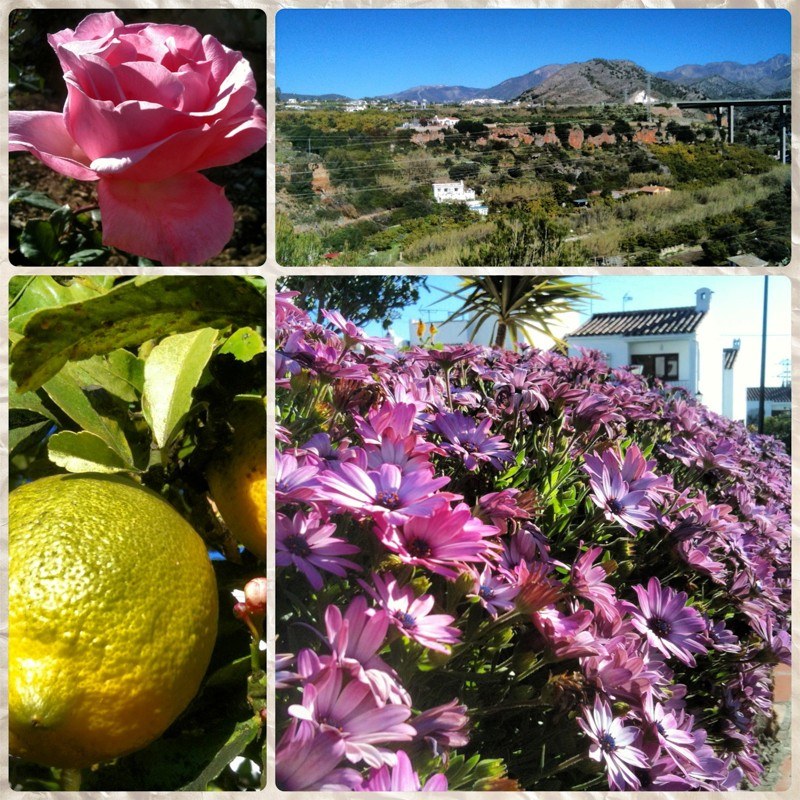 First Impressions of Torrevieja
We were expecting the same from Torrevieja. We were almost immediately disappointed.
As we drove into flat Torrevieja, rows of squat apartment buildings gave us a hint of what was to come. The photo shows the apartment buildings on one of Torrevieja's beaches (more on that later). The beach is pretty enough, but away from the beach in Torrevieja, you're just left with the buildings. Not so pretty.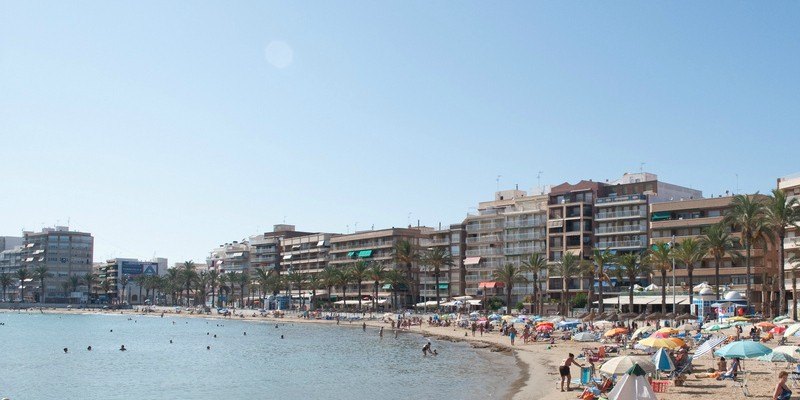 (Very) adult oriented
As we pulled up to the flat we'd booked for the first night, we saw that it was right beside an adult superstore. We decided to persevere anyway (we can't always choose our neighbors), and the little apartment was affordable and serviceable, though there were quite a few single women walking alone back and forth along the streets nearby. Watching the local news later, we gathered (though our halting Spanish) that prostitution is an ongoing problem in the city.
Umm… right. Not the best fit for a family trip. But we were there to meet up with some great friends we hadn't seen in a couple of years, so we were committed to staying for a while.
After a little searching, we found a nice condo apartment in a more residential area and got a chance to explore the rest of the city. It was definitely nicer being out of the core area, but we did miss having all the amenities around us.
The beaches
They're pretty enough and long, but don't expect white sand and pristine conditions.
Our first trip to our closest beach, Playa de La Mata, was late in the day, and it was littered with garbage, cigarette butts and debris. We were a little disgusted, but we had better luck on our second trip, as the beach must be cleaned up in the mornings before everyone arrives. The water was nice enough, however it was still a little cooler than we like so spent the majority of the time racing up and down the long beach and building sandcastles with the kids.
Spanish charm
We'd come from lovely Andalusia, where whitewashed houses perch on the hillsides overlooking the ocean. In Torrevieja, the terrain is flat, making it a lot less picturesque. On top of that, most of the housing is in boxy rows of apartment buildings painted a fleshy beige. The place reminded us more of Florida (minus the nicer beaches and warmer weather) than the Spain we had grown to love.
The locals
Only 47,870 of the city's 103,154 residents are Spanish.
There's a large British population, but we also met quite a few Dutch, German, Swedish and Russian people on the streets. There were a few scattered families, however most of the residents seemed to be older, retired expats. Nearly all of the condos and rentals we looked at were owned by people from other countries that rented them out when they weren't vacationing.
If you're looking for a place to practice your Spanish, you might want to look elsewhere, because even a lot of the workers we met weren't originally from Spain.
Not everything was a disappointment in Torrevieja
We found a fantastic park – the Jardín de las Naciones – with gardens shaped like Europe if seen from above. The park was huge and shady, with fountains, trees, flowers, swans, peacocks and even a few stray roosters strolling around. Parts of the park seemed to be unfinished or abandoned, especially the East side opposite the playground. We loved it because of the huge, life size dragon slide, however be warned that it's not the smoothest ride around.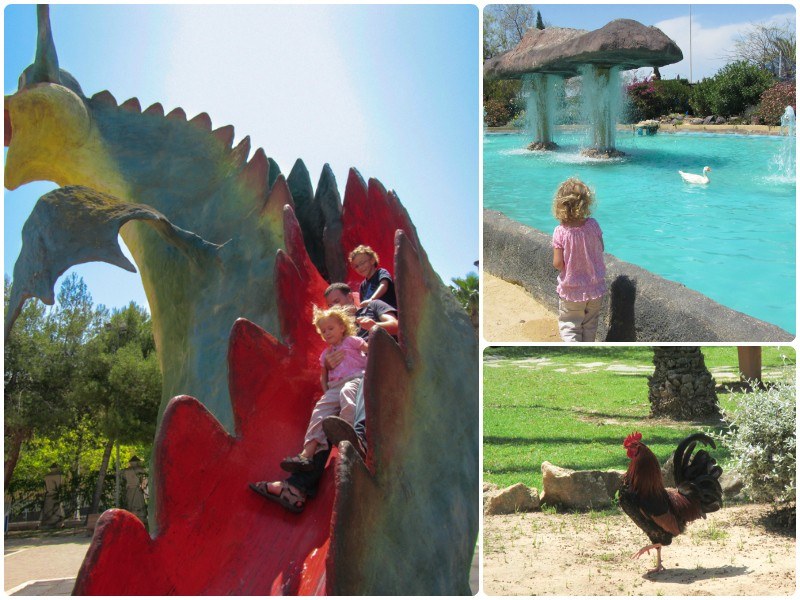 Great Friends
Without a doubt the highlight of our trip to Torrevieja was spending time with our friends. We hadn't seen them in a long while and got to see their gorgeous baby for the first time. I also got a chance to get my fill of Strongbow cider, thanks to all the British pubs in town.
Final Thoughts
While we're not in a hurry to go back to Torrevieja, it wasn't the worst place we've visited, by far.
Maybe we didn't give Torrevieja a fair shake from the beginning: we had high expectations from our time in Andalusia, and Torrevella (how the name is spelled in much of Spain) is a very different type of town. If we'd come straight to Torrevieja from a cold winter in Britain or North America, the sunshine alone would have made it a great place to be.
And La Mata beach? It had its beautiful side as well. We took the photo below on the walk to La Mata,  just North of the main beach.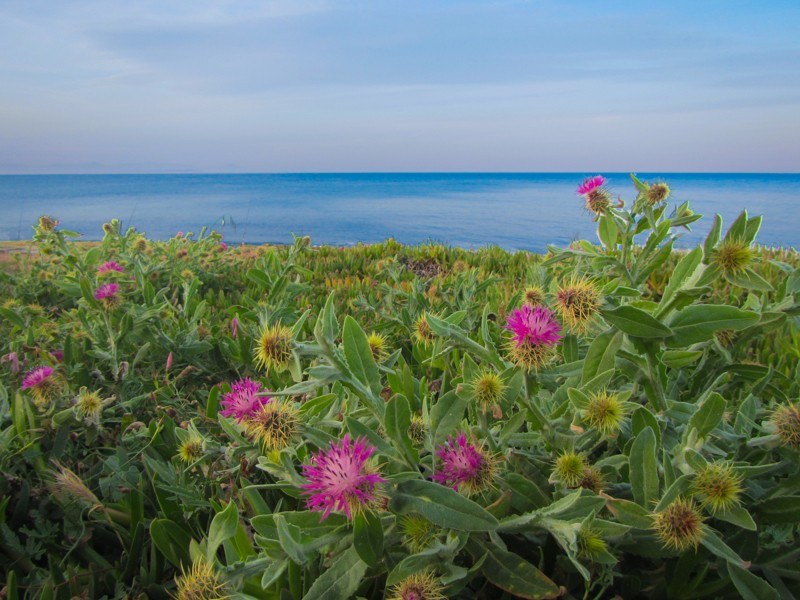 Recommendations
Would we recommend visiting? Maybe, depending on what you're looking for in a holiday and the cost was right.
But you probably won't find us there again anytime soon.