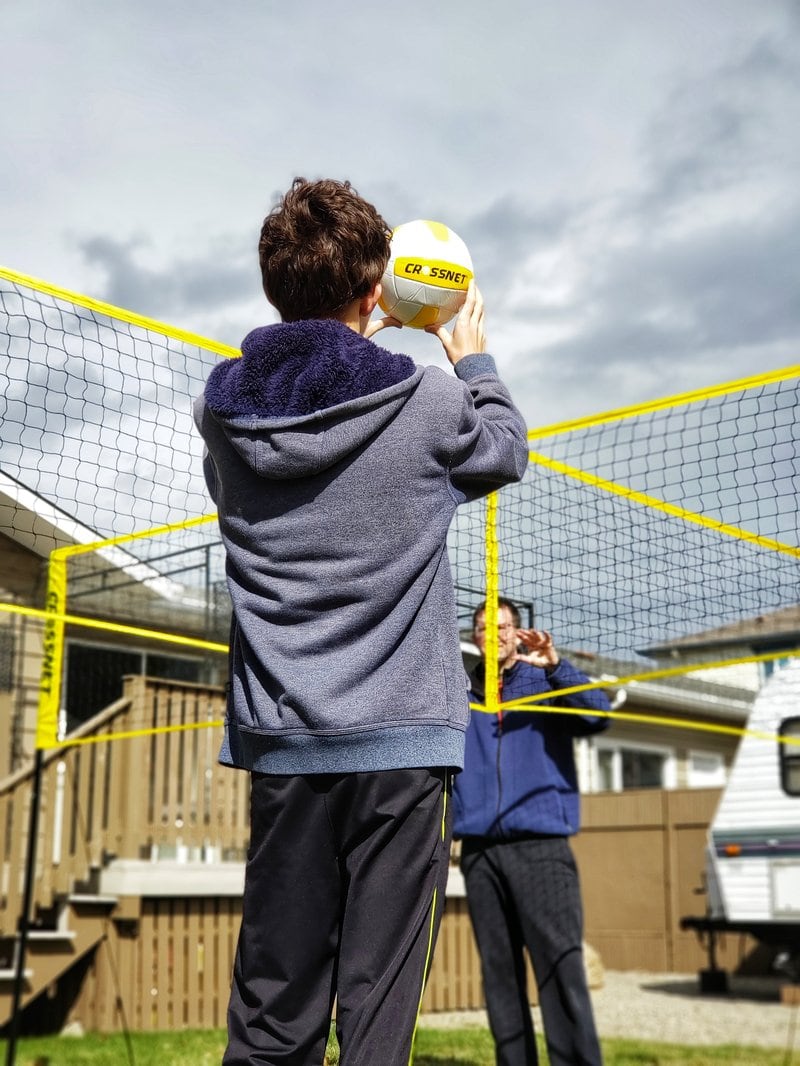 With kids out of school and social distancing still in effect, families like us are looking for healthy, active ways to spend our family time.
If you're fortunate enough to have an outdoor space, we've come up with some great inspiration for the best backyard games for the family.
What's great about these games, especially CROSSNET, is that they can be played in your own backyard while you're stuck at home. Some require just a tiny bit of space, while others need a bit more outdoor room however we even have a few choices for games that don't require any special equipment at all.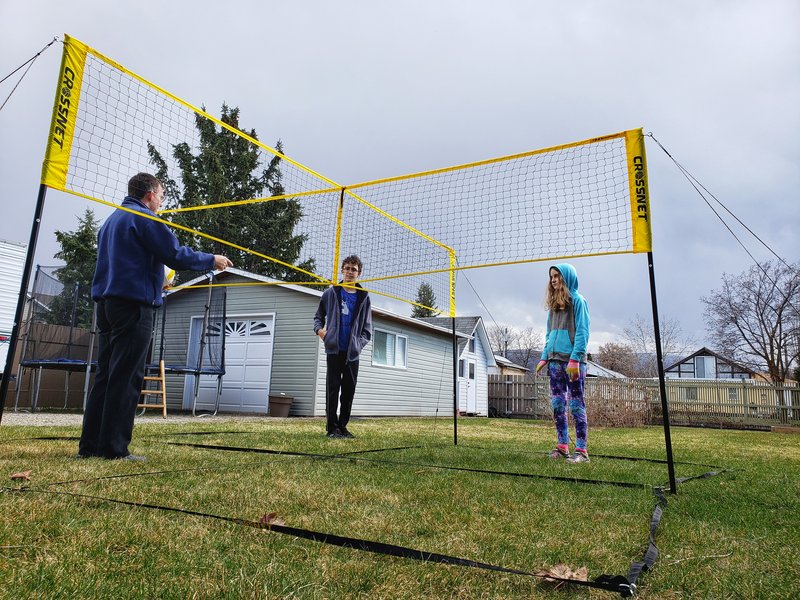 Best Backyard Games for Families
These are challenging times. Depending on where you are in the world, you're likely spending a lot of time indoors.
As a family, we've made a big effort to get outdoors as much as we can (in a safe way). Luckily, we have a private back yard, so we've tried out plenty of outdoor games with the kids. Here are our favorite backyard games for families.
CROSSNET
CROSSNET is a new game to us, and we've had a blast trying it out over the past week or two. It's essentially a volleyball game divided into four. What's awesome about this game is that you can play it in your backyard on grass, sand at the beach or even play it indoors! It's easy to set up in a few minutes (though it did take us a bit longer the first time).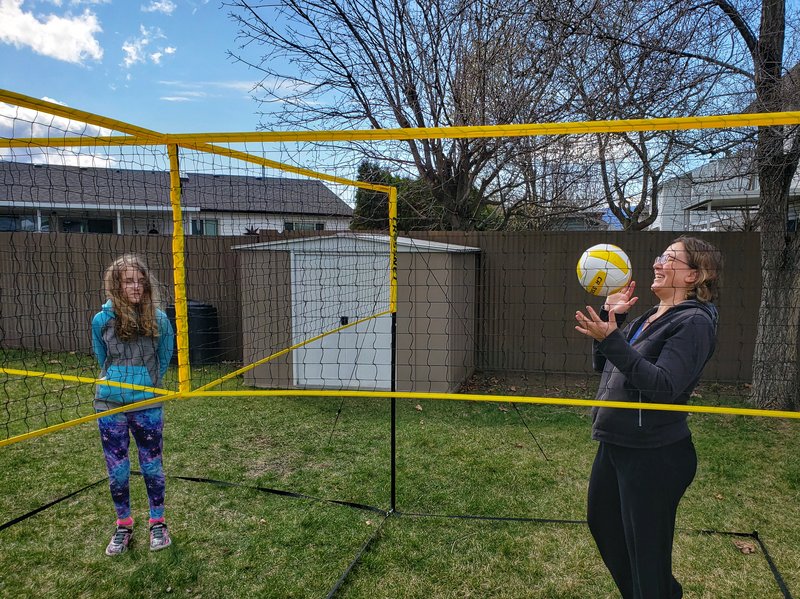 CROSSNET is meant for four players, though you can rotate additional players in and out if you have more than four and you can even play with just two or three.
What I really like is that the height is fully adjustable (from 5′ 6′ to 7'11"), making it easy and fun for kids of all ages. CROSSNET comes with a volleyball, pump, travel backpack, and the net itself.
Because our youngest is 11, we chose to play with the net a little lower than the typical adult height. It was actually a great height – not too easy, but still not too high to make it frustrating for our youngest.
The standard CROSSNET is an outdoor set, meant for sand or grass. You can buy an indoor base set add-on to let you play CROSSNET indoors, or you can get the indoor and outdoor bundle all in one. The bundle includes the CROSSNET, indoor bases, travel backpack, volleyball and pump.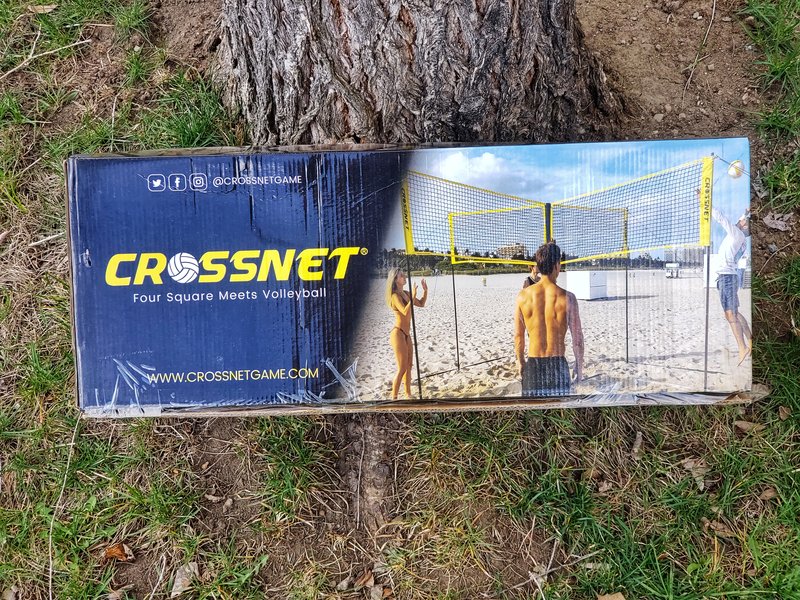 Fun outdoor family games that require some equipment
There's tons of fun to be had outdoors in your own back yard, whether it's with a Frisbee, football, soccer ball, or another game.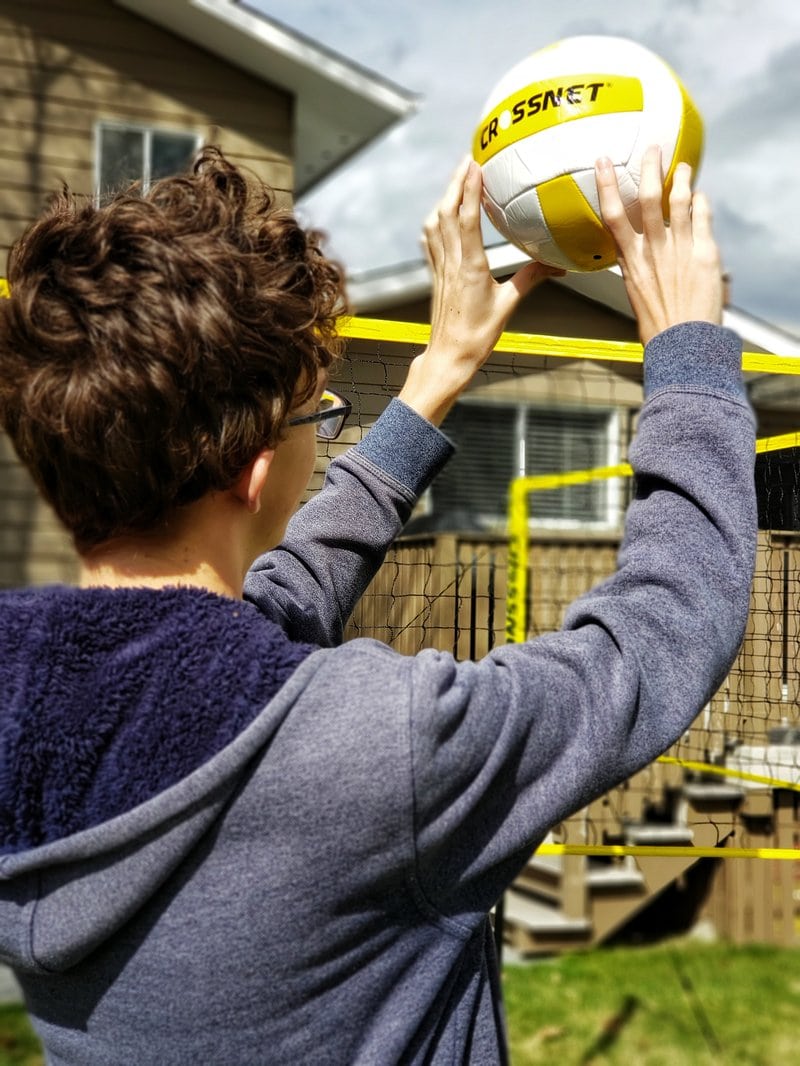 Looking for free (or almost free) games? Scroll to the bottom to see our list of outdoor games that don't require you to buy any special equipment.
Frisbee or flying discs
If you happen to have a Frisbee on hand, this is one of our favorite back yard games. It doesn't require a lot of athletic skill, and it's perfect for a casual bit of exercise if you're not the competitive type. It's also a perfect game if you have a puppy that's game.
Tip! If you're playing Frisbee with smaller kids, get a soft flying disc that doesn't hurt when you accidentally toss it at someone.
If you set up a few items (like plastic buckets) as targets, you can even start a backyard version of disc golf (though there are backyard sets for that as well).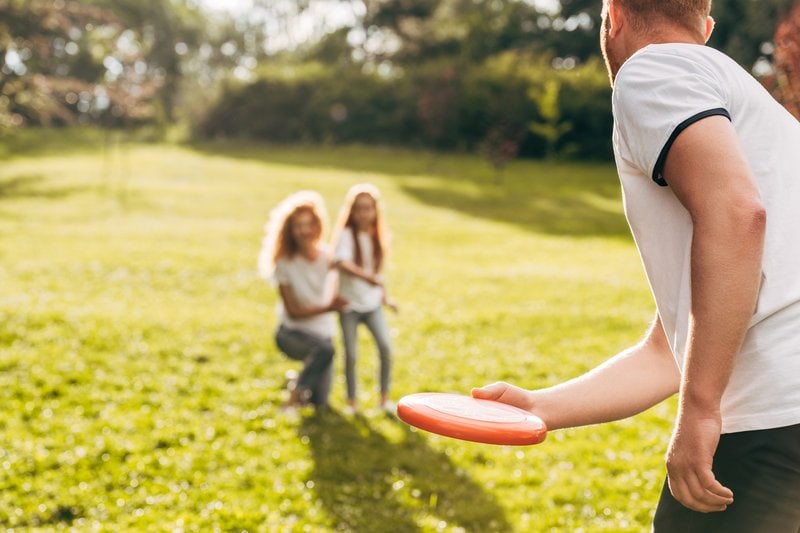 Nerf balls
Nerf balls and Nerf guns are almost always a hit with any age. Even better, if you accidentally hit someone (or a window), a Nerf ball doesn't typically do a lot of damage.
We even picked up some Nerf bow and arrows and have had Nerf archery matches both in the backyard and in the house. (Yes, we're that bored.)
American Football
You'll need a bit of space for a proper game of American football, which can be modified a bit to play with as few as four players. If you're a short on garden space, or players, then practicing throwing your perfect spiral is a great alternative.
Bocce Ball
If you haven't tried bocce before, then you're in for a treat. Bocce is more of a bowling game than a throwing game, and it's a fun game to play in teams.
Tip! We found that bocce is better for older kids. The regulation size bocce balls we bought are a bit heavy and awkward for our kids however they do sell smaller sets if your kids are younger.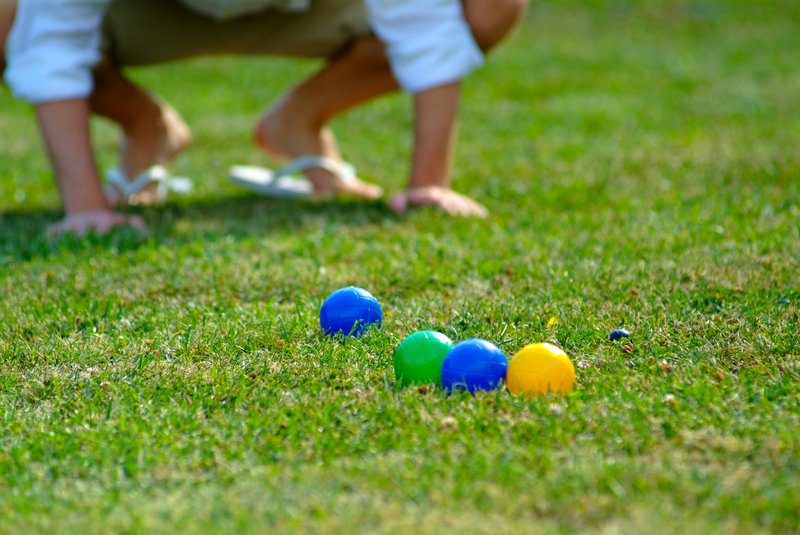 Basketball
Even if you're alone, basketball can be a fun game when you're practicing free throws.
With only two people, you can have a fun (but usually exhausting) game of one-on-one. With four people, and modified rules, you can have a proper game.
You can even make a DIY indoor mini basketball net with some wire hanger and string.
Ladderball
We play ladderball all the time in our back yard and in the park.
A ladderball game has two golf balls tied together on a string that are thrown at a ladder- like stand. It really is a fun backyard game to play with the family.
Ladderball is still relatively new, so it's also known in some circles as ladder toss, ladder golf, ball rope, hillbilly golf and our kids favorite, horse nuts.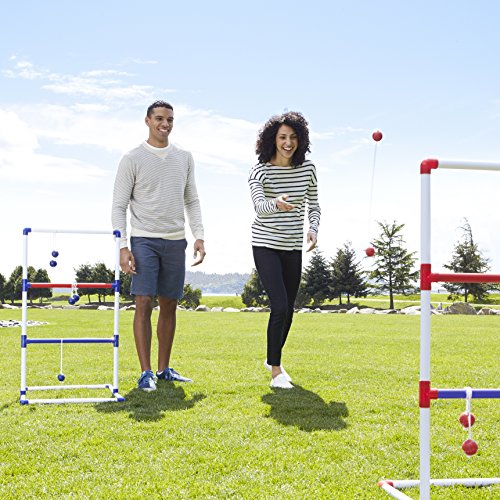 Check out ladderball sets here.
Horseshoes
Since horseshoes are heavy and a bit awkward, you may want to save this for slightly older kids (at least if you value your toes).
For younger kids, you can buy sets of lighter plastic horseshoes.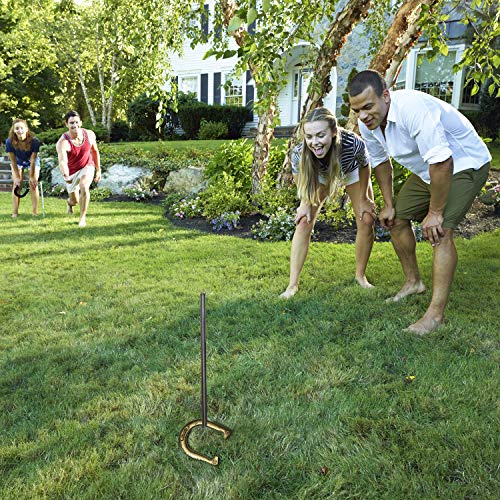 Feeling nostalgic for horseshoes? Check out this awesome starter set.
Beanbag toss
Beanbag toss is another staple in our list of fun back yard games.
In beanbag toss, you take turns throwing square beanbags at a board with a hole in it.
Interesting note: Since traditional beanbags are filled with dried corn, beanbag toss is also known as cornhole, especially down in the south.
Interested in beanbag toss? Check out your future cornhole set here.
Washer Toss
Washer toss is a cross between beanbags and horseshoes, where you throw metal washers into a small box with a circular hole in the center. There are plenty of variants on the basic game, meaning you can make up your rules as you go along.
We actually built one last summer to take camping with us since it's so small and the kids enjoyed watching the metal washers destroy the wooden bases we made every throw.
I think we'll fork out for these plastic coated washers instead this year: Plastic Coated Metal Replacement Washer Set – Set of 8 Washers at Amazon.
Croquet
Croquet has been around for centuries but it's still a fun game if you have a small group of people and a bit of space to play. It's also so rewarding to smack someone else's ball away with a wooden mallet that it's a great way to relieve some stress from all those days stuck indoors together.
Soccer (Football)
Whether you call it soccer in the US and Canada, or football in the rest of the world, this is still a great back yard game. Sure, you probably don't have the room for a full sized game of soccer, but your back yard is the perfect place to practice your fancy ball handling and for short passes.
Footvolley
Footvolley is a great choice if you don't have room for a proper game of soccer. In footvolley, teams are 2 vs 2, and it's essentially a combination of volleyball and soccer. Check it out in the video below.
Hacky sack
Hacky sack isn't just for '90's university student's sporting dreadlocks.
It's a great backyard diversion, since it doesn't take a lot of room. You can also play with a hacky sack solo, or in a larger group.
Since you generally don't keep score, hacky sack lets experts and novices alike enjoy kicking the old dirtbag among the circle.
If you're the crafty type, you can even crochet our own hacky sack.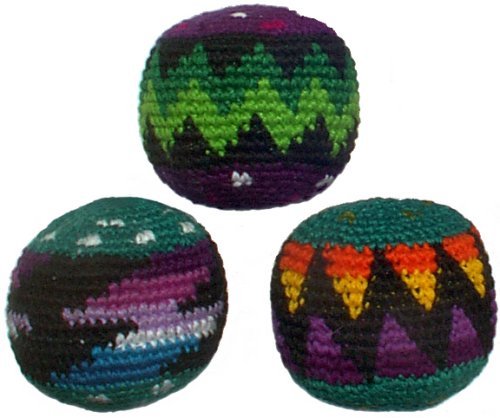 Check out these hacky sacks here.
Tip! If you're really good, you can even use the CROSSNET set above to practice your foot volleys with a real soccer ball or a hacky sack.
Sepak takraw
We first saw sepak takraw being played when we traveled around Thailand. Sepak takraw is a game from Southeast Asian where you have to kick a rattan ball over a net using only your feet, head, chest or knees. Imagine a combination of hacky sack and volleyball.
It's usually played 3 vs 3, but you'll get a heck of a workout when playing 2 on 2 or even 1 on 1, if you dare. The court is similar in size to a badminton court, but you can modify it to play in a smaller space.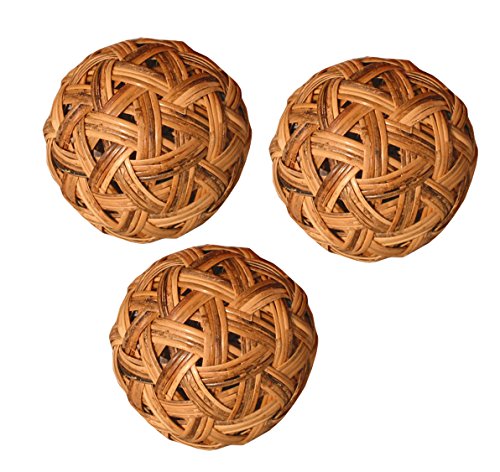 Check out these traditional sepak takraw rattan balls here.
Backyard games that don't need special equipment
Stuck in the house without a lot of equipment? Don't worry, if money's tight, or even if it's just hard to pick up games right now, we have some great ideas for backyard games without special toys.
Here are some alternative games you and your kiddos can play in the back yard. The only limit here is your imagination.
Treasure hunt
Kids love searching for hidden treasure, so give them a mission. The treasure hunt can include things of a specific color, rocks, sheds, specific plants, and so on. Depending on your kids' ages, you can make it easy or hard.
Just make sure you have some sort of prize for everyone at the end! Cookies or chocolate still works with our family.
Obstacle course
Kids of all ages love a good obstacle course.
Easy obstacles include wiggling through a kid's play tunnel, hopping through hula hoops, dodging sprinklers (when the weather allows), walking a tightrope along a board, jumping from rock to rock, tossing a ball into a bucket, and so on.
Blowing bubbles
Ok, so it's not really a game, but blowing bubbles is a blast, and easily done without special equipment. Check out this recipe for making your own homemade bubble solution.
If your kids are bigger, try getting them to make giant bubbles with a rope and a stick.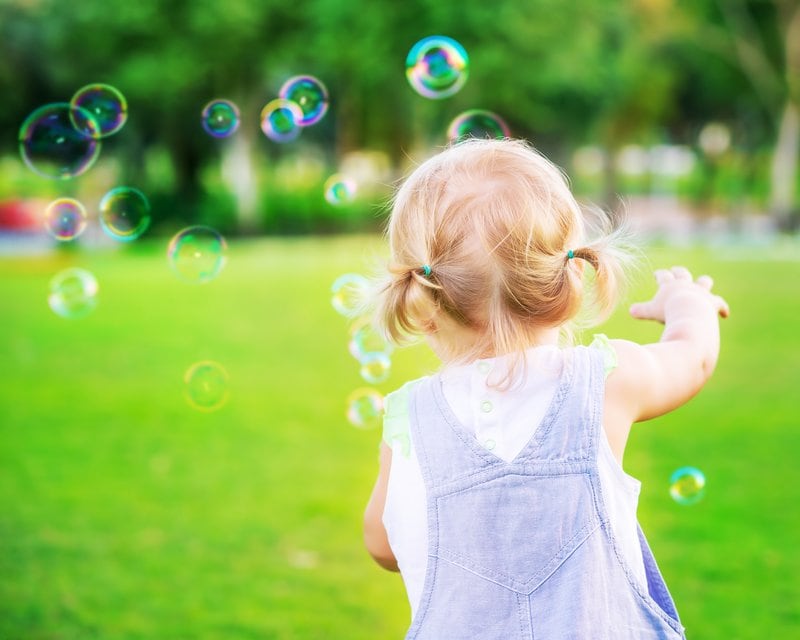 Volleyball without a net
Ok, so admittedly volleyball without a net sounds like some weird sort of extreme sport, but it's honestly pretty simple. Even if you don't have a volleyball net on hand, getting a few people together in a rough circle is a great way to enjoy playing a little volleyball.
You don't even need a volleyball, honestly. Any inflatable ball, including a beach ball, works in a pinch.
Playing catch
It's an oldie, but a goodie. All you need is a ball and two people. You can even bounce a ball off the side of your house (just be sure the noise isn't too annoying for your neighbors or someone inside).
If you have baseball gloves, great, but you can easily play catch bare handed.
Do you have any favorite outdoor games for kids and adults that you can play in the backyard? Let us know below!