This is a real life, in the trenches, honest look at how we travel carry on only as a family of four.
We traveled carry on only for our family of four for three months through Canada, Mexico, Belize, Colombia, Ecuador, including the Galapagos Islands and the USA. We managed this despite needing to carry extra blogging gear, including several cameras, a camera bag, tripods, and two laptops. We also carried clothes for two climates: the hot 80 degrees or more of the Galapagos, and the cool early spring climate in Canada on our return.
The truth is, we weren't always light packers. In fact, we've even written about our luggage over packing woes before.
That said, we have learned a couple of key things from our tendency to over pack. First, it is not fun to lug heavy suitcases up steep, multi-story staircases in Spain and Portugal. Second, we honestly didn't use many of the items we used to pack "just in case" in our huge suitcases.
So, after a few years of packing way too much, we decided to see if we could try carry on only for our family. The good news is that it worked splendidly and saved us hundreds in extra check in luggage fees.
What do you need to pack?
To do the switch to carry on only, we needed to first change our attitude about packing. We let go of the idea that we needed to pack things just in case we needed them. Instead, we only packed items that were essential.
When we packed, we put all of our "just in case" items in a separate pile. After we put all our essentials (see our list later on) in our carry ons, we cherry picked a few of our best items from the "just in case" pile to go with us.
What luggage do we use?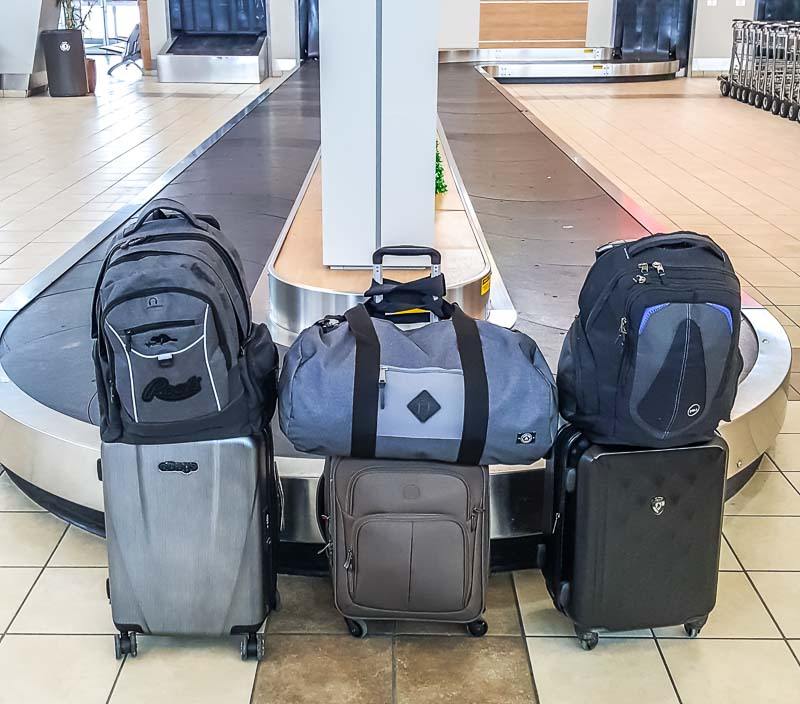 Split between four of us (two adults, and two kids, aged 8 and 11), we use:
Two 22″ carry on wheeled expandable suitcases. One suitcase holds Charles' clothing and toiletries, the second has Micki's clothing and toiletries.
One 21″ carry on wheeled suitcase that we'll likely exchange for another 22″ expandable one. This one carries the kids' clothing. It's similar to this Chester Minima carry-on suitcase.
One duffel bag, carry on size. This contains our extra shoes, towels, sunscreen, sunglasses, and snorkels and masks.
3 small backpacks, small enough to be considered personal items by North and South American airlines. The largest backpack carries all of our electronics, the second backpack holds our kids' toys and jackets, and the third backpack holds snacks and other odds and ends that we pick up on our travels. See our list of the best travel backpacks!
Who will these carry on tips work for?
Parents with kids out of diapers. In fact, this carry on system will be difficult if you have a young child who's in diapers, and who needs a stroller, diapers, wipes, a cot, and other baby items or if one of the parents needs to constantly carry one of their children.
Parents with one child who can pull a carry on size wheeled suitcase reliably, especially when boarding the plane.
Traveling carry on only as a family of four would have been hard to manage if our eldest, who's 11, couldn't wheel his own bag, and carry one of the lighter backpacks. That said, you could travel carry on only for a family of four if one adult was willing to pull two wheeled carry on suitcases, and stack a personal item-size backpack on top. This tended to happen when our son was otherwise preoccupied but I will say that boarding the plane was tricky with a backpack and 2 carry ons.
How did we carry the bags?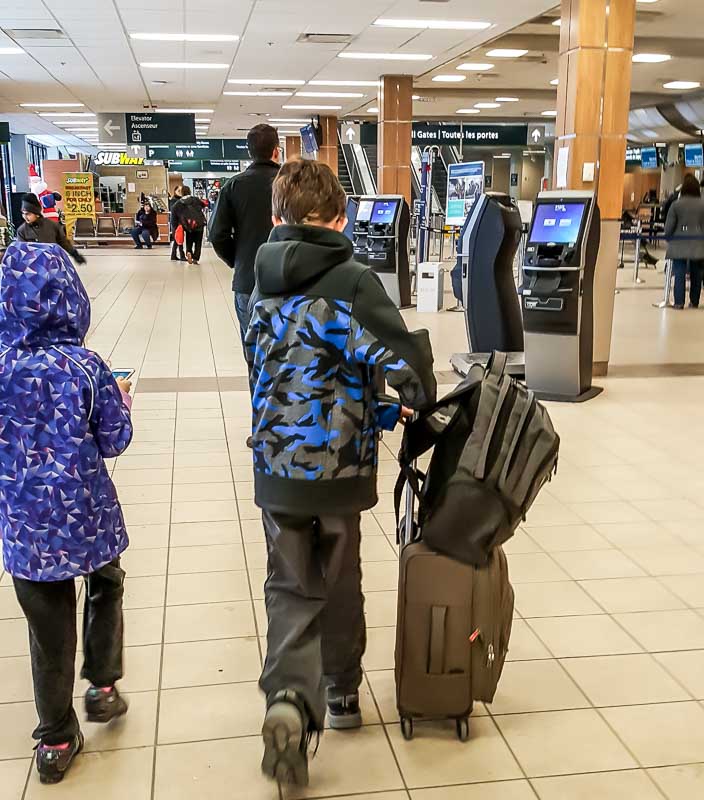 Charles pulls the heavier 22″ carry on, and carries the heavy electronics backpack. He also does double duty taking Cole's bags if Cole's hands are full with food or toys.
I pull the second 22″ carry on, and carry a lighter backpack. I also set the duffel on top of my wheeled carry-on, wrap the duffel's straps around the carry on handle, and pull the duffel on top of the carry on. This works well as long as your carry-on's weight is evenly distributed. Charles' carry on is front heavy, and if we set the duffel on top, the suitcase topples forward.
Our 11 year old pulls a 21″ carry on and carries the lightest backpack.
What is in our family carry on?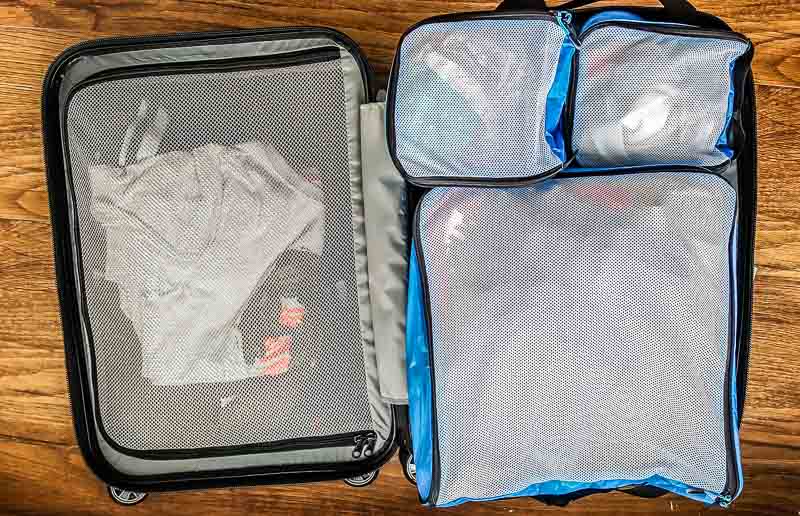 Once we pared our belongings down to only the essentials, and a few nice-to-have items, our family carry on only packing list looks something like this.
4 light summer jackets
4 light raincoats
4 pairs of sneakers (we swapped them out with our sandals depending on the weather)
20 T-shirts (5 each)
12 long sleeve shirts (3 each – Charles had 2 casual dress shirts)
8 pairs of pants with long legs (2 each)
8 pairs of shorts (2 each)
28 pairs of underwear (7 each). Yes, that's a lot of underwear. But we figured that it was easy to re-wear clothing. Underwear, not so much.
8 swimsuits (2 each)
2 dresses
4 pairs of pajamas
2 toiletries bags, each about 8″ x 6″ x 6″ square, filled with toothbrushes, shaving kit, medicine, etc.
2 snorkels and 2 masks
3 lightweight towels
6 toys (3 toys each for the kids)
2 laptops
2 iPods
3 eReaders
1 GoPro and accessories
1 DSLR camera and lenses
1 tablet (which we rarely used)
2 external battery chargers
Cables, wires, chargers, tripods, and other electronics odds and ends
Sunscreen, sunglasses, hats and other personal items
We carry personal items like our smartphones and wallets in our pockets at all times, so I excluded them from the list.
Tip! We keep clothes organized in the suitcases by using packing cubes!
What kind of luggage do you need?
First, a wheeled carry on is essential, especially if a child pulls it. We especially love carry ons with four wheels, which allows the suitcase to be pulled in any direction. For us, using a backpack as a carry on would have been a bit awkward, as we were already using a small backpack as our personal item.
Tip! Purchase an expandable carry on if you can. Not only can it give you that little bit of extra space if you purchase more clothing as you travel but it makes it super easy to compress your bag when it starts to become unwieldy. Just expand it, close your bag then un-expand it. Voilà, instant compression bag.
Second, we recommend using a duffel as one of your carry on pieces, especially if one of your children are still too small to handle a carry-on. It straps easily to the top of one of our carry on suitcases, and it holds an incredible amount, because none of its storage area is taken up with wheels or retractable handles. It can also be slung across the body which comes in handy having to carry it up large flights of stairs or boarding the plane.
Third, get durable luggage. If your child is pulling a carry on, it'll end up being dragged over curbs, sidewalks, and slammed in corners. On our trip, our luggage was slung on ferries, shoved in lockers, squeezed into Ubers far too small for four people and our luggage, crammed into the cargo hold of a ten seat airplane, squashed into countless overhead bins, thrown in bus cargo holds, and even strapped to a golf cart. By the end of our trip, it was pretty easy to see which carry on was good quality, and which we should have spent a little more money on.
Want some more family travel tips and packing tips? Check out our articles on traveling light with electronics, and how not to fry your electronics while overseas.
Hard sided or soft sided luggage?
The biggest benefit of soft sided luggage is extra pockets, no scuff marks or possible denting, better breath-ability and that it only opens on one side allowing it to be placed on stands easier however clothes is piled deeper. It also has more flex and is more often than not also expandable.
The biggest benefit of hard sided luggage is better security, more water proof (our one soft sided piece of luggage had to be completely emptied due to a sudden downpour that soaked every last piece of clothing in it while our hard sided ones were fine), better protection of the objects inside, easier access to all clothes since it splits in the middle though this means it takes more space to open.
I would say that hard side vs. soft side mostly comes down to this. If you like pockets, expandability and less scuff marks go with soft sided luggage. If security and protection is your major concern, go with hard sided.
Where to get durable luggage
Getting durable carry on luggage may mean ponying up some cash, or waiting until quality luggage goes on sale.
If you're looking for sales, check out large stores, as they carry a bigger selection, and often have great pieces of luggage on sale.
Amazon is a great place to start looking.
They have a huge selection of luggage, including Samsonite, Heys and Swiss Gear, and you can browse their luggage selection online. You can even buy online, and return to your nearest store.
Check luggage prices and selection on Amazon.
Now for one of our favorite parts of running this blog! Best Buy Canada has generously sponsored a giveaway for a quality Samsonite luggage set to one of our readers!
Enter to Win! * Contest is Closed*
This contest is closed! Congratulations to our winner, Judy.
We get to give you a chance to win your very own Samsonite Stamina NXT 3-Piece Hard Side 4-Wheeled Expandable Luggage Set with a MSRV of $599.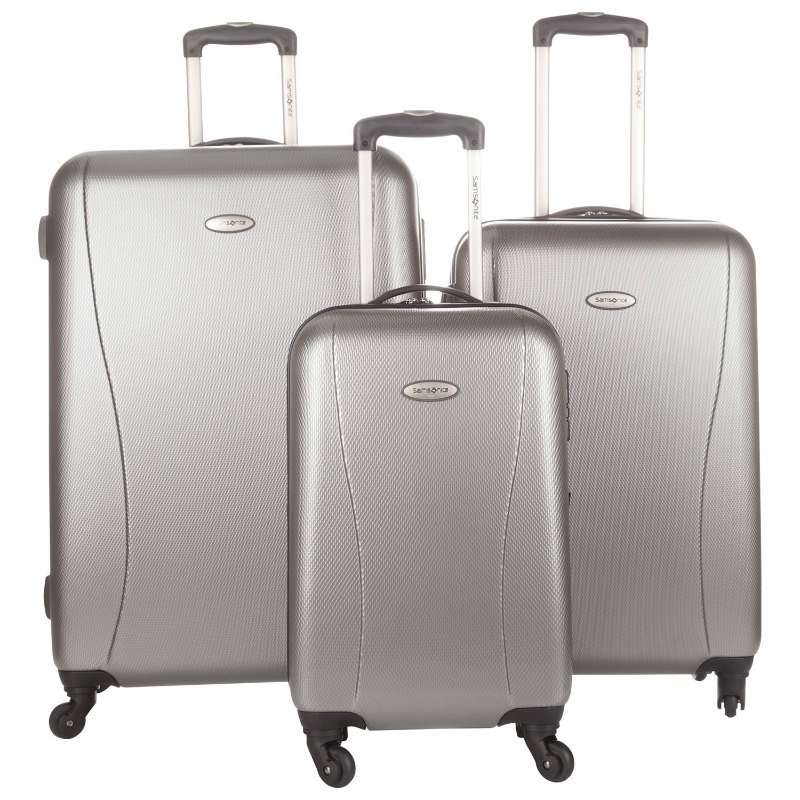 The contest is open to residents of Canada, except Quebec (sorry!). See the entry form for terms and conditions.
Now the best part – your chance to win!
So how do you enter? It's easy.
See the Rafflecopter widget above? To enter, all you have to do is to enter your email or log in via Facebook!
The contest runs from April 24, 2017 to May 8, 2017. The winner will be contacted by email and the prize will be shipped soon after.
Do you travel carry on only? Do you have any tips to share? Let us know in the comments below; we'd love to hear from you!
The Barefoot Nomad is not responsible for prize fulfillment.
This article was sponsored in part by Best Buy Canada. We only work with partners we use and recommend personally.