Some things just seem meant to be.
You see, for the last two months of our South American trip, both of our kids devoured the entire series of Harry Potter books. Once done, we all started re-watching the movies together as a family since Charles and I are huge Harry Potter fans as well.
So, when we had the chance to visit the Wizarding World of Harry Potter at Universal Orlando on the way home, we were thrilled.
We had heard nothing but good things about the Harry Potter world, but honestly, the Universal Orlando Parks blew our expectations out of the water. Every detail was perfect and lovingly crafted. We truly felt like a family of muggles magically dropped into Harry Potter's world.
Check prices for a three day Park-To-Park pass, with TWO extra days FREE here.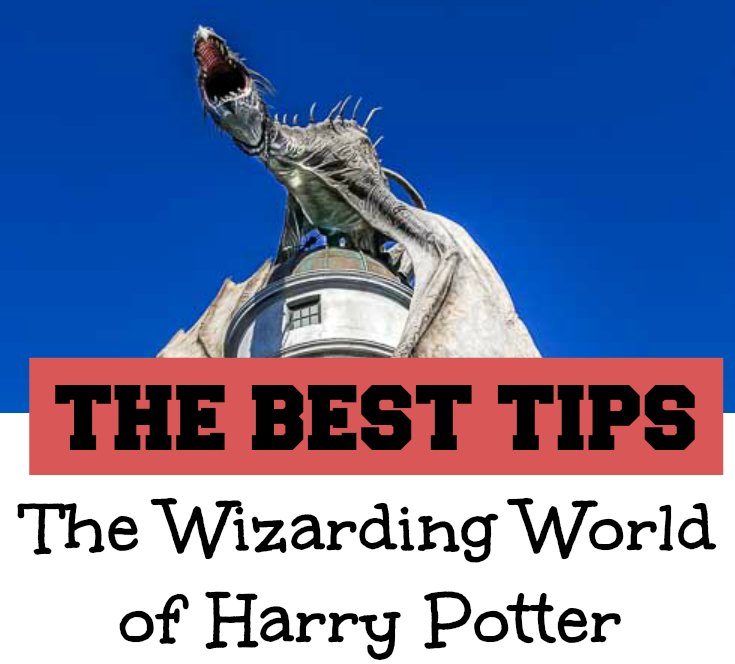 Aside from having a fantastic time, the four of us learned a lot during our visit, so I wanted to share our tips for visiting the Wizarding World of Harry Potter to make your visit easier, faster, and save you money.
Top Wizarding World of Harry Potter Tips
Get the Park to Park pass
To start off, in order to access everything both wizarding worlds offer, make sure you get the Park to Park pass.
The Wizarding World of Harry Potter is split between the two Universal Florida parks, with Hogsmeade in Universal Islands of Adventure and Diagon Alley in Universal Studios. The parks both have unique shops, rides and experiences, so you'll want to go to both. You'll also need a Park to Park pass to ride the Hogwarts Express!
Check prices for a 3 day Park-To-Park pass, with TWO extra days FREE here.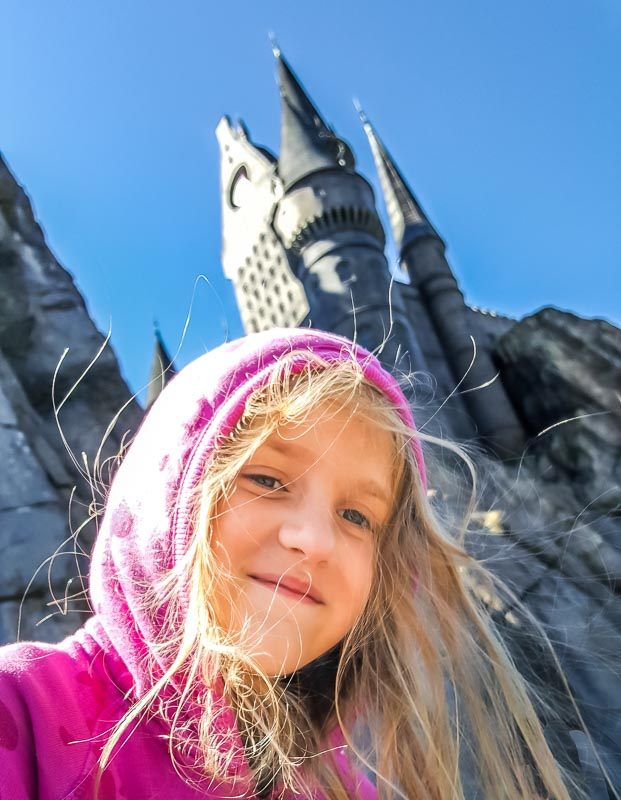 Try to visit for at least two days
It is possible to visit both Hogsmeade and Diagon Alley in one day, but you'll likely be rushed, and you'll miss a lot of the carefully crafted details. You'll also miss everything else both parks have to offer.
If you can, take at least two days to visit, and don't forget about the Park to Park passes. Even better, right now Universal has a fantastic special, where you get two extra days FREE if you buy a 3 day Park to Park pass. See all of the Universal Orlando's deals here.
We've heard great things about buying passes in advance on Undercover Tourist. Unlike a lot of other sites, taxes are included up front (so no surprise fees at the end), AND shipping is free. Plus, you'll save $42 over paying at the gate.
Save $53 on a three day Park-To-Park pass, with TWO DAYS FREE here.
Get the Official Universal Orlando® Resort App
We grabbed the app the day before we went to help develop a game plan for the big day and to let everyone in the family mark the attractions they didn't want to miss. Once there, we used the app constantly during our visit to figure out where we were and to help decide where to go to next.
Tip! If you don't have a data plan, don't worry, there's free WiFi available throughout the park!
The app was so helpful for checking out wait times and show times, finding rides, and figuring out which restaurant we wanted to go using the interactive park map. You can even set up alerts for when ride wait times drop, save your parking information, and check out restaurant menus! Download the app on iTunes here. Get the app on Google Play here.
Stay at an onsite hotel
Many of the Universal Orlando hotels include Unlimited Express Passes and early park access to help you beat the morning rush. Since no car is needed, you'll also save time and money by using the free shuttle service.
You can choose between
Free Universal Express Unlimited is included, which is worth up to $89 per person, per day (not offered at at Loews Sapphire Falls Resort or Cabana Bay Beach Resort).
Check prices for hotels near Universal Studios Florida.
Important: Universal Express access is not valid on Fievel's Playland, Pteranodon Flyers, Kala & Tai Nui Serpentine Body Slides or Ko'okiri Body Plunge.
All on site hotels offer Early Park admission (one hour before regular opening hours) and complementary transportation to the Parks and CityWalk. There are some other great perks, including complimentary delivery of merchandise from the Resort to your hotel, appearances by Universal Orlando characters, and priority restaurant seating (for Loews Portofino Bay Hotel, Hard Rock Hotel, and Loews Royal Pacific Resort).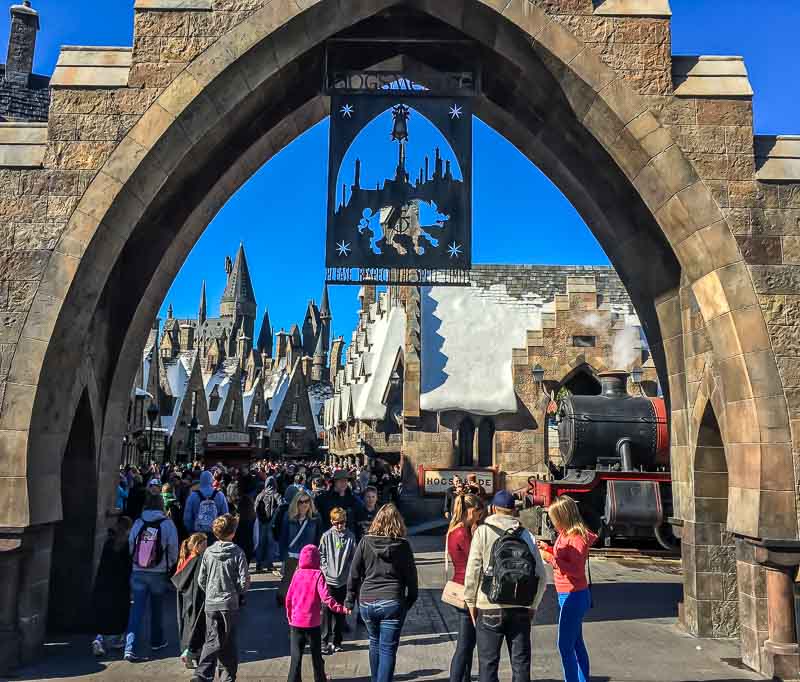 You can also get Early Park admission if you buy a Universal Orlando vacation package through Universal Orlando, even if you don't stay at a Park Hotel.
Did you know that there's a Wizarding World of Harry Potter at Universal Studios Japan and California?
Interactive Wand Hacks and Tips
First, get the new interactive wands
They ring in at $47 USD per wand, but our eight and eleven year old spent hours casting spells in shop windows at Hogsmeade and Diagon Alley. They were worth every penny, as they brought the shop displays to life, and really made our kids feel they weren't mere muggles! They also used them at both parks each day we were there and you can bring them with you the next time you go to Universal Studios.
You'll find the spell locations on the map included with your wand and will see the corresponding medallions with the nature of the spell on the ground. Don't worry too hard about finding them, there are usually a few kids lined up trying to get them to work, as well as a special wizard helper showing you exactly how to make the perfect wrist movement.
Wand Tip! Since the camera sensor is small, stand just in front of the medallion. It seems that tight wrist movements work best and make sure you aim towards the four red dots.
There are a bunch of locations to master your wand skills in both Diagon Alley as well as Hogsmeade. One of the kids favorites was the wingardium leviosa spell to float a feather and make quiddich balls float in the air at Spintwitches Sporting Needs in Hogsmeade!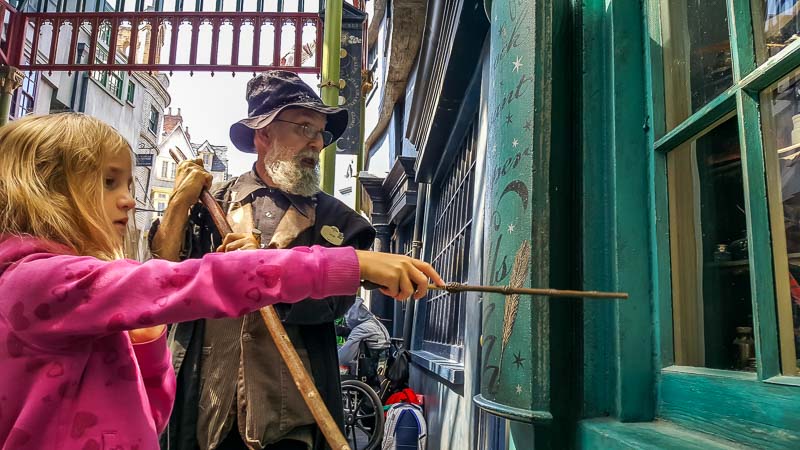 Buy the interactive wand at a cart
The most popular places to buy an interactive wand are at Ollivanders in Hogsmeade or at Wands by Gregorovitch in Diagon Alley. Both places can be very busy, especially Ollivanders, since it also has the special wand selection attraction.
If they're busy, and they probably will be, pick up your wand at a cart instead of in the small and often busy wand shops. There are wand stands located throughout both Harry Potter Worlds with practically no one in line.
We picked our wands up at a cart in Hogsmeade at the Islands of Adventure, near Harry Potter and the Forbidden Journey. There was almost no wait at the stand, and they had the most popular wands on display. Since the wand chooses the wizard, Dumbledore's wand chose our daughter, and Sirius Black's wand chose our son. The stand attendant was patient and helpful, and our kids got their wands much more quickly than if we'd gone to Ollivanders.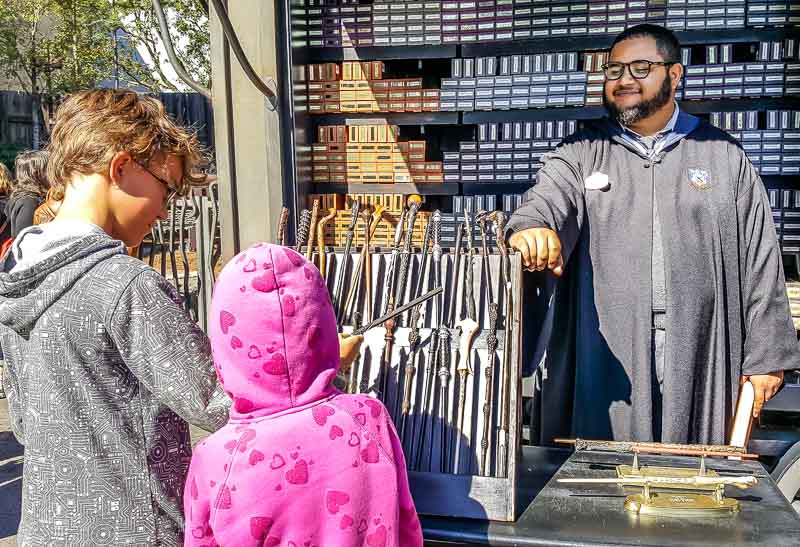 If you want to buy your wand at one of the shops, it's usually quieter at Ollivanders in Diagon Alley than Ollivanders in Hogsmeade. The Diagon Alley Ollivanders is also bigger, with a larger selection of wands, and you'll get the experience of having the shopkeeper help you choose your wand.
Secret Locations! The special map that comes in your interactive wand's box will guide you to wand spots in both worlds, however there are also a few secret spots hidden throughout the park. Here's one to get you started: check out the storefront at Slug and Jigger's Apothecary in Diagon Alley.
Here's the next best thing to picking up your wand at Olivanders. These aren't interactive wands, but they're carefully boxed and get good reviews.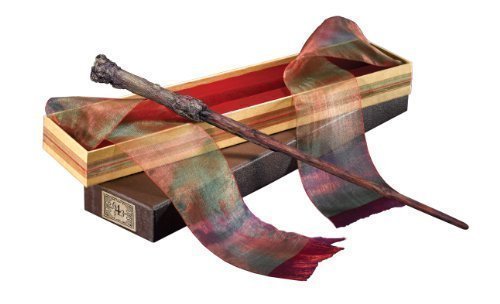 About the wand show at Ollivanders
You can also visit the wand show at Ollivanders in Hogsmeade to get help picking a wand. The show lasts about five minutes, and Ollivander himself will select one person from the crowd to demonstrate a wand selection ceremony. The show's free, but you'll have to pay for your wand.
It's All About the Butter Beer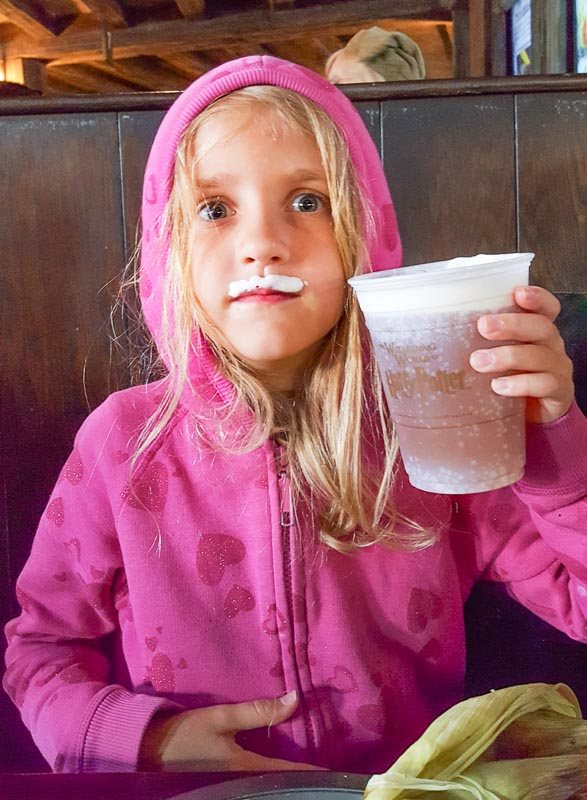 Make sure you try the butter beer
It's non-alcoholic, and comes in three types: regular, hot, and frozen. I absolutely loved the regular butter beer, and I'm not a fan of sweet drinks, so I thought I wouldn't like it. In fact, I now get butter beer cravings! I think it may be time for a trip back to get some!
Regular butter beer tasted like a mix of cream soda and root beer, but less sweet than either, topped with a butterscotch flavored creamy topping that doesn't melt into the drink. I found it both tasty and refreshing.
Our 11 year old, Cole, loved the new hot butter beer. The hot butter beer tasted a bit like white hot chocolate with the same butterscotch flavored topping as regular butter beer.
Charles tried the frozen butter beer, which we'd heard was the best. Surprisingly, it was our least favorite. We did drink it on a fairly cool day in Florida (it was about 20 Celsius /65 Fahrenheit at the time). We may have enjoyed it a lot more on a hot day in the summer.
You can also get butter beer ice cream in the park!
Share a butter beer
The butter beer portions are fairly large, so if you're buying for a small child, consider sharing. Our eight year old couldn't finish hers, but luckily I was able to help. 😉
If the stands are busy, you can get butter beer with your meal at Three Broomsticks and the Leaky Cauldron. Even better, there's a secret entrance at the back of Three Broomsticks that will let you get into the bar, which is part of the restaurant. This can save you a wait in the Three Broomsticks restaurant line. Just go down the alley on the side of the Three Broomsticks to find the entrance.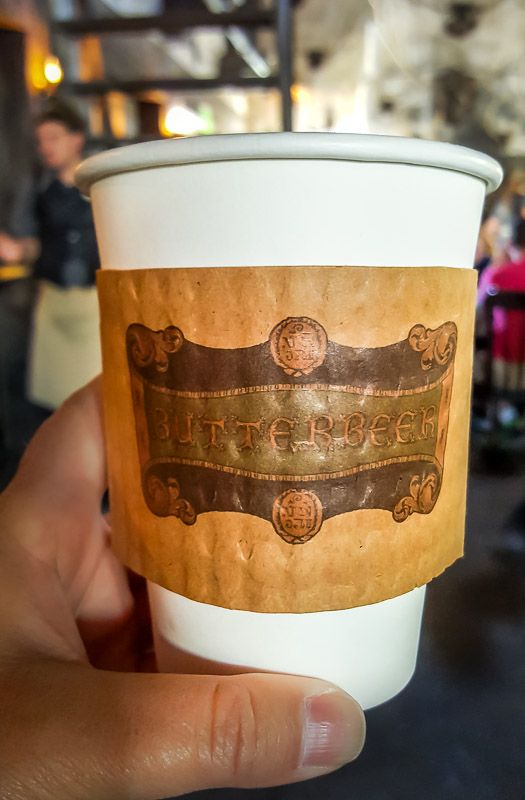 If you love butter beer as much as I do, and plan to make it your main beverage while you're in the park, forgo buying your butter beer in a souvenir mug. You don't get discounts on butter beer refills, and the souvenir mug is smaller than the disposable cups. As a note, you do get discounts on other beverages in the souvenir mug, so if you're drinking other beverages it may be worth your while. Plus, you'll get the mug as a souvenir.
Where to Eat
Eat at Three Broomsticks. We loved Three Broomsticks in Hogsmeade so much that we ate there twice in two days. The food is British inspired, with treats like shepherd's pie, kids mac and cheese, baked potatoes, corn on the cob, and roasted potatoes. It was all absolutely delicious.
For supper, for a family of four we got two side baked potatoes, one salad, two corn on the cobs, a kids Mac and cheese, a roast chicken, two regular butter beers, two hot butter beers, and our total came to $65.18. We were absolutely stuffed, so next time, we'll be sure to save some room for a pumpkin drink and the delicious looking sticky toffee bread pudding.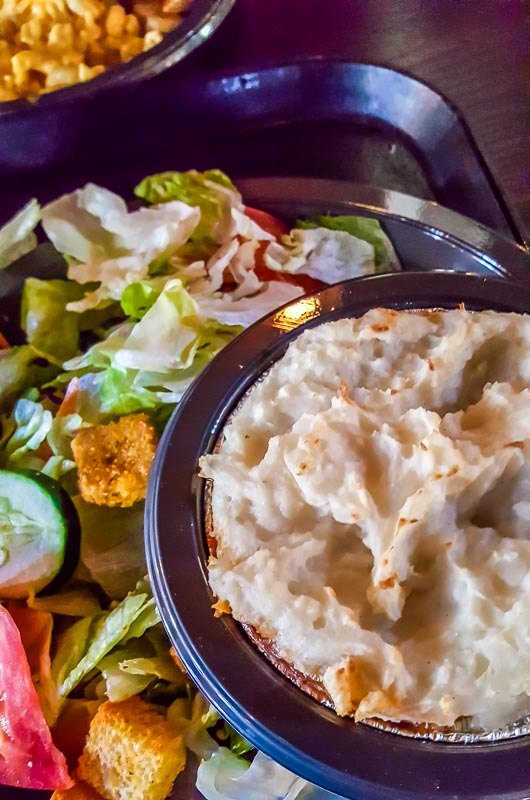 If you can, eat outside of the usual 11 to 1 pm lunch window. On our first visit to Three Broomsticks, there was a line way out the door. We only had to wait 20 minutes, but when we went at around 2 pm on our second day, we walked in with only a five minute wait.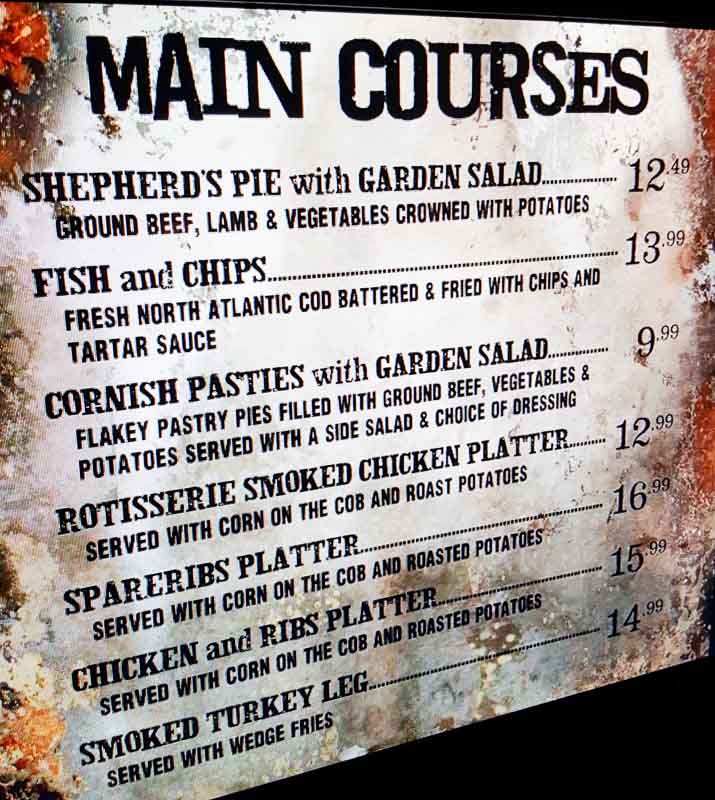 Plan your meals ahead
If you're a vegetarian, or if you have special dietary requirements, choose your restaurant wisely. We had three vegetarians in our group, and there were veggie options at every restaurant, but you may be limited in what you can eat in certain restaurants.
For example, at the Leaky Cauldron in Universal Studios, they only had soup and salad as a veggie option, so we decided to eat elsewhere. You can get menu information on the Universal Orlando App or the Universal Orlando website to plan ahead.
Use the Official Universal Orlando® Resort App (get it on iTunes here | Google Play) to check out menus in advance.
Shopping – Our Harry Potter World Tips
If you have time, quickly stop in all of the shops, since each shop has something unique. Each shop is beautifully Harry Potter themed, with everything from the Owl Post where you can buy stationary, quills and ink (and send a postcard from the Hogsmeade Post Office that's stamped with a Owl Post postmark) to Borgin and Burkes in Knockturn Alley where you can dabble in dark arts merchandise.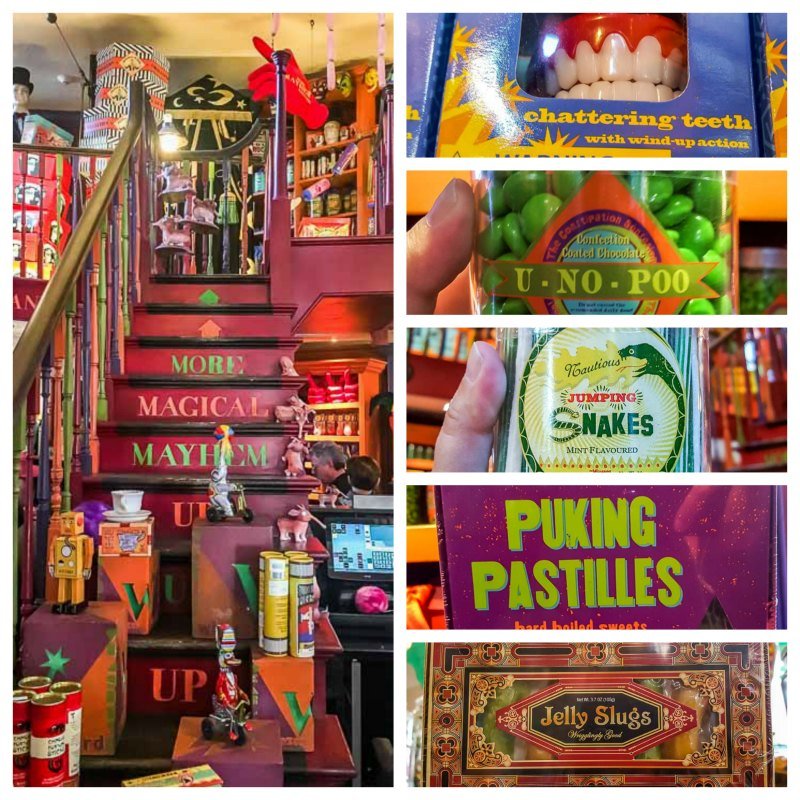 Our favorite shop in Diagon Alley was Weasleys Wizard Wheezes novelty joke shop run by the Weasley twins Fred and George. You'll find fantastic jokes and magical stuff like Pigmy Puffs, U-No-Poo pills and Puking Pastilles.
Berties Bots Every Flavor Beans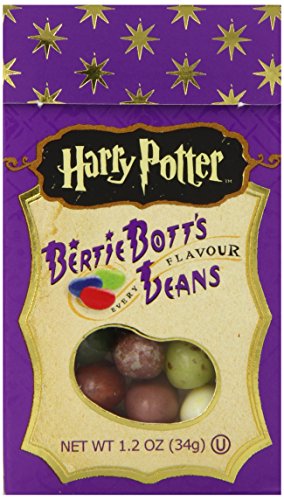 Sugarplum's Sweetshop was another favorite, with the inventive Bertie Bott's Every-Flavour Beans (but watch out – they do come with vomit and booger flavors!), and fun treats like Cauldron cakes and Exploding BonBons.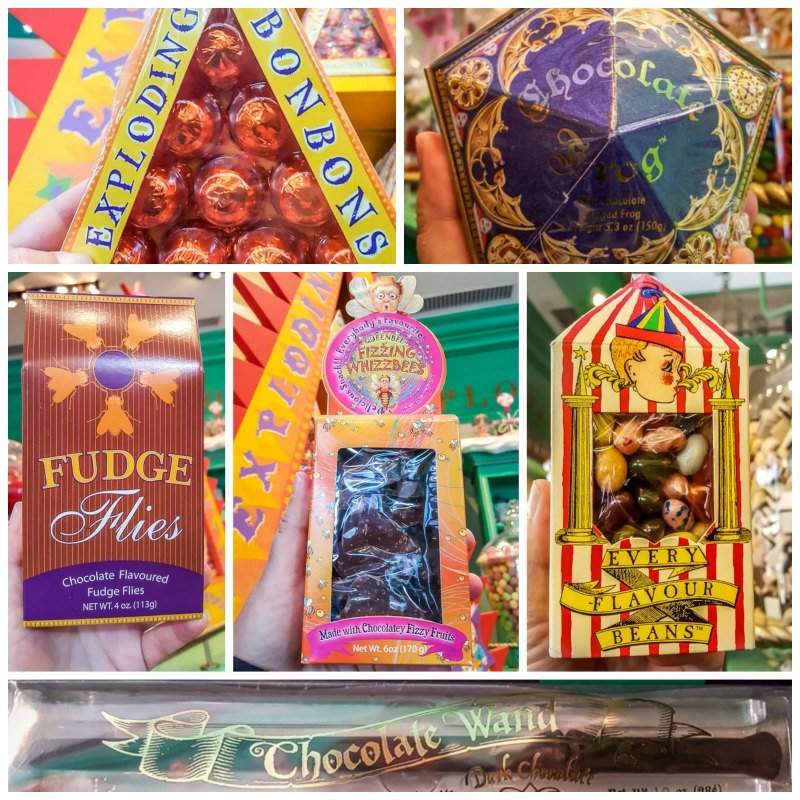 In Hogsmeade, our favorite shop was Honeydukes sweets shop. It was one of my personal favorite places in all of Hogsmeade. We found wonderful treats like chocolate frogs and exploding bonbons.
Honeydukes Emporium Exploding Bon Bons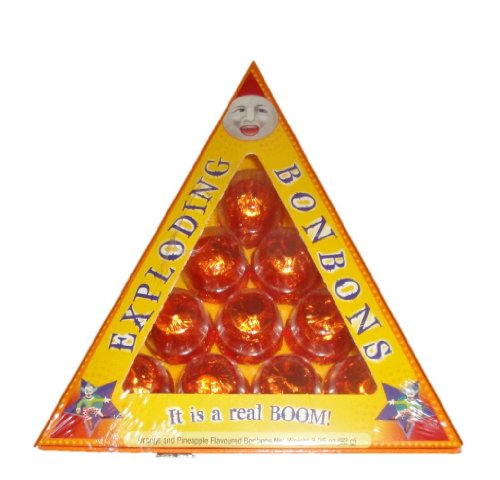 Dervish and Banges was another winner, with fun magical items like Golden Snitches, and brooms like the Nimbus Two Thousand.
If you're short on time, skip Filch's Emporium of Confiscated Goods in Hogsmeade. Filch's Emporium is more like a regular gift shop with merchandise like clothing.
Both Universal Orlando Parks have a pickup service, so you don't have to tote your purchases around all day. Just buy your souvenirs and pick them up at the end of the day. If you're staying at an on-site hotel, you can even arrange to have your purchases sent directly to your room.
Rides at The Wizarding World of Harry Potter
Harry Potter and the Forbidden Journey
Harry Potter and the Forbidden Journey was our favorite of all the fantastic rides, shows, and experiences at Universal Orlando. I don't want to spoil too much of the surprise, but the ride felt the most like the real world out of any theme park ride I've ever experienced. It honestly felt as if we were truly swooping through Harry Potter's world on broomsticks. Even our little eight year old, who doesn't love scary rides, thought this was one of the best rides in the park.
Because this ride is so popular, it can have longer wait times, but there are so many interesting things to see in the line as you wait that the time really flies! On the way in you'll see the Defense Against the Dark Arts class room, moving paintings, the Gryffindor common room, and even Dumbledore's office.
Escape from Gringotts
If you're in Diagon Alley, ride Escape from Gringotts. It's a fun, 3D ride with incredibly realistic looking animatronic goblins, lots of twists and turns, and fire-breathing dragons. You may even catch a peek at he who shall not be named, Lord Voldemort, himself! Even if you're not a big fan of rides, it's well worth your time to stand in the line for all of the incredible sights and sounds of Gringotts Bank on the way in.
Look up on your way into Escape from Gringotts
The dragon on top of Gringott's breathes fire periodically. You can actually feel the heat from his flames so get your camera ready – you won't want to miss it.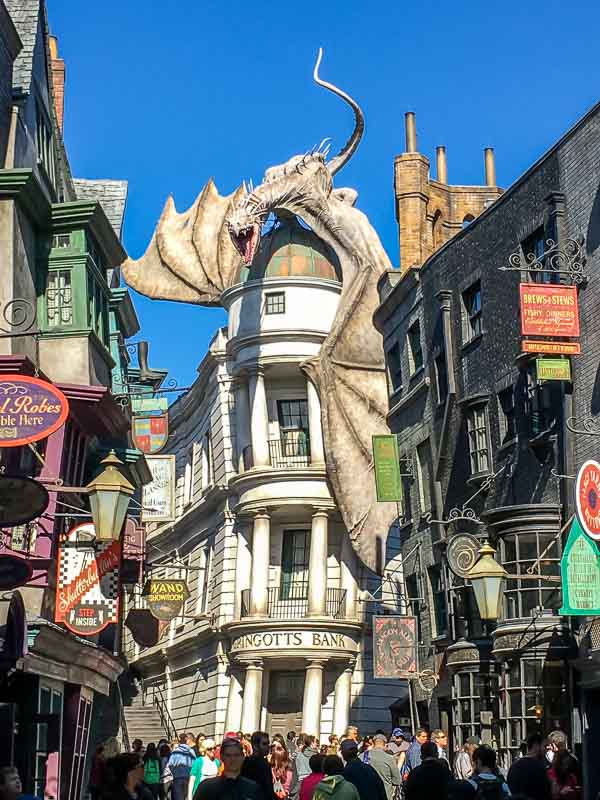 If you're a fan of Hagrid (like I am), check out the Flight of the Hippogriff ride in Hogsmeade. You'll see Hagrid's hut while you're in line.
Saving Time at Harry Potter World
Get there early
We are not morning people, so morning starts were the hardest part of our day, but we did find the crowds to be much lighter in the morning before noon. Try to be at the park at least half an hour before opening. It's a fairly long hike from parking to the entrance, and it does take a few minutes to pass through the entrance, and then through the park to the Wizarding World of Harry Potter as well.
Stay late
We found that the crowds really dropped off around 6 pm, in the three hours before closing, and stayed quieter until the park shut down. This, or early morning, is the perfect time to take in the busier rides and attractions at Harry Potters Wizarding World since most people have experienced and left this area of the park already.
Make sure you check closing times! Closing times for Universal Studios and Universal Islands of Adventure were different when we visited.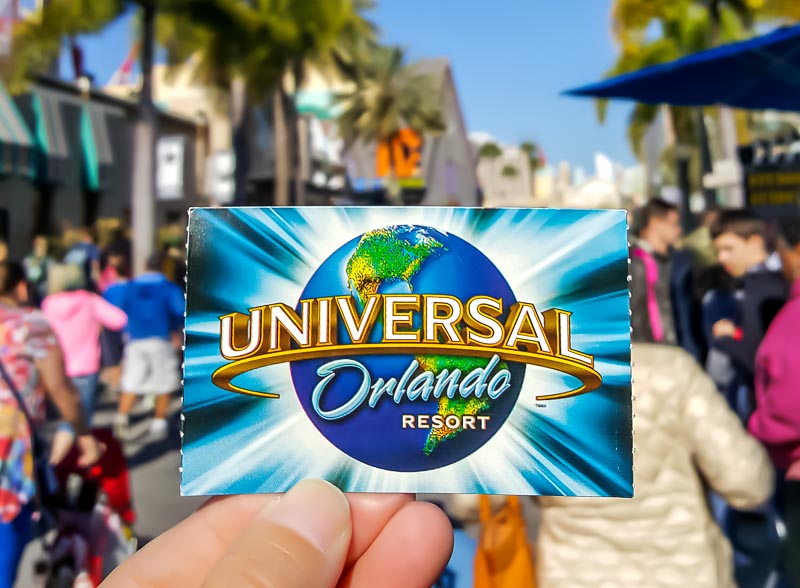 Look at getting the VIP Experience
With a VIP experience, you can skip ALL of the lines plus get your very own personal Universal Orlando tour guide. You also get a continental breakfast, plus you can choose several other options.
That means you can get priority front-of-the-line access to all rides and attractions including all of The Wizarding World of Harry Potter attractions and experiences. Plus, you can get behind the scenes tours, complimentary valet parking and reserved seating at shows.
You can also get a private VIP experience, with just you and your party (which includes two full service meals), or a regular VIP experience. I didn't know about the VIP experience option when we want, but it sounds amazing. I'd be especially tempted to get it if I was short on time!
See information on the VIP experience here.
Visit the other Universal Park attractions mid day
Harry Potter world is incredibly popular, and many of the shops and lines can get crowded early to mid afternoon. We used this time to check out the rest of Universal Orlando and Universal Islands of Adventure. Since the rest of the Parks are so huge, they feel much less busy during peak times compared to the Harry Potter areas.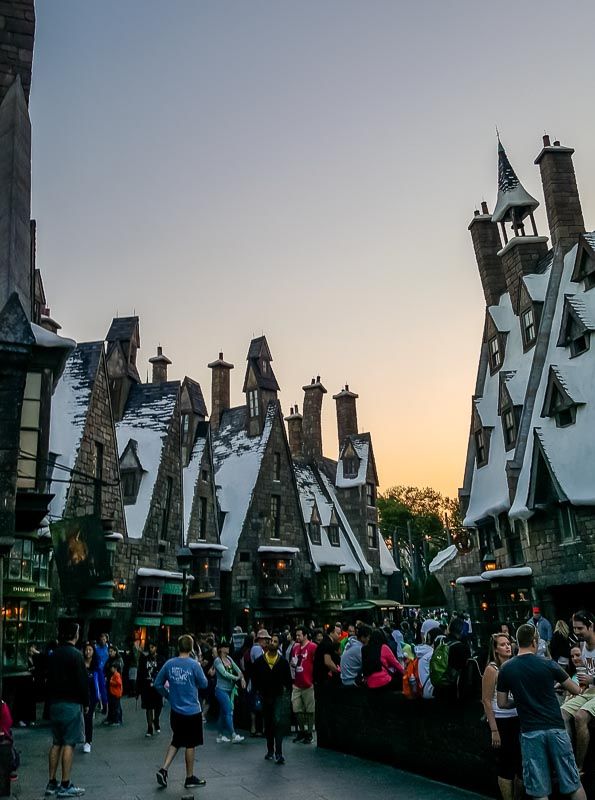 Go during a quieter month
If you have the flexibility, try to avoid traditionally busy times like weekends, Christmas, Spring Break and summer holidays. Orlando Informer has a helpful Universal Crowd Calendar.
Get Express Passes if you're visiting other areas of the park
An Express pass lets you skip the normal lines and jump in the express line. We loved having the Express Passes, as they saved us plenty of time in lines during the busier afternoon time and allowed us to experience nearly everything both parks had to offer.
Important! You can't use Express Passes at Fievel's Playland, Pteranodon Flyers, Kala & Tai Nui Serpentine Body Slides or Ko'okiri Body Plunge, but we found they were a lifesaver for other rides in the Universal Parks.
To save time in lines, use the alerts in the Official Universal Orlando® Resort App to let you know when a wait time has dropped (get it on iTunes here | Google Play).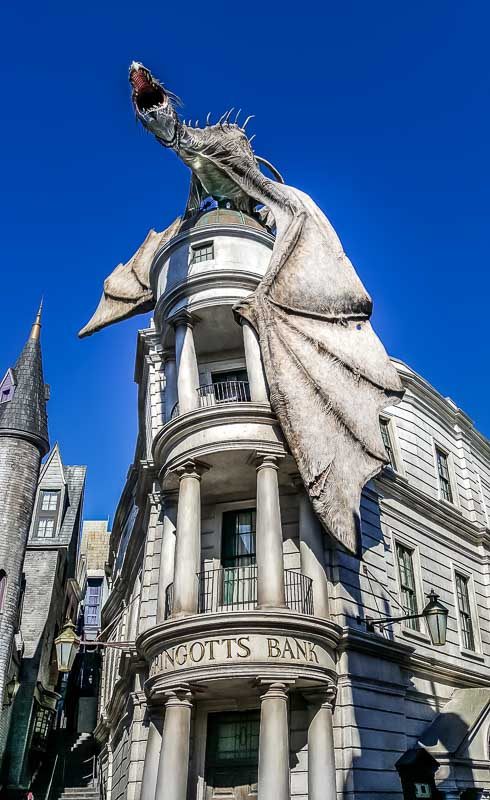 Use child swap
We used child swap on Escape from Gringotts, as our eight year old decided at the last moment that she didn't want to go.
With a child swap, all the family stands in line together. At the last moment, one adult waits with the child when the other adult rides. When the first adult is done, the adults swap, and the adult who waited with the child goes to the front of the line. Just tell the greeter at the front of the line that you want to use child swap.
I loved that even the Escape from Gringotts child swap waiting room was perfectly and carefully Harry Potter themed, with clips from the Harry Potter movies that coincided with the attraction playing on a TV on the wall.
Take the single rider line
If you want to get onto the rides quicker, and don't mind riding without the rest of your group, use the single rider line. This will save you a lot of time in queues, especially on the busier rides like Escape from Gringotts and The Hidden Journey.
Hogwarts Express Tips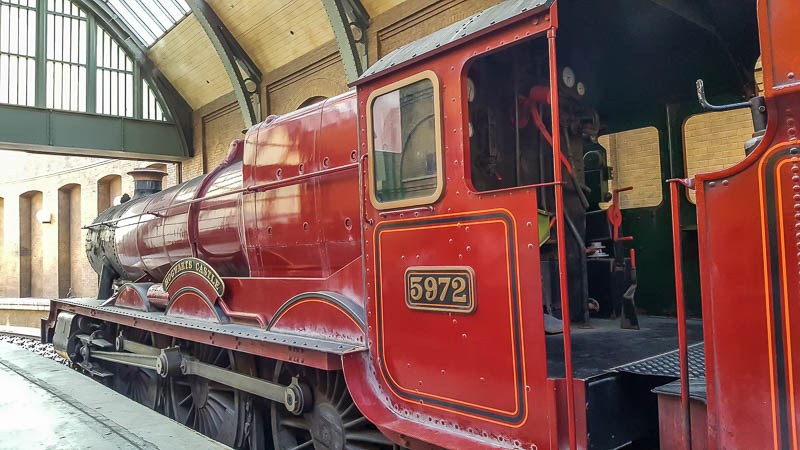 Check to see if Hogwarts Express is running before you go
If the Hogwarts Express is up and running, go as early in your trip as you can, to make sure you don't miss it. It was down a few times over the two days we visited, and we've heard other people say it was down for part of their visit too. You can see it's status on the Universal Orlando app mentioned above.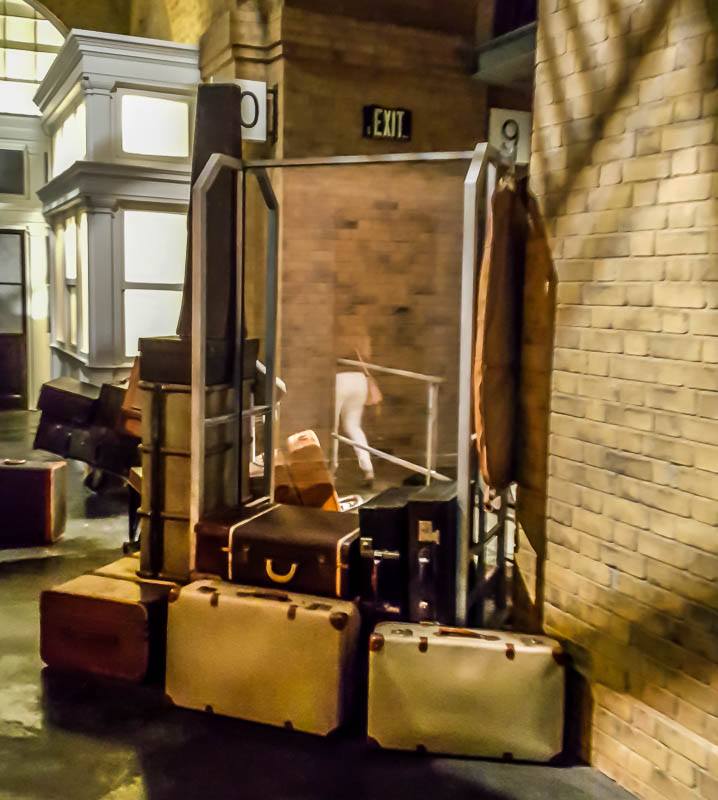 Ride the Hogwarts Express both ways
It's a real train that that you can ride from King's Cross in London or Hogsmeade. The experience is different each direction, but you'll be sure to see the beautiful scenery of the English countryside, Hagrid on a flying motorcycle, Mad Eye, Harry, Hermione and Ron, and the Weasley twins, and even a dementor or two. The ride is also a lovely way to rest your feet for 10 minutes.
There's also a fun surprise at Platform 9 3/4. If you pay close attention while watching people ahead of you in line, they'll appear to walk through a wall to get to the platform.
Other Harry Potter Orlando Tips
There's free WiFi throughout the park. We found it fast and reliable, so turn off your data roaming to save money. Thanks, Universal!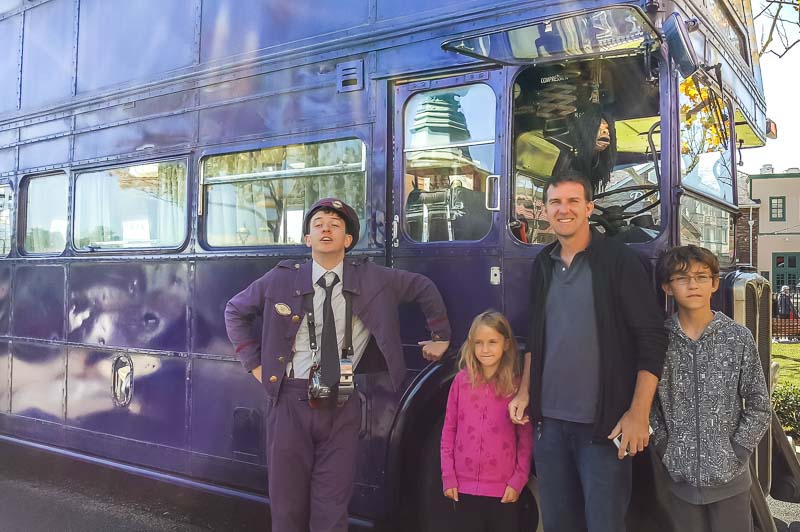 Visit the Night Bus
The Night Bus and wizard driver Stan Shunpike are outside of the Wizarding Worlds Diagon Alley on your way back into the rest of Universal Islands of Adventure. Stopping by for a photo op is well worth a few minutes. The driver and his little friend, Dre Head the Shrunken Head, were a lot of fun to talk to.
Call the Ministry of Magic from the telephone booth
You'll need to figure out how to use a rotary phone for this one! If you dial the numeric equivalent of M A G I C (it's 62442), you can hear a special message from the Ministry of Magic.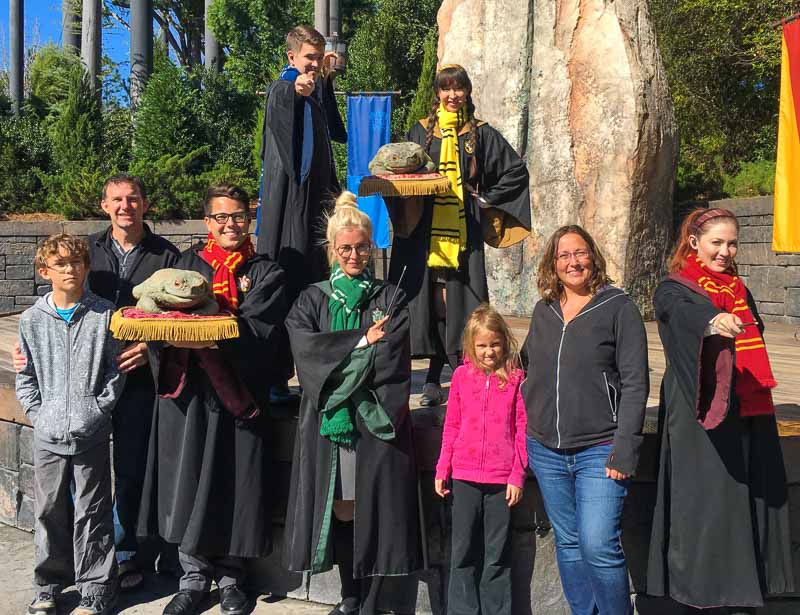 Go to the shows!
They're well worth seeing. You'll find the Frog Choir and the Triwizard Spirit Rally shows in Hogsmeade, and The Tales of Beedle the Bard show and Celestina Warbeck and the Banshees show in Diagon Alley. Check the Official Universal Orlando App for show performance schedules (get it on iTunes here | Google Play).
Don't be afraid to dress up and have fun!
Deluxe Harry Potter Child's Gryffindor Robe
We saw plenty of people in Hogwart's robes and house scarves with interactive wands in their hands everywhere throughout the park. Adults seemed to be in on the fun as much as kids so don't be afraid to embrace your inner wizard.
elope Harry Potter Gryffindor House Infinity Scarf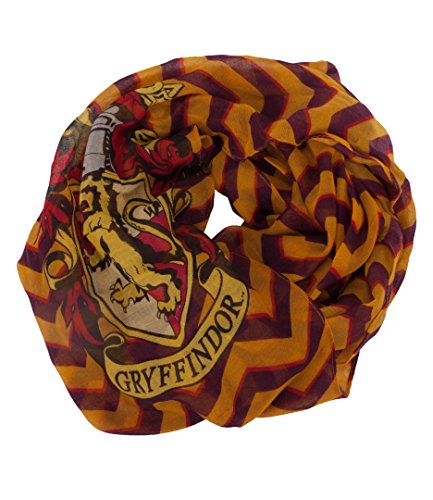 Indulge your inner dark wizard in Knockturn Alley
It's perhaps a little lesser known that some of the other Wizarding World of Harry Potter attractions, but Knockturn Alley is chock full of interesting things to see and do.
Create your own moving pictures at Shutterbuttons
We somehow missed this during our visit, but it sounds like a wonderful keepsake. In the shop, you're guided through 12 scenes, and you can purchase a DVD photo album in a collectible Shutterbuttons' tin.
If you have any questions, just ask the staff
I was amazed with how helpful the staff were, even if I was asking them something that was well out of their field of expertise. They also stayed in character throughout Harry Potters Wizarding World and didn't let us muggles get into too much trouble. Top marks to Universal for their amazing staff, who were always friendly and welcoming!
Hidden Secret: If you're patient, you can see Kreacher the House Elf peeking through the windows at 12 Grimmauld Place.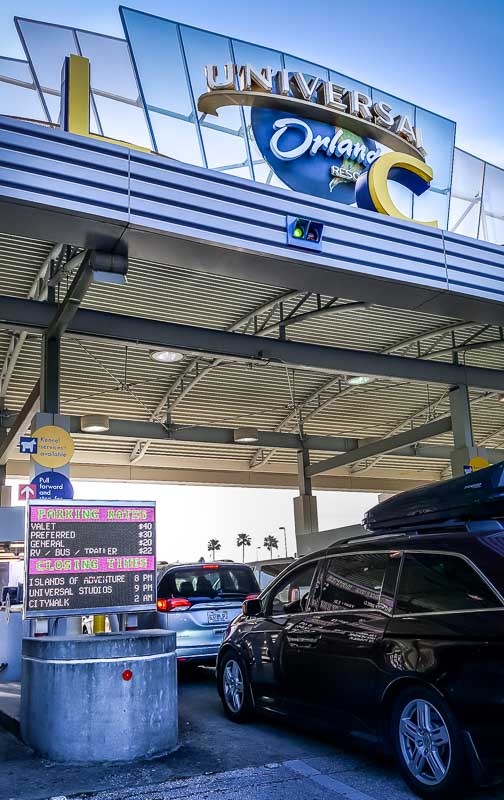 Pay for Prime Parking parking if you're driving
We got prime parking both days we visited, and it was wonderful to have such a short walk to our car at the end of the day. We also managed to walk to the entrance a lot faster. Prime parking is an additional $10 a day at $30 (it's $20 for regular parking).
Read and watch before you go
If you haven't see a Harry Potter movie, or read the books in a while, consider catching up a bit before you go. There are so many little tidbits and in-the-know places and items throughout the Wizarding World of Harry Potter that it makes it more fun if you know the backstory before you go. If you have time to catch up, there are lists of all of the movies and books at the end of this article.
That being said, you'll still enjoy the park regardless. You just won't be as amazed at all the little details Universal included while making it.
Saving Money on Tickets!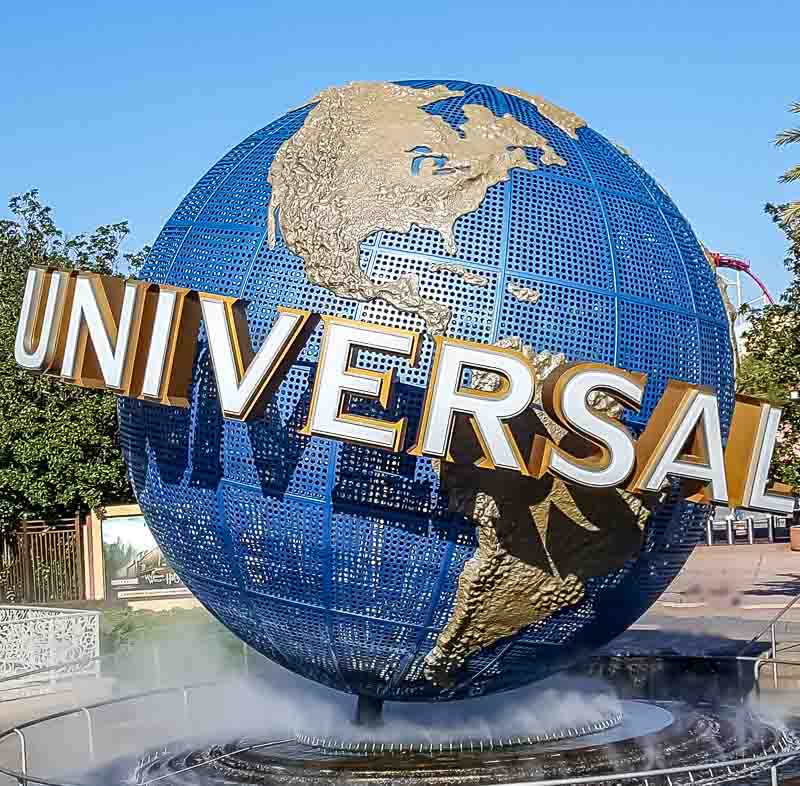 Before you buy your tickets, be sure to check out Universal's deals and specials. They often have some fantastic deals, and offer special rates for Florida residents as well. Right now Universal has a fantastic special, where you get one extra day FREE if you buy a two day Park to Park pass.
Check prices for a 3 day Park-To-Park pass, with TWO extra days FREE here.
See all Universal Orlando deals here.
If you're looking to make panning simple, check out Orlando Vacation packages. Orlando Vacation has specials, discounts, and customized plans on hotels and theme park tickets. Call 1-800-641-4008 for planning assistance.
Is the Wizarding World of Harry Potter on your bucket list? If you've been, do you have any Harry Potter Universal tips to share? Tell us in the comments below. We'd love to hear from you.
We were kindly hosted by Universal Orlando Resort during our trip, but they didn't tell us what to write, and all opinions are all our own. They definitely didn't encourage Micki's current butter beer obsession, or get Charles to buy the kids their own wands, and they definitely didn't force us to smile all day. Those came all by themselves.