Not really having a plan except knowing we wanted to spend some time in the southern states, we booked a cheap flight from San Jose, Costa Rica to Miami, Florida. The weather was gorgeous and we were looking forward to North American style dining, shopping and ease of travel. It also didn't hurt that the local language was English again. At a minimum, the kids were definitely excited to be able to watch cartoons in English now.
After a few quiet days laying low and acclimatizing ourselves to the US, our wanderlust finally kicked back in. I hadn't been to Florida since I was in my mid teens and really didn't remember that much about it. One thing I do remember is that we didn't go any farther south than St. Petersburg. This trip I was adamant about seeing the Florida Keys and going for a hike in the Everglades.
We managed to rent a car and headed south for a few days of exploration. The kids and Micki were excited to see some alligators and I was hoping to stumble on a panther. With only 30 to 50 left in the State I knew the odds were against me though. We ended up staying at the Ramada in Florida City. It was a nice enough hotel that backed onto a huge Outlet Center where Micki picked up some cheap things for the kids. Florida City was also the best place to venture into the Everglades and to see the Florida Keys.
We decided to see the Keys first since we knew we could "sweeten the deal" with the kids being good if we promised to go see Gators the next days. This actually worked out quite well. As we left Florida City and drove down the Overseas Highway to start our trek over the dozen of bridges connecting the Keys we saw some alligators in the fields off to the sides. They were only fleeting images really but just enough to tweak the curiosity of our little nature lovers.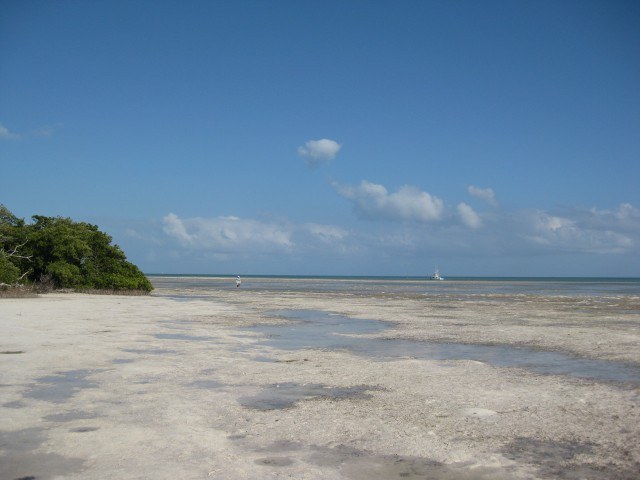 To be honest, driving the Florida Keys with kids wasn't the most exciting thing we did with them in Florida. After about the 4th or 5th bridge they started to lose interest in them quite rapidly. At least they enjoyed watching the people, boats, birds and the blue water on both sides of the highway. We also had an extended playtime at the beach park in Tavernier where they were able to spend a little energy and play in the water.
We also stopped many times along the way and enjoyed some ice cream or a little walk down one of the many piers and boardwalks that you find as you drive along. Cole and I really enjoyed one in particular. It was close to Caloosa Cove Resort and the tide was out so we got to walk down by the water and watch crabs and other strange tide pool organisms get chased down by cranes and other sea birds. We also saw a few lizards and had the longest race we've ever had against each other. Jordan had fallen asleep at that point and poor Micki drew the short straw on who got to stay with her.
One thing I never realized about The Keys is that they're not as prestigious as I once believed. Most of the places along the route are run down and needing some love. The houses look like they need a fresh coat of paint and a little yard work. Sure there were some mansions off some of the side streets along the waterfront but what you generally see as you cruise along the highway are shacks and dilapidated homes. Maybe the years of hurricanes and constant storms have scared away the "middle class" and left only the truly rich and the brave fisherman.
Anyway, as we approached the ridiculously long 7 mile bridge, made famous in the movie True Lies, we started to realize that we probably wouldn't make it all the way to Key West unless we stayed the night. It was taking a lot longer to drive down than we anticipated and we weren't relishing the idea of pushing the kids too hard at that point. Had we thought farther ahead we wouldn't have left all our stuff back at the hotel in Florida City. As it was, it was a Friday and the drive down was crazy bumper to bumper traffic for the most part and we didn't think we would even be able to find a room on such short notice.
After crossing over we made it far as Big Pine Key before deciding we've seen enough and slowly made our way back to our hotel. Thankfully the traffic was still heading South so we made much better time going up. By the time we got back it was already dark out and we were all tired of being in the car for most of the day. I think we grabbed a quick snack and all of us were in bed early that night.
So there you go, we made it to within 40 miles of the farthest point South in Florida. Looking back it seems silly we didn't drive the extra few miles making it to Key West however we also realize that with kids distances sometimes have a way of stretching longer. Those extra few miles would have taken us 3 hours longer by the time we drove down, looked around and taken a few pictures and then driven back up. I guess that's the trade-off when you travel with a family. Luckily, experiencing and seeing something new and exciting through the eyes of your child is a priceless gift that often outweighs the extra work and occasional sacrifices of travelling with kids. I can say with honesty that we definitely felt that way the next morning when we checked out the Everglades.
Of course, there's a few good stories that go with our time in the Everglades but I'll save that for a separate post.
So on that note, happy travels everyone from one Barefoot Nomad to another!