We love the road trip. There's something about being on the road that makes anything seem possible. With the sun on your face, and the wind rushing past, any turn can bring a new adventure.
We rented a Jeep, rolled the top down, tossed some sunscreen and swimsuits in the back, and set out to find adventure on a family drive around Oahu.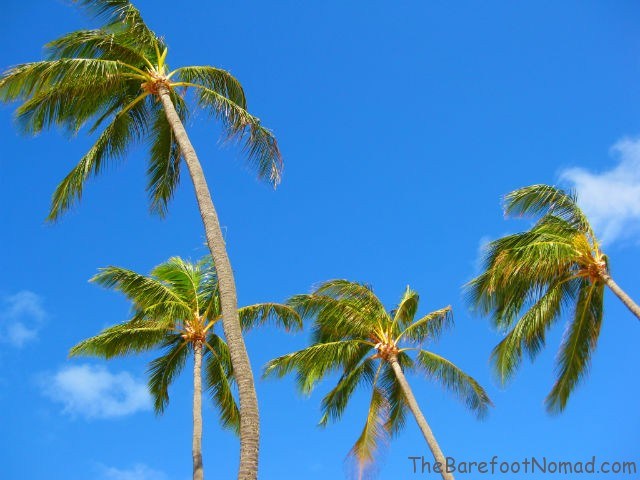 Spectacular Scenery
Oahu's coastline has crystal clear water, beaches around every turn and a backdrop of lush volcanic slopes. We spent most of our drive staring out the window going "Oooh – ahhh… look at that!"  The scenery alone, which ranged from aquamarine ocean to soaring cliffs to sleepy seaside towns like Waimanalo, made our road trip worthwhile.
Macadamia Nut Farm
Since driving through Queensland's macadamia nut orchards, Charles and I have had a secret (well, not so secret anymore, I guess) dream to own a macadamia nut farm, so a stop at the Tropical Farms Macadamia Nut Farm was a given. The kids laughed like maniacs as they tried to smash open macadamia nuts with a rock.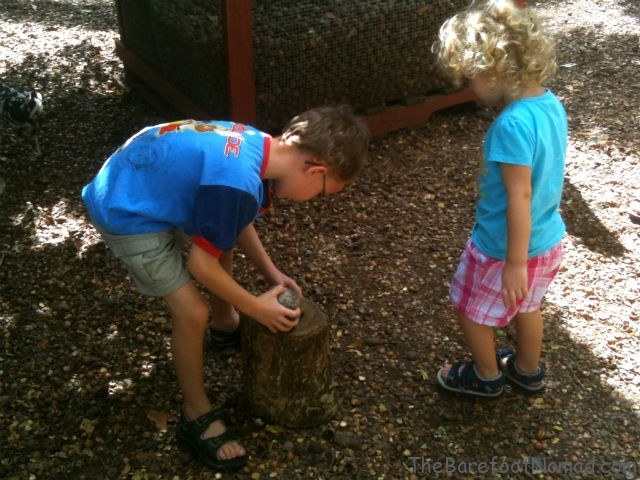 It's a pretty touristy spot, and packed with buses, but the macadamia nuts in the gift shop are out of this world delicious. We (meaning me and the kids – sorry about that, Charles) ate an entire package of cinnamon and caramel macadamia nuts in about ten minutes. Yum.
Kailua Beach
We spent a few hours in Kailua beach, just playing in the soft white sand and trying out paddle boarding. Kailua Beach is famous for hosting President Obama on holiday, but is surprisingly laid back and local. The water is crystal clear, the sand is as fine as you'll find almost anywhere and the gentle breaks are great for families.
Pro Surfing on the North Shore
We were lucky enough to stop by during the 2012 Pipe Pro surfing competition at the Banzai Pipeline near Haleiwa, on Oahu's North Shore. The beach was packed with locals and surf enthusiasts, making for a great vibe while we watched the world's best surfers battle monster waves.
Check out this amazing video of the competition.
Shave Ice
Matsumoto's grocery in Haleiwa is said to have the best shave ice on Oahu. Since this was a claim that we couldn't leave untested, we had to check it out.
Our verdict: Not quite as yummy as Costa Rica's luscious Trits ice cream concoction, but well worth a stop.
Shave ice is similar to a snow cone, but much finer, and topped with syrups like guava, pineapple or coconut. Try it with azuki bean paste and condensed milk. We had ours with soft serve ice cream buried in the middle.
The Dole Pineapple Plantation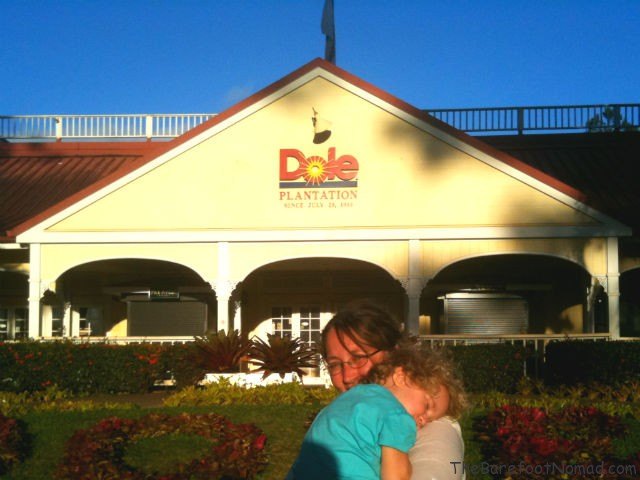 The Dole Plantation brings cheesy tourist attraction to a new level, with a gift shop the size of a football field, a pineapple maze and pineapple mascots. That said, we enjoy cheese as much as the next person, though we were too cheap to buy any of the pricey pineapple themed trinkets.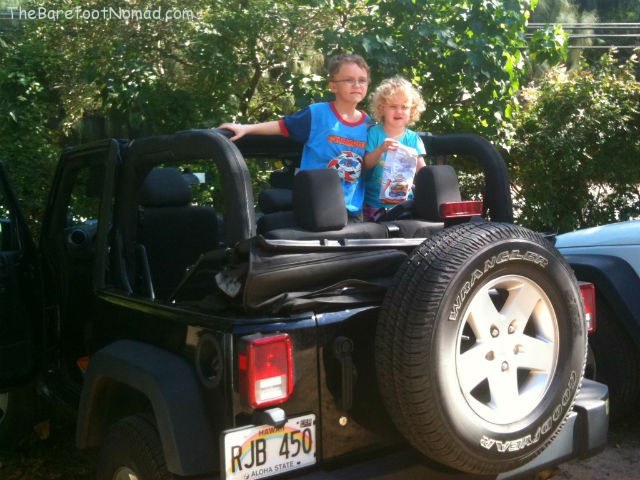 By the end of the day, we were stuffed full of shave ice and macadamia nuts, had sand wedged everywhere it shouldn't be, and were wowed by Oahu's coastline.  We'd do this road trip again in a a second.
Essentials to Bring. Water, sunscreen, towels, camera, sunglasses and sense of adventure!
Our Route
We took a circle route along the Western (windward) side of Oahu, starting and ending in Waikiki.
You can drive around the entire island in about four hours, but our drive took about two and a half hours (plus stops), as we didn't hit the Western side of Oahu.
More great Oahu road trip destinations
Oahu is much more than its most famous landmarks Waikiki Beach and Pearl Harbor. There are many great places easily explored in a day trip.
The leeward (West) coast. A collection of small towns, quiet beaches and beautiful scenery punctuated by the Wet n' Wild Hawaii water park, the luxurious J.W. Marriott Ihilani Resort and Spa, and the new Disney Aulani Resort. Check out the official Hawaii tourism site for more info.
Punchbowl National Cemetary of the Pacific. The final resting place of approximately 35,000 soldiers, situated in an extinct volcano in Waikiki.
Halona Blowhole Lookout. The lookout is located off the Kalanianole Highway  north of Hanauma Bay and only about 15 minutes from Waikiki. If conditions are right, waves enter the lava tubes from the ocean and can shoot up to 30 feet up from the blowhole.
Polynesian Cultural Centre. This place gets decidedly mixed reviews, has an expensive entry, and would have taken up a good chunk of the day, so we decided to skip it.
Snorkeling at Hanauma Bay Nature Preserve. You can almost always see turtles and colorful fish just off shore. Get there before 9:30 am, as admission is limited, and it can fill up fast. $7.50 admission per adult. We found Hanauma Bay so gorgeous that we'd recommend staying for at least half the day.
The Byodo-In Temple at the Valley of the Temples. Located in one of the most peaceful parts of Oahu, the temple is a replica of the 900-year-old Byodo-In situated in Uji, Japan.
Pearl Harbor and the USS Arizona Memorial. We thought our little ones may be too active for such a solemn excursion, but we'd love to visit on another trip.
Sandy Beach. About 35 minutes from Waikiki, the great waves at Sandy Beach are renouned for sending novice boogie boarders and swimmers back home with their tails between their legs.  Use caution; this is not the place for children or weak swimmers.
Eat Like a Local. A huge plate lunch (rice, macaroni salad, and meat usually pork) or a Loco Moco (hamburger, steak, and egg over rice) should only set you back under $8. For dessert, try a hot malasada (a Portuguese doughnut).
Wondering how we keep the kids amused in the car? Check out our posts for the best family audiobooks or our adults-included best audiobooks for a road trip.
Honestly, there's nothing much better than a road trip on one of the world's most beautiful tropical islands. Do you love the road trip?