A few months back, we had the pleasure of spending time in the Hawaiian Islands with some friends. It was a hectic and fun vacation that ended much sooner than we would have liked. The day after our epic road trip around the island of Oahu, we finally got the chance to don our masks and snorkels and check out Oahu's premiere snorkeling destination, gorgeous Hanauma Bay. With the wind in our hair and the sun overhead, we buckled the kids in tight and drove our convertible Jeep the short trip from busy Waikiki to the Hanauma Bay Nature Preserve.
At the suggestion of our hotel's tour desk, we arrived at the park around 8:30 a.m. Hanauma Bay Nature Preserve only lets in a set number of people daily and if you arrive after that number is reached you won't get in. We were told repeatedly that if you don't get there by 8:30 a.m. you might as well stay home however even after we left for lunch people were still streaming in. We have no idea if that is the norm or not but when we got there at 8:30 the parking lot was almost empty. That logic might apply more at certain times of the year and perhaps even on weekends so take it as you will. Of course, it's still probably not a bad idea to get there early anyway as it gives you more of the day to enjoy the sights.
As we pulled into the large lot and paid the attendant the $1 vehicle fee, our excitement for the morning was almost palpable. We had already been on the island for a few days and I hadn't donned a mask and snorkel yet. Snorkeling is definitely one of my favourite ocean pastimes and we had heard good things about Hanauma Bay. I'm not sure if the kids felt my excitement or they were excited on their but I could tell they were all ready for a nice morning of beach activities. As we paid our $7.50 per adult entrance fee (kids under 12 and locals get in free) we ran to the theater just as they were shutting the doors.
Watching a movie presentation about the bay is mandatory before being allowed access to the water. Luckily, the presentation was entertaining and went by quickly. The entrance to Hanauma Bay is high on the bluff overlooking the bay, with a long walkway leading down to the water. Visitors can either walk the paved path or take a tram. The tram costs $0.50 to ride down and $1 to ride up. We decided to walk down and then treat ourselves to a ride on the way back up. As we walked down the walkway there were some gorgeous lookouts of the bay and its turquoise water. The kids were excited to splash in the ocean and start building sand castles on the beach.
Hmm, maybe I should rephrase that last sentence to destroying sand castles on the beach. After the kids have an inspired creative moment deciding what form, design or shape they think we should build, I'm usually left to complete the sand castle alone while they run about and cause mayhem. I used to find it hard to make something that's only around for a brief moment of time however the joy on the kids' faces as their destructive momentum takes them from an almost shy, "whoops I think I cracked it", to a full on mad frenzy of sculpture destruction makes it worth it. The sand sculpture they gleefully destroyed at Hanauma Bay was a caterpillar on a leaf that my daughter requested.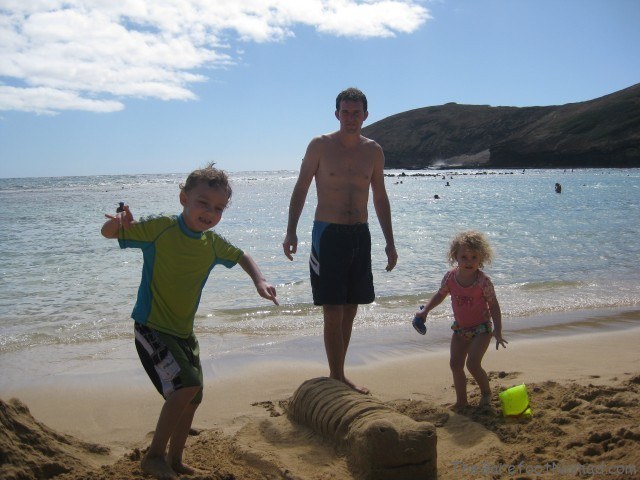 After the sand caterpillar was thoroughly destroyed, my buddy and I quickly slipped into our masks and snorkels and headed for the open sea. By sea, I mean a shallow tranquil bay with almost more people than fish. In truth, Hanauma Bay didn't have amazing sea life however it was still a fun place to snorkel. The coral wasn't overly colorful, the fish weren't crazily abundant and the place was getting pretty crowded by the time we left, but I got to see three green turtles up close, a few puffer fish and a very large and annoyed moray eel.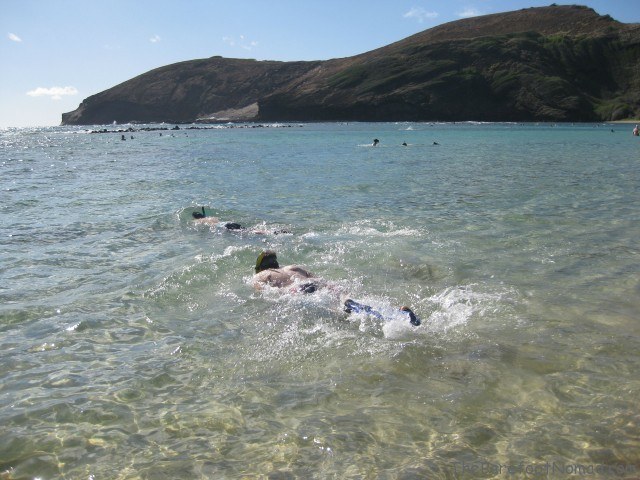 I also got the opportunity to snorkel with a friend, which I never realized how much I missed. These days, Micki and I usually take turns watching the kids while the other snorkels. With two people out together you tend to go longer, see more and get to share your discoveries as they happen. The look on my friends face as the eel slithered towards him was priceless. As was my bewilderment later while I feverishly tried to swim backwards when I peered into a large hole in the coral just as a large and surprised turtle was swimming out. That experience alone was worth the admission. I still don't know who was more surprised, me or the turtle, but I chuckle every time I think back to it.
I can just imagine the turtle lounging in the ocean with a few of his turtle buddies later that night shaking his head and going "Dude, there I was down in Coral point 3, you know the one in the middle of nowhere on the right side with the large hole in the top? Well, there I was finishing off a nice little meal when I decide to head up to see what's going on in the world. I'm being all slow and careful like trying to navigate the opening since my shell is nearly as big as the opening and just as I peak out this gangly human with these huge eyes is like inches from my face. Man, I almost shat myself right there on the spot. I think I gave him an even greater surprise though. Man, that dude was moving! Ha ha, pass the sea grass dude…"
With yet another strange sea turtle experience I'll end this post. We had a great morning exploring Hanauma Bay with good friends and good weather. With the sun on our heads and the wind in our hair it was now time to see where that Jeep could take us for the afternoon. That, my friends, will be a post for another day.
Happy travels from us here at The Barefoot Nomad!