Most kids love to draw and paint. While nothing beats the feeling of being elbow deep in finger paint, the digital equivalent is sometimes just easier. This is especially true when we travel, since a tablet or smart phone is faster to set up, quicker to clean and the kids usually enjoy it just as much as the real thing.
Our daughter (who's turning four soon) loves to draw and paint, so we've reviewed her five favorite drawing or painting apps for the iPad. We've used each app and all five are currently on our tablet. Some of the apps are also available on the iPhone and iPod, but these reviews are strictly for the iPad versions. She uses and loves all of these apps (and so do we!).
Drawing Pad
By Darren Murtha Design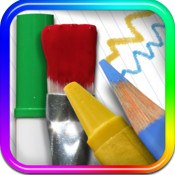 Drawing Pad is my daughter's go to drawing app if she wants to get especially creative. There's a rollout tray on the side that lets you quickly select from brushes, markers, pencils, stencils and backgrounds. My daughter picked it up right away. If you want a blank canvas to start from, I don't think there's a better children's drawing app out there. You can choose backgrounds and pictures from the camera roll, but the Drawing Pad truly shines the brightest for its ability to just quickly start drawing.
The app is visually straight forward and intuitive as long as you remember that the house icon brings you back to the previous selection. It's probably the most realistic of all the children's drawing apps and has a minimal learning curve. It works in both Portrait and Landscape mode and features Undo and Redo buttons for those occasional accidents. There are tons of colors and brush sizes to choose from. If your child craves to be the next digital Da Vinci then this might be the app that gets them on their way.
---
Doodle Buddy for iPad
By Pinger, Inc.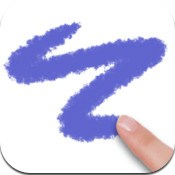 Doodle Buddy was the first drawing app we downloaded and it was the first time my daughter truly saw the iPad as an alternative to drawing on paper. The interface is ridiculously easy and the quirky selection of stamps makes it a guaranteed hit with young children. When I look at my camera roll on the iPad, the pictures saved from this app far outnumber any other apps my daughter uses.
Find out more about Doodle Buddy here
It features an unlimited color palette with tons of cartoon stamps and sound effects that will amuse the kids. It also works in both Portrait and Landscape mode, unlike the majority of the other drawing apps out there. Doodle Buddy includes around 10 backgrounds to choose from as well as the ability to use images from your photo albums. Doodle Buddy is not as fully featured as some of the other painting apps, but my daughter returns to it time and again so they must be doing something right.
---
123 Color HD: Premium Edition, Talking Coloring Book
By Steve Glinberg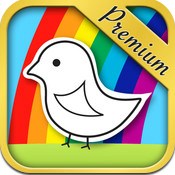 123 Color HD is my favorite children's coloring book style application. Not only is it educational, it has a lot more to offer than a traditional drawing program. It includes hundreds of amusing cartoon style sketches with Paint by Numbers, Paint by Letters (both upper case and lower case) and of course freestyle painting. The first two remind me strongly of those paint by numbers coloring packages my parents used to buy when I was a child.
Aside from sentimentality, one of my favorite features is the Perfect Paint option. With this turned on, any coloring you do on any of the hundreds of pages is limited to staying within the lines of the object you're painting. With 30 colors to choose from, it's easy to make a picture perfect colored page for those of us not so artistically inclined. 123 Color HD also features a Paint Bucket to instantly color in an object (perfect for younger children) and a traditional Paint Brush.
As well as the coloring portion, the Premium Edition includes learning letters (upper and lower case), and numbers and colors that are spoken in English, Spanish, German, French, Russian and Hebrew. The Premium Edition also includes all 35 coloring books that are otherwise available as in-app purchases from the less costly version, however if you want them all then the Premium Edition is the way to go. If you're looking for coloring book equivalent apps on the market, 123 Color HD is probably your best bet.
---
Drawing with Carl – for iPhone & iPad
By Tayasui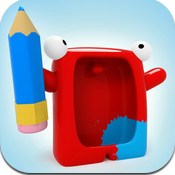 Drawing with Carl is a great, fun way to draw. The interface is clean and easy, and the character stamps are great as well. Created from a spinoff of Talking Carl! (an old iPhone staple in the vein of hugely popular Talking Tom), there are a lot of creative spins on a standard paint brush. It is quick and easy to create gorgeous artworks using Drawing with Carl simply with the brushes they give you. There's also an in-app purchase called Monster Pack (the only one in the app) that is animated and supposedly quite fun to play with. I haven't gotten around to buying it so can't comment yet.
The bright, vibrant interface and the clean lines give Drawing with Carl and polished look. The limited 10 color palette is easily offset by the number of drawing tools this app includes. It's an easy app to use and drawing fun colorful images is a breeze. Most kids will also love the mirror mode that duplicates every finger swipe on the other half of the screen. There are Undo and Redo buttons that give your child a chance to backtrack. The only negative about Drawing with Carl is that it always feels like you're using an app. With more and more drawing done digitally these days however, maybe that's not a bad thing.
---
Drawing for kids: doodle games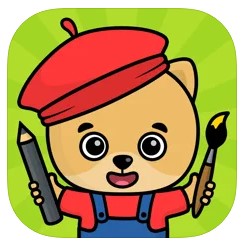 Drawing for kids: doodle games is a great little app teaching your young ones how to color simple characters. Though not a traditional painting, coloring or doodling app, the focus is trying to teach younger children learn more about colors and coloring itself. T
Get price and information here.
My son, who just turned seven, enjoys this one (though it's made for younger children in the toddler range). Of course my daughter also enjoys learning how to color the cute animals and other pictures.
It's a pretty simple app, but it keeps the kiddos entertained with fascinating sounds and funny animations.
---
Other Notable Entries
Squiggles!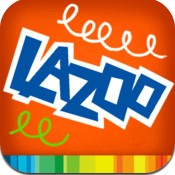 Though not exactly a drawing program, Squiggles, a free app, is great fun for the kids. It's marketed to very young kids, but it's honestly a lot of fun no matter your age. Squiggles takes your hand drawn squiggle, and turns it into a bird's nest, a lion's mane, a curly beard, and more! You just let your little one doodle on the screen, and press PLAY to watch their drawings come alive. With a price tag of zero Squiggles is a must download to anyone with kids and an iPad.
Check for more information here.